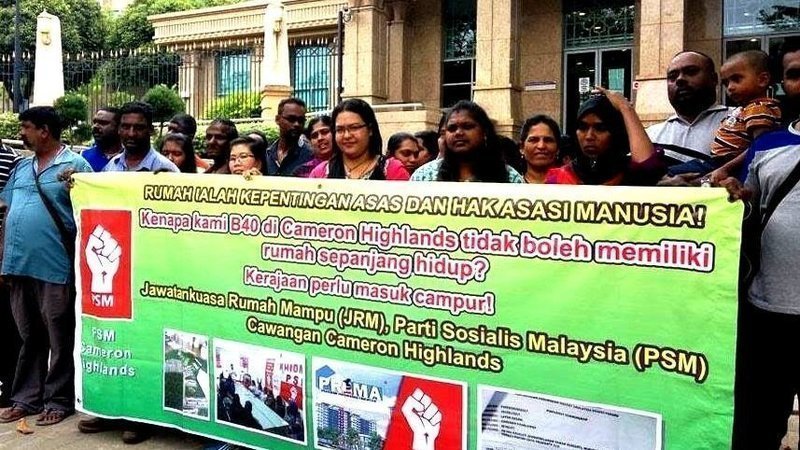 PETALING JAYA (Oct 31): The Affordable Housing Group Cameron Highlands (pictured) has called on the government to fund more affordable housing "as the last low-cost flats were built nearly 40 years ago" while the low-income groups "have been priced out of newer projects", reported FMT today.
Supporting their call is Parti Sosialis Malaysia (PSM), whose secretary-general A Sivarajan told the news portal that "more than 1,000 B40 families in the Cameron Highlands area" who would benefit from new affordable housing.
He explained that even though two projects of the 1Malaysia People's Housing Project (PR1MA) homes were constructed, the reported starting price of RM200,000 is too high for most of B40 group.
"If you look at Selangor, low-cost housing can start at RM42,000, but in Cameron Highlands, there's no such housing. New social housing needs to be subsidised by the government so that people can buy them at a price of around RM42,000-RM50,000, which is comparable to other places," he added.
FMT also reported Tanah Rata assemblyman Chiong Yoke Kong saying that there is a "very urgent" need for affordable housing among the B40 in his ward.
He said PR1MA developments could cost up RM400,000 "once developers adjust for demand" and that many such homes were "snapped up by investors who later turn them into tourist homestays".
"You can see the parking spaces at PR1MA Tanah Rata are always full of tourists' cars during public holidays and weekends. My office has received a lot of complaints from the local residents about it," Chiong revealed.
Get the latest news @ www.EdgeProp.my