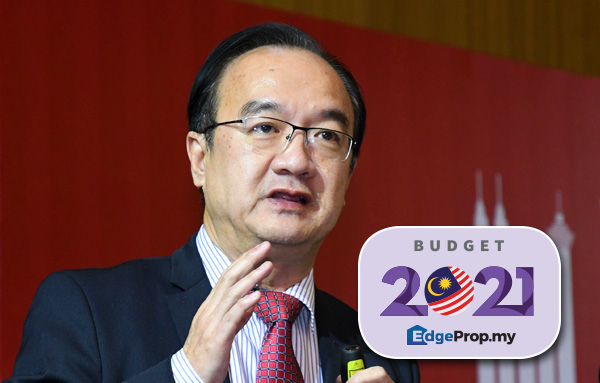 PETALING JAYA (Nov 6): KGV International Property Consultant (Johor) executive director Samuel Tan (pictured) praised RM 1.2 billion allocated for various types of affordable housing and RM1 billion for 5,000 PRIMA houses for rent-to-own (RTO) scheme to aid B40 and first time homebuyers which were announced in the Budget 2021 today.
Read other Budget 2021 news on EdgeProp.my/Budget2021
However, he emphasised that the implementation of the scheme is crucial.
"These schemes are impactful only when fundamentals like location, quality and unit sizes match the buyers' needs and requirements. The RTO scheme is good but should not be limited to PRIMA. Other developers should be encouraged to participate in such schemes," he said.
He highlighted that RTO houses built must meet the needs and requirements of the targeted buyers and must be sited in the right location, of the right sizes and quality.
"Building without meeting their needs will end up with no takers as seen in some of the previous PRIMA schemes. It defeats the purpose," he stressed.
Nevertheless, he said that this budget is a budget with "empathy" as the Budget covers allocation on almost every sector but the emphasis is to fight Covid-19 with fund allocation via tax rebate, subsidy and incentives with the B40 and the underprivileged groups being the direct beneficiaries.
He also added that the stamp duty exemption for SPA and financing instrument for purchase of property less than RM500,000 will be helpful for homebuyers as this will enable them to save a transaction cost RM11, 500, ie. RM9,000 for SPA and RM2,500 for loan agreement), especially for first time homebuyers.
"This will help developers to clear their existing stocks and encourages developers to build houses that are priced RM500,000 and below," Tan explained.
As for the extension of stamp duty to contractors for abandoned projects, he said it is a good move in view of the dampening economy and property market, which may give rise to increased abandonment of projects. Contractors should be incentivized to undertake such projects so that less buyers will be affected. We saw this post about the Asian Financial Crisis he said, adding that this is a far-sighted move to pre-empt the repeat of such a dilemma.
However, he said much more should be done to stimulate the property market whereby the measures are more to help the first time homebuyers and the B40 group.
"Specific to the property sector, the help to investors is minimal. If anything, some investors might start to scout for good buys below RM500,000 for rental income in the next few years. But we would not be seeing a sudden surge in interest among the investors in view of weak sentiment," he concluded.
Get the latest news @ www.EdgeProp.my