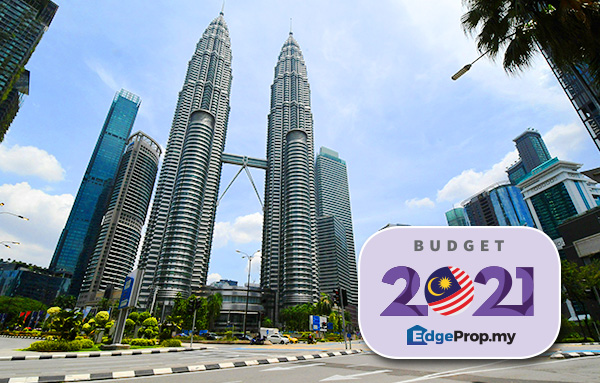 PETALING JAYA (Nov 7): Under the Budget 2021 tabled on Nov 6, 2020, the government announced that it is committed to carry on the development of transportation infrastructure projects to enhance mobility of the rakyat.
In 2021, RM15 billion will be allocated to finance projects such as Pan Borneo Highway, Gemas-Johor Baru Railway Electrified Double-Tracking Project and the first phase of Klang Valley Double Track Project (KVDT 2).
Read other Budget 2021 news on EdgeProp.my/Budget2021
In addition, several key projects such as Light Rail Transit (LRT) system that will connect Woodlands, Singapore and Johor Bahru, as well as MRT3 project in Klang Valley will also be continued.
The government also wishes to continue the HSR project, which is expected to generate a positive multiplier effect to Malaysia's economy. Nonetheless, it is subjected to further discussion with Singapore.
Meanwhile, several large-scale new projects worth about RM3.8billion will be implemented, they are:
- Construction of the Second Phase of the Klang Third Bridge in Selangor;
- Continuing the Central Spine Project with the new alignment from Kelantan to Pahang;
- Upgrading the bridge across Sungai Marang, Terengganu;
- Upgrading of Federal Road connecting Gerik, Perak to Kulim, Kedah;
- Continue building and upgrading Phase of the Pulau Indah, Klang Ringroad Phase 3, Selangor;
- Construction of the Pan Borneo Highway Sabah from Serusop to Pituru; and
- Construction of the Cameron Highlands Bypass road, Pahang with emphasis on preserving the environment.
Here are what the industry experts have to say about these initiatives:
Datuk Khor Chap Jen, president and CEO, S P Setia Bhd
The decision to spend on large infrastructure projects is a big boost to the overall economy as it will impact the entire supply chain and rejuvenate the economy. It also encourages real estate development over a larger area.
Datuk Ezumi Harzani Ismail, president, Malaysian Institute of Architects (PAM)
While we are happy to hear that the government is keen to proceed with economic corridor programmes including transport infrastructure projects such as highway and rail services, we urged the government to be transparent in the procurement of all projects, and give priorities to Malaysian professionals and contractors to be engaged for the projects.
Adzman Shah, president, Malaysian Institute of Property and Facility Managers (MIPFM)
RM15 billion allocated to develop the country's infrastructure; roads, highways, rail and public transport systems will spur spillover back into the economy from the expenditure provided that local workers and local raw material are used.
Michael Loo, executive director, PA International Property Consultants (Penang)
Reviving mega development projects that will help to increase investment attractiveness of the region such as Penang Transport Master Plan and the High Speed Rail.
Tan Sri Leong Hoy Kum, founder and group managing director, Mah Sing Group Bhd
We applaud the government for allocating RM15 billion in 2021 for the transport infrastructure projects such as Lebuhraya Pan Borneo, Gemas-Johor Bahru Electrified Double-Track Project (EDTP), Klang Valley Double Tracking Phase 1 (KVDT1), Johor Bahru-Singapore Rapid Transit System (RTS) and Mass Rapid Transit Line 3 (MRT3) in Klang Valley, which would indirectly benefit many sectors including the property industry.
Get the latest news @ www.EdgeProp.my