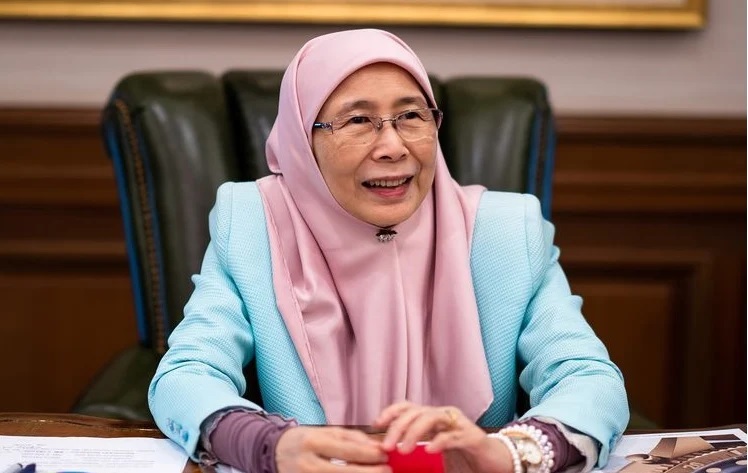 KUALA LUMPUR (Nov 17): Politicians and lawmakers who currently chair government-linked companies (GLCs) or government-linked investment companies (GLICs) should take a 50% pay cut and have the sum be channelled to the government's Covid-19 fund, former deputy prime minister Datuk Seri Dr Wan Azizah Wan Ismail (pictured) proposed at the Dewan Rakyat today.
While debating the Bill for Budget 2021, Wan Azizah also suggested that Prime Minister Tan Sri Muhyiddin Yassin, together with Cabinet ministers and their deputies, should all "lead by example" and take at least a 10% pay cut until the end of 2021.
"I propose for salaries, allowances and chairman fees of any MP (member of Parliament) who is in GLCs or GLICs be cut by 50% and the funds be channelled to the Covid-19 fund as they already receive salaries as MP," said Wan Azizah, who is the MP for Pandan.
"And at the same time, to show leadership by example, the prime minister, senior ministers, ministers and deputy ministers also have to have their salaries be cut by 10%," she said.
Last week, former prime minister and Langkawi MP Tun Dr Mahathir Mohamad similarly proposed a pay cut for Cabinet ministers — but at a steeper 30% — saying they would not starve if they took the pay cut in order to help the country during the pandemic.
Separately, Wan Azizah said the allocation to the Women, Family and Community Development Ministry is disproportionately small.
Azizah, who is also formerly the head of the ministry, said the allocation of RM2.6 billion, representing less than 1% of the RM322.5 billion budget, is not fair as women make up 48.5% of the country's population.
Get the latest news @ www.EdgeProp.my