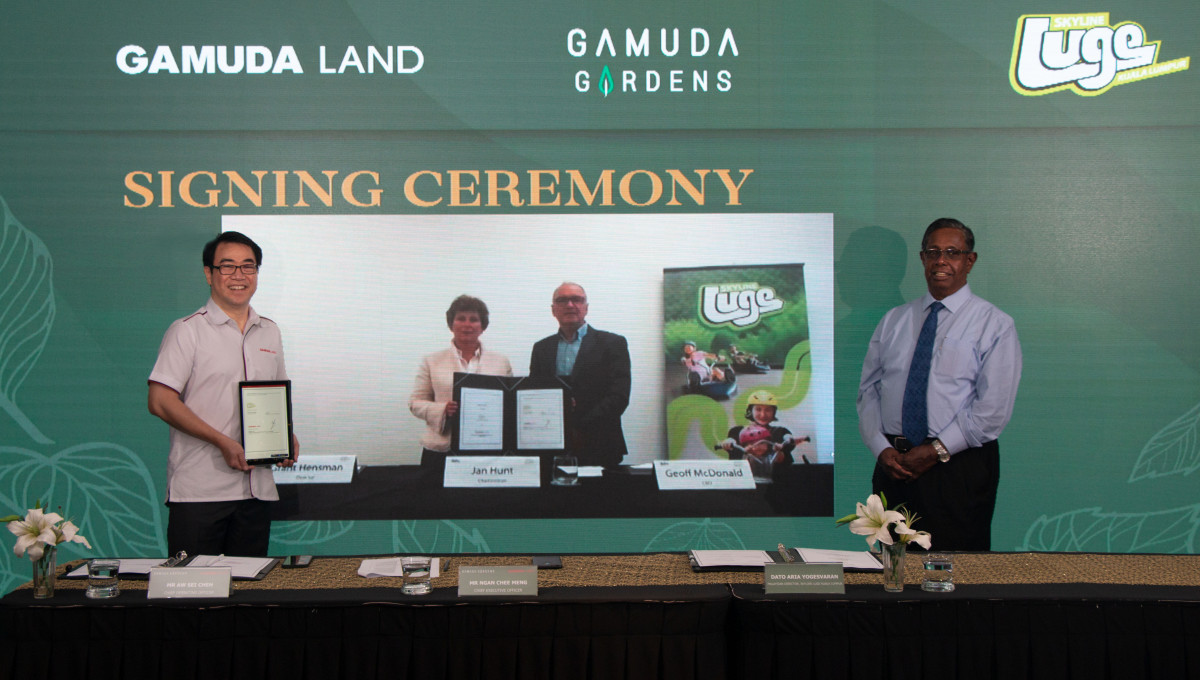 PETALING JAYA (Nov 20): Malaysia's first Luge Activity Park will be built in Gamuda Gardens, Selangor, and is set to be opened in 2023.
Developer Gamuda Land today announced the signing of a partnership agreement with New Zealand-based leisure and entertainment operator Skyline Enterprises to develop the attraction.
The agreement was signed by Gamuda Land CEO Ngan Chee Meng and Skyline Enterprises chairperson Jan Hunt during a virtual ceremony held concurrently in Malaysia and New Zealand. It was witnessed by Gamuda Land COO Aw Sei Cheh, Skyline Enterprises CEO Geoff McDonald and Skyline Luge Kuala Lumpur Malaysian director Dato Aria Yogesvaran.
The upcoming attraction will be built on a 40,000 sqm site overlooking Gamuda Gardens, comprising Skyline Luge, Skyline Skyride and Skyline Ziplines.
Skyline Luge is a gravity-fuelled wheeled ride that will allow riders to control their descent from the top of a 40m elevated hill site, through the twists and turns of a 600m purpose-built track. Skyline Enterprises anticipates the park will cater for up to 1.1 million luge rides annually.
Meanwhile, the Skyline Skyride is a more leisurely ride that offers a bird's eye view of Gamuda Gardens and the surrounding natural landscape. Skyline Ziplines comprising multiple lines will soar over the Skyline Luge tracks. A total of 58,000 zipline rides are projected annually.
"Our partnership with Skyline Enterprises reaffirms Gamuda Land's forward-thinking commitment to placemaking in our developments, ensuring a thoughtful mix of residential, commercial and recreational components to build thriving, connected communities.
"We anticipate renewed interest in outdoor recreation post-pandemic, and are developing our offerings accordingly. Skyline Luge is representative of this initiative. As a single-person ride attraction, we would be able to administer appropriate physical distancing guidelines throughout, for the safety of visitors, Gamuda Gardens and the surrounding community," said Ngan in a press statement today.
"We look forward to bringing Skyline Enterprises' pioneering leisure and entertainment brand to Malaysia, and Gamuda Gardens was the perfect choice for our maiden entry due to its proximity to Kuala Lumpur and large population catchment," said Geoff.
Get the latest news @ www.EdgeProp.my