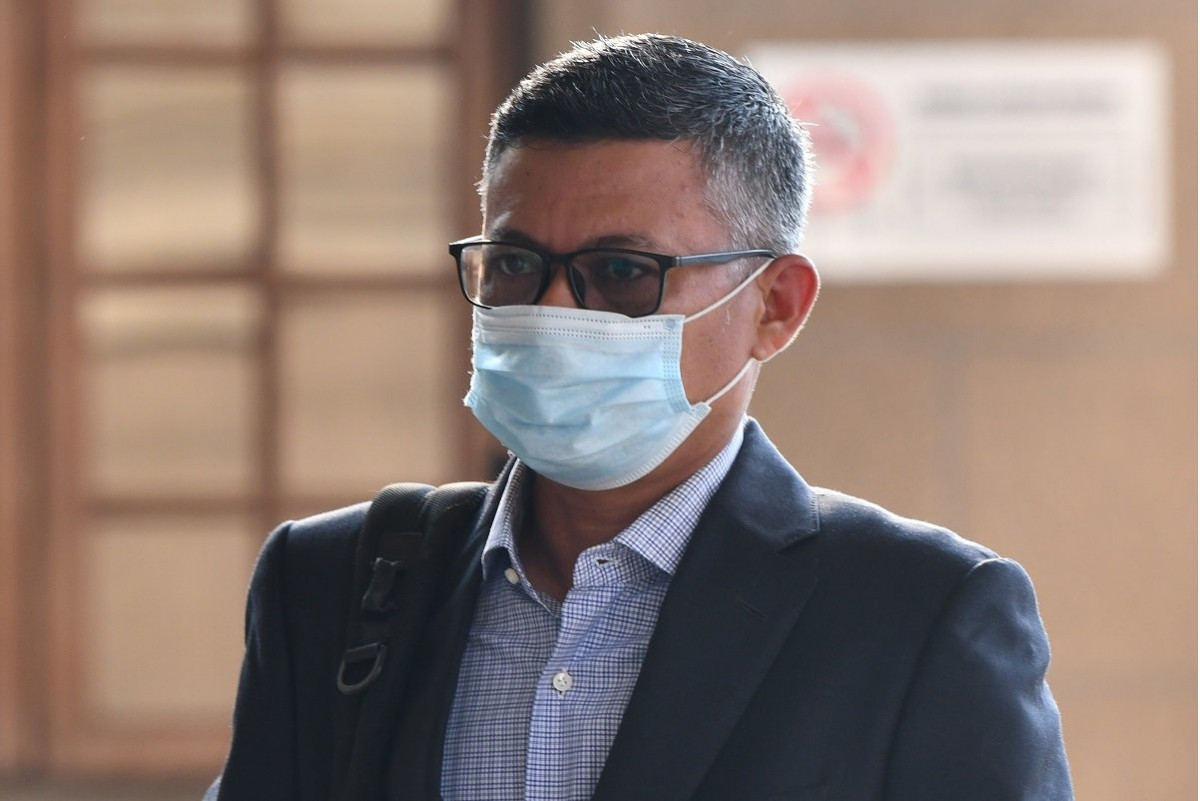 KUALA LUMPUR (Feb 15): Several 1Malaysia Development Bhd (1MDB) meetings involving senior officials were held at purported master conspirator Low Taek Jho's apartment as he could not be seen at the government fund's office giving advice, the High Court heard today.
Former 1MDB chief executive officer Mohd Hazem Abdul Rahman (pictured), who is the prosecution's 10th witness, testified today that he and Low, better known as Jho Low, usually communicated via BlackBerry Messenger (BBM). According to Hazem, meetings were usually held at Low's apartment at Jalan Kia Peng's 8 Kia Peng instead of 1MDB's office which is within a radius of less than 10km.
Besides him, Hazem, who is under cross-examination by lead defence counsel Tan Sri Muhammad Shafee Abdullah, said other senior 1MDB officers would also sometimes attend these meetings at Low's apartment, including then 1MDB chief financial officer (CFO) Azmi Tahir, 1MDB's general counsel Jasmine Loo and executive director of finance Terence Geh, who would join when requested by Low.
Shafee: Why [meet] him in his apartment and not in the 1MDB office?
Hazem: He's not part of 1MDB.
Shafee: Why can't he come to 1MDB?
Hazem: Because he cannot appear. He cannot be seen to be giving advice to 1MDB; he cannot appear in the 1MDB office.
Shafee: What about the fact that he was advising? Did the senior management know? Who would know?
Hazem: The names are Azmi, the [then] CFO, Vincent Koh, Robert Ho on the communications side, Terence Geh, Jerome Lee [and] Jasmine Loo, obviously. Those are the ones that I know who have spoken to Jho Low.
Furthermore, Hazem said the instructions given by Low, which he believed at the time to be coming from then prime minister Datuk Seri Najib Razak, sometimes did not even make financial sense.
However, he admitted that he never double-checked those instructions with Najib, and agreed that he had relied completely on the accuracy of information that came from Low.
Shafee: As a CEO and an experienced person, how do you judge his advice? Was his advice brilliant? Average? Or bizarre?
Hazem: Generally speaking, his instructions required [me] to do (execute) them at high speed. Some of them made sense and some of them didn't from a financial point of view.
Shafee: Did you on occasion [face the situation], when it never appealed to your corporate sense?
Hazem: We have argued.
Shafee: Has he ever changed his mind?
Hazem: Rarely.
Jho Low's 8 Kia Peng apartment
The High Court had previously heard about Low's apartment during the testimony of Najib's former special officer Datuk Amhari Efendi Nazaruddin, the prosecution's eighth witness.
Amhari testified that Low had briefed him about the formation of the Terengganu Investment Authority (TIA), the precursor to 1MDB, by scribbling on a whiteboard in the apartment's kitchen.
On June 28, 2018, it was reported that the Malaysian Anti-Corruption Commission (MACC) had raided the apartment, which was believed to have acted as a "safe house" for Low, who is currently on the run, after retrieving information about the residence from its interrogation on Amhari.
It was reported that MACC officers had to break into the apartment as no one was at home, and the place looked more like an office, complete with computers, a photocopying machine, and a paper shredder.
In the raid, MACC found cash and several documents in the apartment.
In the 1MDB-Tanore trial, Najib, who is also former finance minister, is facing four counts of power abuse to enrich himself with RM2.3 billion from 1MDB and 21 counts of laundering the same amount. He faces up to 20 years' imprisonment if convicted.
Get the latest news @ www.EdgeProp.my
Subscribe to our Telegram channel for the latest stories and updates