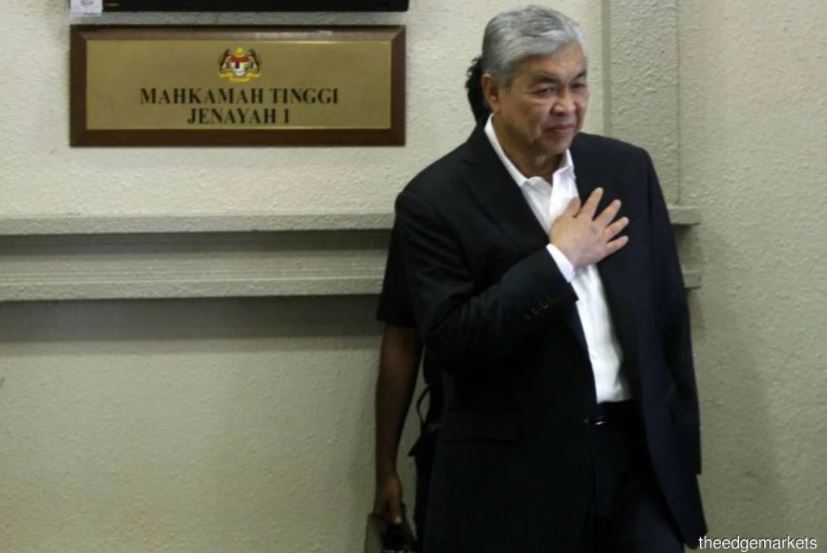 KUALA LUMPUR (Feb 22): Datuk Seri Dr Ahmad Zahid Hamidi's criminal breach of trust (CBT) and money laundering trial has been postponed as he came in close contact with fellow Supreme Council member Datuk Johan Abdul Aziz, who is now confirmed positive for Covid-19.
Zahid was with Johan and other Umno Supreme Council members at a party retreat in Janda Baik.
Lawyer Hamidi Mohd Noh had informed the court that his client had chaired two meetings, one at 3pm on Friday and a second one at 8pm that same night where Johan was present.
"We got to know from media reports that Johan has been tested positive with Covid-19 when he went for testing on Saturday and the results were known yesterday. So my client has to be in quarantine for 10 days as he was in close contact," he said.
High Court Justice Collin Lawrence Sequerah set replacement dates next month but reprimanded the former deputy prime minister and Umno president. The judge also asked him to take the trial seriously and not go for unnecessary meetings a week before the trial.
"This is the third time that this trial has been postponed," the judge highlighted in the court this morning.
The judge listed the Sabah state elections as the first time, last month, and now today as the third time the trial has been postponed.
"Please tell your client that accord this trial priority over other things. Please do not expose yourself before a week of the trial. I want to make sure that this trial with the prosecution's case will finish by next month," he said.
Deputy Public Prosecutor (DPP) Datuk Raja Rozela Raja Toran wants the defence to provide evidence as to Zahid and Johan's attendance, and also approval for cross-border travel during the movement control order (MCO) period.
Raja Rozela said Ahmad Zahid is being nonchalant in treating this trial as not being important.
"Is he using this excuse just to get away from this courtroom? We can't keep postponing dates after date," she added.
Following that, Justice Sequerah fixed March 4, 5, 18, 19 and 26 as replacement dates for this week's proceedings.
Ahmad Maslan's letter produced
Zahid's lawyers are now getting the necessary documents, while the court stands down while it is confirmed that Johan has tested positive for Covid-19.
Upon resumption of the case at 11:10am, Hamidi produced a letter from Umno secretary-general Datuk Seri Ahmad Maslan, informing all party Supreme Council members of the meeting.
Hamidi added that initially the venue was at another place before they decided on Janda Baik.
He also produced a letter issued to all Members of Parliament saying they could cross state borders.
However, Raja Rozela pointed to Ahmad's letter that the necessary Supreme Council members need to get the necessary approval from the authorities to travel cross-border.
"We wanted to see the necessary stamp by the authorities or approval from the police over the cross-border movement," she said.
Justice Sequerah then said maybe the court had to take all this in good faith and that the defence is not doing anything to deceive the court.
He then directed the defence to bring the necessary documents including Zahid's test results as soon as possible, or latest by March 4, and supply them to the prosecution.
"Just inform the prosecution and court of the necessary and please tell your client to accord this trial priority over other things," he said.
What is left is about seven prosecution witnesses who are investigation officers in the case, as 89 prosecution witnesses had already testified.
Zahid, who is also the Umno president, is facing 47 charges, 12 of which involve criminal breach of trust, eight for corruption and 27 for money laundering involving tens of millions of ringgit in funds belonging to Yayasan Akalbudi.
Get the latest news @ www.EdgeProp.my
Subscribe to our Telegram channel for the latest stories and updates