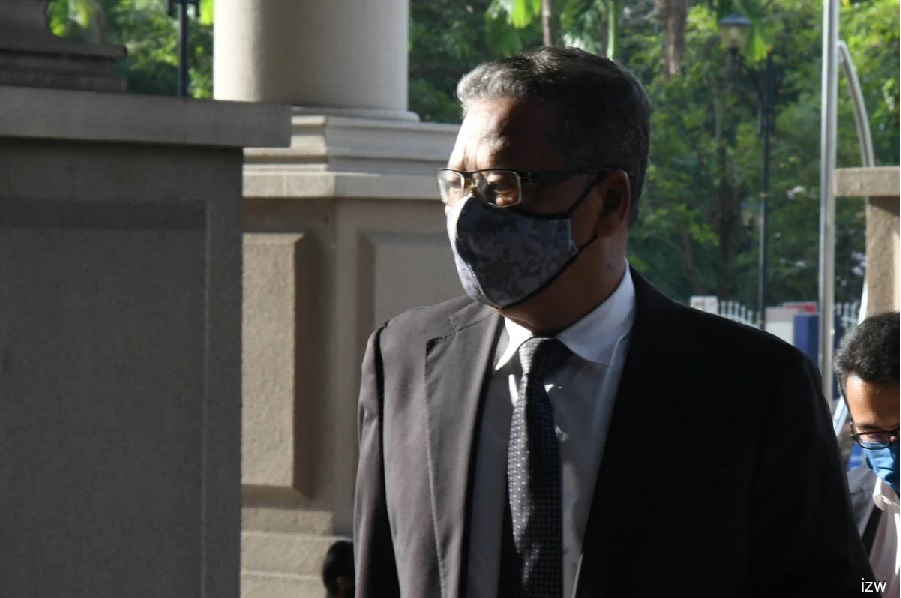 PUTRAJAYA (April 15): The prosecution in Datuk Seri Najib Razak's SRC International Sdn Bhd appeal hearing at the Court of Appeal today has questioned the integrity of former attorney general (AG) Tan Sri Mohamed Apandi Ali (pictured), after he cleared Najib of any wrongdoings, despite later evidence that proved otherwise.
Ad hoc prosecutor Datuk V Sithambaram noted that the flow charts Apandi held during his infamous press conference to exonerate Najib on Jan 26, 2016 had in fact clearly showed that the RM42 million that entered the former premier's accounts were from SRC International and not from Arab donations or from any other sources.
"This evidence cast doubt on the integrity of DW14 (Defence Witness 14, Apandi) finding that the Appellant (Najib) was innocent of the offences that were being investigated by the MACC (Malaysian Anti-Corruption Commission)," he said during his submission at the Court of Appeal today.
Sithambaram acknowledged that the former AG had made the decision not to prosecute Najib, based on available evidence presented to him at the material time.
He said Apandi had admitted during cross-examination that he was not aware of further investigations undertaken by the MACC subsequent to his announcement, and that a further 76 new statements and several further statements were recorded from witnesses relevant to the investigations.
The former AG, Sithambaram added, was also not aware that Najib had admitted to knowing about the money in his personal accounts through an affidavit he had affirmed for a defamation suit.
"The learned Judge has considered the evidence of DW14 and states that his evidence cannot be said to cast a doubt on the prosecution case. This is because DW14 admits he was not aware of the new evidence available in the investigations and also of the evidence of admission by the Appellant in the affidavit," he said.
In January 2016, Apandi cleared Najib of any criminal wrongdoing, after close to six months of investigations into the RM2.6 billion channelled into the Pekan member of parliament's personal bank accounts and that of SRC International.
Apandi had then said there was insufficient evidence to implicate Najib and was quoted as saying he found that no criminal offences had been committed by the former prime minister, based on facts and evidence presented to him in three investigation papers.
He subsequently ordered the MACC to close the investigation papers.
Apandi had then said that based on evidence from witnesses and supporting documents submitted by the MACC, the sum of US$681 million (RM2.08 billion) deposited into Najib's accounts between March 22, 2013 and April 10, 2013, was a personal donation to Najib from the Saudi Royal family, and was given to him "without any consideration".
Apandi said he was satisfied that there was no evidence to show that the donation was a form of gratification given corruptly.
However, High Court judge Justice Mohd Nazlan Mohd Ghazali last year found Najib guilty of seven charges, including one count for abuse of power involving KWAP's RM4 billion loan to SRC, and three charges each of criminal breach of trust (CBT) and money laundering involving RM42 million.
It was reported that Apandi has since defended his stand and said the High Court judge's decision was "his findings and his opinion".
Get the latest news @ www.EdgeProp.my
Subscribe to our Telegram channel for the latest stories and updates