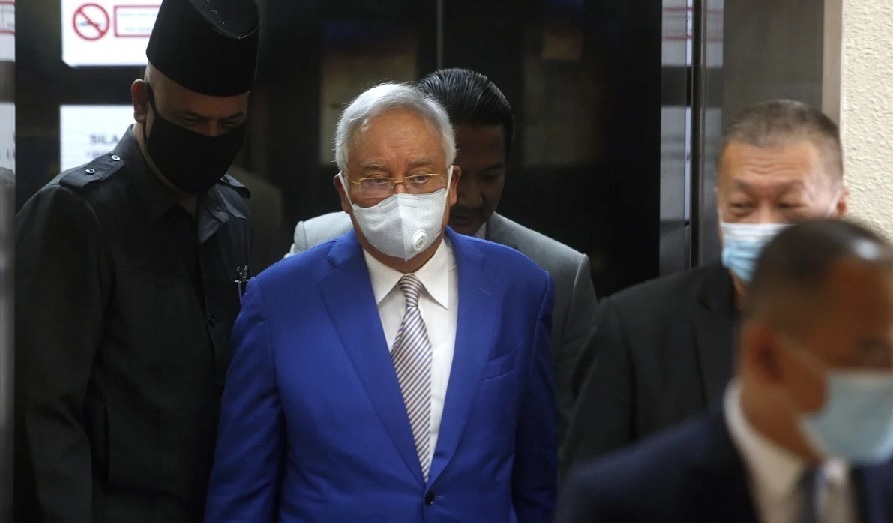 KUALA LUMPUR (May 10): Former prime minister Datuk Seri Najib Razak's name appears prominently in two out of 16 civil suits by SRC International Sdn Bhd, firstly for breach of fiduciary duties and secondly for receiving RM42 million, for which he has already been found guilty and convicted recently.
SRC is a former subsidiary of 1Malaysia Development Bhd (1MDB).
In the actions filed in the High Court and Sessions Court in Kuala Lumpur and Shah Alam last Friday, there are two types of action sought.
The first is in relation to breach of fiduciary duty where besides naming Najib, those also named are former company directors Datuk Suboh Md Yassin, Datuk Azhar Osman Khairuddin, Datuk Shahrol Azral Ibrahim Halmi, Tan Sri Ismee Ismail and Datuk Che Abdullah @ Rashidi Che Omar, along with fugitive former managing director Nik Faisal Ariff Kamil.
The writ sighted by The Edge stated that in January 2019, SRC was placed under the new management under the Ministry of Finance (MoF) and thereafter it discovered that the former board of directors did not take any reasonable steps on the proper use of the RM4 billion Retirement Fund (Incorporated) (KWAP) loans, given in 2011 and 2012, for its general investment capacities and working capital.
It further alleges that the defendants, including Najib, failed to monitor the disposal of RM3.6 billion to SRC BVI, which was appointed to undertake overseas investment activities in the energy resource sector. SRC further alleges that the defendants failed to ascertain and monitor repayments under the KWAP loan schedule as required and inquire about the misappropriation of funds.
The new management, as mentioned in the writ, discovered a significant number of fraudulent and wrongful disbursements, transfers and utilisation of KWAP's RM4 billion loans.
It (the new management) also discovered that the utilisation of funds was against the nature and business SRC was set up for and incorporated, and the board did not perform due diligence and acted contrary to Bank Negara Malaysia's (BNM) requirements.
For this, they are seeking declaration that Najib and the former directors named as defendants are jointly and severally liable to be accountable to SRC as constructive trustees on the grounds of the fraudulent breach of duties, fraudulent breach of trust and breach of trust, and hence an order for all of them to compensate the company.
They are also alleged to have committed breach of trust, conspiracy, knowing receipt, dishonest assistance, wrongful conversion, abuse of power and misfeasance in public office, resulting in a loss of US$1.15 billion or the RM4 billion.
Second suit against Nik Faisal
Nik Faisal is also named in the second suit by SRC worth RM167 million for fraudulent breach of fiduciary duty, as well as Suboh, Azhar, Che Abdullah, Ihsan Perdana Sdn Bhd (IPSB) and its directors Datuk Dr Shamsul Anwar Sulaiman and Datuk Abdul Aziz Ismail who are also named as defendants.
Besides SRC, others named are its subsidiaries Gandingan Mentari Sdn Bhd (GMSB) and Jendela Pinggiran Sdn Bhd (JPSB). All three companies have been placed under the MoF since January 2019 to stabilise their affairs and recover the losses and damages suffered.
IPSB was appointed to implement corporate social responsibility (CSR) for SRC for a period of two years, where a grant of RM250 million was planned beginning Sept 3, 2014. In return, IPSB was required to provide in detail receipts and utilisation of the grants every year and provide corporate social responsibility (CSR) reports.
Between December 2014 and April 2015, SRC gave a RM123 million grant to IPSB. Between April 2015 and July 2015, SRC and its two subsidiaries added another RM44 million grant to IPSB and various third parties purportedly for CSR purposes.
Following Najib's defeat in the 14th general election (GE14), an investigation was done into both 1MDB, which was SRC's initial parent company, and SRC itself where the investigations are still ongoing.
The new management discovered that the directors had allegedly wrongfully disbursed the first and second grants contrary to SRC's approval. These include the wrongful disposal of RM42 million to Najib and other third parties which were not for CSR purposes.
For this, SRC, GMSB and JPSB allege that there were fraudulent breach of duties and breach of trust by all the defendants, as well as dishonest assistance and conspiracy, resulting in considerable losses and damages that amounted in excess of RM167 million.
14 other SRC suits
The second SRC action by its two subsidiaries GMSB and JPSB concerns 14 other suits for knowingly receiving monies from SRC, and as mentioned the defendants include Najib, Perkasa president Datuk Ibrahim Ali, Umno, Umno Selangor, Mail Global Resources through one Ariffin Ismail Shahul Hameed and Netnion Technology Sdn Bhd.
In the suit against Umno, its president Datuk Seri Dr Ahmad Zahid Hamidi and secretary-general Datuk Seri Ahmad Maslan are cited, whereas against Umno Selangor, Tan Sri Noh Omar is held to answer.
Others are Mohamed Redzuan Adamshah, Tazri Talib, Tan Sri Lim Soon Peng, Vital Spire Sdn Bhd, Solat Media, Binsabi Sdn Bhd, Putrade Property Management Sdn Bhd, and Centre for Strategic Engagement Sdn Bhd.
These are to recover the wrongful monies from them that they received under the guide of the CSR responsibility requirement of SRC.
They are alleged to have received monies from SRC to the sum of between RM330,000 and RM53 million, resulting in a loss suffered amounting in excess of RM128 million.
It alleges that the recipients were Najib (RM42 million), Mail Global Resources (RM53 million), Netnion Technology (RM5 million), Mohamed Redzuan (RM1.5 million), Tazri (RM1.5 million) and Umno (RM16 million).
It is further claiming from Lim (RM330,000), Ibrahim (RM600,000), Vital Spire (RM360,000), Solat Media (RM1 million), Binsabi (RM498,000), Putrade Property Management (RM1.425 million), Umno Selangor (RM3.5 million) and Centre for Strategic Engagement (RM2.45 million).
Get the latest news @ www.EdgeProp.my
Subscribe to our Telegram channel for the latest stories and updates