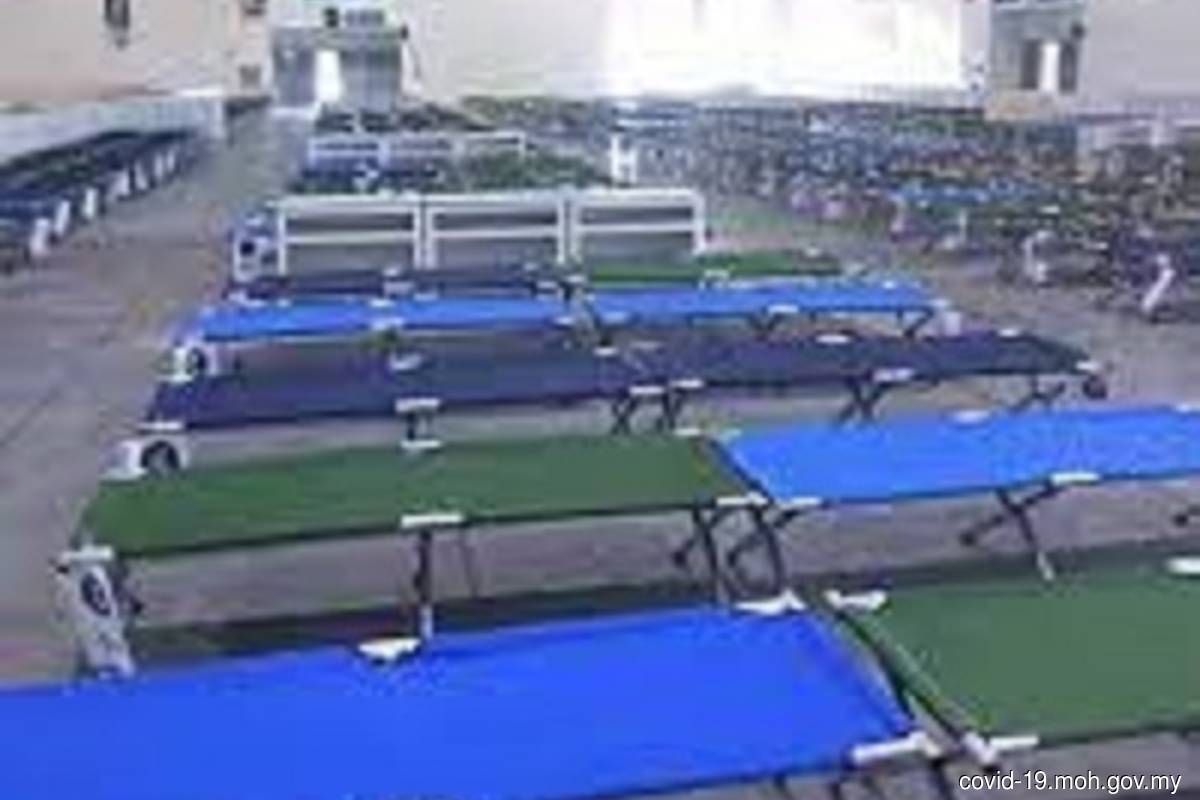 KUALA LUMPUR (May 16): Amid complaints of poor conditions and inadequate facilities provided at quarantine centres, the Selangor Health Department admitted today that the situation at Covid-19 Integrated Quarantine and Treatment Centre (PKRC) at the Malaysia Agro Exposition Park Serdang (MAEPS) 2.0 is now increasingly challenging, as the admission of Category 3 patients climb.
Covid-19 patients are categorised into five categories, according to the severity of their symptoms, and Category 3 are those that are symptomatic and have lung infection. (Category 1 refers to those with no symptoms; Category 2 are those that are symptomatic but without lung infection; Category 4 are those symptomatic with lung infection and need oxygen supplementation; and Category 5 are those who are most severely affected, i.e. critical patients with multiple organs complications.)
In a statement posted on its Facebook page, the Selangor Health Department said the PKRC MAEPS initially had 60 beds for the Category 3 patients in early January. Now, it has to accommodate 757 Category 3 patients.
It said it plans to increase this capacity to 1,000 beds to support the health system in the Klang Valley, in line with the increasing number of Covid-19 patients.
"Hence, the Category 3 patients have been placed in halls near the temporary ICU to be monitored more closely, while stable Category 1 and 2 patients are placed in the DG hall. Nevertheless, the PKRC is trying its best to separate the categories of citizen and non-citizen patients in this hall," it said.
"PKRC MAEPS also thanked and welcomed the issue of the admission process mentioned by the complainant and will look back and make improvements to the process from time to time," it said.
The department was responding to the complaints raised by one @SyedMohamedarif on Twitter, who spent almost nine hours at a Covid Assessment Centre before being taken to MAEPS, where he found out that the quarantine centre he was sent to was a converted parking spot where double decker beds were placed.
After taking nearly two hours to register for entry, he found that his assigned bed was taken up by someone else, whereupon he was told to look for an empty bed elsewhere. The one he eventually found did not have a bedsheet nor blanket. When he asked for help, he was told to wait for the items. He waited until past 2am but the items did not arrive. As for shower, it was just a nearby toilet with a handheld bidet.
There is also no supervision and no proper ventilation, he tweeted. "I think the government should really think about providing these basic necessities. There shouldn't be an 'alasan' of 'takde duit' (an excuse of not having money), cause if you 'takde duit' (don't have the money), you just have to find a way, take up a loan, use your reserves and do what you're supposed to do. It's for the people at the end of the day," he wrote.
His posts have since gone viral on Twitter.
Get the latest news @ www.EdgeProp.my
Subscribe to our Telegram channel for the latest stories and updates