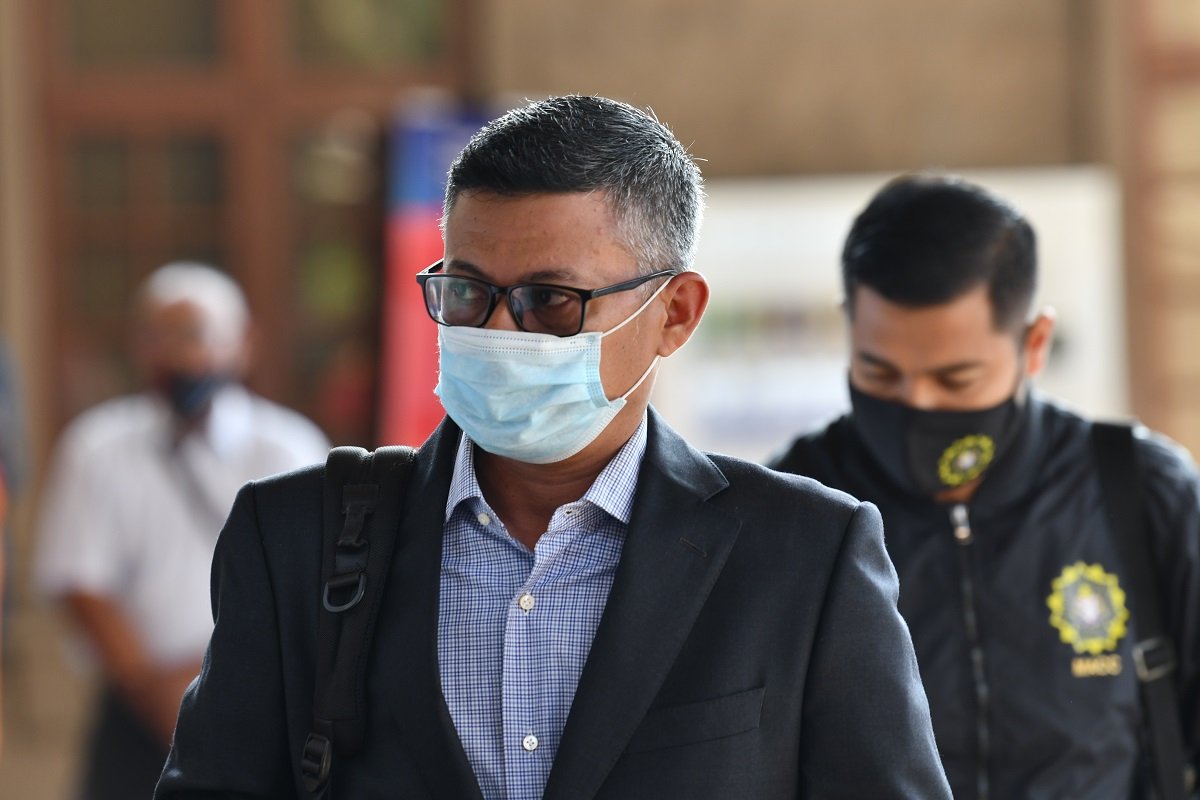 KUALA LUMPUR (May 17): Former 1Malaysia Development Bhd (1MDB) CEO Mohd Hazem Abd Rahman told the court today that former prime minister Datuk Seri Najib Abdul Razak was involved in fugitive businessman Low Taek Jho's "nefarious agenda" when the sovereign wealth fund's subsidiary raised US$3 billion in bonds for a sham joint venture with Abu Dhabi in 2013.
The 50:50 joint venture between 1MDB and Aabar Investments PJS Ltd (Aabar BVI) – a company incorporated in the British Virgin Islands – is called Abu Dhabi Malaysia Investment Company (Admic) Ltd. The JV company was initially registered as Malaysian Abu Dhabi Investment Company (Madic) on March 5, 2013, but changed its name to Admic a week later, in what the defence previously suggested was part of Low or Jho Low's modus operandi to ensure his offshore companies appear similar to well-established ones.
Hazem, who is the tenth prosecution witness in the 1MDB-Tanore trial where Najib is the sole accused for power abuse and money laundering involving RM2.3 billion worth of 1MDB funds, said he had his suspicions about the fundraising but did not seek Najib out to clarify the matter.
Najib's lawyer Wan Aizuddin Wan Mohammed questioned the witness on this. Below is an excerpt of the exchange:
Wan Aizuddin: You said you had suspicions about the fundraising exercise, that it was a nefarious agenda by Jho Low, based on instructions from Najib.
Hazem: Yes, that was what I suspected.
Wan Aizuddin: Does that not mean that the Prime Minister (Najib) was also involved in this nefarious agenda?
Hazem: Absolutely yes, in hindsight.
Wan Aizuddin then put to him that he was making a very heavy accusation against Najib, but Hazem stood by his answer.
Hazem then said that he only realised Najib's involvement in hindsight because of the various news reports and investigations conducted by authorities.
Wan Aizuddin then suggested that the reason why Hazem did not seek clarification from Najib on the matter was because Hazem was colluding with Jho Low in the scam, to which Hazem disagreed.
Hazem also reiterated what he previously said during trial, that while he did not officially raise his suspicions about any wrongdoing he witnessed, he had informally shared his concerns with the then 1MDB chairman Tan Sri Lodin Wok Kamaruddin.
"I did not bring this to the board because the company was being managed and run by the most powerful person in Malaysia, the Prime Minister. I would not even dare to report it. Like I said before, either you go along or you don't have a job," he said.
Hazem also said he wanted to resign back then, because of the wrongdoings he suspected were going on at 1MDB.
Wan Aizuddin disagreed with this and suggested instead that Hazem only leave when he is demoted and a new CEO is brought in.
Hazem, however, countered by saying he that wanted to leave earlier but was actually asked to stay.
Hazem also said that while Jho Low had no formal role in 1MDB, everyone knew of his influence in the company. "That was the work culture in 1MDB from the board to the management," he said.
Hazem also said that the people in 1MDB were aware that he was a puppet of Jho Low. When asked how they were aware, Hazem said they would have to answer for themselves.
Wan Aizuddin: Why didn't you put on the record that you were following Jho Low's instructions and talking points?
Hazem: Because he had no position in 1MDB.
Wan Aizuddin: The proper thing to do was to make full disclosure that you were acting on instructions of a third party.
Hazem: If I opted to do that, I might as well have left 1MDB.
Wan Aizuddin: In your witness statement, you said all of the instructions were from Najib. You never went so far as to go to Najib to check. You never felt that it was necessary.
Hazem: I felt that I only had to share [the instructions] with the chairman.
Najib is facing 25 charges in the 1MDB-Tanore trial. They comprised four counts of abuse of power involving the RM2.3 billion worth of 1MDB funds that are said to have been siphoned through Tanore Finance Corp, and 21 counts of money laundering.
Get the latest news @ www.EdgeProp.my
Subscribe to our Telegram channel for the latest stories and updates