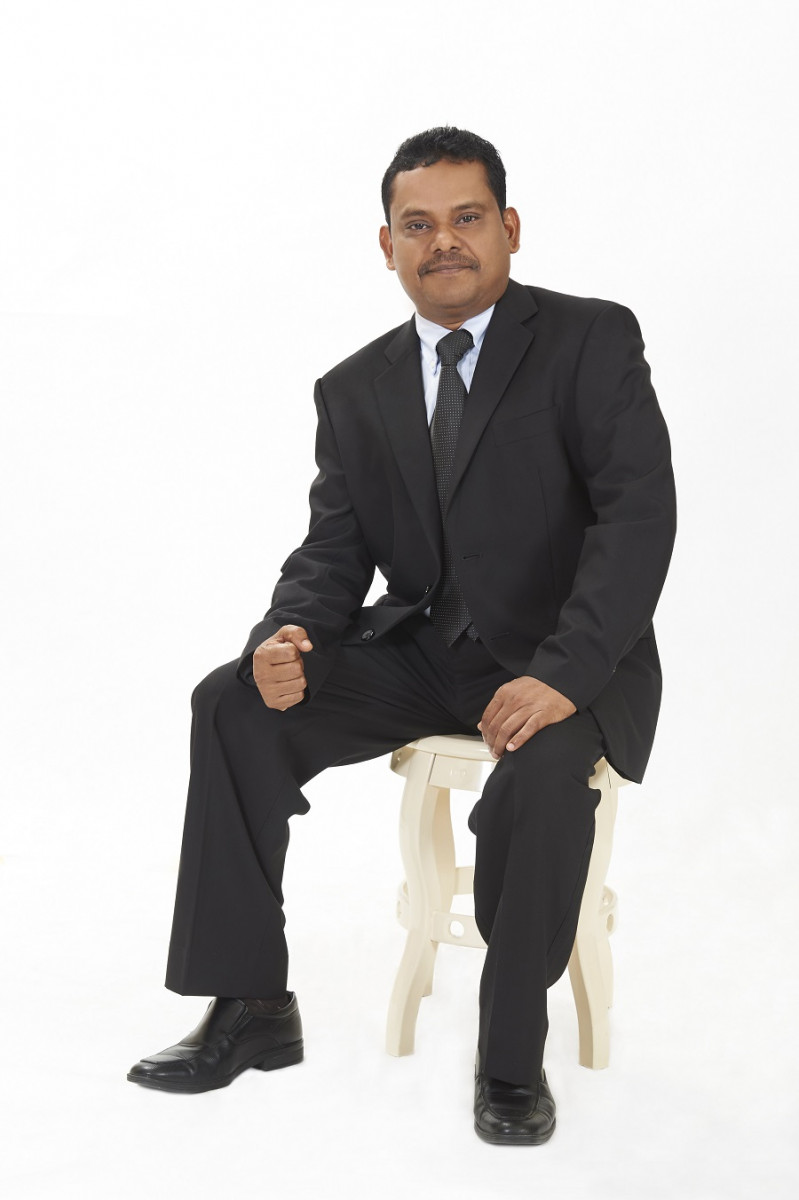 It was July 3, 2021, the first day of the Enhanced Movement Control Order (EMCO), which practically locked down a considerable part of Selangor and Kuala Lumpur. Many business operators' hearts sank, because it meant enduring another 14 days of productivity loss.
"Undeniably, small traders are suffering as they are the most affected, but I believe this will be a short-term pain. From a positive perspective, this [extension] is a good decision to effectively bring down the number of cases," Berjaya Land CEO Syed Ali Shahul Hameed tells EdgeProp.my in a virtual interview which happened to be held that day.
Read also
Berjaya Land's Syed Ali: We remain focused on building quality homes and expanding our portfolio
Berjaya Land senior general manager of property sales and marketing division, Tan Tee Ming, also in the interview, voices a similar sentiment.
"It's sad to see that after one month of lockdown, the number of daily cases still remains high and suicide rate has increased due to mental or financial stress. The extension of the lockdown is an inevitable decision. Only by doing so could we bring down the number of cases," he opines, adding that every country, including Malaysia, is speeding up the vaccination pace to protect lives and prepare for the reopening of the economy.
Market will start recovering by October
Describing the blanketing gloom and doom as an "interim period", Syed Ali is optimistic the economy and business activities will begin to recover by October, following the accelerated vaccination programme by the government.
In mid-June, Berjaya Corp Bhd CEO Abdul Jalil Abdul Rasheed revealed a three-year strategic plan, streamlining the existing operations from seven segments to five.
On the reorganisation, Syed Ali says this will not affect Berjaya Land's future plan as it has set a clear direction in offering products that are desired by the market and will continue to expand its hospitality business overseas, namely Iceland and Japan.

The group (Berjaya Corp) is so diversified and has so many businesses. By streamlining them into five main segments on a cluster basis, it will be easier to manage, as well as allow us to be more customer-focused, he explains.
The reorganisation has placed three core businesses under the property segment – property development, investment properties and affordable housing – which are helmed by Syed Ali.
What does this mean for Berjaya Land, especially at times like this?
The challenging business landscape aside, Berjaya Land is working towards an exciting close to 2021. Behind the scene, the team is working to accelerate Berjaya Land's penetration into both the affordable and high-end spectrums of the property development market.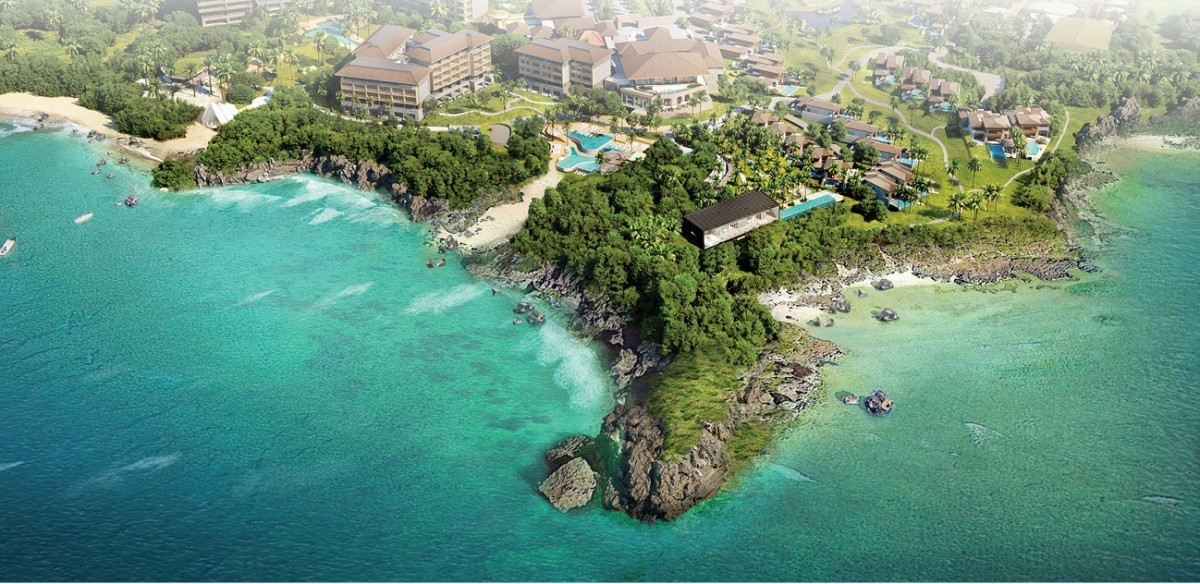 In the first three quarters of FY2021, Berjaya Land recorded RM4.1 billion of revenue, compared to RM5.16 billion in FY2020.
During the same period, Berjaya Land recorded a profit before tax of RM30.27 million, compared to RM185 million in FY2020. The declining profit has been attributed mainly to the impact of the Covid-19 pandemic.
Tan says there are strategies to improve Berjaya Land's bottom line, including reviewing all the ongoing projects and conducting research to better understand market needs, especially homebuyers' needs in the new normal.
One of them will be a new mixed development in the heart of KL city centre.
Dubbed Lot 2000, the development is situated next to the Berjaya Times Square. It will offer around 629 residential units with a facility floor and a sky restaurant on the rooftop. Lot 2000 is a collaboration between Berjaya Asset and Berjaya Land.
Lot 2000 will also feature some retail units on the ground floor, with the Starbucks Coffee Drive-thru being one of the planned tenants.
"Generally people love Starbucks and its drive-thru is doing extremely well. We think this will add value to Lot 2000," he notes.
Right timing for Lot 2000 launch
While many might be sceptical about the launch timing amidst pandemic times, Syed Ali is confident the project will spur market interest given its strategic and happening address.
"In fact, the timing is right for us. While the land used to look into Pudu Jail, now it is the upcoming Bukit Bintang City Centre (BBCC), another iconic landmark in the Golden Triangle of KL. This will certainly add value to Lot 2000," he points out. The strategic location and advent of BBCC aside, Berjaya Land is also excited about bringing more vibrancy to the Pudu/Imbi area, one of the old business hubs in the KL city centre.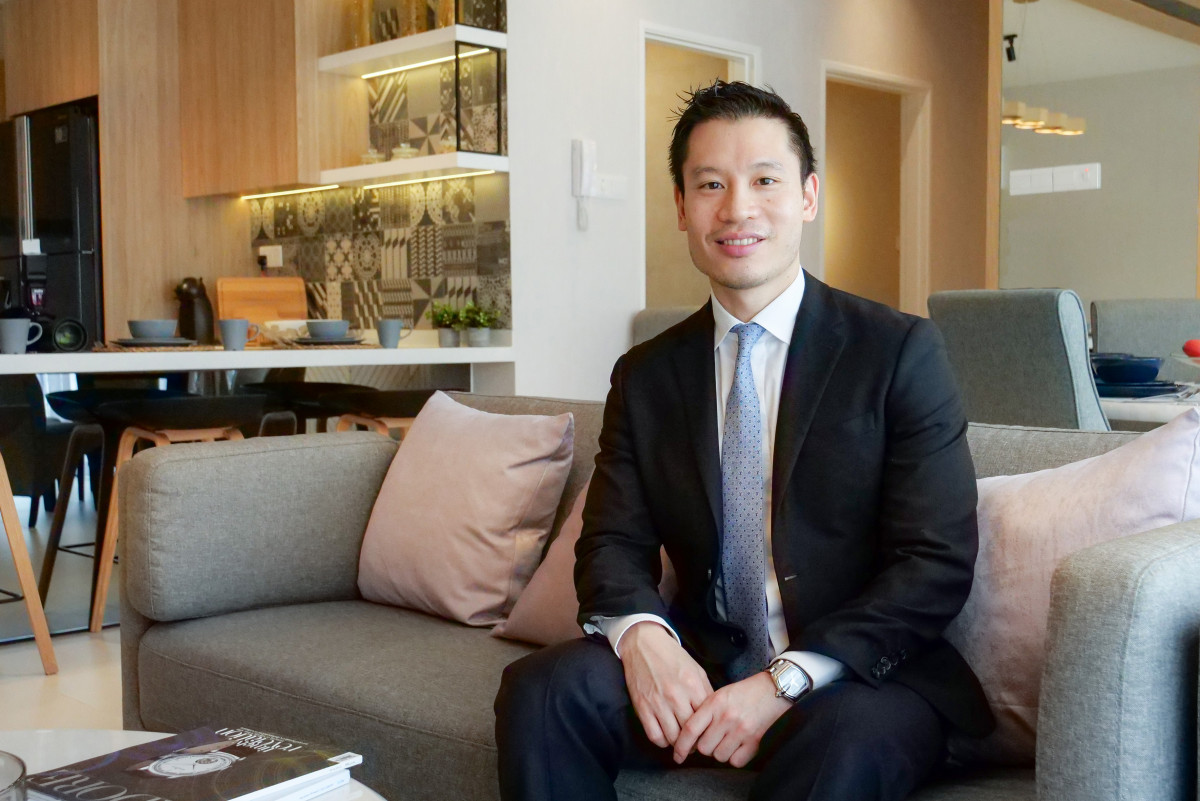 Lot 2000 will be featuring a sky restaurant on the rooftop that serves a palate-pleasing fare while rendering a visual feast of the KL city centre vista.
"We have obtained the development order for the structure works for the one-acre plot. The construction work will commence by the end of the year… We are also looking at launching it by year-end," Syed Ali reveals.
Easy accessibility is also one of the unique selling points for Lot 2000 as future residents will benefit from the direct connectivity to the monorail, which will connect them to the Light Rail Transit (LRT) and Mass Rapid Transit (MRT) systems.
Berjaya Land is also looking at building a pedestrian bridge to enable a seamless connection from Lot 2000 to Berjaya Times Square.
What's more exciting? Syed Ali adds that the units will be competitively priced from RM500,000.
Currently, residential units in the Golden Triangle of KL are selling in the average range of RM1,200 to RM1,500 psf, says Tan, adding that Berjaya Land has yet to finalise the selling price for Lot 2000.
Syed Ali says they are mainly targeting local city dwellers but expects around 10% to 20% of foreign buyers.
Eyeing on affordable housing segment
Lot 2000 is not the only excitement for Berjaya Land this year. The 49-year-old chieftain says following a review, the company's product portfolio would be expanded to tap the affordable housing segment.
He adds that the affordable segment is now in demand and Berjaya Land is looking at establishing another new brand name to focus on.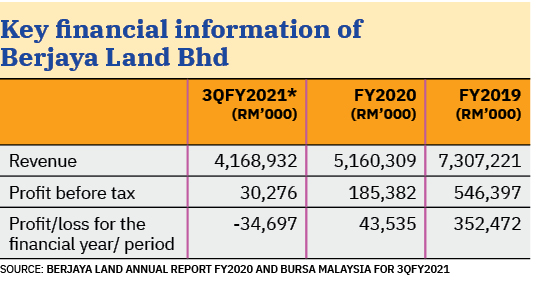 "We are looking at building more quality homes with affordable prices," stresses Syed Ali, adding that this could be done through the usage of the industrialised building system (IBS).
In initial planning, Berjaya Land is eyeing to build at least 35,000 affordable homes in Klang Valley within the next five to ten years. However, he did not reveal the pricing details as the plans are still in preliminary stage.
Most developers shy away from affordable homes, citing high land costs and low margins. Which explains why many affordable homes built are vacant; all because of their poor accessibility.
Syed Ali says however, the affordable homes Berjaya Land will be rolling out would come with a strategic location with easy accessibility. He declined to disclose its location except that it is in the Klang Valley. The land, he continues, has been set aside and planned for quality affordable homes development.
"We could make money from [developing affordable homes]. Although the margin is lower and profit is not that huge, we could still be profitable while giving back to the society. This will be our main direction," he stresses.
The idea of launching more affordable products echoes Berjaya Corp executive chairman Tan Sri Vincent Tan's vision in making houses within the reach of low-income earners in the city centre.
According to earlier news reports, Vincent Tan has pledged to contribute 20 acres of land located at Bestari Jaya in Selangor to the Housing and Local Government Ministry for the building of more affordable homes.
The other affordable home projects in the pipeline are in Selangor's Subang Heights and Shah Alam; and in Penang, according to earlier reports.
Berjaya Land's plans for affordable homes would include those targeted at the B40 group. Syed Ali said several locations have been identified for the latter.
In Feb 2020, Berjaya Land handed over its affordable home project, Residensi Lanai in Bukit Jalil, to buyers.
Built on a 2.56-acre freehold plot, Residensi Lanai comprises 648 units spread across a 29-storey condominium with a 5-storey podium car park. Launched in 2017, it was under the Federal Territories Affordable Housing Project (RUMAWIP).
Meanwhile, Syed Ali says Berjaya Land will continue to stay close to the market and respond with products desired such as The Tropika development in Bukit Jalil.
In May this year, Berjaya Land launched Tower C in The Tropika development, which came after the series of launches for Tower A in 1Q2019 and Tower B in mid-2020.
According to Tan, the three towers of The Tropika have recorded a take-up rate of 75%, a commendable effort given the current soft market conditions amidst economic and Covid-19 pandemic uncertainties.
The Tropika sits on a 6.5-acre freehold tract in Bukit Jalil. This nature-inspired mixed development comprises four residential towers with 868 serviced residence units, a 23,695 sq ft grocer, nine double-storey dual frontage shoplots and 11 retail lots.
Slated to be completed by 2023, the development has a gross development value of around RM840 million.
Adding value for property buyers
As a developer, Berjaya Land is mindful of the need for value creation for buyers. For the retail units for example, the developer has dived into mapping out and securing a quality tenant mix before putting on the market the tenanted units. There is no immediate plan to keep such units as investment. Tan says listening to buyer's feedback is important for the products to be relevant and marketable.
In order to do so, Tan says listening to customers' feedback is crucial to constant product improvement, and to making the project sellable.
"For example, we have observed in The Link 2 mixed development in Bukit Jalil that shoplots facing the main road command higher prices. Some of the units which do not have main road frontage are less desirable and fetching lower rentals," he says.
"Learning from The Link 2, when the team was planning for the commercial component of The Tropika, we made sure all the retail units face the main road. Instead of selling off the units directly, we are now filling them up with good brand names, making this place attractive to command better future value," adds Tan.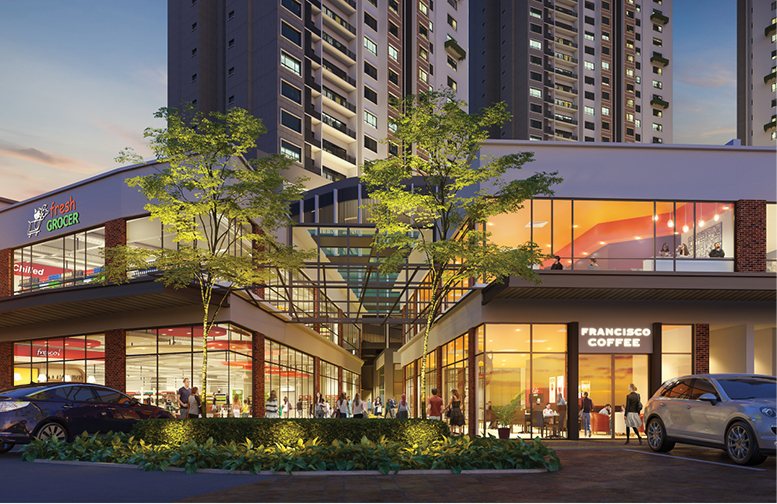 The tenants which will be coming into The Tropika include a Hong Kong-style Chinese restaurant, Baskin-Robbins and Super Food. It will also house a 23,695 sq ft Jaya Grocer which will offer grocery shopping convenience not only for the residents but also for the people who stay and work nearby Bukit Jalil.
"Many might have thought that Jaya Grocer fell on our lap, but it didn't. We have done our market survey and talked to consultants and we know this will work. Hence, we made the effort to reach out to them and we have even allocated such a huge space for the grocer. I am confident if Jaya Grocer opened now during the Full MCO period, it would make The Tropika the most happening place in Bukit Jalil," says Tan.
Property investment: Sharing burden with tenants
Undoubtedly, Berjaya Land's investment property division has been badly hit by the pandemic.
Syed Ali notes most of the tenants are suffering due to the prolonged lockdown, except for those offering essential goods and services.
"For the tenants who are affected, we try our best to support them, such as giving them extensions of time to pay the rents. For some tenants, we even offer a revenue-sharing instead of [fixed] monthly rent," he highlights.
Berjaya Land's property investment division currently owns three commercial properties comprising Plaza Berjaya, KL; Kota Raya Complex, KL; and Berjaya Megamall, Kuantan, Pahang. Collectively, these properties achieved an average occupancy rate of 53% during FY2020, according to the Berjaya Land's FY2020 annual report.
Iceland hotels seeing high occupancy rate
The hospitality segment is another main contributor to the Berjaya Land's revenue.
Although the hospitality industry globally has been hit badly by the pandemic, it is interesting how Berjaya Land's Iceland hotel business is bucking the trend. Average hotel occupancy now stands at over 90%.
As of July 1, 2021, 70% of Icelandic residents received at least one dose of Covid-19 vaccine while over 57% were fully inoculated, according to data from Iceland Review.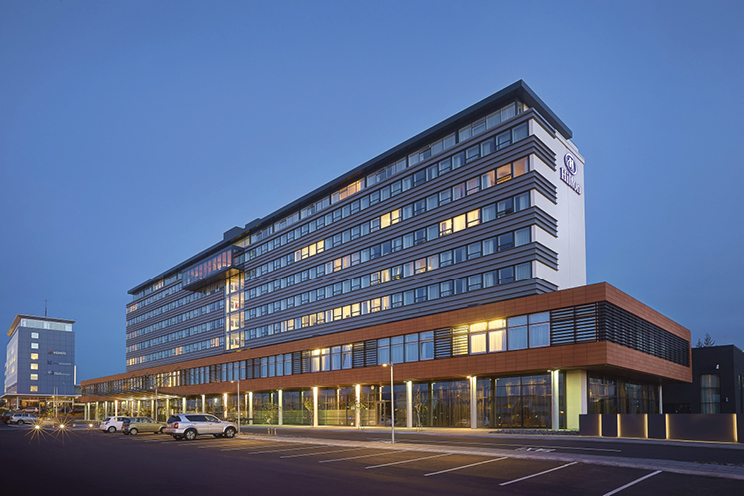 The high vaccination rate enabled the country to be the first in Europe to reopen its border in April this year, welcoming foreign tourists under strict requirements. Fully vaccinated travellers are not obliged to undergo PCR tests while those who are not vaccinated are required to go for screenings and five-day quarantines in local hotels.
According to Syed Ali, the reopening has attracted many tourists from the US, Germany and UK who are looking forward to travelling again and this has supported the demand for hotel rooms.
"Currently, our hotels in Iceland are seeing over 90% occupancy rate and Hilton Canopy Reykjavik has recorded 95% occupancy rate," he shares.
Berjaya Land, in 2019, acquired a 75% stake in Icelandair Hotels ehf, one of the largest hotel chains in Iceland, for US$53.63 million (RM223.1 million). The deal enabled Berjaya Land to enter the luxury hotel segment in Iceland which was in line with Berjaya Corp's vision of geographical diversification and revenue expansion.
Icelandair Hotels currently operates 14 hotels with a total room count of 1,634 located all around Iceland.
Within the same Arctic region, Berjaya Land is also looking at development opportunities in Greenland.
"We are now in discussions with the local authorities. If everything goes well, we will have our debut project in Greenland," Syed Ali discloses.
Expansion in Japan continues
Meanwhile, Berjaya Land is charging ahead with its plan to add another 10 hotels under the Four Seasons brand across Japan.
Syed Ali says Japan will be Berjaya Land's main focus, where the construction of Four Seasons Resort and Private Residences Okinawa (Four Seasons Okinawa) started last year. Completion is expected within three years.
Four Seasons Okinawa is developed by Berjaya Okinawa Development Co Ltd, a wholly-owned subsidiary of Berjaya Land, in partnership with Four Seasons Hotels and Resorts. It will be Berjaya's second hotel on the island, after ANSA Resort Okinawa in Uruma, which was opened in Nov 2019.
In February last year, Berjaya Corp sold its trust beneficial interest in the hotel component of the Four Seasons Hotel & Hotel Residences Kyoto, Japan for 49 billion yen (RM1.84 billion).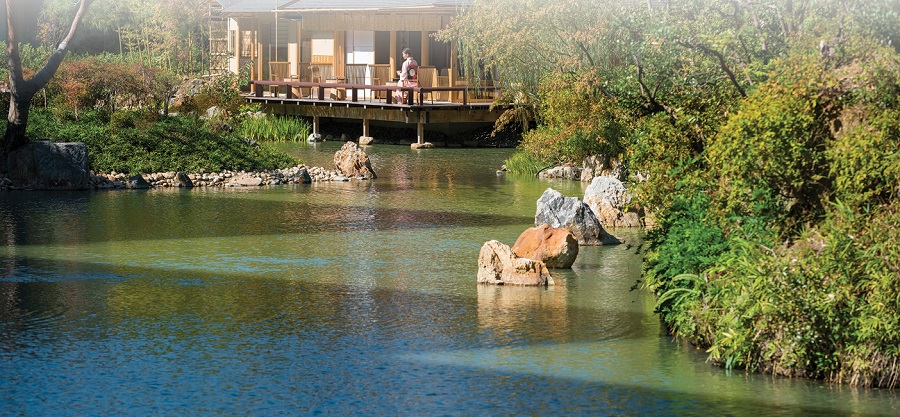 Subsequently, Berjaya Kyoto Development Kabushiki Kaisha (BKD), another subsidiary of Berjaya Corp, leased back the hotel from the buyer for 17 years to maintain the existing arrangements and operations of the hotel.
In Malaysia, Berjaya Land also has resorts in Langkawi, Kedah; Redang Island, Terengganu; and Bukit Tinggi, Pahang, as well as hotels in parts of Asia and Europe. Berjaya Land currently owns and operates 36 hotels and resorts locally and internationally.
Amidst uncertainties ahead, a busy time awaits Berjaya Land. With exciting new developments locally and internationally in the pipeline, the company expects get
This story first appeared in the EdgeProp.my E-weekly on July 9, 2021. You can access back issues here.
Get the latest news @ www.EdgeProp.my
Subscribe to our Telegram channel for the latest stories and updates