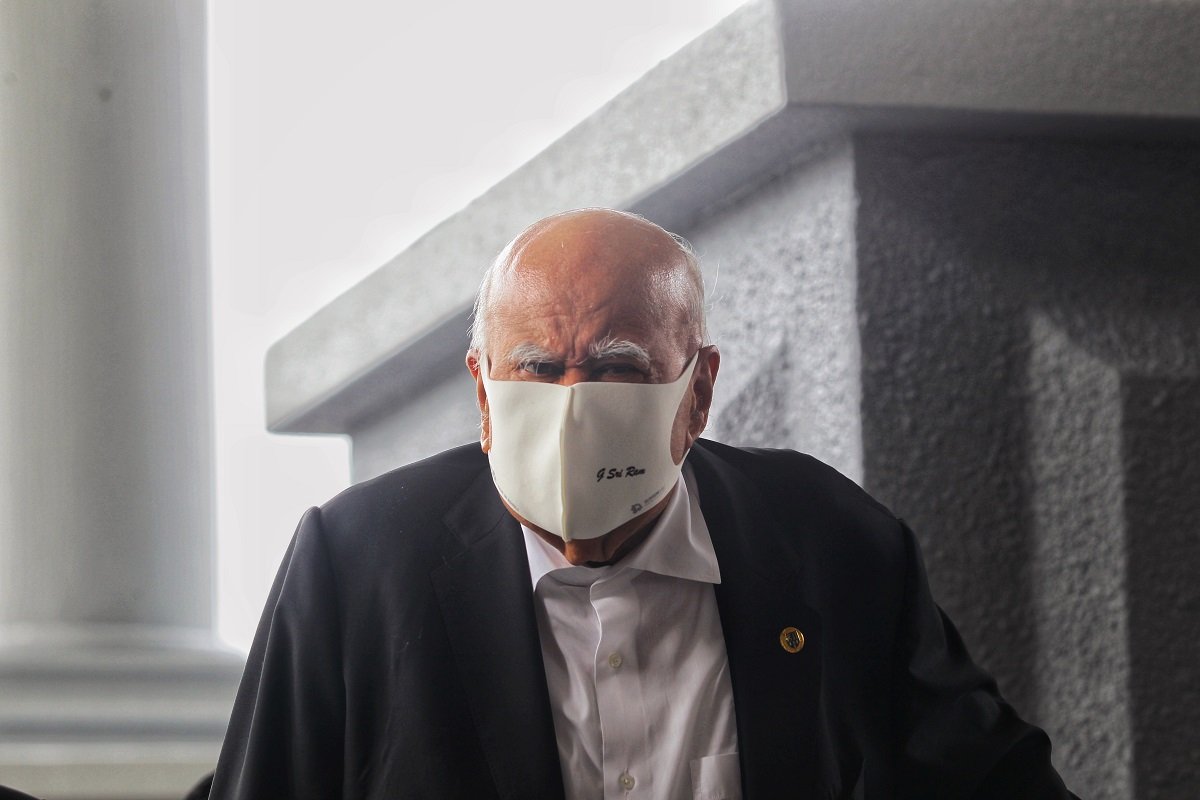 KUALA LUMPUR (July 15): Former Federal Court judge Datuk Seri Gopal Sri Ram told the High Court here today that Attorney-General Tan Sri Idrus Harun has issued a fiat or appointment letter to him dated May 21, 2021 to clear any doubt over his appointment as senior deputy public prosecutor or DPP in Datin Seri Rosmah Mansor's solar hybrid project graft case.
Sri Ram said the letter issued by Idrus is in addition to the July 8, 2020 letter issued by Idrus to him.
"The second letter by Idrus is to clear any doubt as to the first letter that I had the authority to prosecute Rosmah. There have been arguments that I cannot conduct the prosecution in this case.
"However, the letter dated May 21 should have cleared the air over my appointment and it should be looked at in that way," he said.
The senior lawyer also pointed to Section 50 of the Interpretation Act 1948 (1967), which stipulates that any authority empowered by written law to appoint a person to exercise any function can make that appointment with retrospective effect.
This, he said, is in addition to former attorney-general Tan Sri Tommy Thomas's affirmation of an affidavit that he had orally appointed him to prosecute Rosmah in this case.
Those two letters, Sri Ram said, should be read in context to that effect. If the court does not see it that way, it should still consider, as shown in Section 50 of the Interpretation Act, that any authority can retrospectively appoint a person.
Sri Ram was submitting on his own in Rosmah's application to bar him from representing the prosecution as the senior DPP, and to declare the trial where she had been ordered to enter her defence a nullity.
He also stressed that despite being the senior DPP, how he conducts the case is still within the AG's control.
The former Federal Court judge added that his appointment was not limited to handling cases involving 1Malaysia Development Bhd but also this case. Hence, he said there should not be any questions about the validity of his appointment.
"My appointment was made under Section 376 (3) of the Criminal Procedure Code (CPC), which does not require an appointment letter or fiat is produced. This is unlike if my appointment was made under Section 377 or 379 of the CPC," he added.
"Section 376(3) of the CPC is a written law. It empowers the public prosecutor to appoint DPP to exercise the function of the public prosecutor. Accordingly, the public prosecutor is by virtue of Section 50 entitled to appoint a DPP with retrospective effect," he said.
Questions surrounding Sri Ram's appointment to conduct Rosmah's trial were raised when the Court of Appeal ordered the prosecution earlier this year to produce his letter of appointment, a copy of which the bench then extended to Rosmah's defence team.
Sri Ram, who was appointed by Thomas to oversee 1MDB-related cases in August 2018, appeared for the prosecution when Rosmah was first charged for graft in November that year. This subsequently led to questions over the former top judge's appointment to prosecute her case.
'An appointment letter needs to be produced before a private lawyer conducts a trial'
Senior lawyer Datuk Jagjit Singh, who appeared with Datuk Akberdin Abdul Kader for Rosmah, said a private lawyer's appointment should have been shown first in court, before he or she is allowed to conduct a trial.
"This is the required procedure, whether it falls under Section 376, 377 or 379 of the CPC. If a person is to conduct a trial, a person who is other than a DPP should have produced a letter informing the court of his appointment," Jagjit said.
Jagjit also questioned as to why the May 21, 2021 letter was only produced on Monday, whereas the prosecution had last filed an affidavit on May 31.
The prosecution could have produced the letter then, Jagjit added.
"Why was this letter not filed when they last filed the affidavit on May 31? This is why I say the possibility of an afterthought and a 'web of deceit' to cover the deficiency by the prosecution," he said.
"If that is the case as Sri Ram claims, then Idrus himself should have affirmed the affidavit but he did not," the senior lawyer said.
Akberdin also argued that Section 376(3) of the CPC should not be read in isolation, and impressed upon the court that there is a procedural need to produce the appointment letter before the start of the trial.
"Why did he (Sri Ram) produce a letter at the 1MDB trial and not here? You cannot blow hot and cold with regards to procedures. When Datuk Sulaiman Abdullah and Datuk V Sithambaram were appointed to conduct the SRC International case, they had letters of appointment. Similar with Tan Sri Muhammad Shafee Abdullah in conducting the Datuk Seri Anwar Ibrahim (sodomy) appeals.
"Why then was there no specific letter of appointment in our case, until the one produced on May 21?" Akberdin questioned.
Akberdin also argued that the purported oral go-ahead given by Thomas is a legal fallacy, saying three Federal Court cases have shown that a letter of appointment must be produced.
He also questioned the prosecution's move of filing another affidavit yesterday, something which he said they should have completed in May – a deadline previously set by the High Court registrar.
Following the submissions, Justice Mohamed Zaini Mazlan said he would deliver his decision on the matter on Sept 9.
Should the court allow Sri Ram to continue leading the prosecution and dismiss the defence's application to nullify the present proceeding, then Rosmah's defence would resume on Oct 5, 6, 7.
Rosmah was ordered in February by Justice Zaini to enter her defence to three graft charges in relation to the solar hybrid case for 369 rural schools in Sarawak.
She was accused of having received a total of RM6.5 million from Jepak Holdings Sdn Bhd managing director Saidi Abang Samsuddin between Dec 20, 2016 and Sept 7, 2017. She was also charged with soliciting a RM187.5 million bribe, out of a total of RM1.25 billion project awarded to Jepak Holdings's Saidi, through her aide Datuk Rizal Mansor.
Get the latest news @ www.EdgeProp.my
Subscribe to our Telegram channel for the latest stories and updates