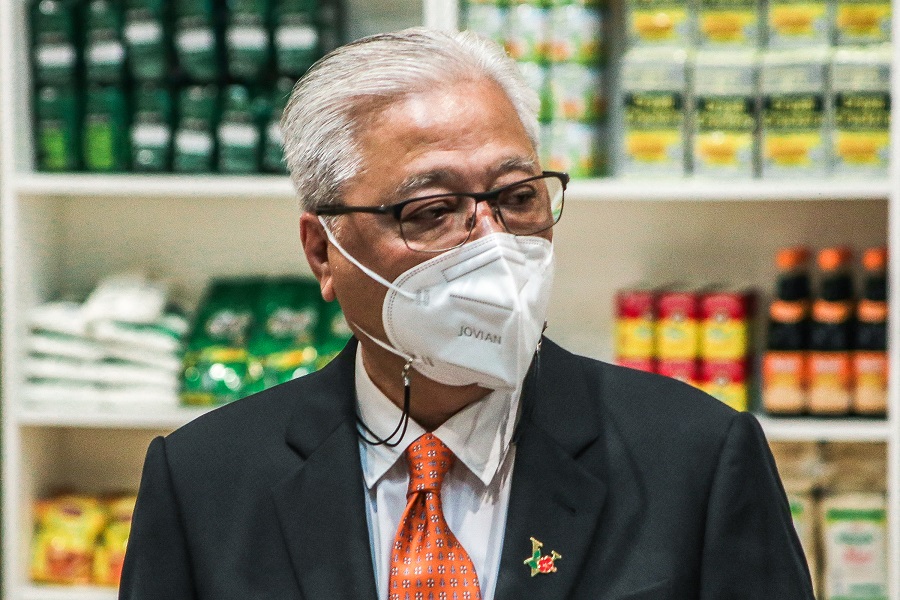 KUALA LUMPUR (Aug 6): Thirty-one Barisan Nasional (BN) members of Parliament will continue to support the Perikatan Nasional government until its legitimacy is determined in a vote of confidence at the Parliament next month, said deputy prime minister Datuk Seri Ismail Sabri Yaakob (pictured).
At a press conference today, he said the MPs were upholding the decree of the Yang di-Pertuan Agong that the government of the day should continue its administration and that a motion of confidence should be tabled at Parliament to enable lawmakers to decide if they would support the government or not.
"It is clear that His Majesty wants Parliament to be reconvened, and for MPs to determine if the government will continue to function after September. This is clear because the Palace is no longer accepting statutory declarations or letters of support.
"So despite the statement by the Umno president [Datuk Seri Ahmad Zahid Hamidi] saying he will send a list of names [of those who have withdrawn their support from Prime Minister Tan Sri Muhyiddin Yassin to the Palace], this goes against the King's wishes and decision," said Ismail Sabri.
Present at the event were 21 out of the 31 MPs. The full list of BN lawmakers who have given their support to the current government, according to Ismail Sabri, are:
1 Datuk Seri Mahdzir Khalid (Umno – Padang Terap)
2 Datuk Seri Shahidan Kassim (Umno – Arau)
3 Datuk Seri Idris Jusoh (Umno – Besut)
4 Tan Sri Noh Omar (Umno – Tanjong Karang)
5 Datuk Seri Tajuddin Abdul Rahman (Umno – Pasir Salak)
6 Datuk Seri Tengku Adnan Tengku Mansor (Umno – Putrajaya)
7 Datuk Seri Hassan Arifin (Umno – Rompin)
8 Datuk Seri Panglima Abdul Azeez Abdul Rahim (Umno – Baling)
9 Datuk Seri Ismail Sabri Yaakob (Umno – Bera)
10 Datuk Dr Noraini Ahmad (Umno – Parit Sulong)
11 Tan Dri Annuar Musa (Umno – Ketereh)
12 Datuk Seri Reezal Merican Naina Merican (Umno – Kepala Batas)
13 Datuk Seri Hishamuddin Hussein (Umno – Sembrong)
14 Khairy Jamaluddin Abu Bakar (Umno - Rembau)
15 Datuk Halimah Moahamed Sadique (Umno – Kota Tinggi)
16 Datuk Seri Dr Adham Baba (Umno – Tenggara)
17 Datuk Seri Dr Ismail Mohamed Said (Umno – Kuala Krau)
18 Datuk Seri Abdul Rahman Mohamad (Umno – Lipis)
19 Datuk Seri Ismail Abd Muttalib (Umno – Maran)
20 Mohd Shahar Abdullah (Umno – Paya Besar)
21 Datin Mastura Mohd Yazid (Umno – Kuala Kangsar)
22 Datuk Seri Ahmad Hamzah (Umno – Jasin)
23 Datuk Zahidi Zainul Abidin (Umno – Padang Besar)
24 Datuk Seri Mohamed Nazri Abdul Aziz (Umno – Padang Rengas)
25 Datuk Jalaluddin Alias (Umno – Jelebu)
26 Datuk Salim Sharif (Umno – Jempol)
27 Datuk Mohamad Alamin (Umno – Kimanis)
28 Datuk Seri Wee Ka Siong (MCA – Ayer Hitam)
29 Datuk Seri Wee Jeck Seng (MCA – Tanjung Piai)
30 Datuk Seri M Saravanan (MIC – Tapah)
31 Datuk Arthur Joseph Kurup (PBRS – Pensiangan)
On Wednesday (Aug 4), the prime minister said he commanded the confidence of the majority of MPs, despite eight Umno MPs having signed a letter declaring that they were withdrawing support from the Perikatan Nasional government.
However, he did not specify the number of MPs who were supporting him.
Umno chief Ahmad Zahid subsequently claimed that Perikatan only had 114 MPs, prior to Umno's withdrawal.
He added that the party had also delivered an unspecified number of additional statutory declarations by lawmakers who had retracted their support for the premier to the palace.
Get the latest news @ www.EdgeProp.my
Subscribe to our Telegram channel for the latest stories and updates