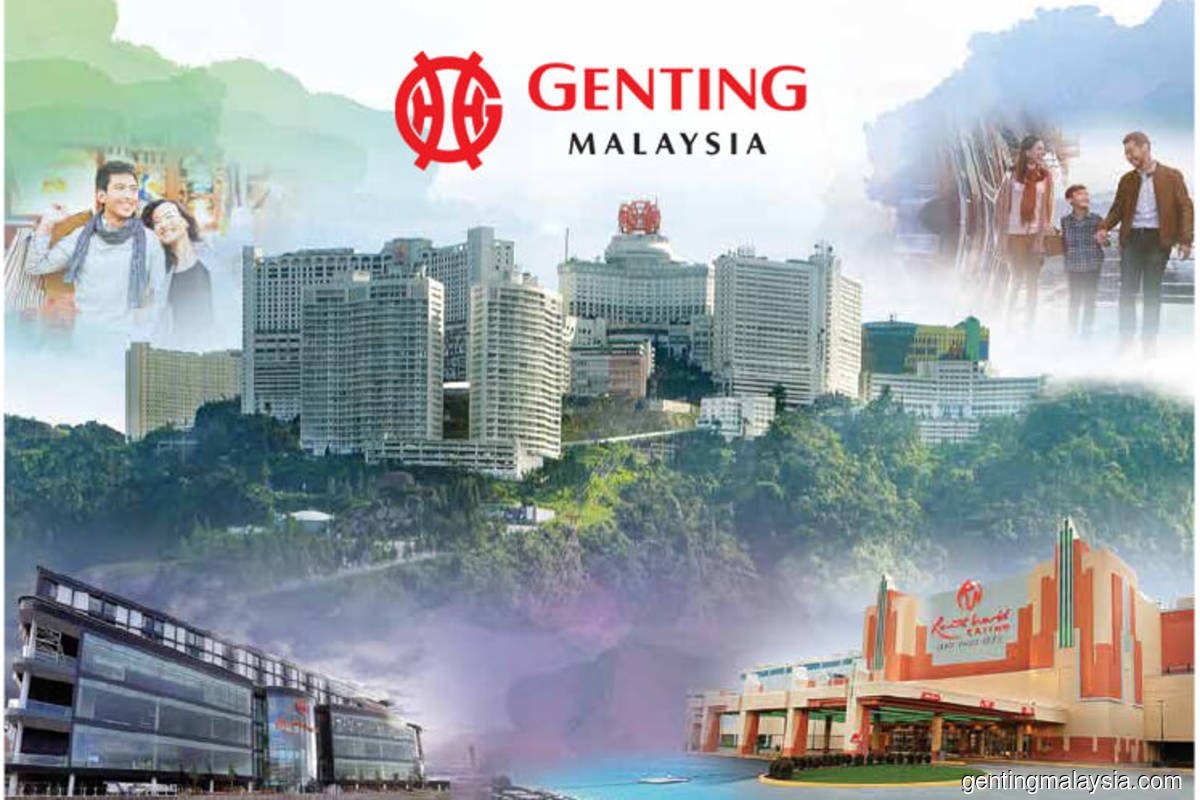 KUALA LUMPUR (Aug 30): Kenanga Research said while Genting Bhd's first half ended June 30, 2021 (1HFY21) core loss of RM111 million missed expectations, strong UK and US numbers in the second quarter (2QFY21) due to reopening and relaxing operating restrictions led the research house to believe that a swift recovery is in store for Resort World Group and Resort World Singapore once business and borders reopen.
As such, in a note today, it opined that Genting "is a good pick for recovery play". Following that, Kenanga maintained its "outperform" call on the stock and raised its target price (TP) to RM6.47 from RM6.05.
"[We have] a mixed outlook for the upcoming 3QFY21 given the prolonged lockdown in Malaysia but this should be mitigated by the improving situation in the UK and US, especially RWLV (Resort World Las Vegas).
"Overall, business volume is likely to recover from 2HFY21 due to vaccination deployment where positive development has been witnessed in the western countries with higher vaccination rates," it said
For 2QFY21, Genting's net loss narrowed 28.31% to RM563.5 million from RM786.05 million, while revenue rose 165.06% to RM2.9 billion from RM1.11 billion, mainly on the back of a higher contribution from its leisure and hospitality segment.
Post 2QFY21 results, Kenanga included RWLV into its forecasts and valuation.
"With the adjustment for Genting Malaysia (GenM), Genting Singapore (GenS) and Genting Plantations, we cut our FY21E earnings (estimate) by 31% but raised our FY22E earnings by 8%. We also cut our FY21E NDPS (net dividend per share estimate) by half to 7.5 sen but keep our FY22E NDPS at 15 sen," Kenanga noted.
"Genting is a good pick for recovery play as its business should recover quickly once cross-border restrictions are lifted, especially for GenS. New casino RWLV could be a wild card judging from its initial data. With the inclusion of RWLV and post 2QFY21 results revision, our new TP is raised to RM6.47 from RM6.05 based on unchanged +1SD (one standard deviation) to the five-year mean at a 41% discount to SOP (sum-of-parts) valuation," it added.
Risk to Kenanga's call is a prolonged Covid-19 pandemic continuing to restrict travelling and hence affecting its casino operations.
Meanwhile, Hong Leong Investment Bank (HLIB) Research lowered its TP for Genting to RM5.65 from RM5.75.
"Genting recorded 2QFY21 core LATMI (loss after tax and minority interest) of RM383 million, bringing its 1HFY21 core loss to RM701 million (year-on-year: -RM572 million). The results were below our (FY21: RM29.7 million) and consensus (FY21: RM277 million) expectations largely due to weaker-than-expected results from GenM and GenS," it noted in a report today.
"Nevertheless, we remain positive on the vaccination rates in Malaysia as the economy is already opening up to fully vaccinated individuals. We also expect RWLV to contribute positively to Genting's financials in 2HFY21 as footfall in its casino has been very encouraging since it commenced operations.
"Following changes to the TPs of its subsidiaries, our TP is lowered slightly from RM5.75 to RM5.65. We believe that investors will eventually start to look ahead its poor results as its UK and US operations already recorded strong improvements in 2QFY21," it added.
HLIB Research said that the gaming business in Malaysia and Singapore will continue to plague Genting as Covid-19 cases were escalating at an alarming pace in Southeast Asia of late and it will "remain challenging in the near term".
On a more positive note, it noted that the vaccination rates in Malaysia are increasing rapidly.
"Its US and UK operations have also almost resumed full operations and started to contribute more to its financials. We remain hopeful of long-term prospects for Genting as we expect it to record an exponential recovery in FY22," it added.
Genting's stock was in the green this morning, up 10 sen or 2.03% to RM5.03.
Subscribe to our Telegram channel for the latest stories and updates