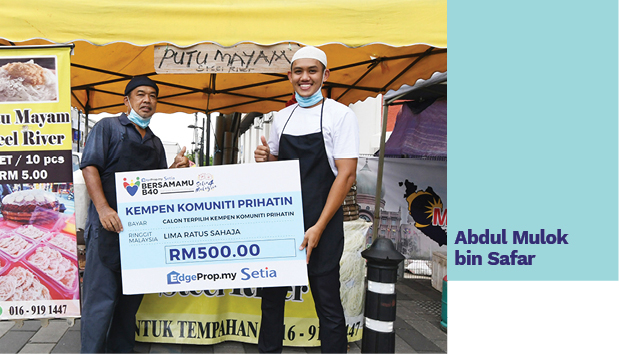 The Covid-19 pandemic has wrecked thousands of lives and livelihoods like a sweeping hurricane, but amidst the crisis, we see the Malaysians' fighting spirit, where many have adjusted themselves from permanent jobs to small businesses to keep afloat.
In conjunction with Malaysia Day this year, EdgeProp.my and S P Setia Bhd have joined hands to give some encouragement to these micro-traders through a Caring Community Campaign themed "Alongside our B40s".
Read also
Darkened nation brightened by kindness in action
Each of the 25 selected microenterprises will receive a sponsorship of RM500 to upgrade their businesses, as well as RM300 a month worth of business for six months.
This week, EdgeProp.my shares the stories of eight of the selected small traders on their hardships and what keeps them soldiering on.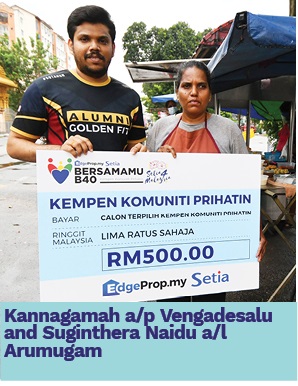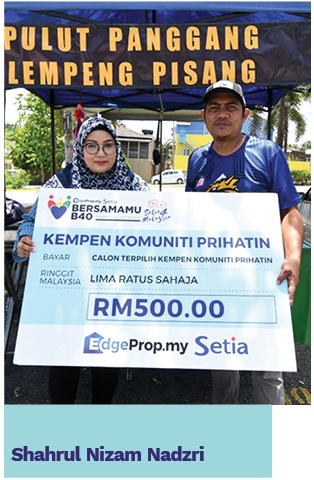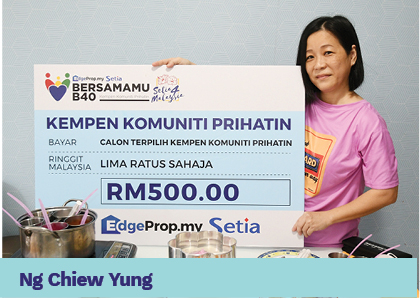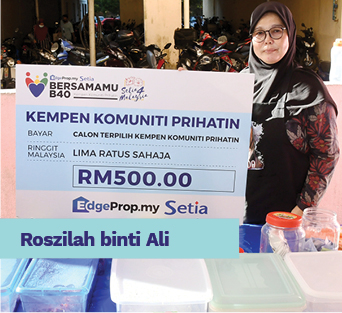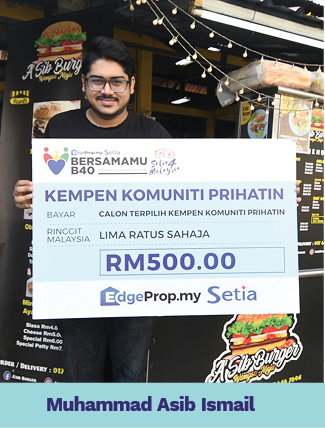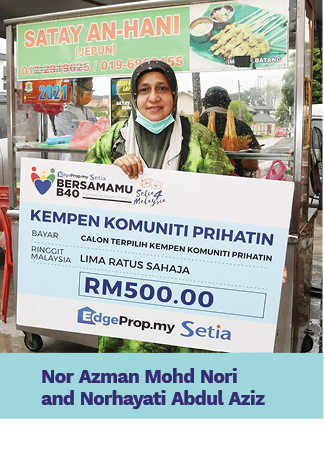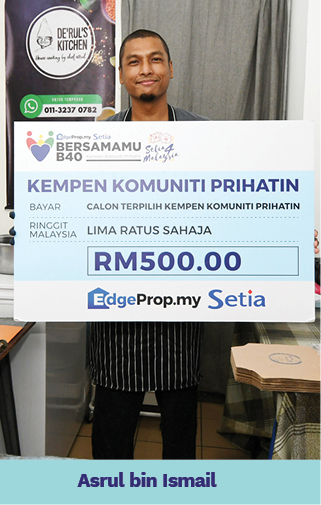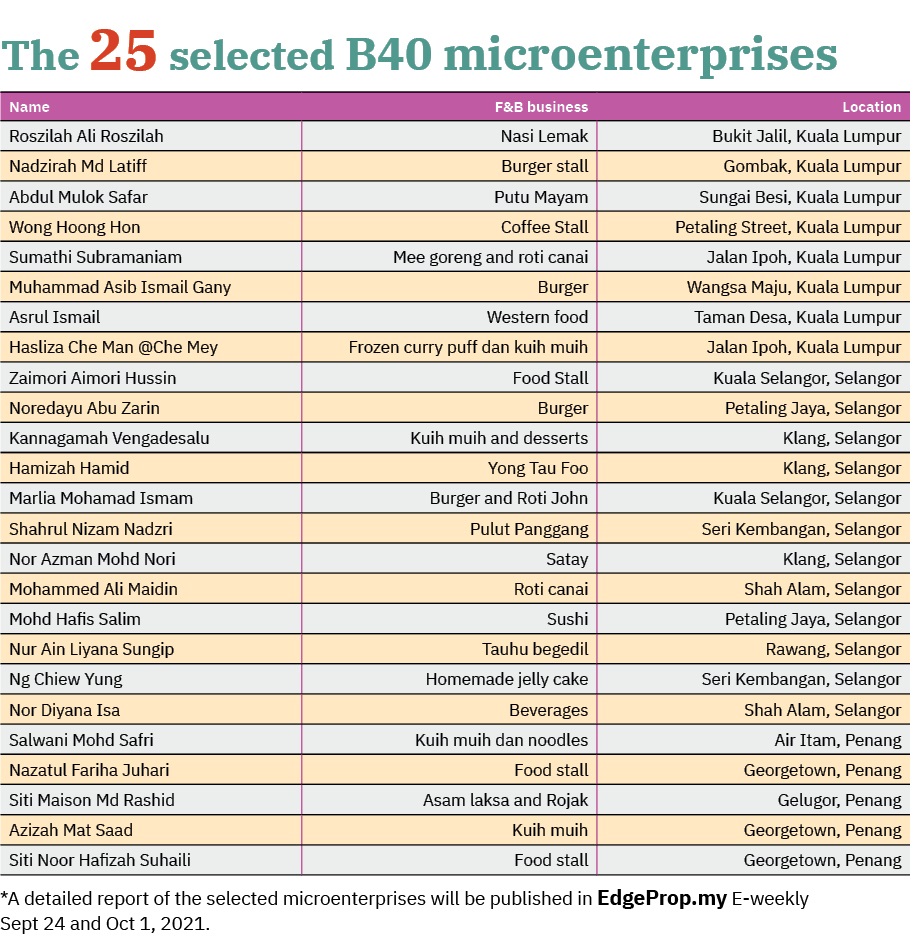 Turning hobby into business
Name: Ng Chiew Yung
Business: Home-made jelly cakes
Contact information: More details on FB page: https://www.facebook.com/sakuranohanajellycake (Sakura no Hana)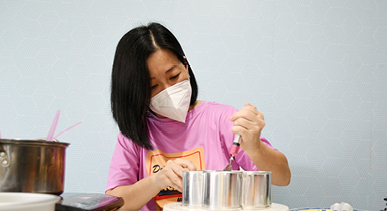 The handsome peony… inside a jelly! No, it's not the actual flower stuffed within but masterfully crafted to lifelikeness by Ng Chiew Yung.
She utilises several tools – syringe, metal moulds, needles and brushes to make this intricate 3D jelly art ranging from flowers, animals to even human portraits.
And it is all natural. "I use powdered seaweed extract and other natural ingredients for the jellies," says the 53-year old home baker who specialises in colourful jelly cakes.
For instance, she boils wheatgrass (green), turmeric (yellow), dragon fruit (pink) and carrot (orange) to extract their respective colours.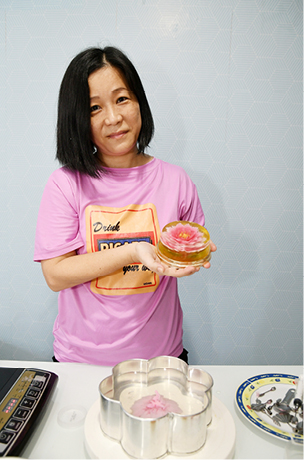 "My husband lost his job [in the corporate sector] late last year and has been a despatch rider ever since. I learnt about [this jelly craft] methods some three years ago and decided to embark on this [business] full time now," Ng tells EdgeProp.my.
According to her, it was love at first sight when she enrolled into a workshop that was organised by a developer to promote one of their housing launches. "I have dedicated most of my time to study, research and hone my craft ever since," Ng recounts.
She had quit her full-time office job a few years ago to be able to spend more time with her two children. To supplement the family income, she became a Grab driver then, but that did not work out as she found it hard to adapt to the many regulations imposed for the e-hailing industry back in 2019.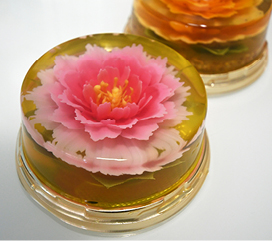 "Business can be slow on usual days with sometimes only one jelly order per week. Typically, it will be busier during festive seasons like the Mid-autumn Festival," notes Ng, while showing a jelly she made with the rabbit and harvest moon motif marking the festival.
Feeling very grateful for the cash aid, she plans to use it to buy ingredients and equipment. "Being natural, the ingredients are not cheap, and even the custom-made jelly moulds can cost a fortune," Ng says.
Cut back by injury
Name: Nor Azman Mohd Nori and Norhayati Abdul Aziz
Business: Satay
Location: (Next to Restoran Jit Ben) 39, 37, Persiaran Rajawali, Taman Berkeley, 41150 Klang, Selangor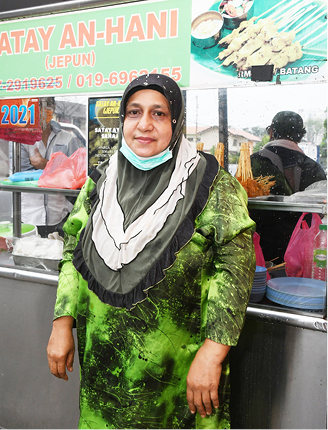 On a rainy evening on Saturday, a satay stall in the neighbourhood of Taman Berkeley, Klang, Selangor was packed with a crowd of people holding umbrellas and waiting patiently for their favourite local delicacy to be cooked.
The satay stall is owned by Nor Azman Mohd Nori, 58, and wife, Norhayati Abdul Aziz, 57. Established since 1993, the couple has been manning their satay stall six days a week before the pandemic.
Unfortunately, Norhayati suffered a fractured wrist at the start of the first movement control order (MCO) in March last year, and they have been operating three days a week ever since.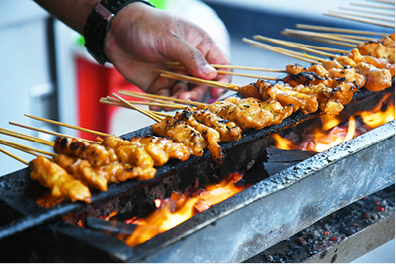 "During the lockdown, our income fluctuated. Some days we can get quite a number of customers while other days can be slow," Norhayati tells EdgeProp.my as she scribbles down some orders on a cardboard box with a marker.
According to her, during good days when many customers drop by, they are able to earn enough to sustain them for one week. However, their income has declined since her wrist injury and the reduced days of work.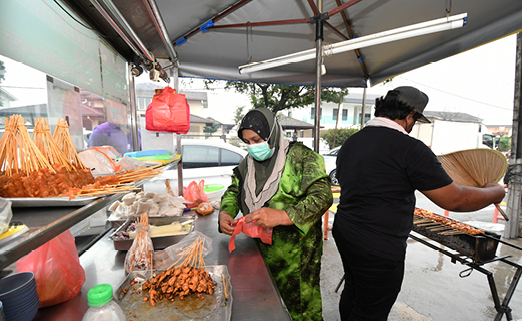 She is in charge of packing and preparing the ketupat, cucumber and onions while Nor Azman, and sometimes their youngest son, grill the satay. They have four children aged 24 to 34.
They intend to spend the RM500 cash aid on upgrading their equipment. "Our current stall and equipment are supplied by a veterinarian friend of ours," says Norhayati.
From electrician to kueh seller
Name: Shahrul Nizam Nadzri
Business: Traditional Malay kueh
Location: Along Jalan PUJ 3/1, Taman Puncak Jalil, Bandar Putra Permai, 43300 Seri Kembangan, Selangor (opposite Vimage Trading Photo Shop)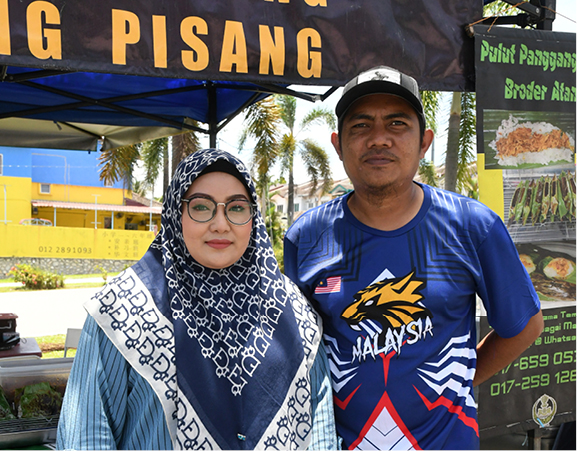 Having been retrenched from his day job as an electrician after the closure of the company last year, Shahrul Nizam Nadzri has been selling kueh full time now.
Having operated on a part-time basis since 2016, he has been selling traditional Malay kueh such as the pulut panggang (grilled glutinous rice) and lempeng pisang or banana pancake –both wrapped in banana leaves and then grilled.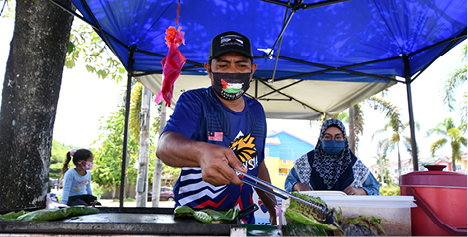 "Business has been very slow throughout the pandemic, even during [National Recovery Plan] Phase 2," the 40-year old Shahrul tells EdgeProp.my.
"The RM500 cash aid would be used for capital in addition to replacing the canopy," he says, pointing at a hole at the corner of the canopy.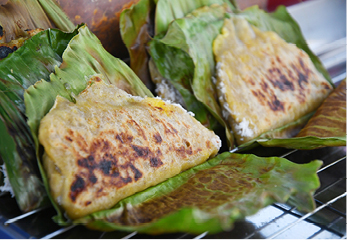 For those in the same boat, he advises them not to give up. "I notice a lot of people have given up operating their stalls due to a lack of customers. Despite the obstacles, we must remain steadfast, don't give up," urges Shahrul.
Students and temple visitors used to flock here
Name: Kannagamah a/p Vengadesalu and Suginthera Naidu a/l Arumugam
Business: Indian savoury vegetarian snacks
Location: Along Jalan Dato Dagang 6 at Taman Sentosa, Klang, Selangor (across the Sri Raja Rajeswari Hindu Temple)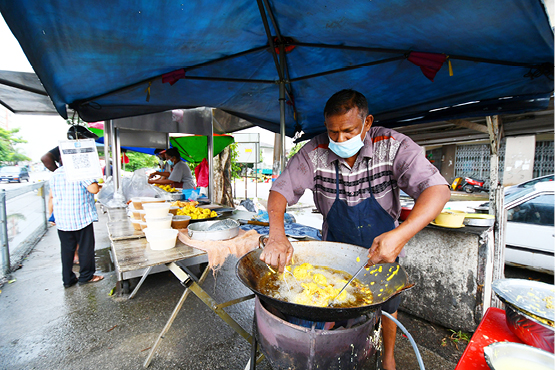 A veteran in the industry, Kannagamah Vengadesalu, 51, has been in the business for around 20 years.
"My mother started off selling food in a school canteen, before moving out into a stall in a restaurant," Suginthera Naidu Arumugam, her 28-year-old son, tells EdgeProp.my.
After about five years in that restaurant, Kannagamah got sponsorship from the state government to set up her stall – Penjaja Kannagamah – at the present location along Jalan Dato Dagang 6 at Taman Sentosa, Klang, Selangor, adds Suginthera.
Ideal for tea time and on-the-go, Kannagamah sells a wide variety of Indian savoury vegetarian snacks such as pakora, vadai, vada, chickpea sundal and many more. For those with a sweet tooth, she also offers several varieties of kueh and Indian sweetmeats. She starts preparing them as early as 6am and begins operations at 3pm.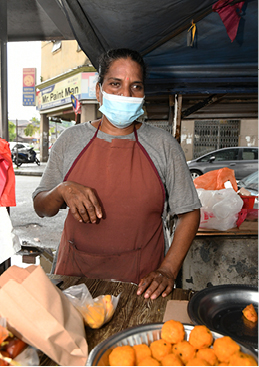 "We have been operating at this location for about 10 years now. However, the Covid-19 pandemic has affected the business. Back during normal times, when schools were opened, students would frequent the stall as school buses would stop along this road.
"Plus, during festive seasons, the devotees would flock to the stall after visiting the temple," says Suginthera.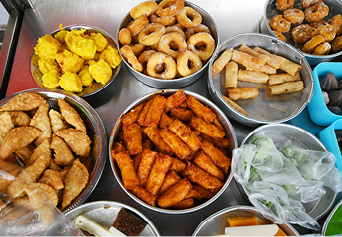 To partially cushion the impact, he has brought his mother's business online via foodpanda some two months ago.
Meanwhile, the RM500 cash aid would be used to upgrade the stall and equipment such as the tables, woks and parasols, adds Suginthera.
Holding the fort for seven people
Name: Roszilah binti Ali
Business: Kuih-muih and nasi lemak
Location: Block C, PPR Pinggiran Bukit Jalil, Jalan Bukit Jalil Indah, Bandar Kinrara 8, 43300, Puchong, Selangor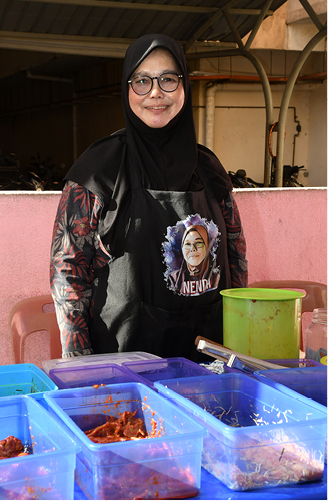 Manning a simple stall at the ground floor of the flat where she lives, it was 8.30am and Roszilah Ali, 58, was almost done for the day with all her kuih sold out, with only the nasi lemak side dishes remaining.
"After I close the stall, my husband and I will go to the nearby market to get the ingredients for tomorrow and prepare them a day earlier. The next day at dawn, I just have to cook the prepared ingredients from the day before. At 6am, my husband or my son will go downstairs to set up the stall," Roszilah shares with EdgeProp.my.
That has been her routine for the past four months since she decided to start the morning business to support her family.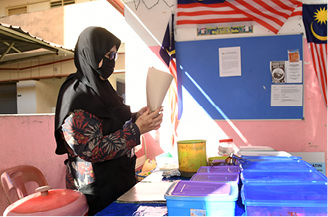 Before that, the income earners for the household of seven were her husband, 64, who used to work as a Grab driver and son, 36, who works as a personal driver.
However, the tides of Covid-19 brought about some financial hardship to the family as the new normal of working from home has resulted in a pay cut for her son, while her husband has not been able to continue as a Grab driver as he suffers from asthma and is considered high-risk in the virus-filled streets.
Roszilah recounts having to borrow everything from her neighbours to set up her business.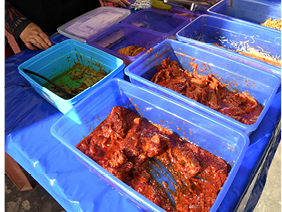 "All the things I use here are not mine. My neighbours have lent them to me. I remember I would knock on their doors and ask if there was anything I could borrow so that I could set up the stall."
So the RM500 cash she receives from the Caring Community Campaign has really come in handy, where she hopes to get her own equipment to carry on the business without needing to ask from her neighbours anymore.
'Our livelihoods depend on this'
Name: Muhammad Asib Ismail
Business: A'sib Burger
Location: Medan Selera Seksyen 4, Jalan Wangsa Perdana 3, Wangsa Maju, 53300, Kuala Lumpur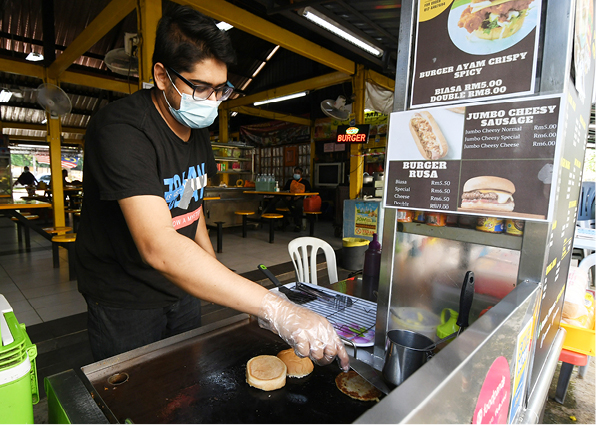 Muhammad Asib Ismail is only 25 years old but he has been working as an event planner in the wedding industry since he was 21 in 2017, after obtaining his professional certificate.
The Wangsa Maju native had not expected to be flipping patties, but alas, this is what it takes to sustain his family's livelihood.
"From March to June 2020, I was depending only on Perkeso [cash aid], but, I quickly realised that it was not enough."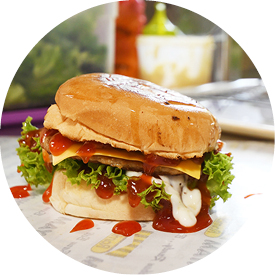 Located in Medan Selera Seksyen 4 Wangsa Maju, the food court was empty of customers as traders of the court sat leisurely waiting for customers to arrive when EdgeProp.my visited it in the afternoon.
As Asib's burger stall fronts the five-storey residential flat, he shares that most of his customers are the residents of the neighbourhood. He does receive outside customers but that can only be achieved through the food delivery service.
Business is much better from 5pm onwards when people would come out from their houses or come back from work.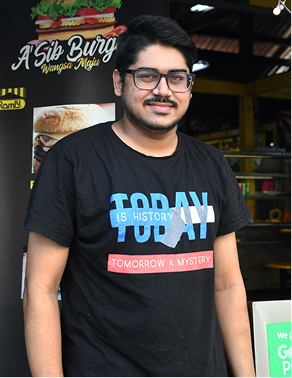 When asked about his parents, Asib pointed to the stall next to his. Both 64, his parents also operate a food business so that they would have two channels of income.
"Since I am just next to them, I could help them sometimes while also focusing on my stall.
"Though not much, the businesses were still able to support our livelihoods, but it has been a really tough period during the pandemic. Our livelihoods depend on the business," Asib shares.
Tiny space with super menu
Name: Asrul bin Ismail
Business: De'rul's Kitchen (Western food)
Location: Pangsapuri Teratak Muhibbah 2, Taman Abadi Indah, 58100 Kuala Lumpur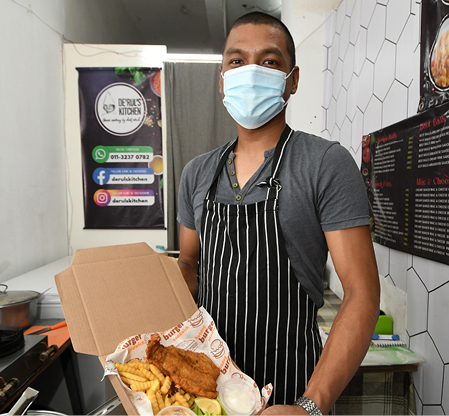 There are tables positioned to his left and right to accommodate his appliances, with only a linear path for movement. This tight rectangular space is where Asrul Ismail, 35, works.
With limited space, Asrul needs to optimise every inch of the tiny shop, and customers can already see the cooking area even from the entrance.
The humble set-up belies the wide array of chef-quality servings Asrul offers though, where a long banner on the right side of the wall lists an incredible variety of 110 menu choices!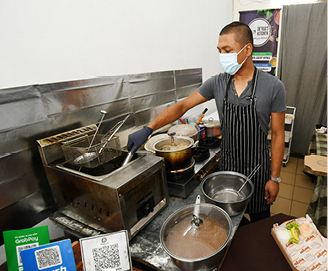 It seems Asrul knows no bounds when it comes to cooking. In fact, he reveals that his knowledge and skills have been acquired from 15 years of experience as a chef.
Retrenched from his position when the first lockdown was implemented in March 2020, this chef-at-heart has continued to flex his prowess to make a living amidst the difficult period, even if it was just a home-based kitchen with only three products – lasagna, roasted chicken and pasta.
In June 2020, Asrul moved his business to Kampar, Perak as his wife wished to be closer to her family after giving birth. They then moved back to Kuala Lumpur in July 2021 after his wife managed to get a job as a nurse in Kota Damansara, Selangor.
Subsequently, he relocated his business to the current location.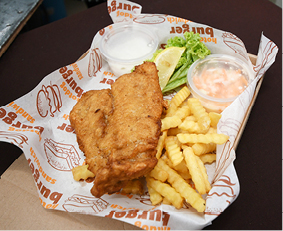 Now that he will be receiving the RM500 cash aid from the Caring Community Campaign, Asrul plans to get a shelf organiser.
"I cannot put my oven in my workspace because there's really not a lot of space. So, I have to take out my oven when I need to use it and put it away when I'm done."
Additionally, he wants to make more items available like grilled chicken, steak and lamb chop as some customers have been requesting for them.
The only putu mayam in Pekan Sungai Besi
Name: Abdul Mulok bin Safar
Business: Putu Mayam Steel River
Location: Beside Sungai Besi Market, Jalan Suasa 5, Pekan Sungai Besi, 57100 Kuala Lumpur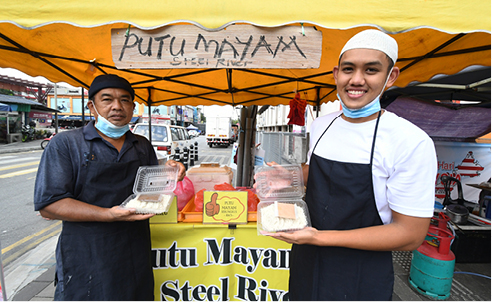 Like any school leavers, they spread their wings and explore new opportunities, even in unfamiliar territories. That was what Abdul Mulok Safar did when he was 19 years old. Moving to Kuala Lumpur from Kedah in 1986, Abdul Mulok joined the military at the Sungai Besi Military Camp.
At 54 now, he has retired, but his noble profession and honoured position in his past did not stop him from selling apam balik in the night market.
However, when the pandemic came, he decided to change his product, and since April 2020, Abdul Mulok has been selling putu mayam in the small town of Sungai Besi beside the market.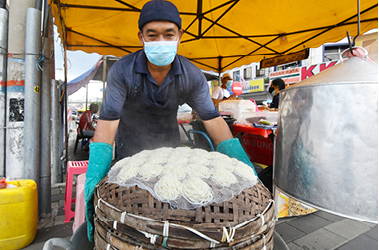 "I used to sell apam balik in night markets but stopped once night markets were closed during lockdowns. Because there are already a few people selling apam balik in this area, I decided to sell putu mayam instead," Abdul Mulok tells EdgeProp.my.
Living nearby, he would set up his stall at 2pm and will be ready by 3pm to serve his customers daily except Monday.
Helped by his 22-year-old son, on a sunny Tuesday afternoon, the father and son shared that they would make around 200 putu mayam everyday. Some days they manage to sell everything and other days there will be leftovers.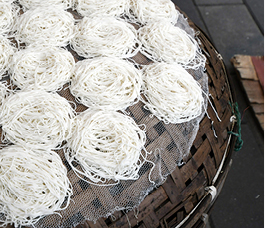 "Our customers are generally from around here. It was hard when I first operated the stall because no one knew us and it took quite some time for us to acquire regular customers."
When asked what his plans are for the RM500 cash aid from the Caring Community Campaign, he says he has not really thought about it besides buying more ingredients, but maybe he could start another stall in another area.
This story first appeared in the EdgeProp.my E-weekly on Oct 1, 2021. You can access back issues here.
Get the latest news @ www.EdgeProp.my
Subscribe to our Telegram channel for the latest stories and updates