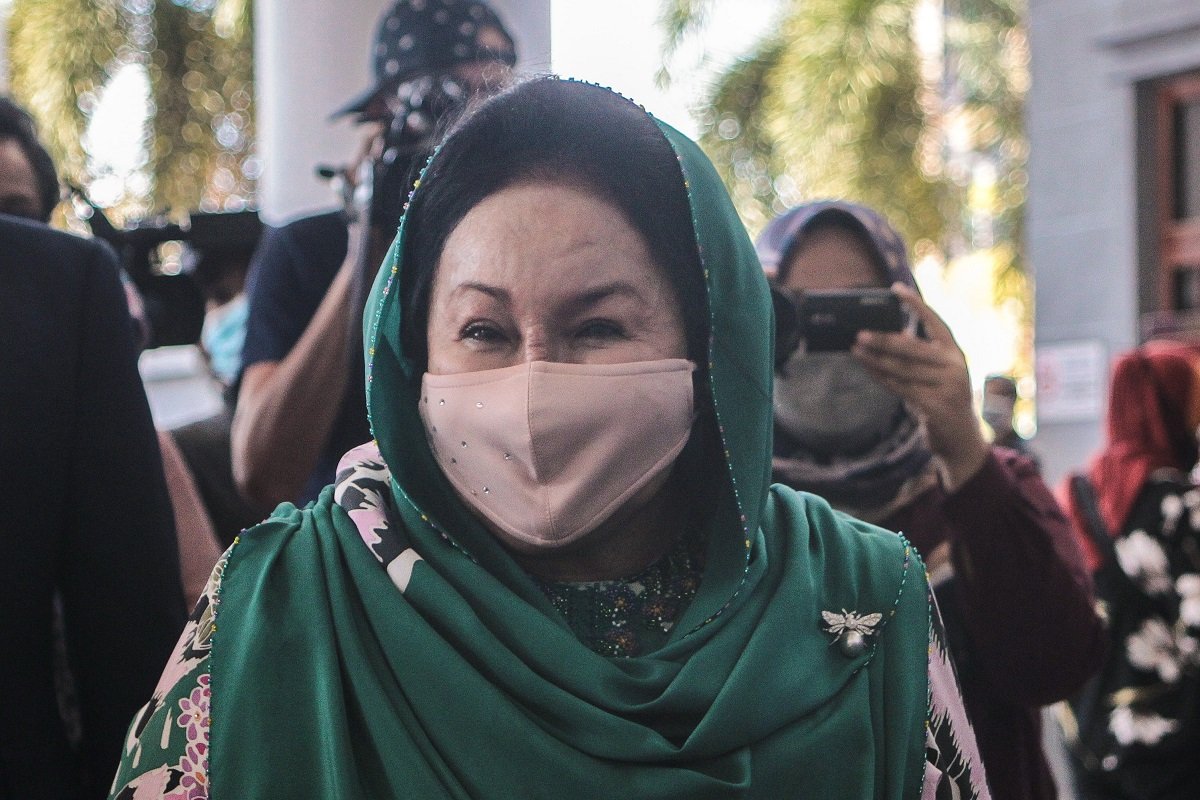 KUALA LUMPUR (Oct 6): Datin Seri Rosmah Mansor on Wednesday denied having an "overbearing nature", as alleged by the prosecution based on a secretly taped telephone conversation she had with her husband Datuk Seri Najib Razak that has been tendered at the High Court here as evidence in her graft trial.
Rosmah, who was testifying in her defence in the High Court here over three graft charges she faces in relation to the RM1.25 billion solar hybrid project for 369 rural schools in Sarawak, said the recording was a private conversation between her and her husband.
"There are times when he gives his views and I listen. Whether my husband accepts my view or whether I accept his views is secondary. This is the nature in every family life," she said.
She added that in the taped recording, she never wanted her husband to follow her views.
"I was merely stating my views and feelings. That is all. If I have an 'overbearing nature' and ability to influence decisions in the public sector, as alleged by the prosecution, certainly my relationship with Najib as husband and wife would not last for 34 years," said Rosmah, who turns 70 in December.
Furthermore, she said the audio recording was not related to the solar hybrid school project.
When Rosmah was ordered to enter her defence last Feb 18, presiding judge Justice Mohamed Zaini Mazlan allowed the prosecution's application to admit the audio recording and transcript as evidence.
The audio recording was first released by former Malaysian Anti-Corruption Commission chief commissioner Latheefa Koya.
In May last year, senior deputy public prosecutor Datuk Seri Gopal Sri Ram had in his opening statement for Rosmah's trial said the former prime minister's wife. wielded considerable influence by reason of her overbearing nature.
Read: Sri Ram's opening statement at Rosmah's school solar power graft trial
Rosmah, in her testimony over this issue, said the prosecution had tried to connect her with the graft charges, even through the evidence had no relevance to the case.
She added that it was puzzling that the prosecution claimed that she has an overbearing nature and also has the ability to influence decisions in the public sector.
"The prosecution is trying to put a negative picture on my character by using that allegation [to say that I ordered] Najib who was the PM at that time to follow my demands with regards to the solar hybrid project, which I strongly deny.
"This is an allegation that is untrue, not verified and should not be considered by this honourable court. This situation does not happen at all. The prosecution knows that there is no basis for these charges, and they used these ugly reasons as a strong factor," she added.
Meanwhile, Datuk Rizal Mansor also conspired with the prosecution to give false testimony in court, Rosmah added.
"Rizal in his testimony agreed that he had accepted the bribe from Jepak's former managing director Saidi Abang Samsudin and his former partner Rayyan Radzwill Abdullah, but the prosecution has chosen to close a blind eye and make me as a scapegoat by hauling me to court with charges which are illogical or are purposely made, which I had strongly denied.
"In this hearing, they had also closed a blind eye on the offences and improper procedure in the Jepak tender process," she added.
Why are these witnesses not called?
Rosmah in her testimony had questioned as to why witnesses like Datuk Aazmey Abdul Talib (Pekan Umno division secretary) and Tan Sri Desmond Lim were not called by the prosecution.
Lim, she said, was not on the witness list and hence, her lawyers could not call him to testify for her.
She added that the prosecution — through their witnesses Saidi and Rayyan — had claimed that Lim had purportedly arranged for his lawyer Lawrence Tee Kien Moon to possibly draft an agreement to formalise the payment of the 15% as political donation from Jepak.
"Let me state here that I do not have any knowledge of Saidi, Rayyan, Rizal with Lim and Tee, whom I do not know nor have met.
"I did not give any directions to Rizal to bring Saidi and Rayyan to meet Lim. All that is Rizal's own idea (to formalise an agreement for the donation). Let me stress that it is Lim himself who could verify this fact, whether it is true or otherwise.
"The question is why the prosecution refused to call Lim or make him as a witness, so that he could be offered to us," she said.
Rosmah then denied that the purported meeting between Saidi, Rayyan, Tee and Lim was due to her efforts or initiative.
"Rizal did not give me any feedback over his meeting with Lim to me. Rizal's testimony that he briefed me over his meeting with Lim, is a blatant lie like the others," she reiterated.
In her testimony on Wednesday, she further denied receiving two bags purportedly containing money brought in by Saidi to her residence, saying she did not see them. She further denied that the butlers had carried other bags of money when it was brought into the PM's official residence, and asked as to why the butlers were not called by the prosecution.
Rosmah was testifying during her-examination in chief, over her three graft charges in relation to the solar hybrid project involving 369 rural schools in Sarawak, where she is firstly charged with soliciting a RM187.5 million bribe out of the RM1.25 billion project that was awarded to Jepak's Saidi between January and April 2016 through Rizal.
She also faces two charges of receiving a total of RM6.5 million — RM1.5 million and RM5 million respectively — from Saidi between Dec 20, 2016 and Sept 7, 2017 at her official residence in Seri Perdana, Putrajaya, and her private residence in Jalan Langgak Duta here.
The defence had also indicated on Wednesday that besides Rosmah, her husband Najib and Datuk Seri Siti Azizah Sheikh Abod who is her former special officer at the First Lady of Malaysia (FLOM) office, would also be called as defence witnesses.
The hearing continues Thursday (Oct 7), with Rosmah's cross-examination by Sri Ram.
Get the latest news @ www.EdgeProp.my
Subscribe to our Telegram channel for the latest stories and updates