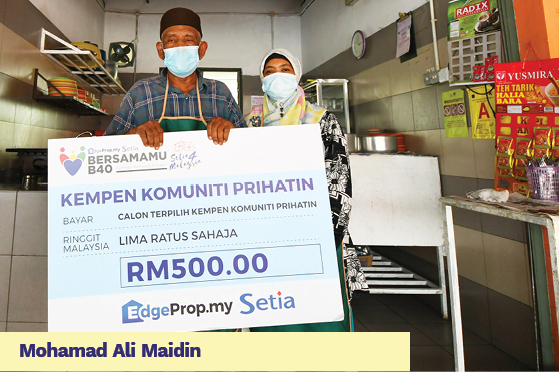 They fight on and live on despite their loss of income, jobs or physical abilities. Ever resourceful, they do not let these obstacles hamper their quests to continue making ends meet. Such is the indomitable spirit of the country's micro-traders.
In conjunction with Malaysia Day this year, EdgeProp.my and S P Setia Bhd have joined hands to give some encouragement to these micro-traders through a Caring Community Campaign themed "Alongside our B40s". Each of the 25 selected microenterprises will receive a sponsorship of RM500 to upgrade their businesses, as well as RM300 a month worth of business for six months.
Read also
Darkened nation brightened by kindness in action
For this week's issue, other than five selected small traders in the Klang Valley, we also shift our sights up north to the Pearl of the Orient; and within their struggles, they show us even when we are knocked down, we don't have to be knocked out.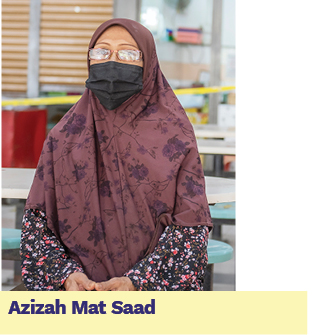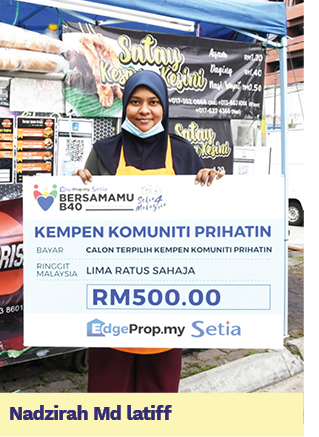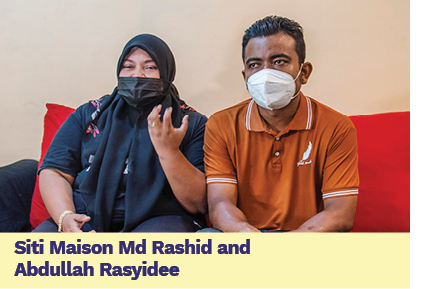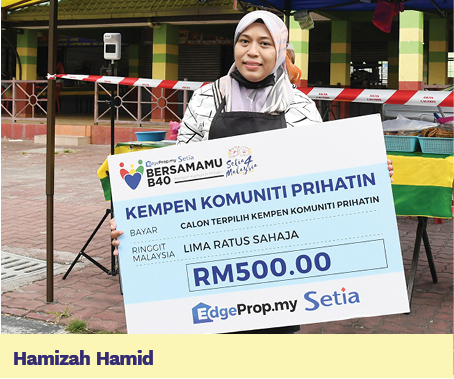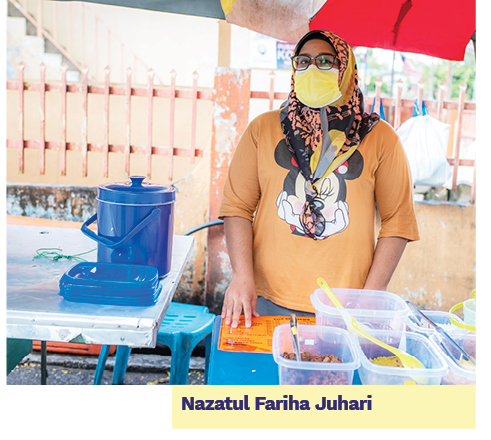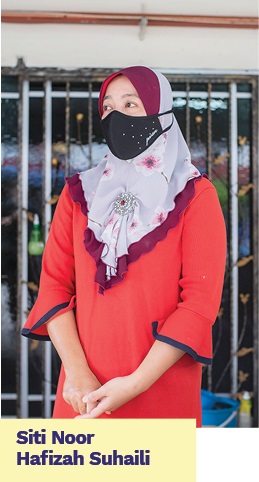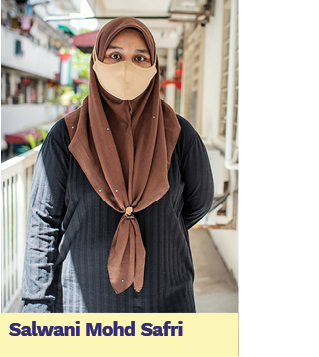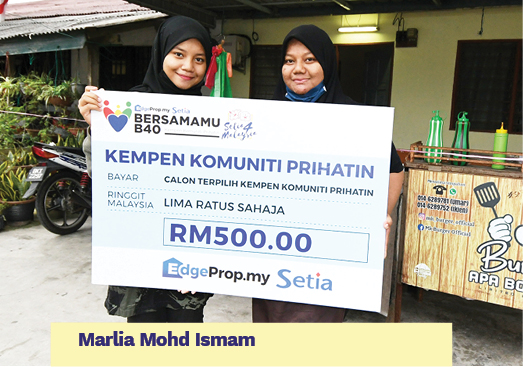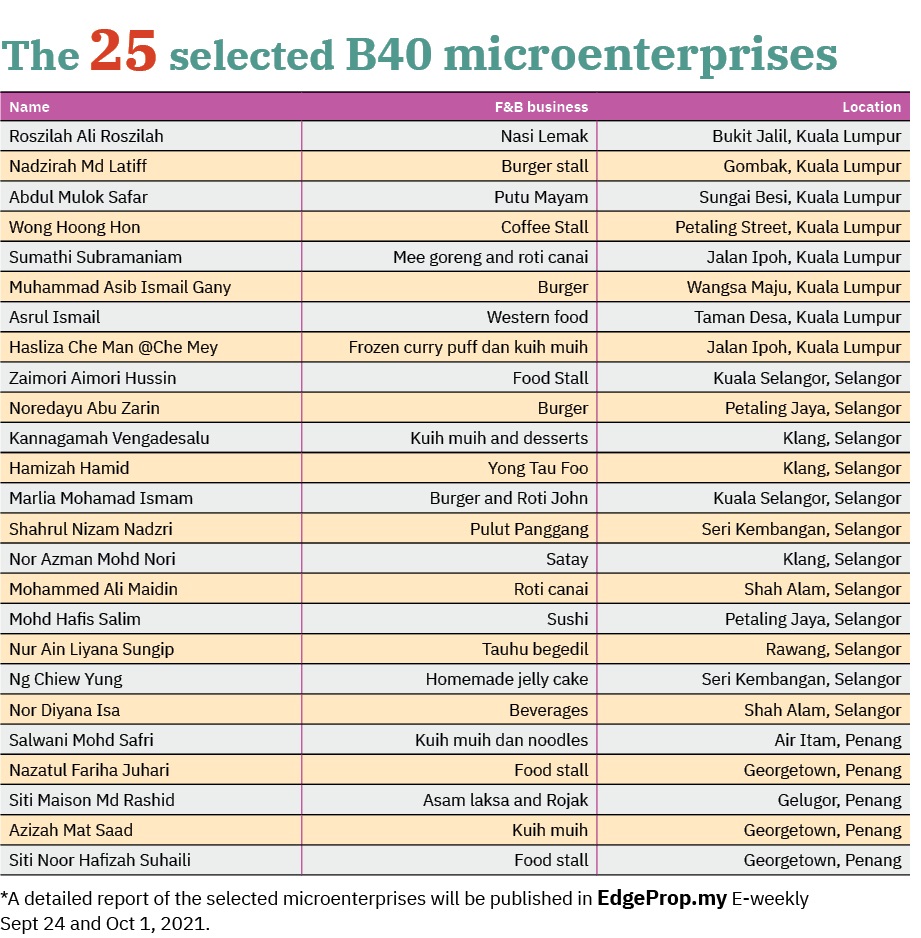 Evolving to survive
Name: Nazatul Fariha Juhari
Business: Kuih-muih and evening meals
Location: Flat Kampung Melayu, George Town, 11500, Pulau Pinang
Before starting her business, Nazatul Fariha Juhari, 30, used to work as a clerk in a motorbike shop. In 2017, she resigned from her job as she had to take care of her then four-year-old son.
"My mother used to take care of my son, but she was no longer able to do that, so I had to resign."
That did not stop Nazatul from sourcing for additional income by starting her own business. Like killing two birds with one stone, she could still spend time and take care of her son at home while offering a mini catering service of home-cooked food.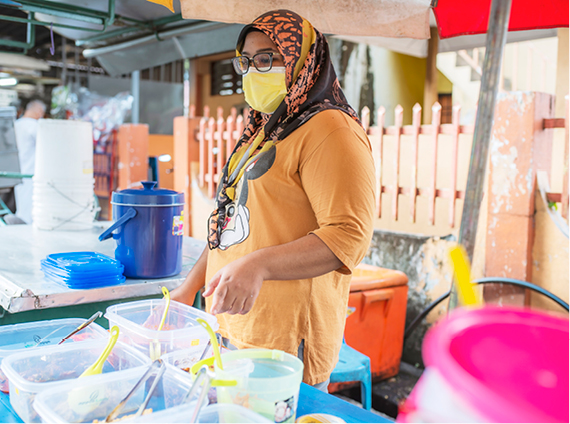 However, her business was impacted by the pandemic as the orders stopped along with the prohibitions on ceremonies and events during the lockdown periods.
To survive, Nazatul has changed her business model by running the food business in two shifts – selling kuih-muih to other operators in the morning and selling hot meals like nasi lemak and char kuey teow in the evening (4pm-7pm).
"Before the pandemic, there was no evening shift. I had never sold nasi lemak or char kuey teow before."
"[So] do not give up that easily. There are always ways to turn a business around to sustain income," she says.
With the RM500 cash aid, Nazatul plans to upgrade the equipment for her stall and improve her food menu.
Bolstering family income during bad times
Name: Hamizah Hamid
Business: Yong tau foo
Location: Pasar Pekan Kapar Complex, Klang, Selangor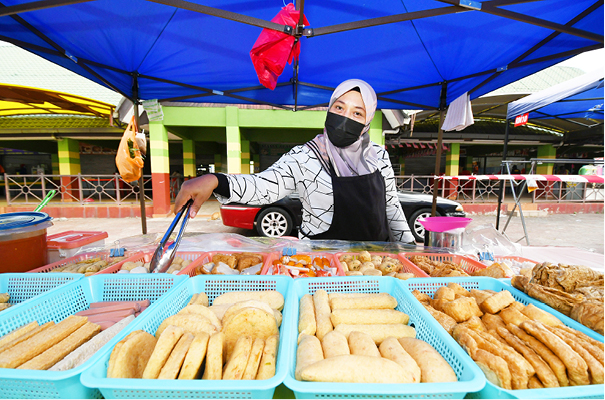 Hamizah Hamid, 37, started selling yong tau foo in late April this year. "I cannot just rely on my husband's basic pay as a factory worker as we have to cater for our children's expenses, our car and more," says Hamizah, who has six children aged three to 14.
"I have to find ways to make ends meet, hence this business came about. And I have to entrust my older children to babysit the younger ones when I'm out here selling," shares Hamizah, who came across this Caring Community Campaign on Facebook.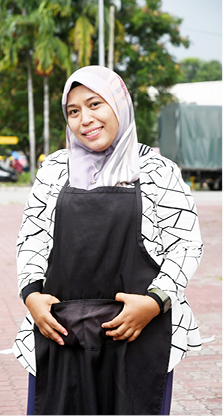 As it started to pour midway through the interview, Hamizah laments that her business is at the mercy of the weather since she operates under a canopy outside the Pasar Pekan Kapar Complex in Klang.
"Rainy weather like this disrupts my business. Plus, the food can't be kept for too long," notes Hamizah.
She intends to spend the RM500 cash aid on ingredients as well as getting a new refrigerator to store them.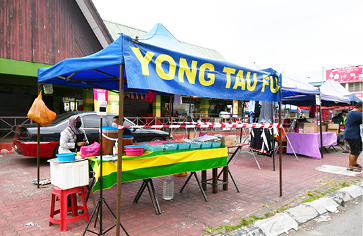 Meanwhile, she advises those in similar predicaments to not just rely on help from others. "With this present economic situation, we just have to try harder – be more hardworking and to find ideas to sustain ourselves."
Giving a thought to those in need
Name: Siti Noor Hafizah Suhaili
Business: Grilled fish and catering
Location: KC 0-7, Taman Free School, Jalan Terengganu, George Town, 10460 Penang
Since she was 21, Siti Noor Hafizah Suhaili, has been operating her food business.
"After I got married, I started the business because I have always loved to cook. It is my passion."
Siti, now 40, used to rent a shoplot just nearby her house while her husband was working in the airport before the pandemic.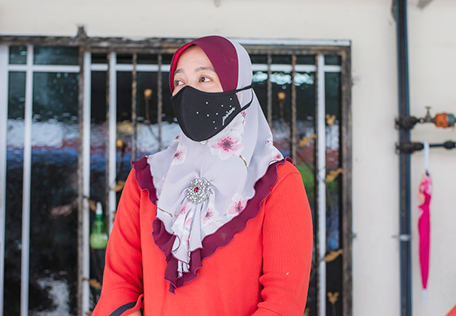 Their world turned upside down when pandemic hit last year. The no dine-in rule caused her business to suffer and she could not sustain the rental. At the same time, her husband was retrenched.
Undeterred, Siti has carried on her business from home while her husband lends a helping hand, where they make ikan bakar (grilled fish) and do catering services. While the former is offered daily, catering will depend on orders.
Filled with empathy for people riding through the pandemic turbulence as it got worse in mid-2021, Siti has started a "slot sedekah".
"The 'slot sedekah' works like a pay-it-forward programme, where people can order from me and send it to people who are in need."
Through this, Siti has catered to those who are less fortunate, homeless and those under quarantine.
Siti is ecstatic to find out she is one of the recipients of the Caring Community Campaign.
She shares that the RM500 cash aid will help her financially in covering the cost of getting the materials for her business, as she shared that the past year has been difficult for the family.
Exploring business opportunities amidst crisis
Name: Siti Maison Md Rashid and Abdullah Rasyidee
Business: Asam laksa and rojak
Location: Gelugor, Penang
Contact information: 017-436 8742
Siti Maison Md Rashid, 39, initially ran her business online with her husband, Abdullah Rasyidee, 30, selling Penang laksa and rojak amid the first Movement Control Order (MCO) last year.
"My husband is good at making the laksa gravy and rojak sauce, with my mother helping with the cooking as well. Hence, we decided to embark on this business," shares Siti Maison, herself helping with the preparation.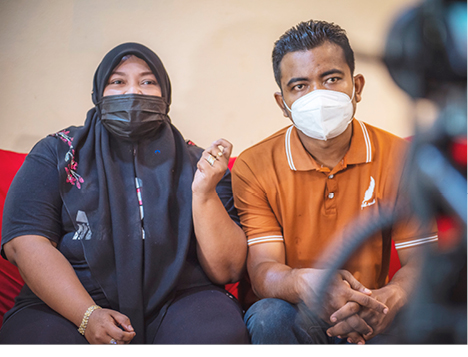 They then decided to expand the business as her husband was not earning an income as a hotel staff last year during the MCO. Due to movement restrictions, they advertised via social media with cash-on-deliveries to sell their food.
"We received favourable feedback and that spurred us on to set up a stall soon after at our residence," Siti Maison shares.
"I plan to use the RM500 to upgrade my equipment and find fixed suppliers for our ingredients. At times like this, we should not be giving up and just have to try harder, do our best," Siti Maison advises.
"I hope there are more initiatives like this campaign. The help should continue, and many more small traders will have a chance to regain their footings and improve their businesses," she adds.
Social media saves the day
Name: Salwani Mohd Safri
Business: Kuih-muih and nasi lemak
Location: 21-4-14, Tingkat Paya Terubong 3, Air Itam, 11060 Penang
Contact: Facebook: Faz Wanie Faz'wanie (https://www.facebook.com/Fazwani77)
Salwani Mohd Safri, 33, sells an assortment of kuih-muih and nasi lemak every weekday from 8am to 4pm. Home-based, Salwani has been working hard operating the catering business for almost 15 years now.
In fact, including the time spent helping her mother since she was seven or eight, it has been close to 25 years of experience in the catering business.
Salwani shares that most of her regular customers come from the offices. So when the pandemic struck and offices were shut down, the ripple effect hit Salwani hard.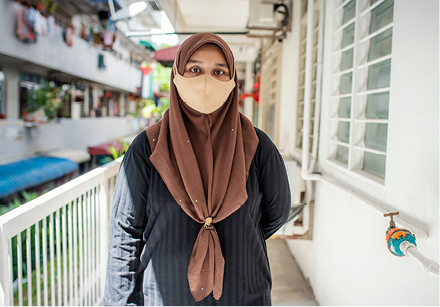 "Since the pandemic, my reserve has decreased tremendously and is running low."
To compensate for the drastic drop in business, Salwani started bringing it online where she promoted her services on social media via Facebook, from which she has been acquiring most of her customers.
When she discovered she is the recipient for the RM500 cash aid from the Caring Community Campaign, Salwani felt relieved as she has hoped to restore her resources.
"With the RM500, I hope to restore my capital and restore my reserve which have depleted as well as improving my product," she says.
Pushed by hardship
Name: Nadzirah Md latiff
Business: Burger
Location: Jalan Gombak (at the roadside next to Neknab Restaurant), Taman Harmonis, 53000, Kampung Tengah, Kuala Lumpur
The burger stall operated by Nadzirah Md Latiff and her husband, both 35, started out as a side income business to support their family.
Her husband, Dhani Iskandar Apendi, works as a security guard for the night shift at Menara Kuala Lumpur while Nadzirah is a housewife taking care of her four young children aged 10, 8, 6 and 1.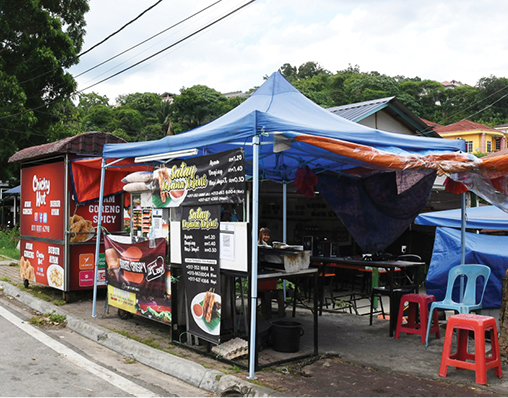 Since the pandemic, her husband's work shift has been reduced from six days to four days, thereby affecting their income.
Additionally, she also explains that having to move to a new house adds another complication to their livelihoods.
"We actually just moved to Gombak Setia in October last year. Previously, we were staying in Kampung Padang Balang but had to move because the wooden house we were staying in was not in good condition and was affected by floods," Nadzirah shares.
This has added to Nadzirah and her husband's burden as they have to pay for their flat's rent at PPR (People's Housing Project) Gombak Setia, which costs about RM800.
She then decided to start a burger business below their flat. The business has been in operation since February this year. However, the business has been a bit slow as the only customers are the ones staying in the flat area.
In early-September when the government announced some relaxation on the lockdown, Nadzirah and a friend decided to share a rent site for their business at the roadside of Jalan Gombak as she wants to reach more customers.
Nadzirah is grateful for the blessing of the RM500 from the Caring Community Campaign, as she has been thinking about getting a small fridge or freezer to store the patties.
A friend in need is a friend indeed
Name: Mohamad Ali Maidin
Business: Roti canai
Location: Makan Makan Batu Tiga, Taman Batu Tiga, 40150 Shah Alam, Selangor
Six years since operating his stall in Makan Makan Batu Tiga, Mohamad Ali Maidin also known as Pak Ali, 69, has been persevering through the pandemic.
While Pak Ali makes the roti canai, his daughter, Norhayati Mohd Ali, 37, is in charge of collecting orders and making drinks.
Before operating this roti canai shop, Pak Ali shares that he used to work in a factory. Then, he started a stall at the roadside of Batu Tiga where he received factory workers as his customers.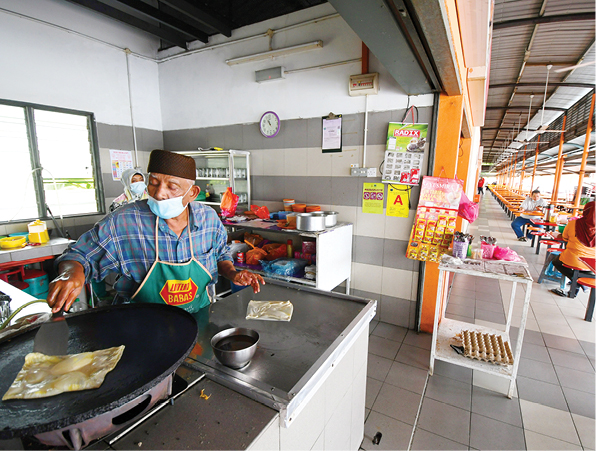 "The area was near a factory area and had almost 3,000 workers," says Pak Ali, adding that when the road was planned for a road development, he had to relocate to the current address in Makan Makan Batu Tiga.
Since the move, the business has not been as lively as the previous spot as it is hidden from the main road. Nonetheless, the earnings were still able to cover the cost of his living.
However, things took a turn for the worse when the pandemic hit as sales was almost close to zero with businesses around the area closing, and along with them, a majority of his customers were gone. Subsequently, he was not able to pay his rent for three months.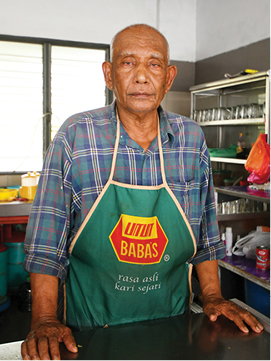 Thankfully though, Pak Ali had good friends who rallied by his side and helped to cover his rent, while the landlord also gave a discount.
The hardship that Pak Ali endured during the pandemic has made him more careful with his financial expenses.
Referring to the RM500 cash aid from the Caring Community Campaign, the first thing he said was: "I will take care of the money properly. I may buy some ingredients for my business and maybe save some for my rent, but the rest of it, I will keep for rainy days".
Struggling mother of five
Name: Marlia Mohd Ismam
Business: Food stall
Location: 37, Jalan Kasawari 1,
Taman Kasawari, 45700 Bukit Rotan, Selangor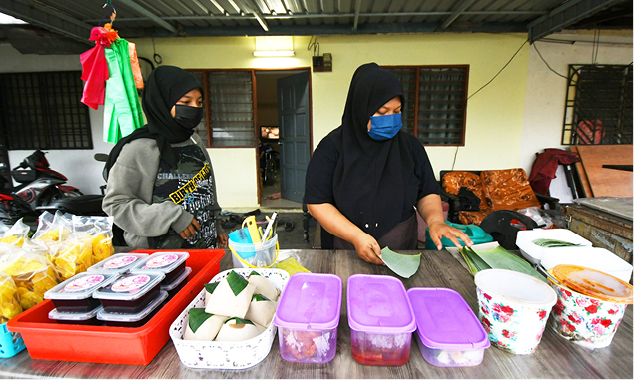 For two years now, Marlia Mohd Ismam has been selling a variety of food right from the porch of her home in Taman Kasawari, Bukit Rotan, Selangor.
"I sell biryani, chicken rice and nasi lemak, and some kuih as well," Marlia says, adding that during the evenings, there are also burgers.
She has only resumed her stall operations recently during Phase 2 of the National Recovery Plan.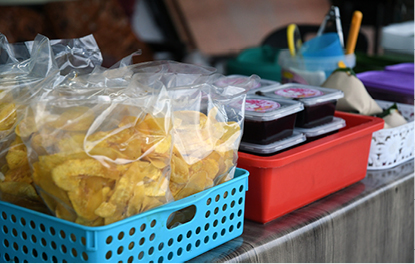 "During the lockdown, I had to resort to cash-on-delivery services to sell my food and business was much slower then," shares the 35-year-old small trader.
On top of her five children (aged one to 17), she is caring for her elderly and sick mother.
With the RM500 cash aid from the Caring Community Cam­paign, she will utilise it to expand her menu offerings.
Take less profit to feed others
Name: Azizah Mat Saad
Business: Kuih-muih
Location: Gerai no. 27, Kompleks Makanan Jalan Sungai, Jalan Sungai, Taman Sri Pinang, 10150 George Town, Penang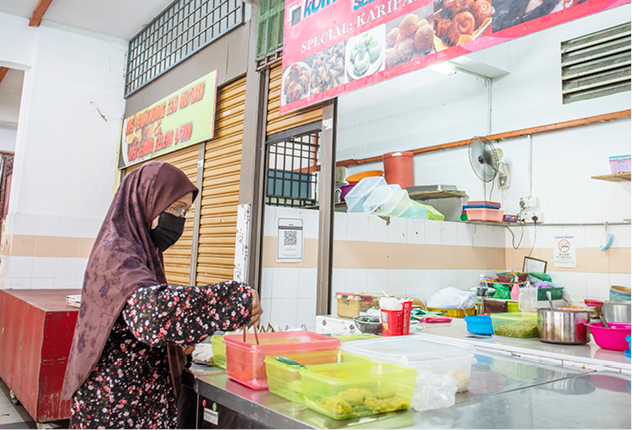 Azizah Mat Saad is well-versed in making a wide range of traditional kuih, offering a variety of them such as onde-onde, serabai, kuih sagu and more from her stall in George Town, Penang. Hard at work since 2007, piping hot curry puffs have been her specialty.
"During those times (pre-Covid-19), business was fine, with most of my customers from the B40 income bracket. However, these two years have been miserable," laments the 64-year old small trader.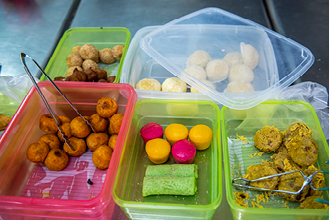 Then she resorted to adjusting the pricing of her wares, selling them at much lower prices. "If I don't do this, there will be no customers," she says, adding that she currently sets a promotional price of RM2 for five pieces of kuih.
Expressing gratitude for the RM500 cash aid, Azizah plans to use it as capital for her business.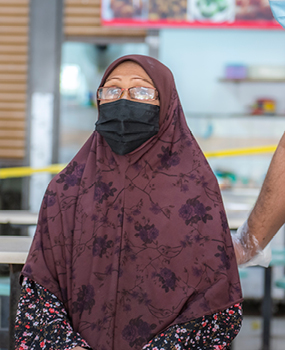 "I believe in treating people well, especially my customers. Due to Covid-19, many are struggling and hence, I have decided to keep my prices affordable. At times like this, I'd rather take less profit, and with the affordable prices of my kuih, I have managed to hold on till today," says Azizah.
This story first appeared in the EdgeProp.my E-weekly on Oct 8, 2021. You can access back issues here.
Get the latest news @ www.EdgeProp.my
Subscribe to our Telegram channel for the latest stories and updates