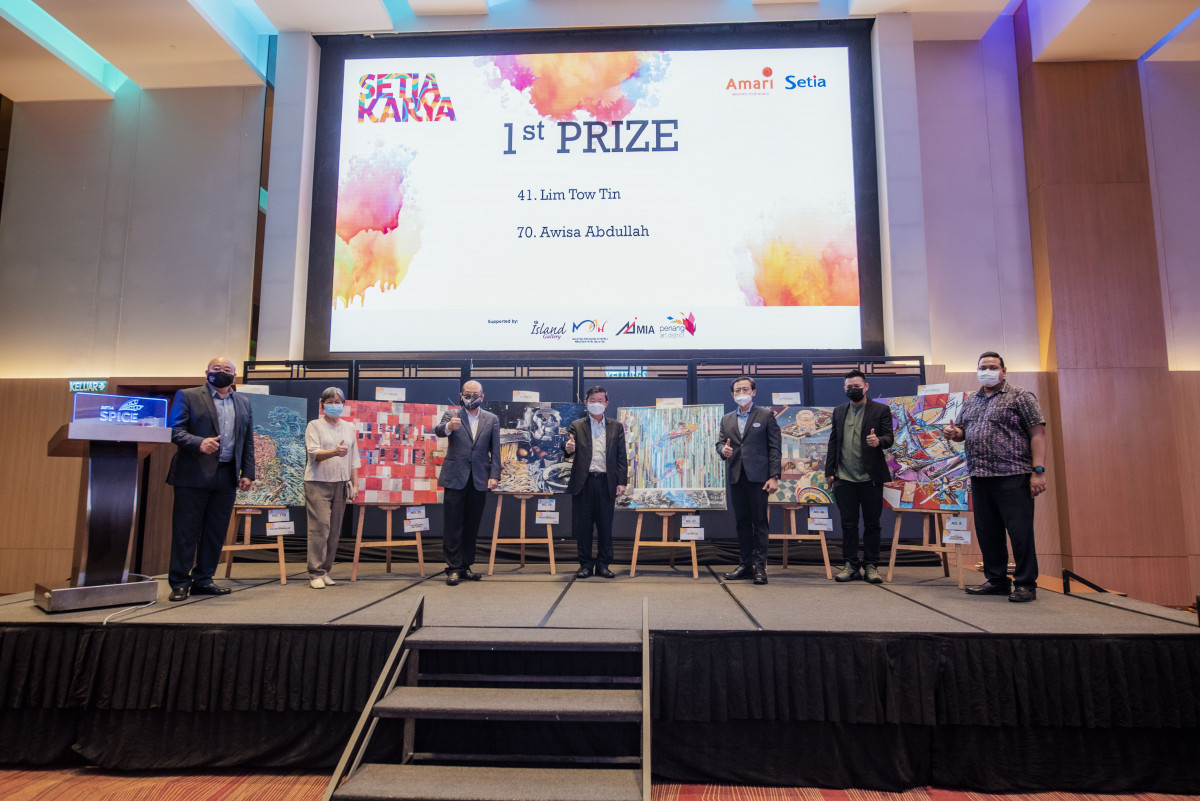 PETALING JAYA (May 11): S P Setia announced the top six winning artists for its Setia KARYA hotel art campaign contest on Tuesday (May 10) during the judging walkthrough and winners' announcement at Setia SPICE Convention Centre in Penang.
The contest, which ran from 5 March to 30 April 2022 received 178 artworks submitted by 150 local artistic talents of all ages, of which 20 are of special needs background.
The event was attended by the Penang Chief Minister Chow Kon Yeow who was also part of the contest's judging panel, along with representatives of Setia KARYA's supporting bodies such as the Penang Art District, Penang State Art Gallery, Island Gallery, Malaysia Institute of Art and Malaysian Association of Hotels.
"I would like to commend S P Setia and the organising partners of Setia KARYA for initiating a meaningful campaign which has provided a platform to nurture aspiring Malaysian artists of all ages and from all walks of life to showcase their creativity, especially for the underprivileged and those with special needs," said Chow.
S P Setia deputy president and chief operating officer (COO) Datuk Seri Koe Peng Kang said that the Setia KARYA campaign is a part of the developer's commitment to environmental, social and governance (ESG) and corporate social responsibility initiatives.
Furthermore, the creative artworks will be displayed in the hotel rooms of the upcoming Amari SPICE Penang and Amari Kuala Lumpur.
"With this campaign, I hope that these talents will be discovered and given better opportunities in the arts and culture industry moving forward as they will be seen not only by fellow Malaysians but also international tourists from around the world who visit our upcoming Amari hotels," said Koe.
"As we saw a great response from the participants for this very first edition of Setia KARYA, we may consider having the next edition in the near future," he added.
Participants of Setia KARYA were evaluated for their techniques and creativity based on the themes 'Vibrance of the Orient' and 'Vivarium of the East' for Amari Kuala Lumpur. There are six top winners (each prize has two winners). The First Prize winners will bring home RM12,000 cash prize each, the Second Prize winners will receive RM9,000 each and Third Prize winners will get RM7,000 each. Meanwhile, 69 consolation prize winners will receive RM3,000 each.
The top six winners as per the table below: