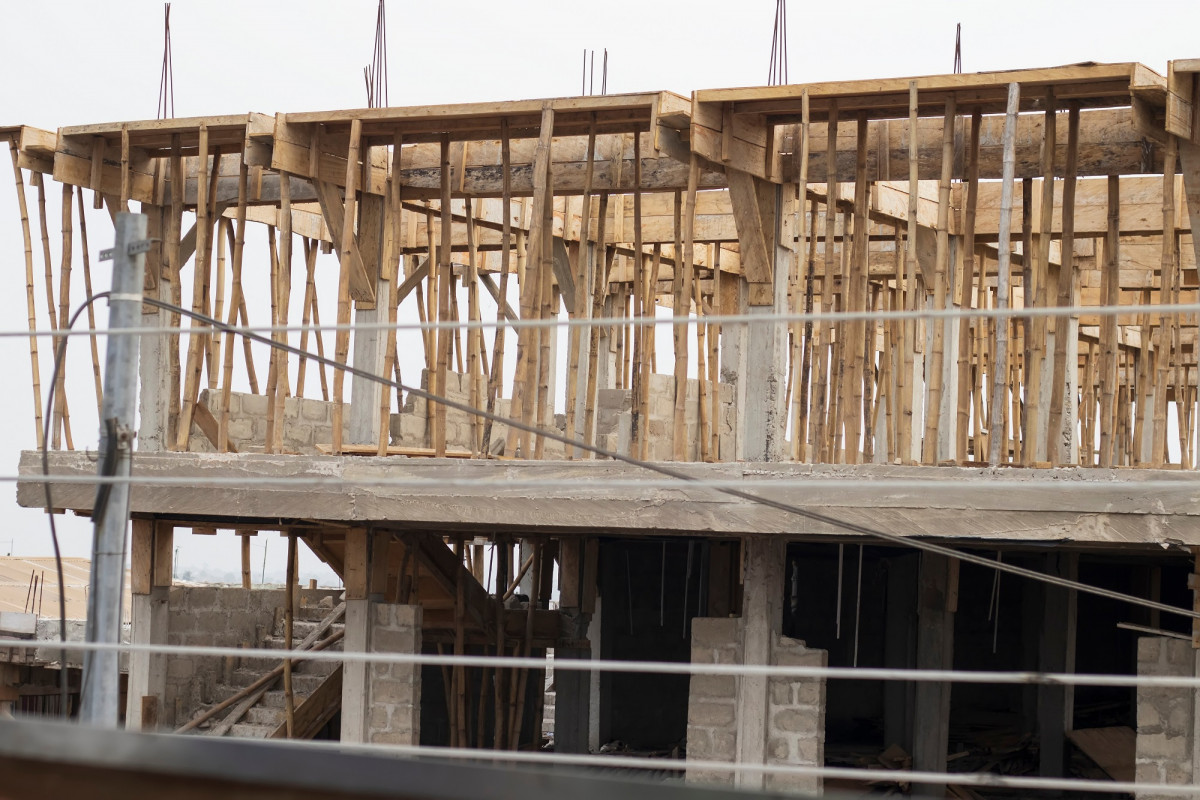 With 580 sick projects against 2,552 launched projects, it also indicated that nearly 23% of house buyers' fates were determined by those errant developers
According to the government's statistics, as of March 31, 2022, the number of "sick" private housing projects rose to 580, comprising 102,132 units, which affected a total of 51,000 house buyers compared to 365 sick projects comprising 48,826 units affecting a total of 26,145 buyers in March 31, 2020 (Table 1). This represents a 58.9% increase in the number of ailing projects and a 95% rise among affected buyers within the two years.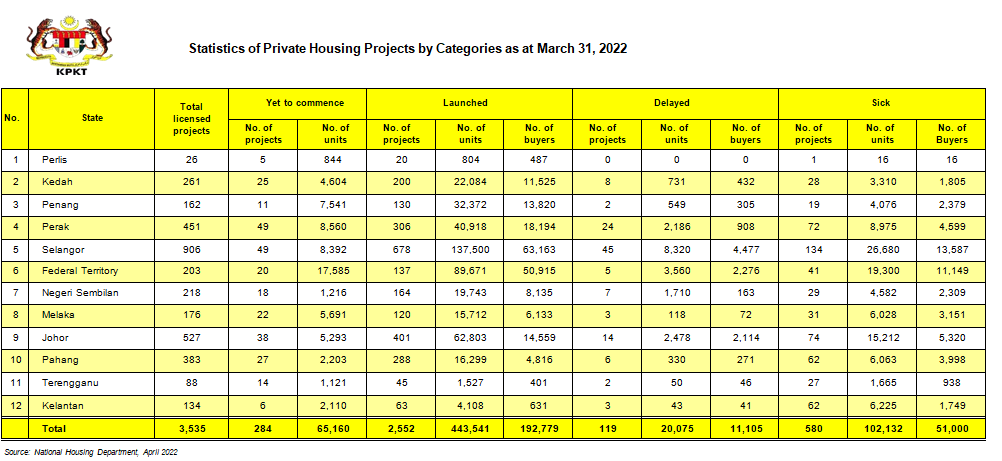 A "sick housing project" is defined by the Housing and Local Government Ministry (KPKT)'s portal as one that has been delayed by more than 30% compared to its scheduled progress or one whose sale and purchase agreement (SPA) has lapsed.
According to KPKT's statistics on "Private Housing Projects according to Categories until March 31, 2022," the total number of projects licensed by the government marginally declined to 3,535 versus 3,541 in the same month two years ago. Within the same period, the number of projects launched also declined to 2,552 from 2,831 (Table 2).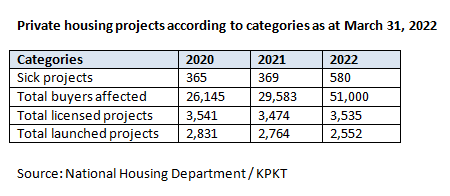 This means that the rate of projects becoming problematic spiked despite a fall in total licensed and launched developments.
With 580 sick projects against 2,552 launched projects, it also indicated that nearly 23% of house buyers' fates were determined by those errant developers, whereby for every 100 housing projects launched, 23 projects were diagnosed as sick.
Other KPKT statistics (Statistik Projek-Projek Perumahan Swasta Bermasalah (Kategori Sakit)) found on www.kpkt.gov.my also showed, as at April 14, 2022, a total of 109 sick high-rise strata projects involving both private and government developers, including Syarikat Perumahan Negara Bhd (SPNB) and PR1MA Corp Malaysia. Though not indicated, there may be other government-linked housing agencies and units as developers or contractors normally create a separate unit for each project they undertake. Selangor had the most number of sick high-rise strata projects at 31, followed by the Federal Territory at 29 and Johor at 16.
The data also showed there were 370 ailing landed housing projects, with Selangor and Perak leading with the same numbers at 67, followed by Johor (51). Again, government corporations were involved.
Consequences
These tens of thousands of hard luck house buyers are now facing the possibilities of failed dreams. They bought into housing projects that are now categorised as "sick housing projects" and will suffer in the hands of those errant developers. The devastating effects are as follows:
The house buyers still owe the banks the amounts that have been drawn down and paid to the rogue developers. They have to continue servicing the partially drawn down housing loans or risk the consequences of being blacklisted by Bank Negara Malaysia and the banking system of checks.

The house buyers will suffer possible abandonments of the projects. They may count their blessings if the projects are ever successfully resuscitated.

The house buyers have to keep paying rents to continue staying in their rented houses because their dream houses have turned into nightmares.

The house buyers and their dependents will continue to suffer emotional stress and financial constraints.

The end-financing banks suffer when the borrowers are unable to service their housing loans. Worse still, the uncompleted houses have zero cashable values.

The government faces the wrath of victims who blame it for allowing such a hazardous system to exist and for their failure to help them. (Note the SPA is a government statutory form where not a single word may be altered by either buyer or vendor.)
Pandemic effects
On the other hand, are the government statistics a true and accurate reflection of the crisis?
Some may reason that the Covid-19 pandemic and the various movement control orders (MCOs) in 2020 and 2021 would have affected all levels of the economy, including the housing sector. In fact, the housing market and the broader property sector had been weak even before the first MCO was imposed on March 18, 2020.
A Berita Harian report (May 1, 2022) said the main cause of this pain was due to financial constraints faced by developers during the Covid-19 pandemic. The report also cited poor management, such as rising building material prices, lack of workers and unsuitable locations.
"Unsuitable locations" seems to be a poor excuse. Whether there is a pandemic or not, a project's location does not change, which leaves us with rising material prices, worker issues and poor managements.
However, when a developer embarks on a project, he would have done his costing with regards to building materials and the time line needed to complete it as well as their feasibility and viability studies.
Granted, the Covid-19 pandemic was a global event which wrought many difficulties in all sectors of the economy. Besides that, most of these projects were launched before the pandemic and the developers had not expected their projects to be forestalled by the pandemic and disrupted supply chains and manpower.
In fact, it was serious enough for the government to protect the economy that the Parliament had to pass a law titled "Temporary Measures for Reducing the Impact of Coronavirus Disease 2019 (COVID-19) 2020 (Act 829) with a provision of a "legal shield" to people and businesses who are unable to fulfill their contractual obligations. The laws offer legislative protection from legal consequences arising from inabilities to perform contractual obligations and to allow time to remedy such shortcomings and hence, the "time freeze".
Hence, the statistics too could be made to read more accurately, by being tweaked to reflect the "time freeze" period. Perhaps, this aspect was overlooked and should be reconciled by KPKT to avoid unfairly placing developers in the pillory.
Buy completed units
Back in 2020, a property consultant, who prefers to remain anonymous, said, "If there is really a need to buy a house, buy a completed unit which you can see and touch. Do not buy off-plan."
His rationale was, in a pandemic, developers would want to make as much sales as possible because they are after all, capitalists. And in all likelihood, there will be some who will likely over-promise and under-deliver in situations that are beyond their control.
Hence, the number of sick projects is reflective of the situation, although most of these projects started construction before the pandemic struck.
The consultant said buying completed units is "an important issue" because a property is a big-ticket item which involves a long-term commitment after signing multi-tier contracts.
Moreover, a buyer may not get what he sees from the sales gallery visits, whether virtual or physical, nor from the attractive marketing brochures because disruptions could possibly affect work quality, said the property consultant with more than 30 years' experience in the real estate industry.
"Many people buy units off-plan because of the many incentives offered by developers but these are just sales gimmicks. Do not fall into the 'getting the best choice, the best floor, the best view' trap because what is important is – will the project completed, and what is the quality of the workmanship?"
In contrast, when you buy completed units, "You can see the plus points and the negatives in a completed project. You know more or less what you are going to get. If the other units are already occupied, you know who your neighbours will be, whether they are tenants or owners."
And the risk of buying into a sick project is removed.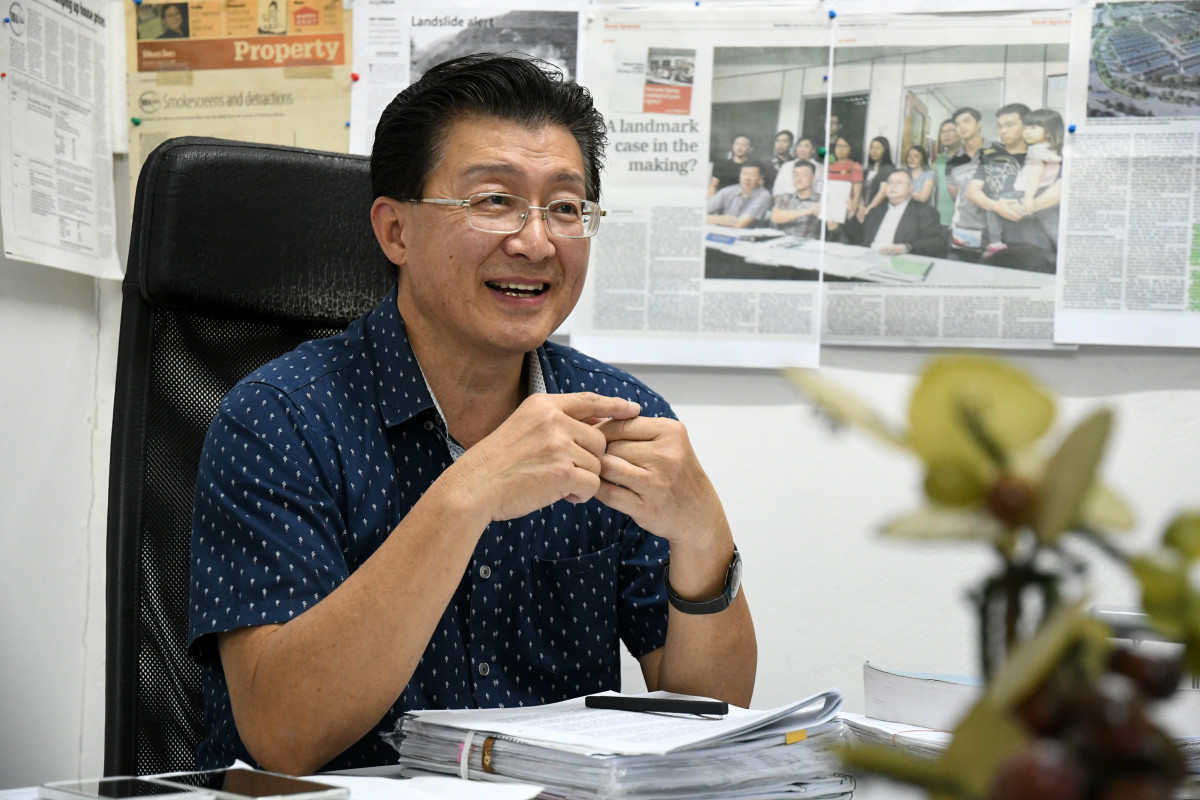 This article is written by Datuk Chang Kim Loong (pictured), the Honorary Secretary-General of the National House Buyers Association (HBA). HBA could be contacted at: Email: [email protected] Tel: 012 3345676