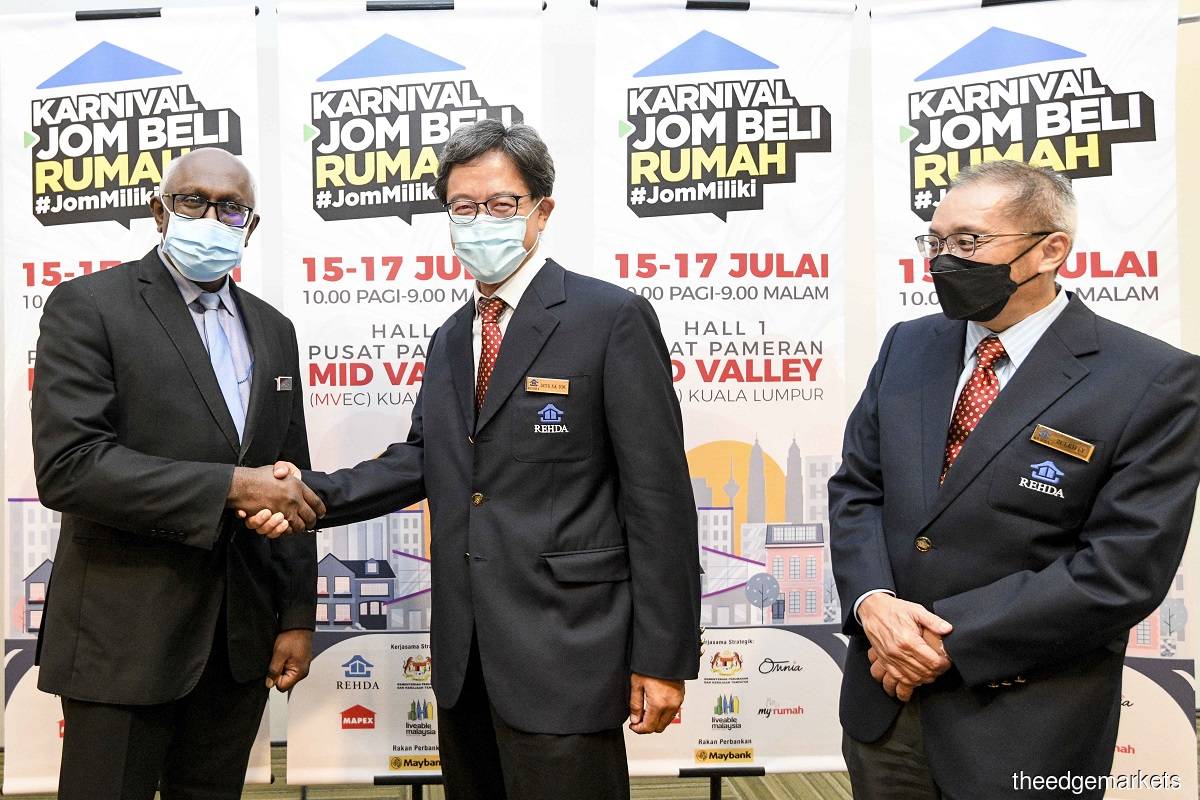 PETALING JAYA (July 6): The Real Estate and Housing Developers' Association (Rehda) Malaysia, together with the Ministry of Housing and Local Government (KPKT) and Media Prima Omnia Bhd (Omnia) have organised Karnival Jom Beli Rumah, which is an initiative by the government to encourage homeownership among the rakyat.
To be held from July 15 to 17 in Hall 1 at Mid Valley Exhibition Centre, Kuala Lumpur, the expo will start from 10am to 9pm and serves as a one-stop centre to meet the needs of discerning homebuyers.
The opening ceremony will be officiated by Prime Minister Datuk Seri Ismail Sabri Yaakob and KPKT minister Datuk Seri Reezal Merican Naina Merican.
"This is a testament of the strong professional bond we have with the government, which speaks of our mutual commitment to provide ample housing for Malaysians from all walks of life," said Rehda acting president and Mapex organising committee chairman Datuk N K Tong during the press conference on Wednesday (July 6).
Also present at the conference were KPKT's National Housing Department (JPN) director general Datuk Jayaselan Navaratnam and Rehda vice president Zulkifly Harib.
According to Tong, the expo will offer a wide range of properties, from affordable housing units to high-end/premium units. "This is an opportunity for everyone and we strongly encourage people who are still looking to buy properties to come to the expo, as properties can be a good hedge against inflation because property values over time tend to stay on a steady upward curve."
There will be close to 20 property developers showcasing their latest offerings to visitors in the event along with six financial institutions, including the expo's financial partner, Maybank Bhd. Also participating in the expo are affordable housing providers, such as the Ministry of Federal Territories' Residensi Wilayah Keluarga Malaysia and Lembaga Perumahan Hartanah Selangor (LPHS), as well as several government agencies, such as the Public Sector Home Financing Board (LPPSA), the Credit Counselling and Debt Management Agency (AKPK) and the Employees' Provident Fund (EPF).
With the reopening of the country's economy, Tong reckoned that it will be a natural tailwind to encourage people to look for properties because there has been a lot of wait-and-see approach in the last two years. There have been property sales done virtually back then, but homeseekers still prefer physical viewings when it comes to real estate.
In regards to the loan activation and approvals by banks, Jayaselan noted that banks will continue to approve the loans as home loans remain an attractive portfolio for them. "As such, we believe financing facilities will still be available to homebuyers and we have to ensure that the houses are liveable because they are not just based on concrete but the environment itself."
There will be other interesting activities lined up throughout the event, such as property and financial talks by JPN, Maybank and Cagamas Bhd.
"These [talks] will not only increase buyers' financial knowledge but also let them know what to look out for in the property market that will help them to gauge their affordability and purchase the right property," said Tong.
In addition, there will be performances by celebrities Sissy Iman, Khai Bahar, Tomok and Puteri Hareeza in the event and well-known television presenter Maria Tunku Sabri will appear on the second day of the expo for a live cooking show. There will also be face painting activities and popcorn and cotton candy giveaways for the young ones and the young-at-heart. Tong said lucky purchasers will be eligible to win cash rebates of up to RM100,000, courtesy of Rehda.