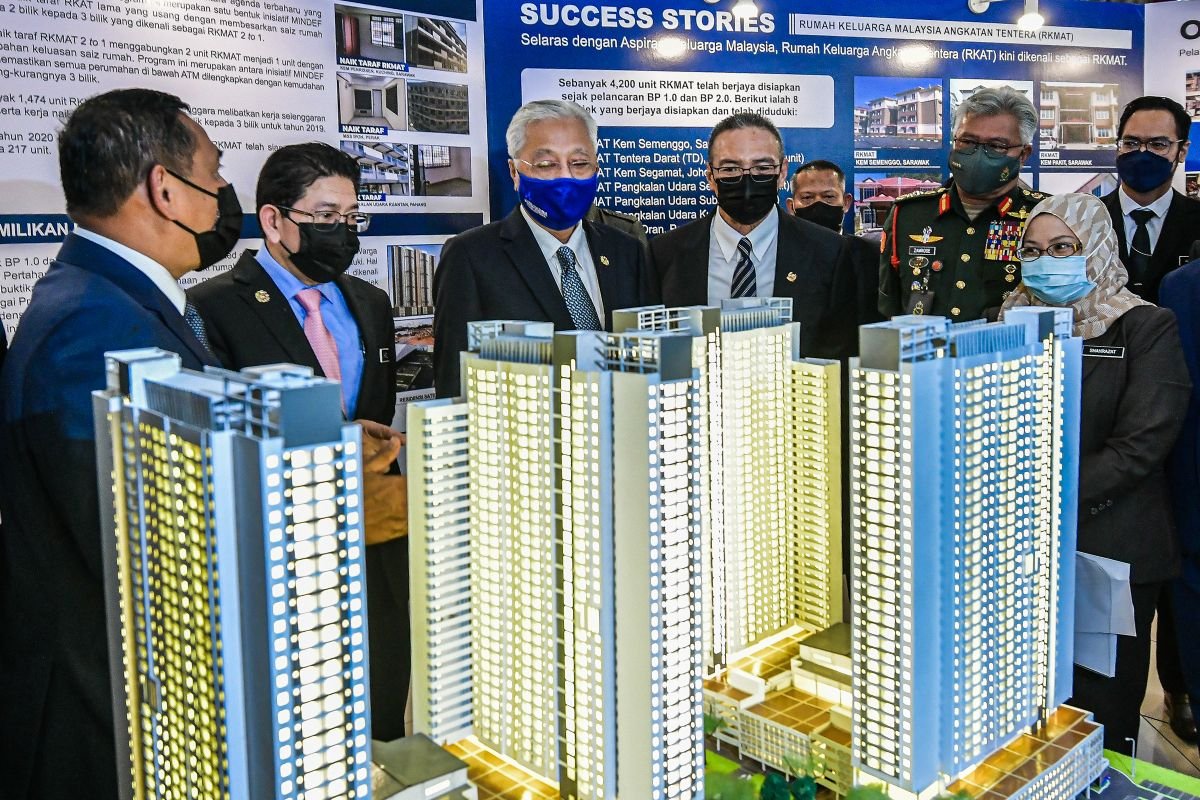 KUALA LUMPUR (July 14): Procurement via privatisation such as build-lease-maintain-transfer (BLMT) or land swap will be considered so that most of the Ministry of Defence's Housing Blueprint 3.0 (BP3.0) goals can be achieved, said Prime Minister Datuk Seri Ismail Sabri Yaakob.
He said this is because the government is aware of the financial burden that it will have to take on to implement BP3.0, which will focus on providing the remaining 12,733 units of Rumah Keluarga Malaysia Angkatan Tentera (RKMAT) homes nationwide, from 2023 to 2030.
"BP3.0 is a long-term housing project of the Ministry of Defence that focuses on the welfare of its personnel. The planning is quite large and extensive, which not only demands a high level of commitment, but also requires close cooperation from all parties involved.
"The goal is to ensure more RKMATs are built and maintained, that more affordable homes are built and more Malaysian Armed Forces (MAF) veterans are given new homes, while existing residences are improved," he said in his speech in conjunction with the launch of Housing Blueprint 3.0 on Wednesday.
Ismail Sabri further said the government, through the Ministry of Defence, has always given priority to and never compromised on the housing needs for MAF personnel and its civilian staff.
Aside from RKMAT, he said various initiatives that have been carried out included the One Member One House (SASaR) programme, an affordable housing programme under the Ministry of Housing and Local Government (KPKT), as well as the construction and repair of MAF veterans' houses.
According to Ismail Sabri, following the implementation of the Housing Blueprint 1.0 and 2.0, a total of 4,200 new RKMAT units have been successfully completed and are now occupied.
"Under the maintenance and upgrade programme, the target is for 80% of the existing 7,292 RKMAT units to be upgraded, including renovating two-room units into one-room units. At the same time, damaged old furniture will be replaced with new ones.
"Under the MAF Veterans Housing Initiative programme, 1,700 units will be built for military veterans nationwide.
"At the same time, more houses will be maintained with a target ratio of one newly built unit to four upgraded units," he said.
According to Ismail Sabri, five RKMAT housing projects had been approved under the 12th Malaysia Plan (12MP), which he said was proof that the government was committed to making the Ministry of Defence's housing agenda a priority in national development planning.