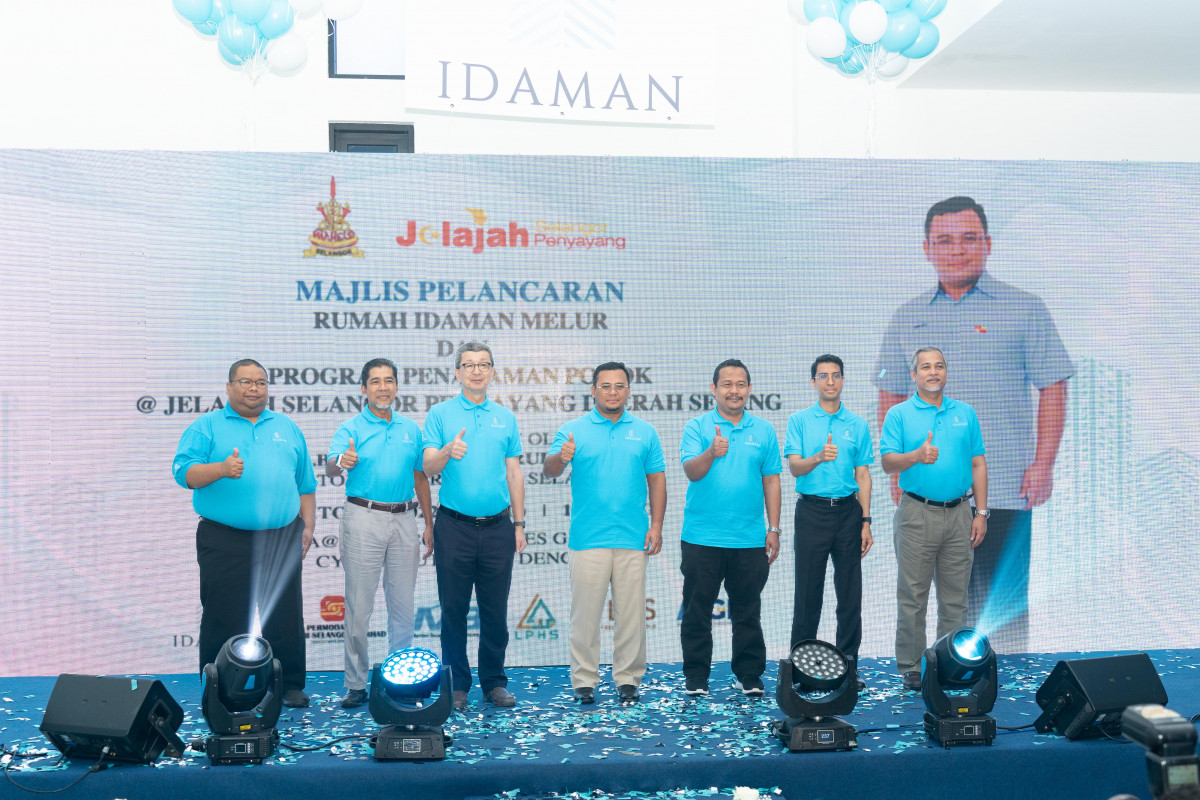 Idaman Melur will comprise high-rise affordable residential homes starting from RM250,000.
PETALING JAYA (Oct 30): Permodalan Negeri Selangor Bhd (PNSB) in partnership with MGB Bhd officially launched one of its six Rumah Idaman MBI projects, Idaman Melur at the KITA @ Cybersouth Sales Gallery yesterday.
PNSB is a Selangor state government subsidiary under the supervision of Menteri Besar Selangor (Incorporated) (MBI) while MGB is a subsidiary of LBS Bina Group Bhd.
Idaman Melur is located in Cybersouth, Sepang and comprises two blocks of 23-storey apartments spread across 12.07 acres with an estimated gross development value of RM414 million.
The high-rise apartment project is made up of three types of layout and priced at RM250,000. Idaman Melur will have 1,448 units which are equipped with air conditioners, refrigerators, wardrobes, kitchen cabinets, television, television cabinet and water heaters.
The six Rumah Idaman MBI projects, comprising 7,210 units of affordable homes in total, use MGB's in-house industrialised building system pre-cast technology. The projects will be built by PCSB-MGB Consortium, which is a joint venture between MGB and PNSB Construction Sdn Bhd, a subsidiary of PNSB.
All Rumah Idaman MBI projects consist of high-rise residential homes priced at RM250,000 with 3 bedrooms and 2 bathrooms and a minimum built-up area of 1,000 sq ft per unit.
Since its successful launch of Idaman Bandar Saujana Putra (BSP) in October 2021, the project has recorded strong take-up rate for almost all units that were released.
Selangor Menteri Bsear Datuk Seri Amirudin Shari said at the event that the state he is confident that Rumah Idaman Melur and other Rumah Idaman MBI developmentss will meet the housing needs of working-class individuals and young families as well as to elevate the quality of life for Selangor residents.
"The Selangor state government is always concerned about the well-being of the people in Selangor, especially in providing the quality and comfortable housing alongside other essential facilities.
"The aim is to uplift the quality of their life. The strategic location of Rumah Idaman Melur, with its reasonable pricing and semi-furnished of each unit has become a major attraction for property buyers," he revealed.
Meanwhile, MGB executive vice chairman, Tan Sri Lim Hock San commented is pleased to share the government's passion in ensuring housing is made affordable and attainable by every Malaysian.
"With our extensive years of experience in construction, we are confident in delivering quality Rumah Idaman MBI homes that will raise the benchmark for affordable housing in Selangor," he added.
"PNSB will continue to develop Rumah Idaman in strategic and potential areas of Selangor which includes the districts of Petaling, Gombak, Kuala Langat, Klang, Kuala Selangor and Sabak Bernam," said CEO of PNSB, YM Raja Ahmad Shahrir Iskandar Raja Salim
"Amongst the 24 projects that will be implemented by PNSB, a total of 45,760 units of Rumah Idaman will be developed together through the collaboration ofstrategic partnership," he added.
MGB expects to launch the four remaining Rumah Idaman MBI projects by 2023.