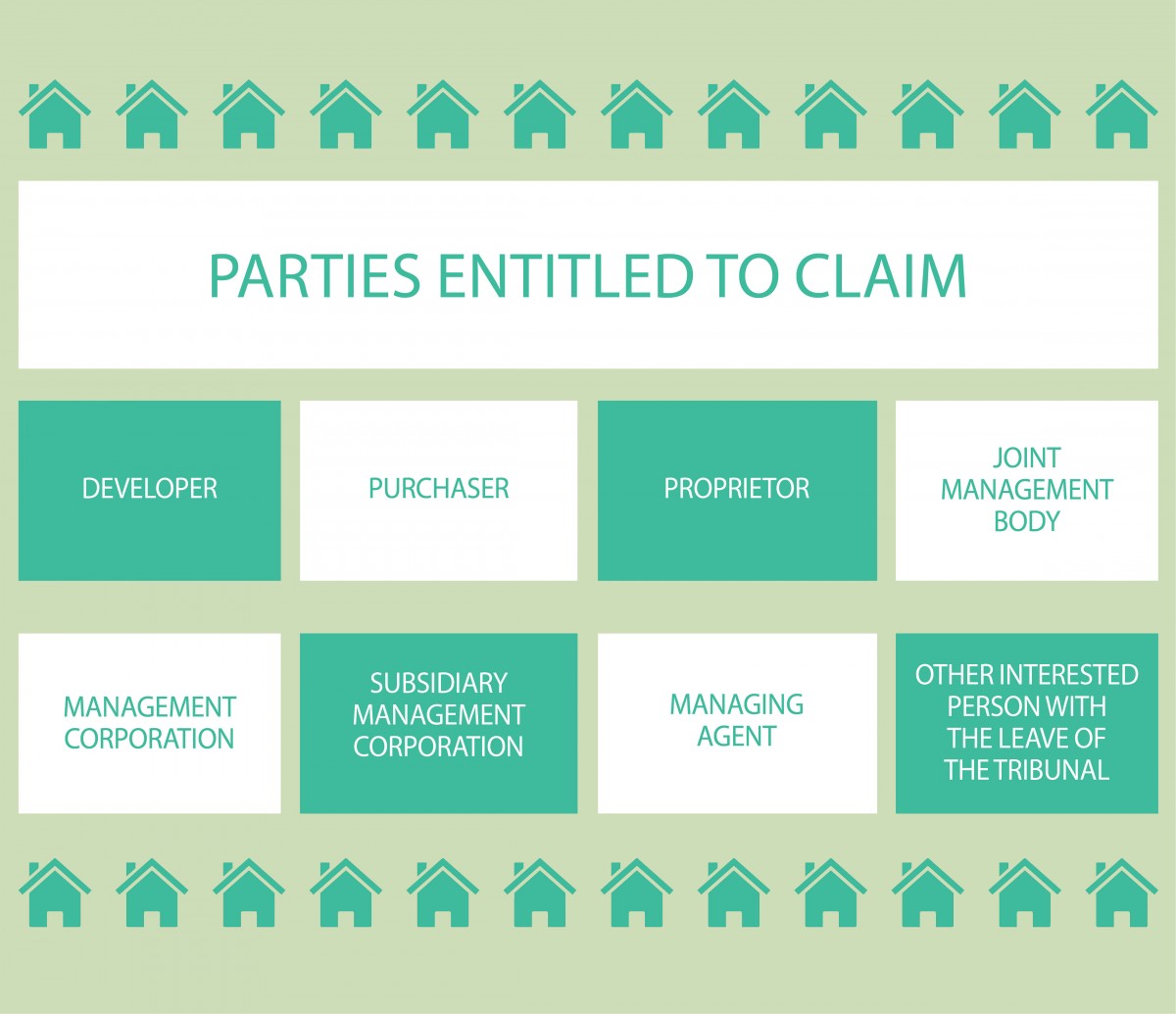 1. Who can make a claim with the Strata Management Tribunal?

You can make a claim before the Strata Management Tribunal (SMT) under Section 107 of the Strata Management Act 2013 (SMA) if you fall under one of the categories in the infographic above:
The distinction between a purchaser and a proprietor arises when the strata title to the property has not yet been issued. A purchaser merely owns an interest in a particular unit, as the unit is still being held under the master title, under which the developer or landowner is the proprietor.

When the unit's strata title has been issued and duly registered in the name of the purchaser, then he or she becomes the legal proprietor of the unit.

It is also worth noting that it is now possible to form a subsidiary management corporation under the purview of the SMA 2013, where the Management Corporation may designate limited common property to certain unit proprietors.

2. What matters can the Tribunal hear?

The SMT can hear claims up to a limit of RM250,000. The subject matter jurisdiction of the SMT is provided for under Section 105(1) of the SMA 2013, Fourth Schedule, Part 1. Don't worry, we've summarised it for you here:
1. disputes over a failure to perform a function, duty or power imposed by SMA 2013;
2. disputes over costs or repairs of a defect;
3. claims for the recovery of charges, contribution to the sinking fund or any debt;
4. claims for an order to convene a general meeting, invalidate proceedings of a meeting, nullify a resolution on matters decided in a general meeting;
5. claims to compel the supply of information or documents;
6. claims for an order to give consent to effect alterations to common property or limited common property;
7. claims for an order to affirm, vary or revoke a decision of the Commissioner of Buildings.
As its name may suggest, the scope of the SMT's jurisdiction is restricted to management disputes of a strata development. The SMT does not have jurisdiction over disputes relating to the title, estate or interest in the unit or land.

3. No lawyers are allowed at Tribunal hearings, except...

The general rule is that neither party is allowed to appoint a lawyer to represent them at a hearing. However, the law makes an exception when the matter in question involves complex issues of law and one party will suffer severe financial hardship if not legally represented. The SMT may conduct the proceedings in such manner as it considers appropriate, necessary or expedient for the purpose of ascertaining the facts or law and determination of a claim.

After hearing a matter, the SMT shall make its award within 60 days of the first day of the hearing and provide grounds for its award in every case. An award by the SMT is as good as a court order, thus whoever fails to comply will be committing an offence.

4. What remedies can the Tribunal order?

The SMT may:
order a party to the proceedings to pay or refund a sum of money or compensation or damages to another party;
vary or set aside a contract or additional by-laws. There is now a set of prescribed by-laws effective June 1, 2015 on all strata developments. This prescribed by-law shall prevail over any existing by-laws, house rules and deed of mutual covenants that are inconsistent.
order a party to the proceedings to pay interest on a monetary award at a rate not exceeding 8% per annum;
dismiss a claim which it considers to be frivolous or vexatious;
make any other order as it deems just and expedient; and
make ancillary or consequential orders or relief as may be necessary to give effect to any other order made by the Tribunal.

5. What happens if you ignore an order of the Tribunal?

By virtue of Section 123 of the SMA 2013, whoever does not comply with an award made by the Tribunal commits an offence and may be penalised as follows:


First offence
Fine: < RM250,000.00; or Imprisonment:
< 3 years; or both

Continuing offence
Further fine: < RM5,000 every day


Chris Tan is a lawyer, author, speaker and keen observer of real estate locally and abroad. He is founder and managing partner of Chur Associates.

If you have questions for Chris Tan, please go to the Tips section of theedgeproperty.com.
Disclaimer: The information here does not constitute legal advice. Please seek professional help for your specific needs.

This article first appeared in The Edge Property pullout, which comes with The Edge Financial Daily every Friday, on Oct 2, 2015. Download your personal copy of The Edge Property here.