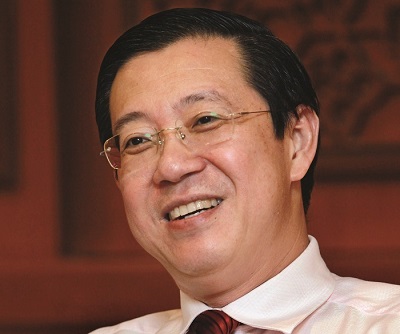 GEORGE TOWN (June 30): The Penang government yesterday rebutted Consortium Zenith BUCG Sdn Bhd's (CZBUCG) claim that the latter has yet to receive RM100 million as payment for the feasibility studies and detailed design work the consortium had completed so far for the RM6.3 billion integrated infrastructure project in Penang.
Chief Minister Lim Guan Eng (pictured) said CZBUCG had only submitted RM138 million worth of claims for the feasibility studies on the three roads that are to be built under the project, which was paid when the state handed over a plot, measuring 1.4ha on Bandar Tanjung Pinang 1 (Plot 702), to the consortium.
The land is worth RM135 million, which means only RM3 million of the amount claimed is outstanding, Guan Eng told reporters.
Total cost of the feasibility studies for the three roads — namely the 4.2km bypass from Gurney Drive to Lebuhraya Tun Dr Lim Chong Eu, the 4.6km bypass between Lebuhraya Tun Dr Lim Chong Eu and Bandar Baru Air Itam, and the 12km paired road from Jalan Tanjung Bungah to Teluk Bahang — is RM209 million.
That means RM71 million worth of claims are yet to be submitted to the state government, said Guan Eng.
Feasibility studies for the 7.2km Penang-Butterworth undersea tunnel, which is also part of the project, is still ongoing and will cost RM96 million, which brings the feasibility studies cost for the entire project to RM305 million.
Penang has earmarked Plots 702 and 713 on Bandar Tanjung Pinang 1 to fund the studies, but the plots measuring 3.8ha are worth only RM293 million. It had previously said it would be looking for another piece of land to make up for the RM12 million shortfall.
To recap, CZBUCG chairman Datuk Zarul Ahmad Mohd Zulkifli had said on June 14, that the state owed CZBUCG another RM100 million for the feasibility studies done including the 83% complete studies done on the 7.2km undersea tunnel.
Zarul had also said that the state had told CZBUCG to stop the studies for the undersea tunnel. But a day later, he said no stop order was ever issued, claiming it was a miscommunication.
Interested in property investments in Penang after reading this article? Click here to check out the properties there.
This article first appeared in The Edge Financial Daily, on June 30, 2016. Subscribe to The Edge Financial Daily here.