Tiong Nam Logistics Holdings Bhd July 11 (RM1.62)
Initiate with a buy and a target price (TP) of RM2.07: In the past, Tiong Nam Logistics Holdings Bhd's business model of owning most of its warehousing assets through debt financing led to a high gearing level, a sore point among investors. However, the warehousing assets owned by the group have seen appreciation in value over time and now the assets could be monetised to relieve its balance sheet. Its previous acquisitions of land also open up the avenue for the group to venture into the property business.
We opine that it is now an opportune time for Tiong Nam to go warehouse real estate investment trust (REIT) listing given the renewed interest in high dividend stocks. Based on our estimation, its warehouse REIT could potentially fetch a market cap of RM528.6 million, translating into a value of 50 sen a share. This potential corporate exercise would rerate Tiong Nam's logistics business, unlocking value for its shareholders.
Meanwhile, while the listing of its warehouses would improve its cash position significantly, we do not foresee a large cash payout post the potential corporate exercise. The group still has expansion plans to increase its warehousing capacity tapping on the long-term logistics growth. However, we do not rule out partial payout of the proceeds, which will also act as a share price catalyst.
While admittedly the outlook for the property market is still subdued, the group still owns undeveloped land bank of 152.7 acres (61.79ha) [potential gross development value (GDV) of about RM1.5 billion], an upside catalyst as we have yet to account for potential new launches. Focus of Tiong Nam is on industrial property development which is more resilient amid current property downturn.
Catalysts for the company include: i) listing of warehouses as REIT; ii) recovery of property market; and iii) measures to promote trade (that is the Trans-Pacific Partnership agreement).
However, risks lie in: a) fluctuations in the oil price which affects transportation costs and b) further tightening of property lending policies by banks.
Besides the stable logistics business, Tiong Nam possesses upside catalysts from potential REIT listing and unlocking of land bank value via its niche in industrial property development.
We value the group's logistics services and warehousing business separately to reflect its potential to unlock warehousing assets through REIT listing. Our sum-of-parts-driven TP is RM2.07. — Hong Leong Investment Bank Research, July 11
Try out one of our super tools, the rental yield calculator, here.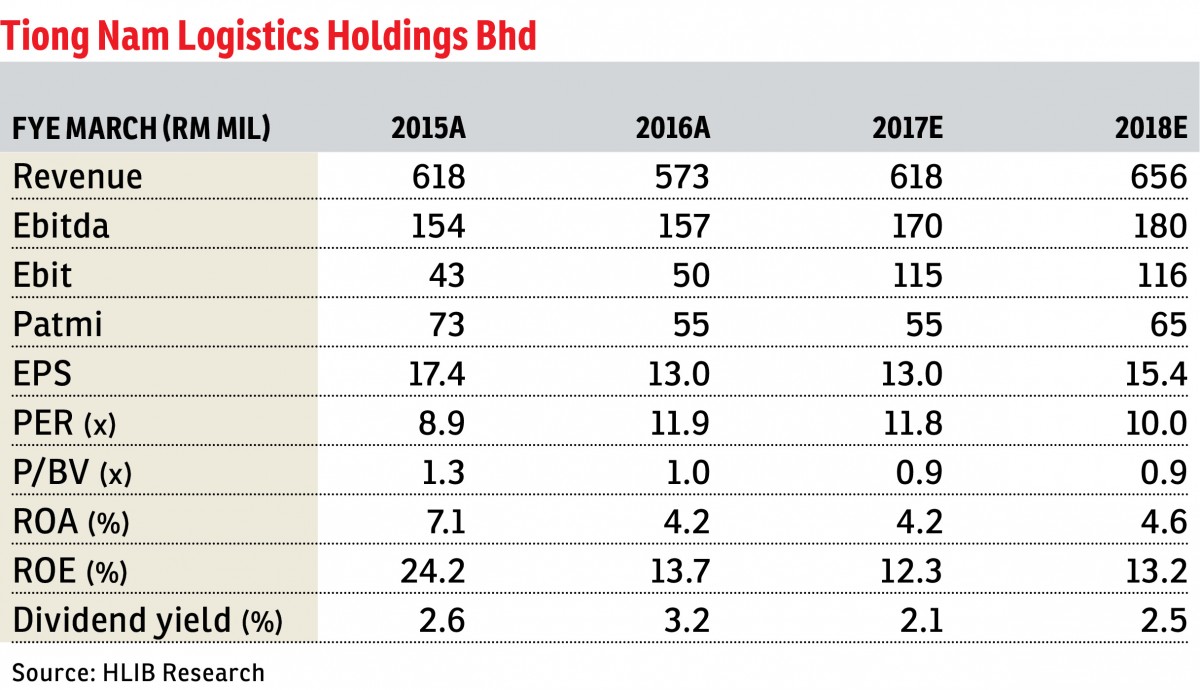 This article first appeared in The Edge Financial Daily, on July 12, 2016. Subscribe to The Edge Financial Daily here.