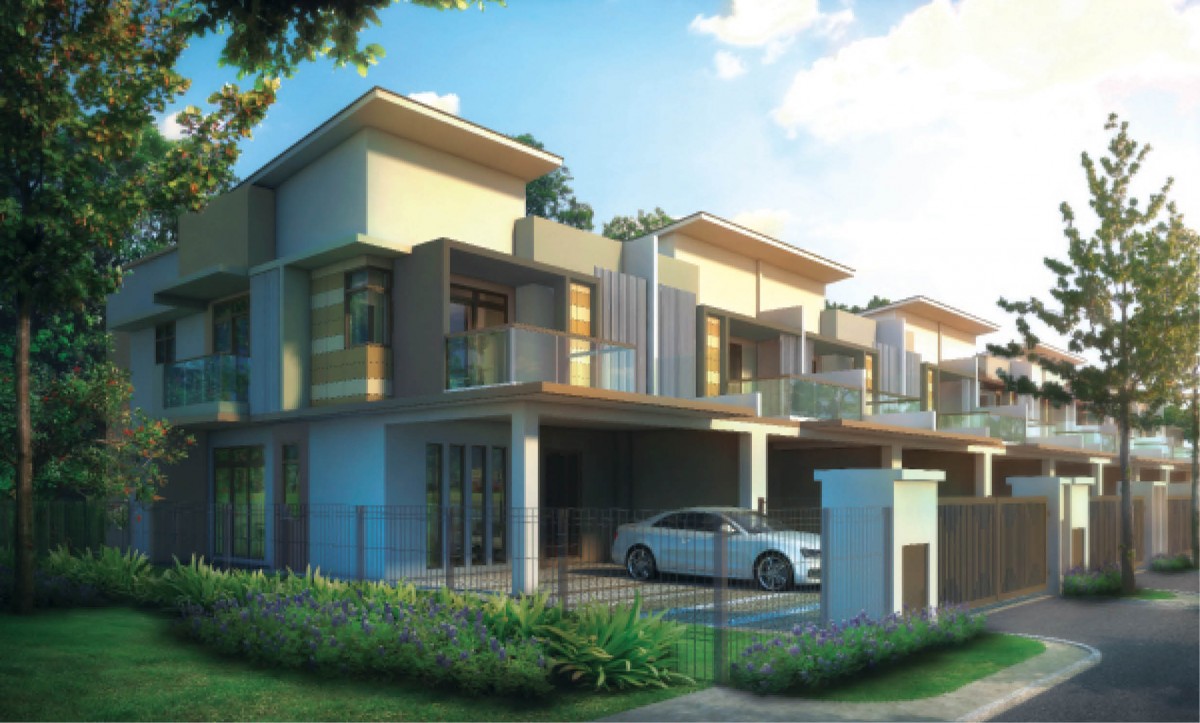 THE Johor market has been quiet in the past year. Both property prices and rent have seen minimal movements, and there have not been many new launches. KGV International Property Consultants (Johor) Sdn Bhd executive director Samuel Tan expects the situation to remain the same for at least the next two years, with some bright spots in between.
The Edge-KGV International Property Consultants Johor Bahru Housing Property Monitor 2Q2016 shows that the prices of landed properties in the state capital declined during the quarter compared with the previous quarter. While the prices of most of the sampled landed properties were flat in the period under review, some saw a double-digit dive.
Sluggish market conditions
In the 2-storey terraced houses category, a 1,820 sq ft unit in East Ledang saw the biggest fall in price, plunging 18.5% to RM1.1 million from RM1.35 million in the previous quarter. Prior to that, the price had remained at RM1.35 million since 1Q2015.
A 1,400 sq ft home in Horizon Hills dropped to RM700,000 from RM750,000 in 1Q2016. The price had risen above RM700,000 in 4Q2014 and had been on a steady upward trend. It then stayed at RM750,000 from 2Q2015 to 1Q2016.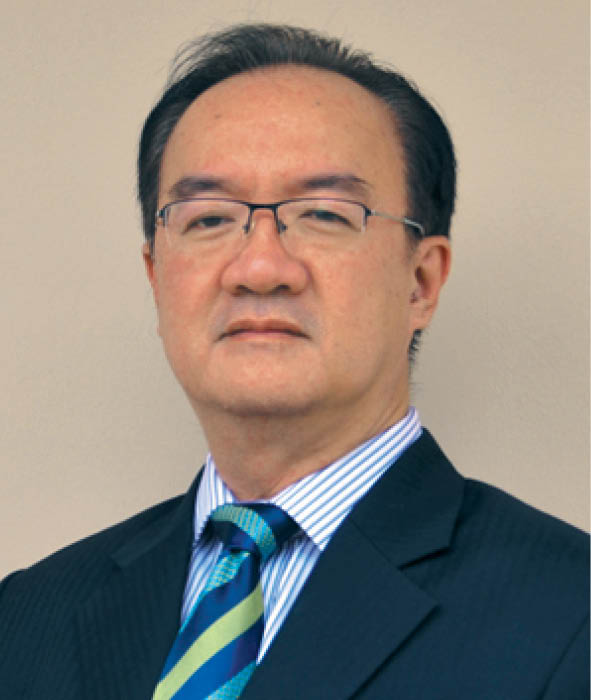 Two-storey semi-detached houses sampled saw a similar decline in prices, with a 4,050 sq ft unit in East Ledang fetching RM2.1 million in 2Q2016 compared with RM2.4 million in the preceding quarter. It had remained at RM2.4 million for five consecutive quarters.
The prices of semidees in Taman Molek and Taman Ponderosa decreased to RM950,000 and RM1.4 million respectively, from RM1 million and RM1.5 million. Both saw a drop for the first time since 2Q2015.
Other landed residential properties sampled remained unchanged. For example, a 2-storey terraced house in Taman Bukit Indah, with a built-up of 1,400 sq ft, saw a slight fall in price in 1Q2016 but remained at RM500,000 in 2Q2016.
The prices of most non-landed residential properties remained flat, except for Sky Executive in Bukit Indah. A 750 sq ft unit there had a price tag of RM400,000 in 2Q2016 compared with RM480,000 in the previous quarter.
Tan says the asking and transacted prices in selected places in Johor Bahru has slightly trended downwards, largely due to the sluggish market conditions and difficulties in obtaining loans.
"The wait-and-see sentiment is not helping," he adds. "We noted that properties that have the propensity to depreciate are those purchased for investment purposes. If there are no tenants after some time, the owners will consider selling the properties even if the prices are slightly lower."
He believes market conditions will remain challenging given the current economic climate. Properties with high vacancy rates and stratified buildings will be the most vulnerable, he says.
"The less popular properties, in terms of location, design and surroundings, will also be subject to more downward pressure," he explains. "We can see that these properties are the first to be put up for auction. In Johor Bahru, they include the low-cost schemes in Pasir Gudang, Kulai and other outer suburbs. Even medium-cost houses in these locations are vulnerable."
However, projects occupied by local owners in good locations should be able to withstand the dampening market, says Tan.
While the gross monthly rent stayed at the same level in 2Q2016, lower property prices seen in some landed and non-landed properties resulted in higher gross yields.
The gross yield of a 1,820 sq ft terraced house in East Ledang grew 0.3% to 4.5%, thanks to a double-digit plunge in the selling price. A 1,400 sq ft terraced house in Horizon Hills saw its gross yield climb 0.3% to 4.8%.
In the 2-storey semidee segment, the gross yield for a 4,050 sq ft unit in East Ledang stood at 1.9% in 2Q2016, compared with 1.7% in the previous quarter.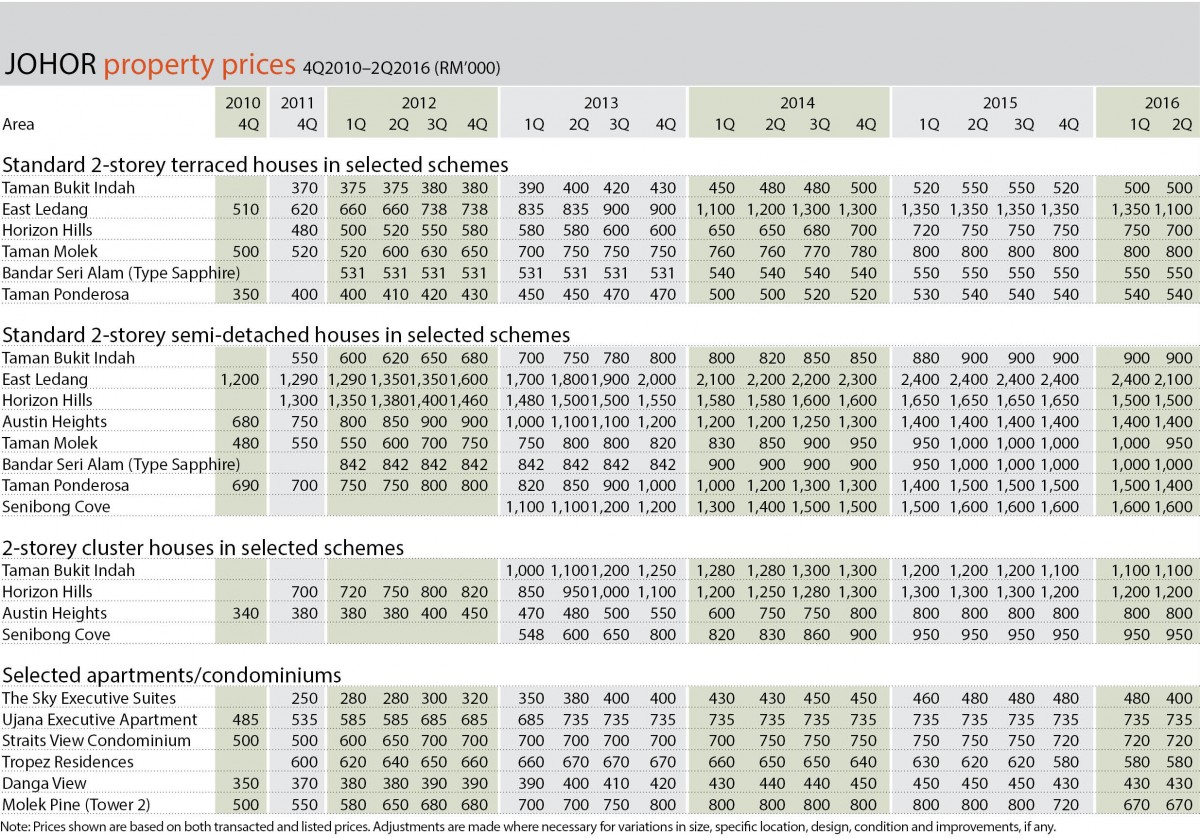 The gross yield for a 3,200 sq ft home in Taman Ponderosa grew to 4.3% in 2Q2016, compared with 4% in 1Q2016.
The same situation was seen in non-landed properties. With a fall of RM80,000 or 16.6% in property prices in 2Q2016, the gross yield for a 750 sq ft unit at Sky Executive surged 1.2% quarter on quarter to 7.5%.
Good take-up
Johor continues to see fewer launches but some projects enjoy good take-up due to their location and pricing, says Tan. There were only four launches in the state during the quarter under review, all of which comprised landed houses.
These were Meridin East by Mah Sing Group Bhd, Melia Residences by UEM Sunrise Bhd, Inspired by Tanah Sutera Development Sdn Bhd and Taman Gemilang Height by Peck Seong Realty Sdn Bhd.
Tan says Melia Residences, in particular, has seen a good response. Its Phase 1 is fully sold while Phases 2 and 3 only have some bumiputera units left. Phase 4 is half sold.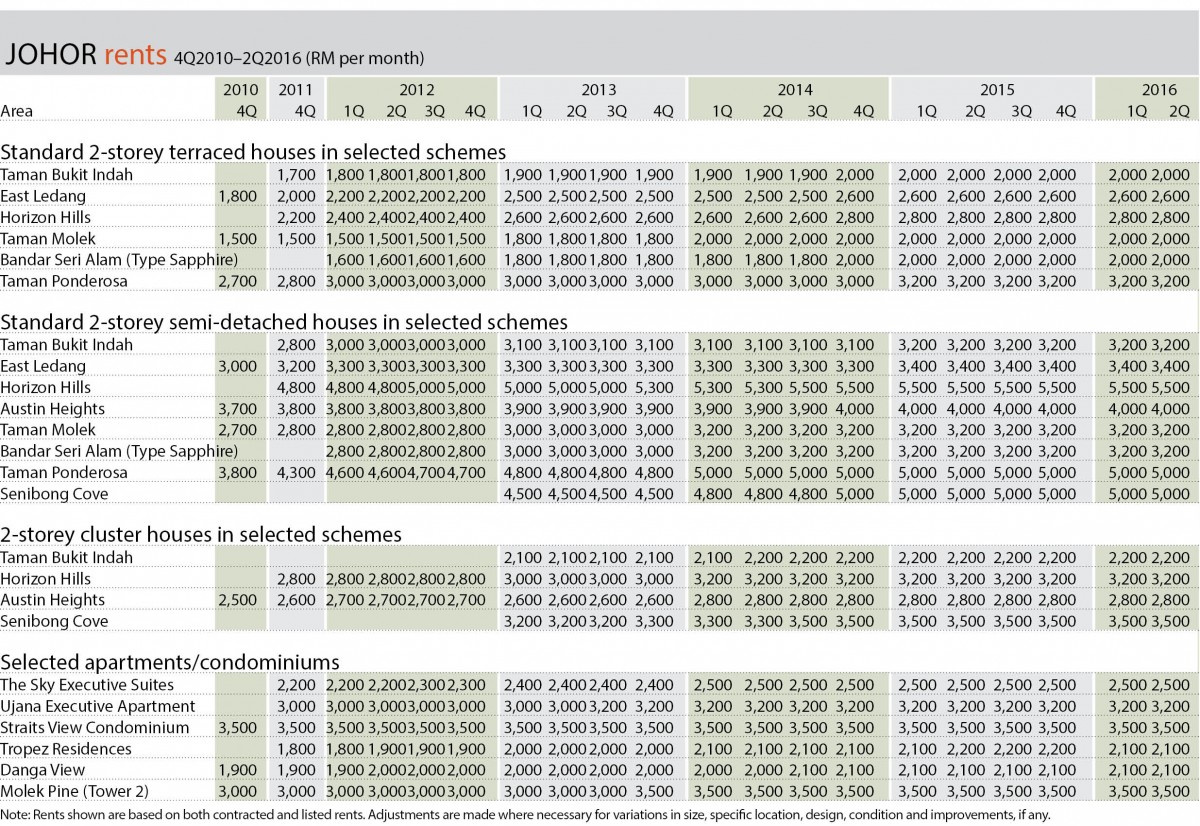 The project offers a total of 160 units of 2-storey terraced houses with built-ups of 1,650 to 2,349 sq ft. They are priced at RM596,888 to RM1.21 million.
"The response to Melia Residences caught the market by surprise," says Tan. "The price steps up in every phase. However, it is considered cheap for the location as it is near the proposed high-speed rail station."
He adds that another project that has done well is Forest City's Phases 1 and 2, which offers a total of 7,574 high-rise residential units. The two phases are 80% to 90% sold.
Jointly developed by China's Country Garden Holdings Co Ltd and Esplanade Danga 88 Sdn Bhd, the RM450 billion project will comprise four man-made islands occupying a total land area of 3,425 acres, most of it reclaimed. The development will have residential and commercial units, schools, hospitals, an exhibition centre and a special administrative region.
The parties behind Esplanade Danga 88 are Johor's Sultan Ibrahim Sultan Iskandar, the state government's investment arm Kumpulan Prasarana Rakyat Johor Sdn Bhd and Datuk Daing A Malek Daing A Rahaman, who is a member of the Johor Council of Royal Court. Daing A Malek is also the executive director of Country Garden Pacificview Sdn Bhd.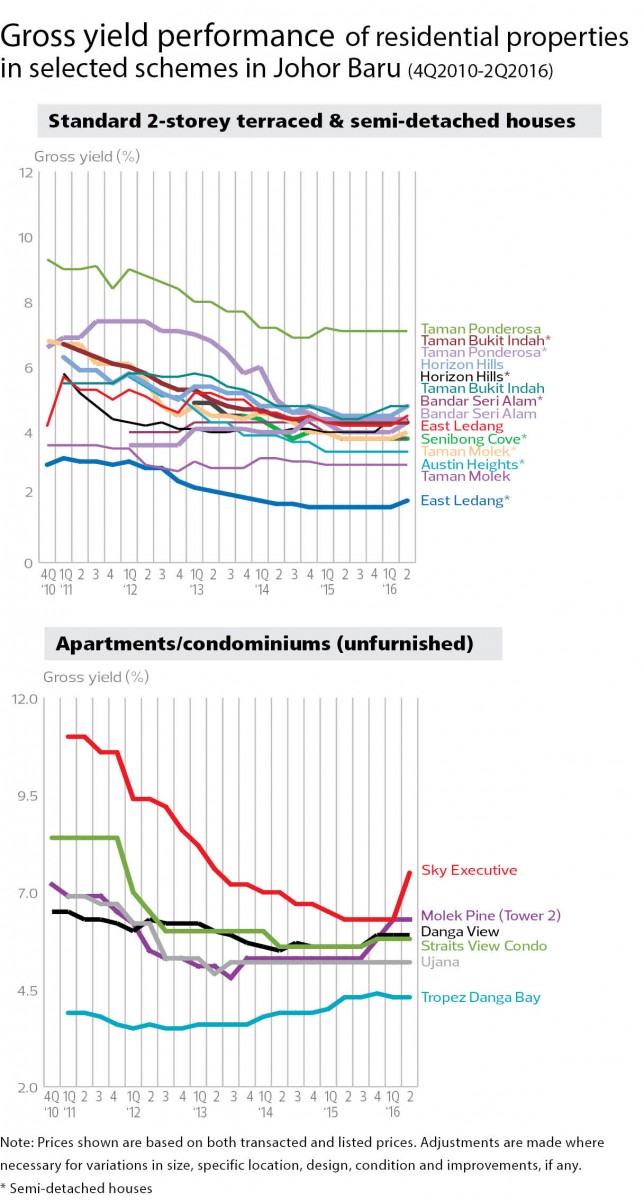 This article first appeared in City & Country, a pullout of The Edge Malaysia Weekly, on Aug 15, 2016. Subscribe here for your personal copy.