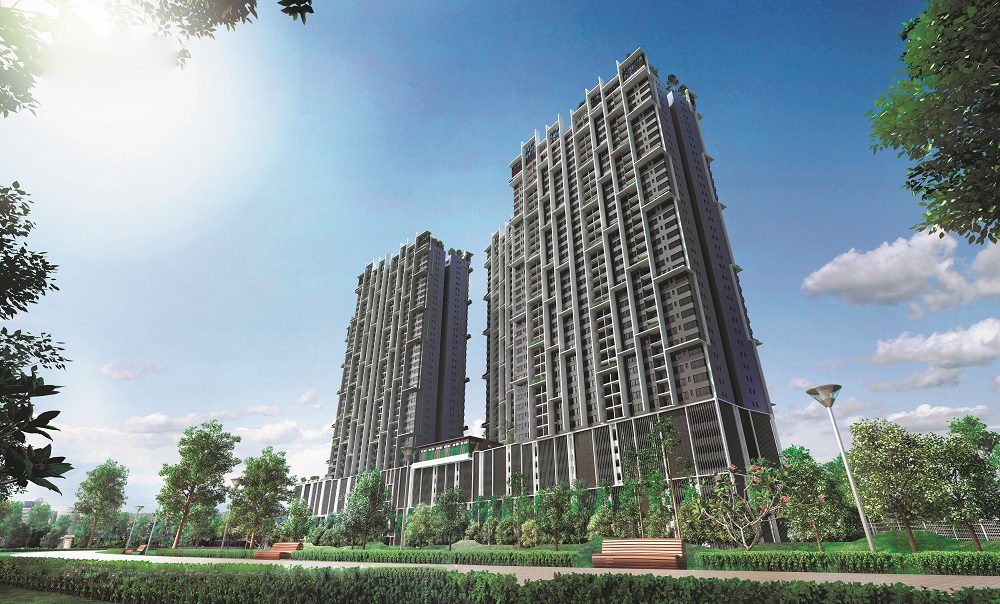 Established as a timber company back in 2002, Exsim Group of Companies ventured into property development in 2009, focusing on residential, commercial and industrial projects in the Klang Valley. Its completed developments include Nouvelle Industrial Park @ Kota Damansara, Nouvelle Kemuning Industrial Park Phases 1 and 2 in Kota Kemuning, The Treez @ Bukit Jalil, The Leafz @ Sungai Besi and Twin Arkz @ Bukit Jalil.
Among its ongoing projects are Nouvelle Industrial Park @ Balakong, Nouvelle Industrial Park @ Kota Puteri Phase 1, Nouvelle Industrial Park @ Meru, Petalz Residences @ Old Klang Road, Expressionz Professional Suites @ Tun Razak and The Rainz @ Bukit Jalil.
Petalz Residences is fully sold and will be handed over to buyers by early next year while Expressionz Professional Suites is 90% sold and will be handed over by 2018.
Exsim head of marketing and corporate communications Michelle Siew tells City & Country that the group, through its subsidiary Aspire Causeway Sdn Bhd, is looking to launch its biggest project, in term of gross development value (GDV) and the number of units — Nidoz Residences @ Desa Petaling — by the end of the year.
Nidoz Residences @ Desa Petaling
Nidoz Residences, a RM1.3 billion condominium project, will occupy 7.8 acres of leasehold land near MBO Cinemas Desa Petaling. The development is accessible via the North-South Expressway, New Pantai Expressway, Kuala Lumpur-Seremban Expressway and Shah Alam Expressway.
It is part of a joint-venture project with Yayasan Wilayah Persekutuan, which will include a Rumah Mampu Milik Wilayah Persekutuan housing scheme and a condominium project called D'Nuri Residences.
D'Nuri Residences, which will comprise 500 units, is set to be launched by the end of the year. It will have a separate guardhouse from Nidoz Residences.
Siew says "nidoz" means "nest" in Spanish while "nuri" is "parrot" in Bahasa Malaysia. She says the names reflect the concept of the development — coming home to rest.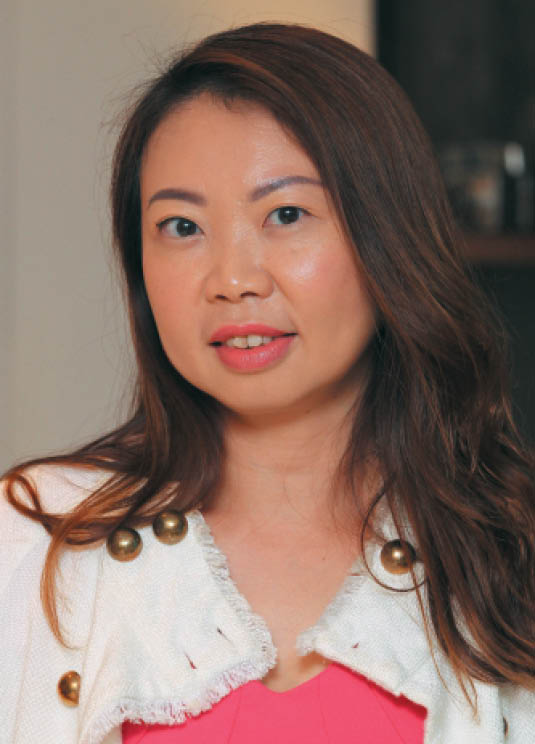 "You want to feel the warmth when you return home," she adds. "This project is targeted at upgraders from the surrounding areas, such as Cheras, Kuchai Lama, Sri Petaling and Bukit Jalil, who are looking for landed homes but don't have much to choose from."
Nidoz Residences will comprise 1,305 units in four 40-storey blocks. The units come in two sizes — 1,219 and 1,403 sq ft. Some units come with a planter box, or a balcony, or both.
With configurations of 4+1 and 5+1 bedrooms, the units will be equipped with a washer, dryer, hood and hob, refrigerator, oven, air conditioner, water heater, wardrobe and kitchen cabinets. Each unit also comes with two parking bays. The selling price starts at RM774,100 or an average of RM600 psf.
"The units are designed to be fitted with the furniture and appliances," Siew says. "We also offer more rooms so that more people can stay in a unit without having to pay too much for the space compared with landed homes."
Exsim opened for sale 900 units in Blocks B, C and D to business associates and previous buyers in January, and some 60% have since been sold. The development will be officially launched next month and is slated for completion by 2020.
According to Siew, most of the buyers are currently living within a 10km radius of the development and about 30% are repeat buyers. The units with a planter box are almost fully sold, she says.
The planter box idea, she adds, is in line with the developer's effort to promote urban farming. Exsim has allocated 0.7 acre in the development for residents to do organic farming.
"The management body will manage the farming area," Siew says. "There will also be an area for small animals such as chickens, ducks, rabbits and fishes. Children would love to have such animals but might not be able to keep one in their homes. So that will serve as a place for families to come and spend time together without having to drive out."
Nidoz Residences will have two facility levels — at Level 8 and the rooftop — with a total space of more than 100,000 sq ft. The facilities at Level 8 will include an indoor badminton court, indoor half basketball court, children playground, indoor and outdoor gymnasium, wading pool and extreme park.
Among the facilities at the rooftop will be two sky lounges, two sky pools, a yoga deck, sky outdoor gymnasium and pool deck.
The maintenance fee is 28 sen psf.
"We do see a slowdown now but the impact is not very significant," says Siew. "People are still buying, so they just have to be the right products. Developments that focus on end-users' needs will not go wrong as these people really need a property."
What's next?
Exsim has several projects — commercial and industrial — lined up for the next two quarters. It still has land in the Klang Valley that can generate a GDV of RM5.5 billion.
Siew says Phases 2 and 3 of Nouvelle Industrial Park @ Kota Puteri will be launched by the end of the year. Phase 1, which was unveiled at the end of last year, is 90% sold.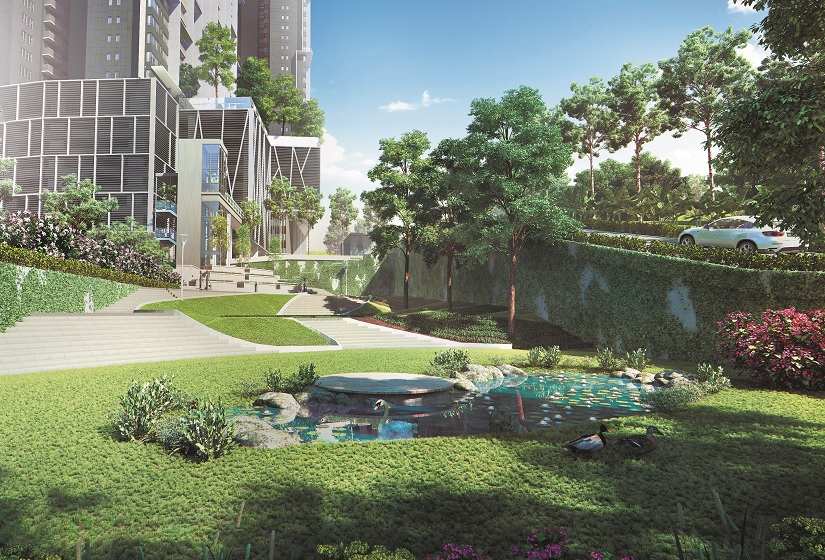 She says the group also plans to launch two projects in 1Q2017 — an office tower called Ceylon Suites and a mixed-use development on Jalan Klang Lama.
Ceylon Suites, which will comprise small office units, will occupy about one acre in Bukit Ceylon. "We did a survey and learnt that people who work in downtown Kuala Lumpur would like to have a space for them to hold brainstorming sessions with their business partners after work," says Siew. "We are offering small offices, like about 500 sq ft, with facilities such as a business lounge, meeting hub and conference hall."
The Jalan Klang Lama mixed-use development will sit on an eight-acre parcel near a Public Bank branch. This project, Siew says, will comprise an office tower, art college, retail space, serviced apartments and small office/home office units.
"Currently, the land is occupied by squatters and old factories," she says. "The project is at the planning stage and we are still in talks with the art college."
This article first appeared in City & Country, a pullout of The Edge Malaysia Weekly, on Aug 29, 2016. Subscribe here for your personal copy.