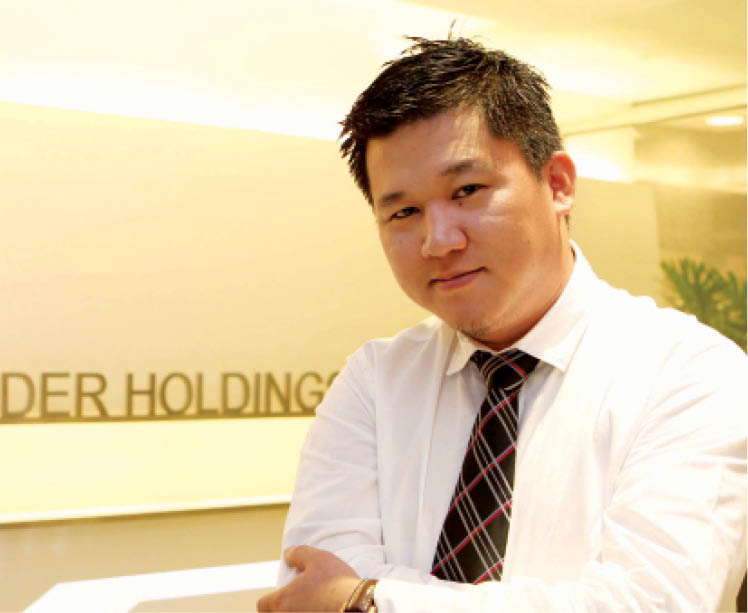 CONTRACTOR-cum-developer Crest Builder Holdings Bhd, which has seen its earnings and revenue fluctuate from year to year, plans to reduce the fluctuations by staggering the timing of its property projects, says managing director Eric Yong Shang Ming.
Since listing on the Main Board of Bursa Malaysia in June 2003, the group's earnings growth has been erratic — spiking every two to three years when it clinches a project.
Its maiden development, 3 Two Square in Section 19, Petaling Jaya, was launched in 2007 and helped boost earnings in the financial years ended Dec 31, 2007 and 2008. Earnings slid in the following years before picking up again in FY2011 and FY2012, thanks to its Batu Tiga development in Shah Alam.
"Moving forward, we will stagger our projects to have earnings growing at a steady pace and we target to have one mega [property] project a year," Yong tells The Edge in an interview.
Crest Builder's net profit halved to RM10.41 million last year from RM20.76 million in FY2014. However, revenue rose 37% to RM283.94 million.
Yong expects the group's net profit and revenue to be slightly better this financial year. "There will be no fireworks in this year's earnings, but we expect them to be slightly better than last year's, with contribution from the last phase of the RM390 million Residensi Hijauan project in Batu Tiga and the balance of sales from the RM328 million Alam Sanjung project in Shah Alam.
"As for contribution from the construction sector, it will come from the RM438.3 million mixed development contract clinched from Sime Darby Melawati Development Sdn Bhd in June and the RM198 million Anggun serviced apartments contract in Jalan Sultan Ismail, Kuala Lumpur, which was secured from UDA Holdings Bhd last year," he says.
For 1HFY2016, it posted a 28.6% decline in net profit to RM5.99 million from a year ago, while revenue fell 10.7% to RM105.96 million.
Yong says Crest Builder will see some exciting times next year when its first mega property project, [email protected] Ampang in Kuala Lumpur, which has a gross development value of RM1.1 billion, will be launched in the second quarter.
"The construction of the 42-storey mixed-use development has already started. The project has three components, namely residential, retail and office. For the residential component, we are pricing the units at between RM1,350 and RM1,650 psf," he says.
Located above the Dang Wangi light rail transit (LRT) station, [email protected] Ampang is a joint venture (JV) with Prasarana Malaysia Bhd. "[To maintain steady earnings growth] for FY2018 onwards, we are trying to secure one or two more privatisation projects within the next six months. Their values are sizeable," says Yong, but declines to elaborate.
Crest Builder has won another JV project with Prasarana to develop vacant land around the Kelana Jaya LRT station. Yong says the project is expected to commence in late 2018 or 2019.
"We are also looking at developing other parcels belonging to Prasarana, which are along rail lines. We are waiting for the next few tenders to be called. They seem satisfied with our performance so far, as we have been assisting them in all the authority clearances [in relation to [email protected] Ampang and the upcoming Kelana Jaya project]," he says.
"We have been doing a lot of property projects on our own. We hope to do more JVs with government-linked companies, going forward. The advantage of such JVs is that they ease our cash flow in terms of payment for the land and require smaller capital outlays. The downside of JVs is that approvals take a long time as they involve many tiers."
On its JV with the Malaysian Rubber Board to develop a RM1.33 billion mixed-use development in Jalan Ampang, Yong says the development order has been submitted. "We are targeting to commence construction in the second half of 2018."
Crest Builder has transformed itself from a pure construction player to a contractor-cum-developer. For FY2016, it expects the profit contribution from its property business to be 60%, with the construction segment contributing the remaining 40%. An ideal ratio is 70% from property and 30% from construction, says Yong.
"I don't intend to go fully into property development because our bread and butter is still construction. We want to be boutique-based, meaning I will do anything apart from townships. Townships are not our forte and the capital outlay is also very heavy. We prefer to go for mature neighbourhoods with a faster turnaround time like seven to eight years," he explains.
The group is looking at a steady replenishment of its construction order book of between RM500 million and RM600 million a year. "Currently, our gross order book stands at RM1.28 billion, of which RM1.1 billion is unbuilt," he says.
Meanwhile, Crest Builder continues to seek buyers for its two assets in Petaling Jaya, which are valued at RM280 million. One of them is The Crest — a 16-storey commercial building at
3 Two Square where the group's headquarters are located — which could fetch as much as RM130 million. The other is Tierra Crest, a 17-storey commercial building in Kelana Jaya valued at about RM150 million.
"As a construction company, I find that owning these two properties puts heavy stress on our cash flow [to service the loans] and I am sitting on two pots of cash. As such, we have been looking at monetising the two assets to free up capital," says Yong.
Crest Builder's cash flow is a major concern for most investors. The cash and cash equivalents of the group stood at RM112.22 million as at June 30, 2016, while its short and long-term borrowings amounted to RM669.01 million.
Yong explains that the bulk of the borrowings consists of long-term loans secured against The Crest and Tierra Crest and a RM510 million sukuk issued to finance its Universiti Teknologi Mara campus project in Tapah, Perak. "Stripping out these borrowings, our gearing is at a comfortable level of below 0.4 times."
Yong notes that at present, there is no plan for the group to go to the capital market to raise funds as he thinks that Crest Builder's securities are trading below par. "We would rather wait for the market to pick up first," he adds. Last November, in view of the market conditions, the group aborted plans for a proposed placement of up to 10% of its issued share capital to raise RM29.8 million.
Yong, formerly the executive director of the group, is the second generation at the group's helm. He assumed the leadership role on Sept 3 last year and, at 33 years old, is one of the youngest managing directors of a publicly traded company in the country.
His father, the late Yong Soon Chow, 63, was the group managing director and founder.
Yong now shares the responsibility of running the group with his three sisters and mother. His mother, Koh Hua Lan, and his sister, Yong Tiok Keng, are executive directors of the group.
The Yong family currently own 38.18% of Crest Builder via their private vehicle SC Yong Holdings Sdn Bhd.
Yong says his family have no intention of paring their stake in Crest Builder and want to raise it as they think the stock is undervalued. The stock closed at 90 sen last Thursday, giving the group a market capitalisation of RM153.62 million.
This article first appeared in The Edge Malaysia on Sept 5, 2016. Subscribe here for your personal copy.
Stay on top of trending Narratives
Use Location Scan to view project options and price trends near your preferred location, including MRT3 stations
Check your loan eligibility on LoanCheck, or use LoanReport to get a FREE credit report