LBS Bina Group Bhd (Sept 15, RM1.80)
Maintain outperform with an unchanged target price (TP) of RM2.23: The group announced overnight a rationalisation exercise which will see its construction business (held through 75%-owned MITC Engineering Sdn Bhd) injected into 51.2%-owned listed subsidiary, ML Global Bhd. The consideration sum of RM225 million will be settled via the issuance of 200.8 million ML Global shares and 135 million irredeemable convertible preference shares, both at 67 sen each.
We think this exercise makes sense, allowing the group to streamline its business focus under separate entities while also enabling it to benefit from any upsides ML Global may provide on successfully executing its own construction-based business plans.
LBS' placement of 45 million ML Global shares as part of the entire exercise could also help it raise some RM30 million for working capital purposes. Our "outperform" call on LBS is affirmed with an unchanged TP of RM2.23 (30% discount to fully-diluted revised net asset value).
MITC Sdn Bhd (wholly-owned by LBS) and Lim Lit Chek, 75% and 25% shareholders of MITC Engineering, will dispose of the latter to ML Global for a total sum of RM300 million, with both also undertaking to place out a cumulative 60 million ML Global shares to independent third party investors, to maintain the minimum 25% public shareholding spread. MITC Engineering will be disposed at an implied profit-to-earnings ratio of 14.35 times based on its trailing 12-month profit after tax of RM20.91 million as at June 30, 2016, valuations which we reckon is fair based on the comparable industry average of 15 times.
The most obvious rationale would be unlocking the value of the group's construction business, though the most promising would be the potential the expanded ML Global Group now has in accessing larger-scale business opportunities and tendering for external construction works. Management indicated that the enlarged ML Global Group's primary focus will still be housing at this juncture, with the expressed aim of expanding non-LBS contributions (currently only about 30%).
Post-placement exercise, LBS will end up holding a 56.4% stake in ML Global, which suggests an immediate "loss" of about 3% to 4% from what it could have earned from owning the full 75% of MITC Engineering. We are not concerned however as we anticipate the greater degree of external works with potentially higher margins to mitigate this "loss" adequately. Current order book and tender book are reportedly RM1.5 billion and RM630 million respectively. No disposal gains will be recognised as this reorganisation is being undertaken within the LBS group.
In its briefing to analysts and fund managers last Wednesday, management highlighted that with the recent land purchases, the group's remaining land bank for future development has been expanded to 3,585 acres, with the Kuala Lumpur/Selangor areas having the lion's share of 46% (from 21% just a month ago). Year-to-date sales are RM873 million and on track to meet the RM1.2 billion sales target for 2016. Unbilled sales are at a record-high RM1.39 billion. — PublicInvest Research, Sept 15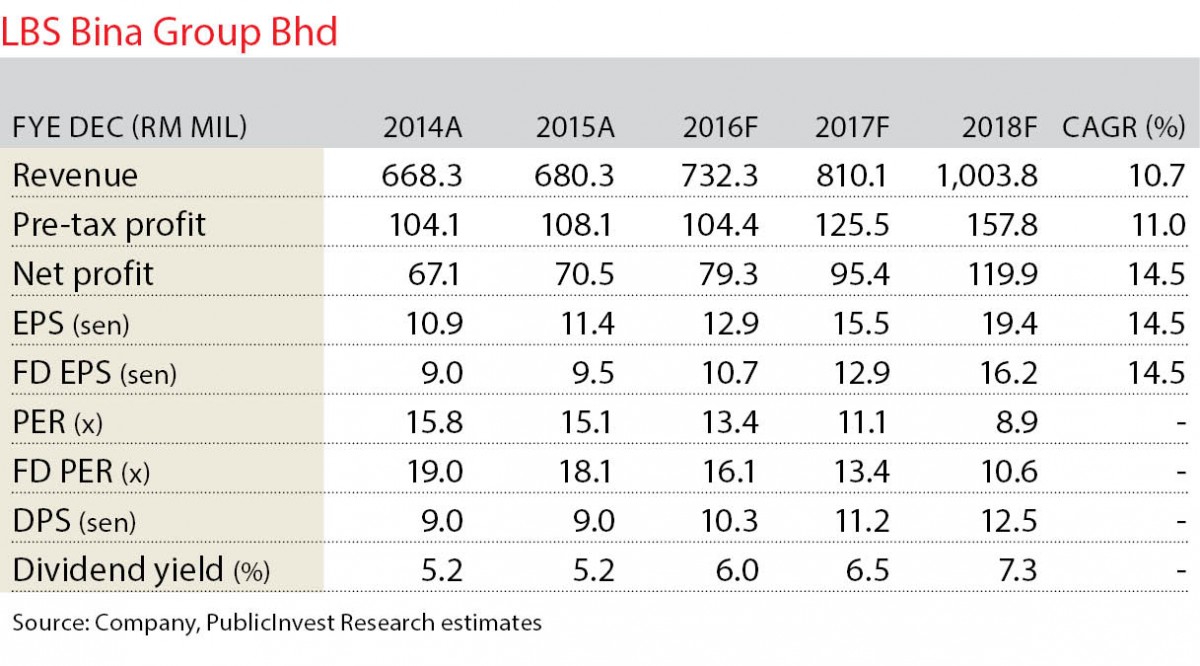 Try out one of our super tools, the rental yield calculator, here.
This article first appeared in The Edge Financial Daily, on Sept 19, 2016. Subscribe to The Edge Financial Daily here.