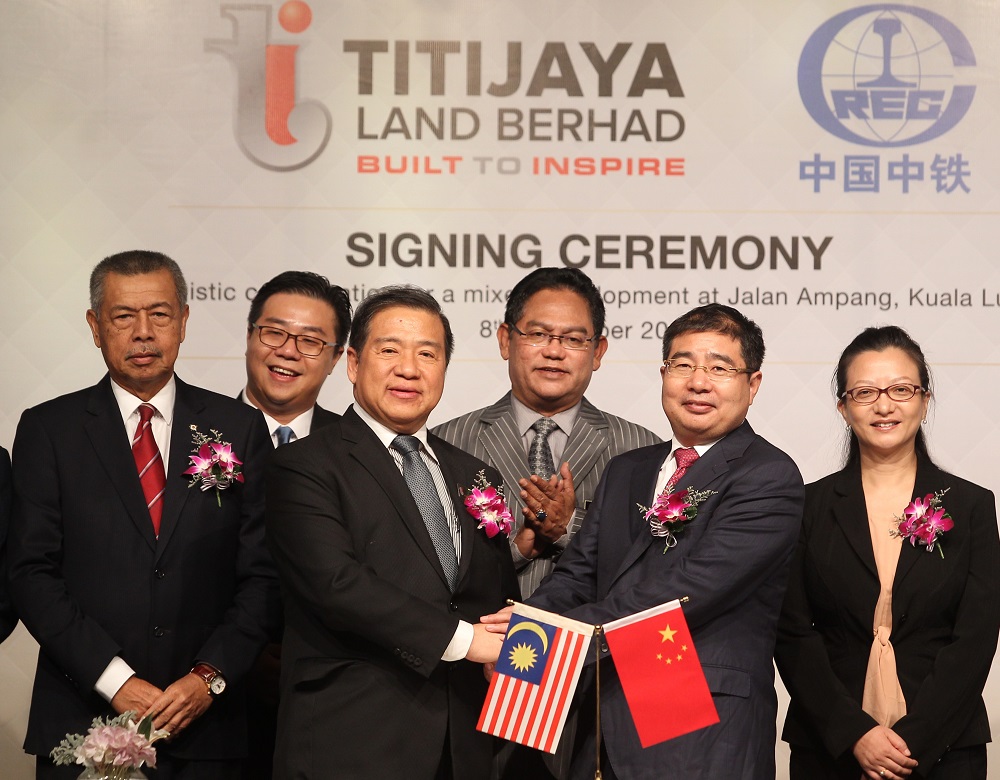 KUALA LUMPUR (Nov 8): Property developer Titijaya Land Bhd has teamed up with CREC Development (M) Sdn Bhd (CRECD) to develop a mixed development on a 6.06-acre site at the Embassy Row in Jalan Ampang, Kuala Lumpur.
The mixed development named 3rdNvenue will have an estimated gross development value of RM2.1 billion. 3rdNvenue will comprise four blocks with a total of 2,400 units of Small-office Home-offices, serviced apartments and retail lots. The selling prices for these units will range from RM500,000 to RM1.2 million.
The project will be carried out in four phases over a period of seven years. The construction is expected to start in the first half of 2017.
Titijaya Resources Sdn Bhd (TRSB), a wholly-owned subsidiary of Titijaya, has entered into a share sale agreement with CRECD for the acquisition of the entire issued and paid-up capital of Ampang Avenue Development Sdn Bhd (Ampang Avenue) for a total purchase consideration of RM80 million from Ampang Avenue's director and shareholder Chan Peng Kooh and Rafidah Menan. Ampang Avenue owns the 6.06-acre plot of land on Jalan Ampang.
Upon the conclusion of the deal, Titijaya and CRECD will hold 70% and 30% stakes respectively in Ampang Avenue.
CRECD is a wholly-owned subsidiary of China Railway Engineering Corp (M) Sdn Bhd (CREC), which in turn is a wholly-owned subsidiary of China Railway Group Ltd.
CREC is one of the shareholders of IWCH-CREC Sdn Bhd, which is a 60:40 joint venture company between CREC and Iskandar Waterfront Holdings Sdn Bhd (IWH), that will spearhead the development of Bandar Malaysia at the former Royal Malaysian Air Force Base in Sungai Besi.
The signing ceremony between Titijaya and CRECD today was witnessed by Urban Wellbeing, Housing and Local Government minister Tan Sri Noh Omar.
Speaking after the signing ceremony, Titijaya group managing director Tan Sri Lim Soon Peng said the partnership between the company and CRECD is an important milestone as it will broaden the company's revenue stream.
"We believe this corporate exercise will complement our existing business in property development. It will also enable the company to seek new strategic growth and future expansion within property development in Greater Kuala Lumpur as well as ensure the future earnings sustainability of the company," added Lim.
Meanwhile, Noh said the collaboration between Titijaya and CRECD is expected to have a positive impact on the industry and create more job opportunities for the local workforce. "Signing this agreement does not mean that we sell the sovereignty of Malaysia, instead it will help us develop the country" he said, adding that the agreement will also attract more foreign direct investment into Malaysia.
On a separate matter, Noh said the developer money lending licence proposal is still on the table. The ministry is asking the Real Estate and Housing Developers' Association Malaysia, the National House Buyers Association and related non-government organisations for feedback on the terms and conditions for the licence.