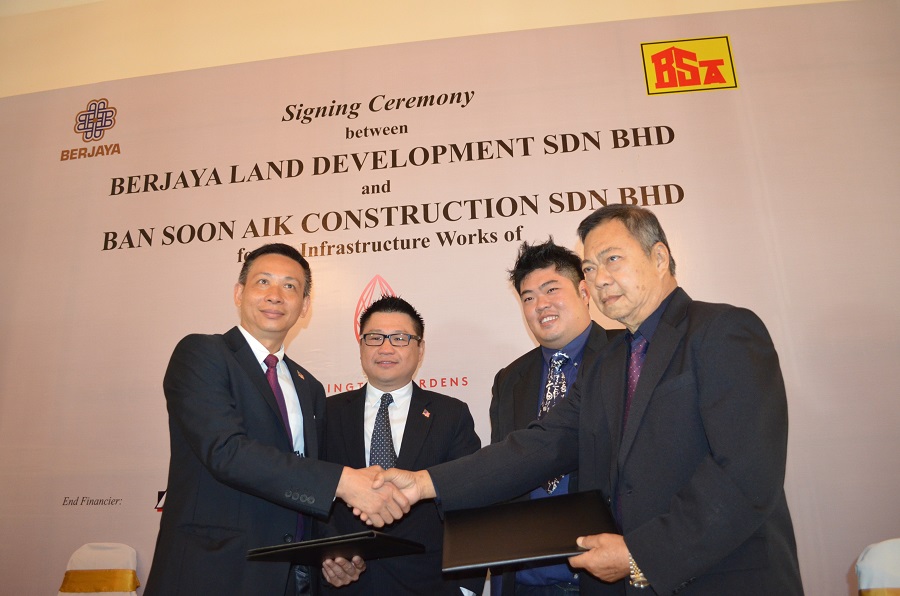 PENANG (Feb 2): Berjaya Land Development Sdn Bhd, a wholly owned subsidiary of Berjaya Land Bhd, has awarded a contract for infrastructural works worth RM38.6 million to Ban Soon Aik Construction Sdn Bhd last weekend.
According to a recently-issued statement, the 18-month contract covers the entire infrastructure works for Berjaya Land Development's bungalow project in Penang named Kensington Gardens.
Under the contract, Ban Soon Aik Construction will undertake ancillary infrastructural works consisting of the main boulevard, walkways, bicycle lanes and parks of Kensington Gardens. The infrastructure works also include 40ft and 50ft of internal road works, street lights, drain work, underground incoming power cables and underground telecommunication cables and fibre-to-the home (FTTH) installation.
The earth works and excavation began in December 2015 and is scheduled for completion in May 2017.
"We are proud to be working with Ban Soon Aik Construction to begin on the infrastructure works for Kensington Gardens. Their many successful projects are testament to their experience and expertise as a reputable construction company in Penang, and we are confident that they will be able to do an excellent job with Kensington Gardens," said Berjaya Land executive director Eason Phan Yoke Seng during the signing ceremony.
Also present were Berjaya Land Development director Victor Leong Guan Yeong, Ban Soon Aik Construction managing director Ooi Ah Soon and director Ooi Guo Chean.
The 26-acre Kensington Gardens is the first parcel to be developed out of the three parcels in Jesselton Villas. Kensington Gardens consists of 69 units of bungalow lots ranging from 5,995 sq ft to 9,634 sq ft in size. The project has an estimated gross development value of RM321 million.
Interested in property investments in Penang after reading this article? Click here to check out the properties there.