CHERAS (May 12): Boustead Ikano Sdn Bhd, a joint venture between Boustead Holdings Bhd and Ikano Pte Ltd, today unveiled MyTown – a new shopping centre encompassing 18 acres, which will open in the second half of 2016.
"We believe a great day out at MyTown should come without hassle for everyone. That is why we have placed a lot of emphasis on improving and developing infrastructure in the vicinity to create seamless connections," said Tan Sri Lodin Wok Kamaruddin (pictured) Boustead Holdings Bhd deputy chairman and group managing director at the event.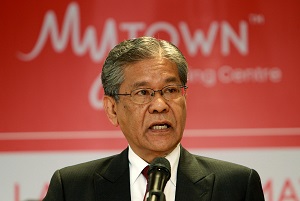 "We will be part of a significant evolution in Cheras, Ampang and the surrounding areas," he added.
"MyTown will deliver a fantastic customer experience with a caring, inspiring and fun environment for people with different sizes of wallets," said Ikano Pte Ltd shopping centre director Thomas Malmberg (pictured, below).
Upon its opening, MyTown will offer about 460 retail outlets across five levels (including one underground level), with a net lettable area of 1.1 million sq ft. To date, the mall is 50% taken up and occupancy is expected to reach 85% when its doors opens.
It will offer 6,500 parking bays across four floors above the mall and an outdoor canopy for community events, indoor play areas for children and a two-acre town park in front of the mall.
MyTown's retail mix includes fashion and accessories, home furnishing, food and beverage, cinema and a bowling centre. Its anchor tenant is Parkson, followed by Village Grocer, Celebrity Fitness, H&M and a Mango full concept store.
MyTown general manager Kenny Chin told the media that some 28 million visitors are expected to visit the mall annually.
The shopping centre is located along Jalan Cochrane and beside the new Ikea shopping centre in Cheras, which is expected to open at end-2015. MyTown will be adjacent to the Cochrane underground mass rapid transit (MRT) station, which is slated to be operational by 2017.
When the MRT station becomes operational, visitors will have underground direct access to the mall's basement one retail level.
MyTown is about a five-minute drive from the city centre and accessible from these major highways: New Pantai Expressway, SMART Highway, Kuala Lumpur-Seremban Highway and Middle Ring Road 2 with a new direct access ramp from the Maju Expressway.
Lodin, who revealed that Boustead will also be developing a condominium adjacent to the mall, said the investment cost for the project is in excess of RM2 billion.
There will be about 800 condominium units with a selling price of RM1,000 psf, he said, adding that it will have an estimated gross development value of RM1 billion.