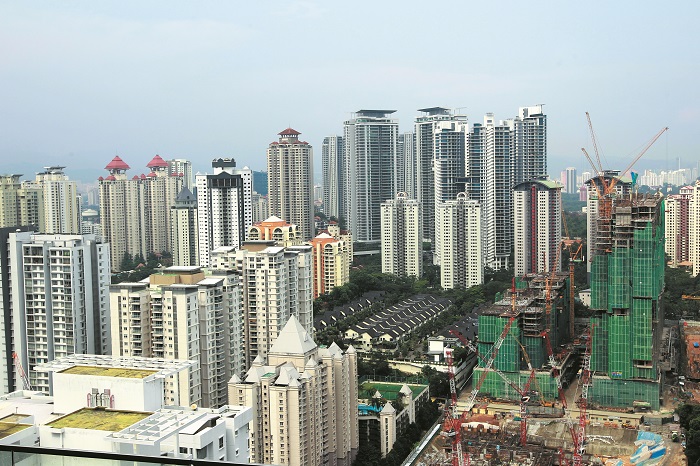 Mont'Kiara is a far cry from what it was over 25 years ago. Carved out of what was then known as Segambut Dalam Rubber Estate, Mont'Kiara has grown rapidly into a self-contained, high-end, high-rise residential suburb in Kuala Lumpur.
The neighbourhood is surrounded by and accessed from a number of highways, shortening the commute for residents to the city centre and Petaling Jaya.
Mont'Kiara's comprehensive amenities and strategic location are the main draws for property buyers and investors. Despite the recent slowdown in the non-landed residential segment of the property market, it remains a property investment hotspot.
According to theedgeproperty.com/Napic (National Property Information Centre) data for the third quarter of last year (3Q2014), Mont'Kiara recorded the highest sales volume in the high-rise residential category in Kuala Lumpur, with 148 units sold, outperforming larger hotspots such as Cheras (see Chart 1).
Self-contained neighbourhood
Real estate agency Fernstate Sdn Bhd director Shawn Fernandez (pictured) says Mont'Kiara is a mature neighbourhood, and this has contributed to its strong transaction volumes and prices over the past few years.
"[Mont'Kiara] has the added benefit of international schools and commercial areas such as Desa Sri Hartamas, Plaza Damas and Publika being within easy reach. This level of convenience draws people to live in the area," says Fernandez.
A host of amenities within a 2km radius of the neighbourhood caters for the community of more than 50 nationalities that lives there. There are three international schools, three malls and a good supply of commercial space for small and medium enterprises as well as multinational corporations. Being self-contained adds to Mont'Kiara's attractiveness, Fernandez adds.
"The neighbourhood is beginning to look especially attractive to those who work there too. The convenience of residing in an area where one can work, shop and socialise cannot be underestimated," he says.
Hiroko Keitomaro, who has been staying in Mont'Kiara for over 10 years, agrees the neighbourhood is a complete and convenient place to live.
"I don't need to drive out for my daily needs and activities. My children's school is a five-minute walk from my condominium and getting to the supermarket takes less than a 10-minute walk. Everything I need is within walking distance," she says.
Shortage supports the price
Data collated by theedgeproperty.com as at April 27 also showed the average transacted price of non-landed residences in Mont'Kiara rose by 7.8% in 3Q2014 from a year ago to RM685 psf. This compares with Kuala Lumpur's High-Rise House Price Index growth of 7% over the same period.
A real estate agent familiar with the area believes this is due to its relatively high occupancy rate of above 80%. "Of this percentage, 30% to 50% of Mont'Kiara properties are owner-occupied. Therefore [there is] limited supply [for tenants]," says
Kiara Realty principal Lee Meng Tuck (pictured).
Critics say the residential property market in Mont'Kiara has become saturated and expensive and offers few units priced below RM1 million. Meanwhile, the high prices in Mont'Kiara are having a spill-over effect on neighbouring areas.
An analysis of transaction data by theedgeproperty.com found that projects in Mont'Kiara's neighbouring areas have also recorded strong sales performance in 2014. Among these were Royal Domain Sri Putramas 2 (Dutamas), Villa Orkid (Bukit Prima Pelangi) and Royal Regent Sri Putramas 3 (Dutamas). In Mont'Kiara itself, Verve Suites was the best -selling project in 2014 in terms of volume (see Chart 2). All four projects generally offer some units with prices below RM1 million for sale). Verve Suites by Bukit Kiara Properties offer fully-furnished small-sized units.
"I see this trend continuing because the idea of owning property below RM1 million with a Mont'Kiara address is very attractive. For owners and investors, there isn't enough below-RM1 million stock in supply," says Kiara Realty's Lee.
On the near-term outlook for the secondary market in Mont'Kiara, Lee believes both its resale and rental values will hold. "This is because there will be no completed new supply in 2015/2016, except the Signature in nearby Hartamas. The rental yield in Mont'Kiara should remain healthy and outrun other areas in (KL) for the time being. "
According to property management services provider Bagoose Management Sdn Bhd founder Sherwin Cheong (pictured), the rental yield in Mont'Kiara currently averages close to 5%.
"Mont'Kiara has a wide range of properties. Rental returns could be very different depending on location, type of property and its facilities," says Cheong, who is familiar with the area. She estimates that current rents of high-rise units range between RM2,600 and RM15,000 monthly and are valued at between RM680 and RM1,300 psf.

How it all began
The rubber estate land located northwest of Kuala Lumpur failed to catch anyone's attention except that of Datuk Alan Tong Kok Mau, Malaysia's "Condo King" and founder of Mont'Kiara.
Tong, who founded what was then known as Sunrise Bhd, the master developer of Mont'Kiara, bought his first parcel of land there in the early 1990s and quickly acquired almost 100 acres before kickstarting his dream of building international-standard condominiums in Malaysia.
The first condominium project in Mont'Kiara was Mont'Kiara Pines. It was completed in 1993 and made an impression on buyers with its lush landscaping and residential facilities. With international schools and good facili-ties, the area began to attract the attention of expatriates and cultivate its reputation as an enclave for posh foreign workers.

Traffic a rising concern
Mont'Kiara is well known for traffic congestion. Karen Miller, a resident who has witnessed Mont'Kiara change over the years, tells The Edge Property that traffic has become worse in recent years.
"Staying in Mont'Kiara is very handy for everything, but traffic is an issue we are very concerned about. The distance to Kuala Lumpur [from Mont'Kiara] is less than 15km but sometimes you may need an hour to get there. Otherwise, everything is lovely."
Fernstate Sdn Bhd director Shawn Fernandez points out that the road system and traffic situation may affect the growth of property prices and sales in future.
"Should the road system and structure be left as it is and more high-rise projects are approved, traffic congestion will get worse and discourage purchasers.
"There are challenges in ensuring yields are maintained [but] capital values should hold given the convenience [of the location], especially for owner-occupiers. The volume of transactions may dip in the short term given the current economy but values should hold," says Fernandez.
Note: Information and data by theedgeproperty.com as at April 27, 2015.
This article first appeared in The Edge Property, the property pullout of The Edge Financial Daily, on May 7, 2015. Get the full pullout here and view video here. For a quick and brief analysis of the property market in Mont'Kiara:
PROPERTY SNAPSHOT Mont'Kiara prices rise 7.8%
PROPERTY SNAPSHOT What's affordable in Mont'Kiara?
PROPERTY SNAPSHOT What are Mont'Kiara projects priced?
PROPERTY SNAPSHOT What's hot in Mont'Kiara?