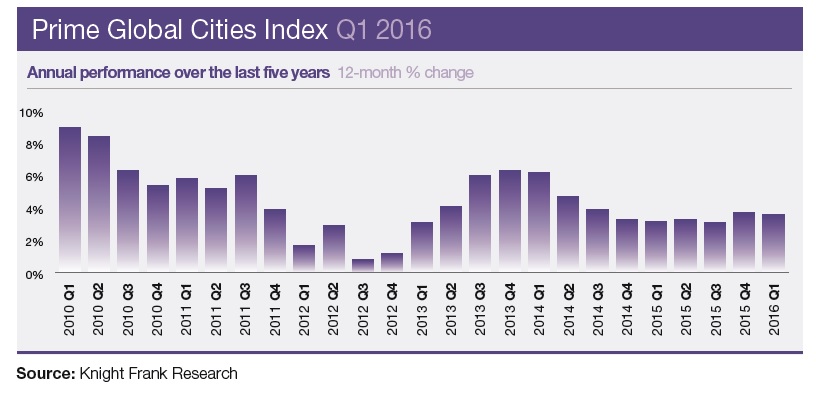 PETALING JAYA (May 4): Global key cities' prime residential prices have increased on average by 3.6% over the past 12 months to March 2016, compared with a 3.9% growth in the same period to 1Q2015, according to Knight Frank's Prime Global Cities Index for 1Q2016.
Knight Frank Residential Research partner Kate Everett-Allen said since 2014, the index has consistently recorded annual growth of 3% to 4%.
The Knight Frank Prime Global Cities Index, established in 2011, monitors and compares the performance of prime sales markets in 35 key global cities. The index is compiled on a quarterly basis using data from Knight Frank's network of global offices and research teams.
According to the Index, Kuala Lumpur's prime residential price movement is on a downward trend. Kuala Lumpur, which is one of the key global cities under review, saw prime residential prices dip 1.8% in the 12 months to March 2016.
Meanwhile, eight cities including Kuala Lumpur had seen their prime residential prices drop last year; Hong Kong and Taipei occupy the bottom rankings with luxury prices dipping 6.4% and 7.6%, respectively.
"However, no city has recorded a double-digit annual decline in prices since 2Q2015," Everett-Allen added.
Overall, Vancouver leads the 1Q2016 Index followed by Shanghai, Sydney and Melbourne making up the top four cities with average price growth ranging between 12% to 26.3% since 1Q2015.
"Vancouver leads the Index for the fourth consecutive quarter as prices accelerated 26% in the 12 months to March 2016," Everett-Allen said.
She noted that Shanghai, Sydney and Melbourne also recorded double-digit annual price growth, but the gap between the top-tier cities and the remaining cities has widened. Notably, strong price growth in Sydney and Melbourne indicate Australasia as the strongest-performing world region with prices rising 12% on average.
The other key global cities in the Top 10, including Cape Town, Bangkok, Beijing, Singapore, Jakarta and Los Angeles, have seen single-digit growth over 5% for the past 12 months.
Everett-Allen said some 20 global key cities' residential prices are on the downward trend while 12 cities will continue to grow in the near term.
The Asia Pacific cities on an upward trend include Shanghai, Melbourne, Beijing, Singapore, Guangzhou and Mumbai.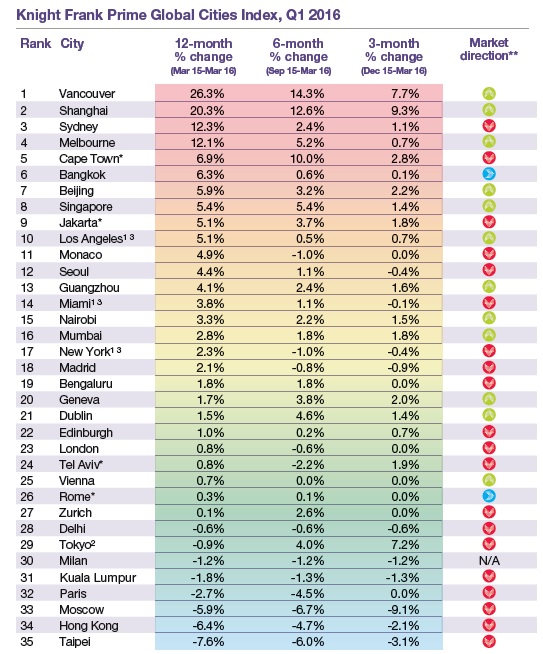 Do not ask the taxi driver about the value of your home. Click here at The Edge Reference Price to find out.