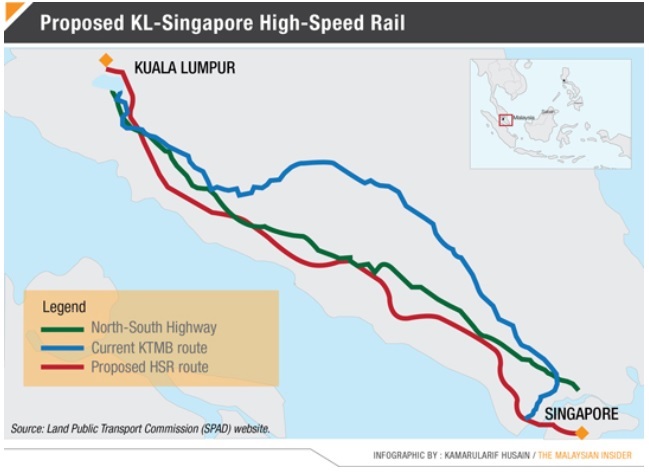 KUALA LUMPUR (May 11): Some experts say the future High-Speed Rail (HSR) link between Kuala Lumpur and Singapore is not designed for daily commuting purposes, the Straits Times (ST) reported.
Speaking to the Singapore daily on the benefits arising from the use of the rail link, which is expected to reduce the travel time to as little as 90 minutes, the experts said the pricing and station locations are some of the factors that will deter its use for daily commute.
An urban transport management expert, Park Byung Joon from SIM University in Singapore, said that the HSR does not take people right up to the doorstep of their destination.
"You would have to take another form of transportation to the destination. This makes the daily commute cumbersome," he was quoted as saying by the paper.
Experts say the main beneficiaries will be those travelling between the Malaysian capital and Singapore for business purposes, including those working on short-term projects, making weekly and monthly trips.
"The HSR will also facilitate travel for attending meetings, incentives, conferences and exhibition events in both countries," Nanyang Technological University transport economist Walter Theseira said, according to ST.
"Companies now book rooms for delegates for a night. With the HSR, they can return on the same day. This will significantly reduce the cost of doing business and spur partnerships between both countries," he added.
The key reason for business travellers' move to HSR from taking flights are likely to be the travel time and cost competitiveness against airlines, and easier access to the city centre compared with airports.
Theseira was quoted as saying "I have great difficulty believing that the price of a ticket will be at a rate that regular workers can afford for daily commute".
He and other experts whom ST spoke to said they expect prices to be pegged to those charged by budget airlines.
According to ST, Ngee Ann Polytechnic tourism lecturer Michael Chiam said another industry that could gain from the presence of the HSR is tourism as more people from other countries are likely to take advantage of twin-city tour packages.