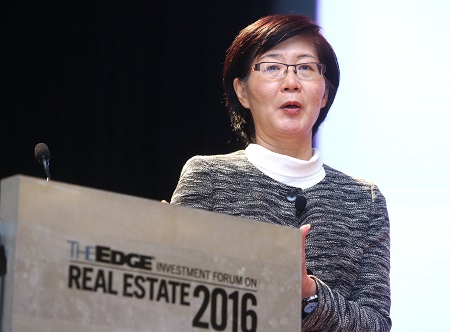 KUALA LUMPUR (April 30): Investors should keep an eye on the market as buyers of properties under the Developer Interest Bearing Scheme (DIBS) seek to unload their properties this year, said JLL Property Services (Malaysia) Sdn Bhd country head and managing director YY Lau (pictured).
DIBS, where developers absorb the mortgage interest during construction, was halted by the government in 2014 over concerns that it encouraged speculation and pushed up property prices.
"The impact of DIBS will be fully felt this year, and there will be a lot of choices for investors who are looking for opportunities," she shared her view on "Market outlook: Where are we at the curve?" at The Edge Investment Forum on Real Estate 2016 (REIF 2016) today.
Although investors are keen in buying properties but most of them are still reluctant to make any decision due to economic uncertainties. However, Lau pointed out that the current market condition is not as bad as most people imagine.
"The economy is fundamentally sound and there will be no recession in the near term. We concur that the Malaysian economy will continue to grow but at a slower pace of 4% to 4.5% in 2016 as opposed to 5% in 2015," she explained.
She said the impact of the economic slowdown and the drop in transactions are already reflected in current property prices.
For instance, prices of distressed assets or older high-end properties which are not well maintained saw their prices dip as much as 20% to 22% last year.
Although property price growth has slowed down, Lau said the market is unlikely to see prices dropping as severely as they did during the Asian Financial Crisis (AFC) in 1998, where average property values plunged by a whopping 47.6%.
She noted that the weakening ringgit has opened a window of opportunity to foreign investors especially for Singaporeans, but the weakening ringgit condition will not continue for long and investors should decide quickly if there are any good deals.
Meanwhile, according to JLL's data, Malaysia's property market transaction volume fell by 8% in 2015.
Lau expects the volume to continue to decrease this year due to dampened market sentiment, political uncertainties and a higher loan rejection rate.
"The loan approval rate was about 50% in 2015, this means five out of 10 applicants for housing loans were rejected. The higher loan rejection rate has also prevented buyers from entering the market," she added.
She said although it is difficult to secure a loan but there are things prospective buyers can do to increase their chances of getting loans approved – such as managing their finances, reducing debts and having a joint income with others.
Do not ask your neighbour about the value of your home. Click here at The Edge Reference Price to find out.
Grab the May 6 issue of TheEdgeProperty.com for a more detailed report on REIF 2016. The full report comes out in the May 9 issue of City & Country, the property pullout of The Edge Malaysia.