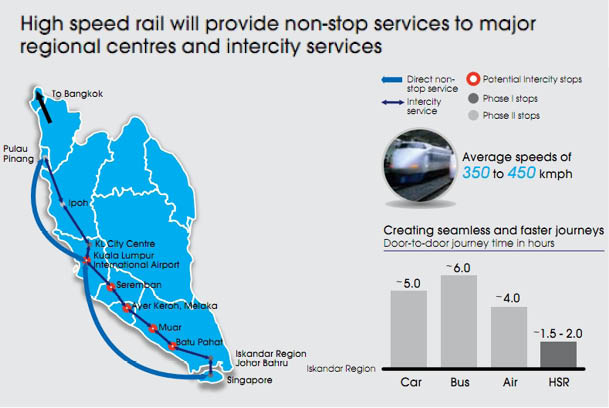 KUALA LUMPUR (Jan 5): Analysts said property developers with land bank in Seremban and Johor would be the main beneficiaries of the proposed 330km high-speed rail (HSR) linking Kuala Lumpur and Singapore.
Quoting MyHSR Corp Sdn Bhd chief executive officer Mohd Nur Ismal Mohamed Kamal, The Edge Financial Daily yesterday reported that two services were being considered for the line, with one being a direct service linking Kuala Lumpur and Singapore.
Meanwhile, another service would have transit stops in Seremban, Melaka, Muar, Batu Pahat and Nusajaya between the two terminals in Bandar Malaysia and Singapore.
"When the HSR gets built, it will definitely boost the land value of the areas along the line, but it will take a few years for this to materialise. The rail is not expected to be completed anytime soon, after all," an industry analyst said.
He added that the main beneficiaries of the new line would be developers with land bank in Seremban and Johor.
"For Seremban, the main developers would be Matrix Concepts Holdings Bhd, Sime Darby Bhd and IJM Corp Bhd," he said, adding that UEM Sunrise Bhd and Sunway Bhd would be poised to gain from the Johor side.
"For the other stops along the way, namely Muar and Batu Pahat, I don't think there are many developers with significant land bank in the two areas," he said.
Meanwhile, RHB senior analyst Loong Kok Wen also said the HSR project would have an overall positive impact on the Malaysian property market, but said it may not have as significant an impact on the Nusajaya market.
"Some of the developers such as IJM Corp, Matrix and Sime Darby, which have land bank and developments in Seremban, would benefit from the HSR. I think the impact would be more pronounced for the Seremban and Melaka markets.
"For Nusajaya, the positive impact from the HSR may not be as big, considering the proximity of Singapore and Johor. Those from Singapore can just drive over to Nusajaya without taking the train, so the benefits would be less than the other areas," she said.
However, she added that everything would still depend on the ultimate location of the stations.
To recap, Malaysia has been in discussion with Singapore for some time now on the HSR.
The Land Public Transport Commission and Singapore's Land Transport Authority had launched a request for information exercise to test industry opinion and gauge market interest in aspects of the project.
Currently, several parties are already eyeing the high-contract-value job, including Japanese, Chinese, South Korean and European HSR companies.
In a presentation by China Railway in December, the price of the HSR was pegged at RM70 billion, up from RM65 billion a few months ago and RM40 billion in May.
Interested in investing in properties in Seremban after reading this article? Click here.
This article first appeared in The Edge Financial Daily, on Jan 5, 2016. Subscribe to The Edge Financial Daily here.