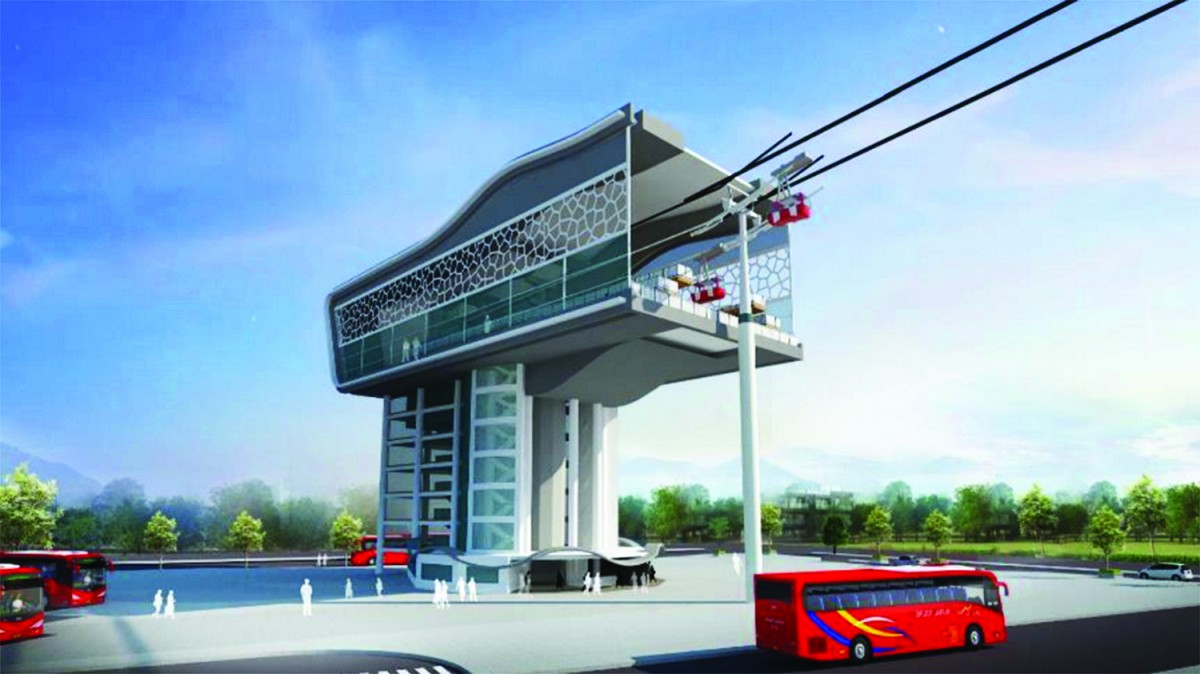 GEORGE TOWN (April 4): Malaysian Resources Corp Bhd (MRCB)'s Penang Sky Cab, a 4.8km cable car system first mooted by the state government in March last year to connect mainland Penang in Butterworth and Jelutong in Penang Island, is expected to begin construction in the first quarter of 2018 (1Q2018).
MRCB special project general manager Dennis Tan Hui Long said the project is expected to be completed in 3Q2019. It is estimated to cost between RM500 million and RM700 million, based on similar projects in Europe, the United States and Asia.
However, the Sky Cab project, aimed at adding value, akin to a tourism project, to the RM2 billion Penang Sentral transport-oriented development (TOD), is not a revenue-generating project, said Tan.
"This is not a profitable project. It is the state government's dream project, but we are not doing it as a CSR (corporate social responsibility) project. It is being done for our own development interest as well because it will complement our Penang Sentral project, which is an integrated TOD like KL Sentral," he told The Edge Financial Daily last week.
He was speaking on the sidelines of the public consultation session on the detailed environmental impact assessment (DEIA) of the project.
Penang Sentral located on the mainland, connecting both the mainland and Penang Island, will have a hotel and a shopping mall too.
"Therefore, we see the Sky Cab project as a project that can add value to our development," he said.
MRCB, however, cannot ascertain the exact cost of the project at this juncture because it is still conducting a feasibility study on it, he added.
Tan stressed that the detailed design, and cost of construction and materials have to be taken into account first before ascertaining the final project cost. The cable car system is a new idea and was not featured previously in the RM27 billion Penang Transport Master Plan, which has a 15-year completion period.
"It could be more or less [than an RM500 million to RM700 million estimation]; we cannot say for sure yet," he said, adding that the group intends to fund the project internally and via bank borrowings.
MRCB expects to submit the DEIA to the department of environment this month before it gets down to the detailed design works, which it expects will be from June to December this year.
Tenders for the cable car system, design, construction and engineering will be called in August and December 2016 respectively. Preliminary designs revealed last year showed that the Penang Sky Cab will have 40 gondolas that could transport up to 1,000 persons every hour on a 15-minute journey and take in the views of the middle of the channel through an observatory tower.
Meanwhile, Tan revealed that ticket fares for Sky Cab for daily commuters had been tentatively set at RM2.50, RM15 for domestic tourists and RM35 for foreign commuters.
"The fare is expected to increase every five years. By the year 2043, the fare for commuters will go up to RM4.80, RM28.50 for domestic tourists and RM65 for foreign tourists," he shared.
"From our study, we see tourists' fare increasing by 20% every five years, while the commuters' fare will rise 40% every 10 years," he added.
According to his presentation, ridership will grow 5% per annum in the first five years, before decreasing by 2% per annum in the last five years.
"The passenger mix will involve 34% domestic tourists, 26% foreign tourists and 40% commuters. We believe commuters will shift from ferries and the bridge," he said.
Tan added that 60% of the fare revenue contribution would be generated from foreign tourists, 33% from domestic tourists and the remainder from commuters.
Do not ask the bus driver about the value of your home. Click here at The Edge Reference Price to find out.
This article first appeared in The Edge Financial Daily, on April 4, 2016. Subscribe to The Edge Financial Daily here.
CLARIFICATION: Malaysian Resources Corp Bhd has clarified that the information it shared during its public engagements in Penang was based on preliminary findings only, and not a confirmation of any project being awarded to MRCB.