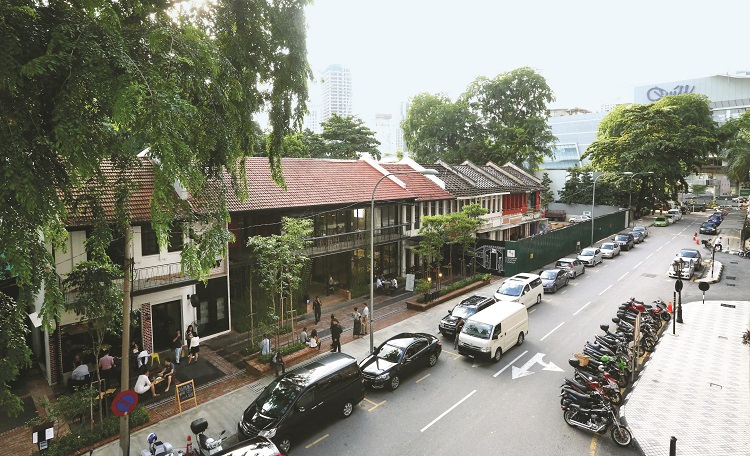 Twenty-two 1940s shophouses along Jalan Doraisamy in Kuala Lumpur that had been converted into the Asian Heritage Row of nightspots in the early 2000s, are again being readapted. This time, The Row, as the new incarnation is called, will be a 74,000 sq ft mixed-use commercial development comprising retail shops, galleries, cafes, bars, restaurants and offices.
The urban regeneration project is being undertaken by first-time niche property developer Urbanspace Sdn Bhd, in collaboration with Singapore-based creative development consultancy firm Pocket Projects and home-grown architecture firm Studio Bikin.
The plan is to transform the street "into a mixed-use neighbourhood for day and night, and away from late night bars and clubs," said Pocket Projects director Karen Tan at the launch of the project's first phase on June 16, which was officiated by Kuala Lumpur mayor Tan Sri Ahmad Phesal Talib.
"When we spoke to the local people, many of them still have fond memories of this place and because of that many are looking forward to its reinvention," Tan said.
"The Row was once vibrant and we hope to bring it back to life, recreating an icon in KL."
The new shophouses will no longer be a series of long and narrow terraced shops but feature different unit configurations and sizes in two blocks.
The North block will house 12 units, and the South block, 10. The project, to be completed in three phases, will see around 30 tenantable units of different sizes.
Phase one of the project saw the completion of five shophouses in the North block, comprising three F&B units, one mixed-use retail unit, an office space, and a 3,300 sq ft event space called Slate that was unveiled at the launch.
Slate is built for the burgeoning creative community in the Klang Valley. Encompassing a 2,800 sq ft ground floor area and a 500 sq ft mezzanine, the fully air-conditioned space has double-height ceilings suitable for performances, film screenings, talks, exhibitions and parties. Slate is open for lease for both public and private events and has been installed with an AV system.
In phase two, the remaining seven shophouses of the North block will comprise five F&B units, three office units measuring 2,400 sq ft, 3,800 sq ft and 4,900 sq ft, and an open air rooftop space suitable for an office terrace or for F&B.
The North block's remaining shophouses are expected to open by year-end.
Meanwhile, the South block will be completed early next year and offer a mix of retail, F&B and offices.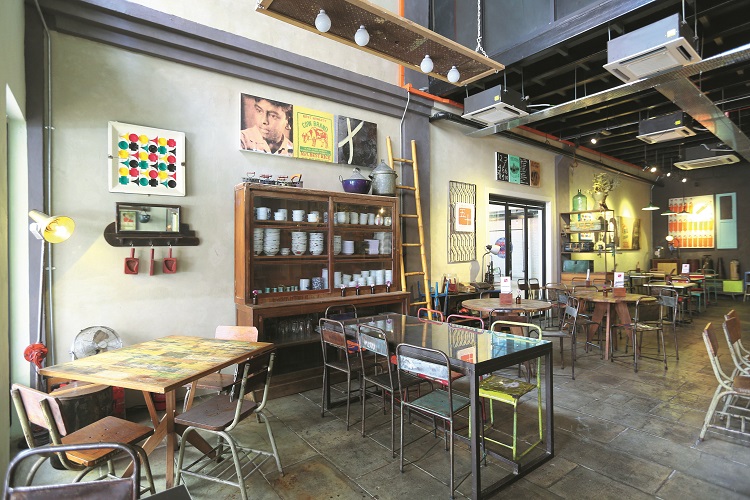 Communal spaces
Without completely discarding the old, The Row's design philosophy is based on adaptive reuse.
"[Our] architectural approach [focuses] on adaptive reuse instead of tearing everything down and building from scratch. To emphasise the old and new, we've kept the old windows, tiles and floors, and new tenants can introduce new furniture when they move in," said Tan.
As the shophouses have been modified by tenants over the years, Tan said The Row will make the best of what they are now.
"We have incorporated some of the old concepts into our new design, such as picture windows to bring in light and that allow you to see the greenery outside. We have also kept double-volume spaces and quirky details like round windows," Tan said.
Much focus has been given to communal spaces, as reflected in the landscaped front plaza, where the segregated front yards of the past are designed as a high street reminiscent of a five-foot way, encouraging visitors to explore and linger in the area.
"We feel it is important to introduce new public spaces for people to enjoy and to facilitate interaction. [In] the front plaza, we introduced stretches the whole length of the street. We have also converted a little alleyway into a beer garden shaded by old trees," Tan said. She added that Slate also doubles as a public space by day.
Pockets of green and light have also been introduced in the form of internal courtyards, balconies and roof terraces.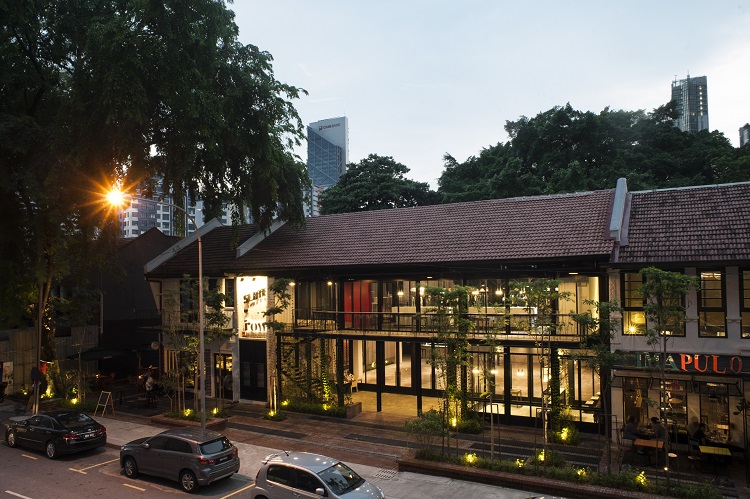 "We've kept the old trees in front of the shops and planted new creepers, as well as introducing natural light into the spaces," she said.
"There is a shop where whoever was using it before invested a lot in potted plants, so we have kept this greenery in the new project."
According to Tan, phase one is a prelude to what is to come. Phases two and three will offer more common spaces, such as the completion of the front plaza that will run across the entire row. There are also plans to open up the back lanes of The Row to become common spaces.
Building a community of tenants
The first five tenants of The Row offer an array of local independent brands that complement the project's aspirational tone, such as League of Captains (a multi-label urban lifestyle store and a spin-off to the locally owned brand Pestle & Mortar), The Co. (co-working space for the start-up community), Butter + Beans café, Mojo bar and beer garden, and a contemporary Peranakan restaurant LimaPulo.
"We have eschewed the standard commercial offerings. Instead, we target the creative community and an interesting mix of independent and complementary businesses," said Urbanspace director Chan Chia Lin.
According to Tan, phases two and three are seeing strong tenant interest. She reveals that future tenants will include Timbre, a live music bar from Singapore, Wheel Love, an urban skate shop from KL, as well as a local wine and tapas bar.
Another director of Urbanspace Ghaus Ismail said, "KL is ready for more expansions that culminate with creative adaptations of existing buildings [that are] a refreshing alternative to the ubiquitous shiny high-rises that have come to characterise KL."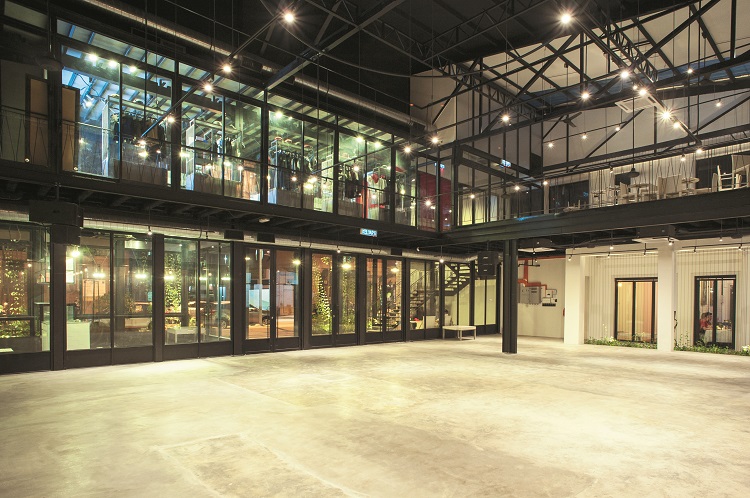 Urbanspace was formed two years ago specifically to acquire the 22 pre-war shophouses. The company's investors are from the fast-moving consumer goods, coal and property sectors. The Row is the maiden project of Urbanspace and the company is looking to develop properties in other parts of the country. The other directors of the company are William Ng and Wang Shang Ying.
Specialising in adaptive reuse of old buildings, Pocket Projects is known for its work in Singapore, namely the Lorong 24A Shophouse Series project in Geylang and The Projector, a multi-use space reinvented from a rundown 1970s cinema.
Meanwhile, the architecture firm Studio Bikin has made its name through projects for Sekeping Kong Heng in Ipoh, and Hit & Mrs restaurant and bar in Bangsar.
This article first appeared in The Edge Property pullout, 26 June, 2015. Download a full copy here for free.
This article was amended on 29 June to correct the number of units in the North block.