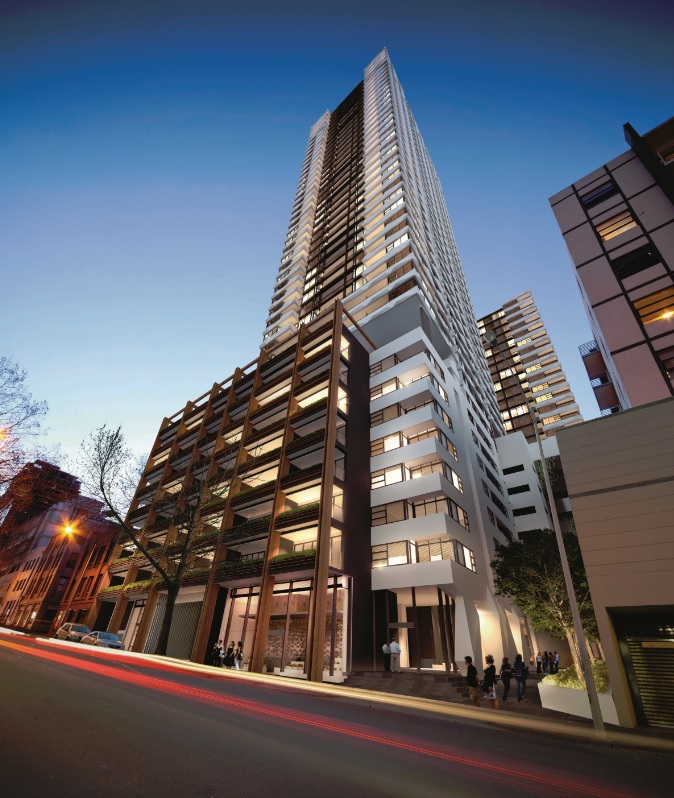 S P Setia Bhd (Dec 9, RM3.13)
Maintain buy with an unchanged target price of RM3.70: Two years after Tan Sri Liew Kee Sin's departure, we believe the prolonged uncertainty in S P Setia Bhd's leadership is finally over.
Undoubtedly, after the exodus of staff and frequent changes in leadership had shaken investors' confidence on the group's capability in project execution, the group's astounding nine months of financial year 2015 (9MFY15) results that saw its revenue and profit before tax growing 63% and 81% on year respectively proved that the group has an established system and process in place to ensure timely project delivery.
Going into 2016, we see S P Setia growing on a stronger footing with the top management and the middle management team filled up.
The group's recent launches which were well-received, suggest that brand dilution of S P Setia's product is just a misperception. Specifically, the group's townships in the Klang Valley, such as Setia Alam and Setia Eco Park saw a few new launches recently.
In September, the group launched Fusca and Montana in Precinct 11, Setia Alam, which received overwhelming response, driven by consistent demand for landed terrace homes.
In October, the group offered an English-themed single- and double-storey bungalow lot development called Victoria Springs, and semi-detached houses named Elizabeth Falls within the Setia Eco Park development.
As the property sector is bracing for a challenging 2016, S P Setia will remain selective in launching projects with product types that will fare well.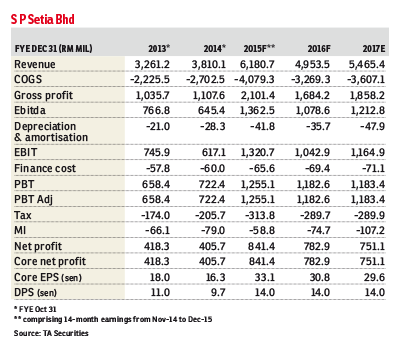 On top of the ongoing townships such as Setia Alam, Setia Eco Park and Setia EcoHill (Semenyih), S P Setia is expected to unveil two new townships in 2016, namely, Setia Eco Templer in Rawang and Setia EcoHill 2 in Beranang.
Setia Eco Templer is a rainforest-themed township worth RM2.05 billion. Targeted for launch in the first half of financial year 2016 (1HFY16), the first phase of the project will feature landed houses priced from RM500,000 to RM600,000 per unit and affordable homes (Rumah Selangorku) priced not more than RM250,000 per unit.
Riding on the success of Setia EcoHill, the group will roll out Setia EcoHill 2, an extension of the group's signature eco-themed development in 2HFY16.
The maiden launch of this development will see two-storey terraced houses with a selling price from RM600,000 per unit. Despite it being located further south of Setia EcoHill, with Eco World Development Group Bhd's EcoMajestic in between, we think the RM600,000 per unit price tag is a reasonable entry price in view of the fact that two-storey terrace houses at Setia EcoHill are already priced at RM673,000 to RM925,000 per unit.
We lift our financial year net profit forecast by 7.6% in view of swift construction in its ongoing township in Setia Alam, Setia EcoHill, Setia Eco Glades, as well as its mixed integrated development KL Eco City which has reached the significant billing stage.
In addition, the lumpy revenue recognition of Fulton Lane in Melbourne, Australia which was fully completed in August 2015, is also expected to contribute to fourth quarter financial year 2015 revenue.
In terms of sales, we believe the group is on track to meet its financial year 2015 (FY15) sales target of RM4 billion and thus maintain our sales assumptions of RM3.9 billion.
For FY16 and FY17, we trim our sales forecast to RM4.1 billion and RM6 billion respectively, from RM4.6 billion and RM6.5 billion as we expect the group's future launches to consist of a higher percentage of middle- to high-end products.
Accordingly, our FY16 and FY17 earnings forecasts are revised lower by 2% and 4%. — TA Securities Research, Dec 9
Do not ask your neighbour about the value of your home. Click here at The Edge Reference Price to find out.
This article first appeared in The Edge Financial Daily, on Dec 10, 2015. Subscribe to The Edge Financial Daily here.