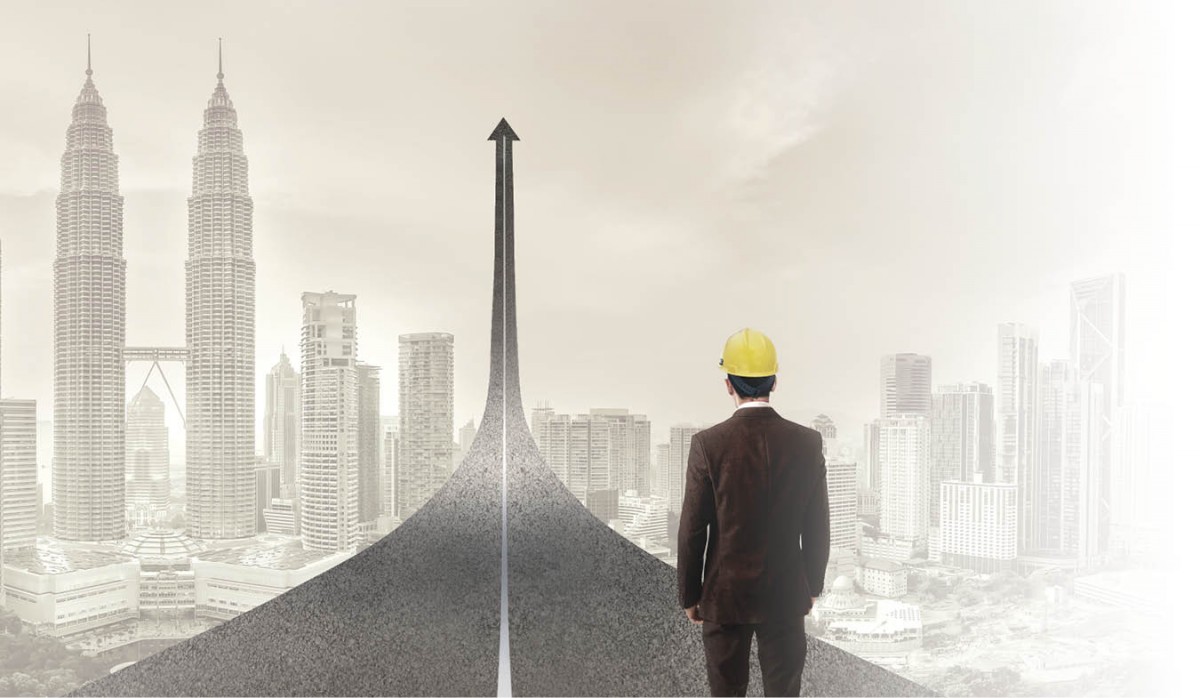 To take the path less trodden is no easy feat. But with new beginnings come opportunities for progress and advancement, especially when we speak of the real estate landscape. In this issue, we look at several existing developments around the Klang Valley — with the exception of Resorts World Genting — that are, if not the first of their kind, considered some of the earliest typologies by our industry experts.
Sunway City
In 2012, Sunway City, Selangor, became the first Green Building Index-certified township in Malaysia, receiving a silver rating. While GBI requires a minimum of 15% of the township to be green, Sunway City has doubled that to 30%.
When Sunway City was conceptualised by Sunway Bhd, the words "sustainability' and "eco" were yet to be popularised. Understanding that Sunway wanted a township that could support the growth of individuals, families and businesses, it worked to transform the tin-mining wasteland into a liveable, green township where people could live, learn, work and play in a safe and connected environment.
From derelict mining land, the 800-acre Sunway City is home to over 150 species of flora and fauna. The first water treatment plant in Malaysia was also built to treat the lake water of South Quay to become potable.
The township also has a tree-planting programme, which is maintained by Sunway's own nursery company. Its green initiatives range from water and energy management to building accessibility and connectivity for the benefit of the residents and businesses.
Desa ParkCity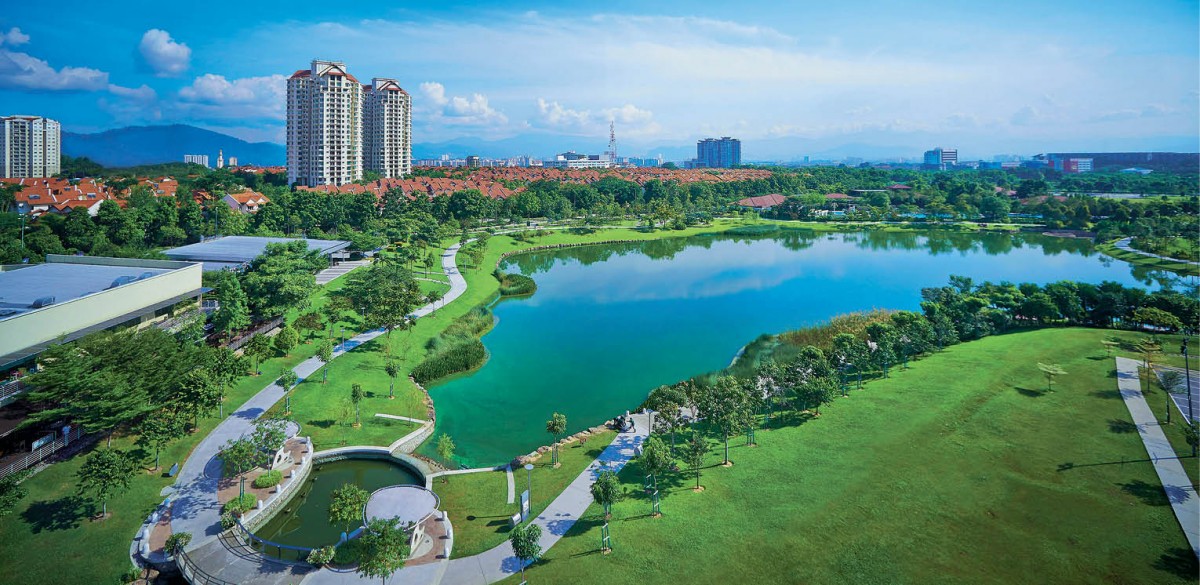 Located adjacent to Bandar Menjalara in Kuala Lumpur, Desa ParkCity is an award-winning township that covers 473 acres of freehold land. It is one of the first townships in the country to offer parkhomes — modified terraced homes within a park environment. It is also one of the earliest townships in the country to offer stratified terraced development, and also boasts one of the very few dog parks in the Klang Valley.
The developer, Perdana ParkCity Sdn Bhd, a unit of Sarawak-based Samling Group, has turned a quarry into what is touted today as "the best place to live in KL".
From the start, the developer was determined to build a township based on sustainable living principles and it came out with a master plan that introduced a new urbanism living concept, which goes well with living sustainably within a park environment — creating a walkable and liveable community.
To create a walkable community where residents can walk from their homes to amenities within 15 minutes, the developer placed the 43-acre Central Park, a lake and The Waterfront retail mall at the centre of the township. It also provided 9ft-wide pedestrian walkways instead of the required 5ft.
Its other amenities include ParkCity Medical Centre, The ParkCity Sports Centre and The International School @ ParkCity.
Resorts World Genting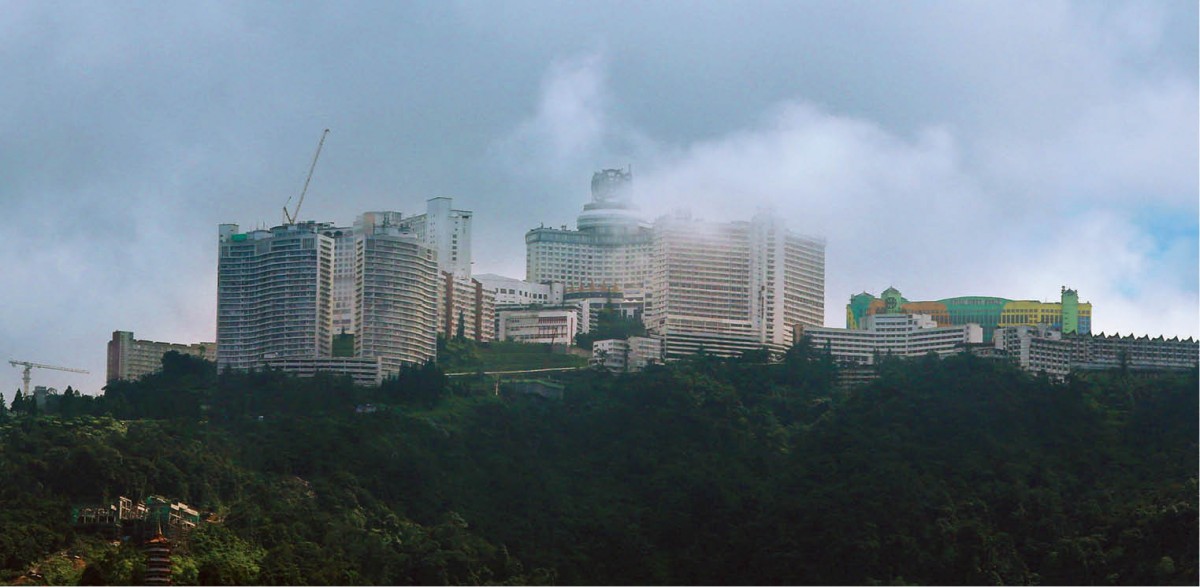 Formerly known as Genting Highlands, Resorts World Genting is the first hill resort on the border between Pahang and Selangor. Developed and operated by Genting Malaysia Bhd, this integrated family leisure and entertainment resort is sited at the peak of Genting Highlands. Today, Resorts World Genting is the only legal land-based casino in the country. It is accessible by car and cable car, called Genting Skyway, and welcomes nearly 20 million visitors annually.
The first hotel opened in 1971 was Highlands Hotel (now renamed Theme Park Hotel) and the expansion continues. It now has six hotels. Apart from Theme Park Hotel, other hotels are Genting Grand Hotel, Maxims Hotel, Resort Hotel, Awana Hotel and First World Hotel.
The resort also offers theme parks and entertainment attractions, dining and retail outlets, international shows and business convention facilities.
Genting Malaysia has embarked on a 10-year master plan to reinvigorate and transform Resorts World Genting under the Genting Integrated Tourism Plan (GITP), which includes developing the world's first 20th Century Fox World theme park.
According to Genting Malaysia's website, the first offering under GITP — the new First World Hotel Tower 3 — was opened in June 2015. Other GITP attractions and facilities are expected to be opened in stages.
Ampang Park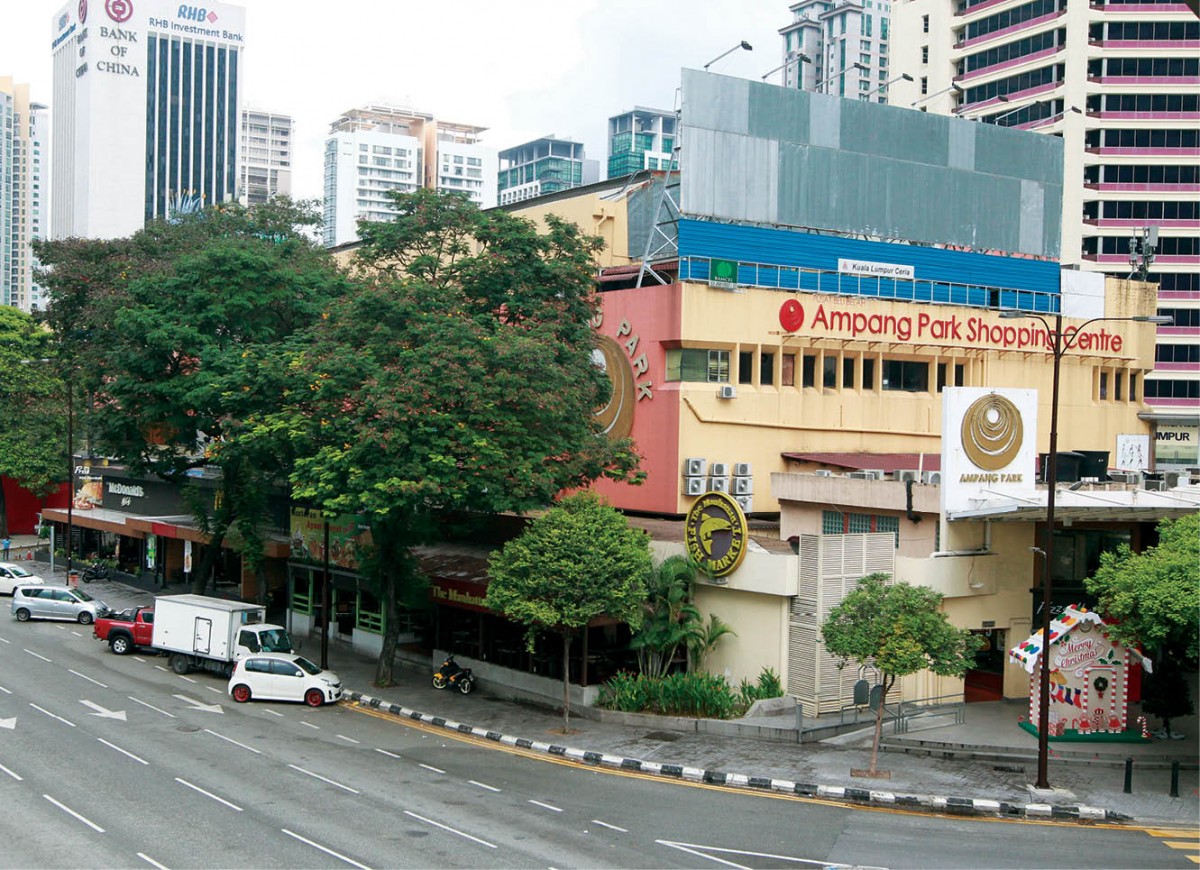 Ampang Park was believed to be the first shopping centre in town and was opened in 1973. It is still in operation today. The 3-storey building occupies 4.5 acres in the prominent Ampang residential district at the junction of two major crossroads — Jalan Ampang and Jalan Pekeliling.
The building houses 250 shops, an entertainment deck, an exhibition gallery, a theatre and a children's playground. It also has a car park for 450 vehicles.
Developed by Low Keng Huat Brothers Realty Sdn Bhd, the building's main architectural firm was Design Partnership of Singapore while its associate was S P Chow & Rakan-Rakan of Malaysia. Malaysian architect Thomas A S Tiang assisted in the design of the building.
In October 2015, it was announced that Ampang Park would be demolished to make way for the mass rapid transit project. Owners of the shopping mall filed a court case against the demolition and the case is still ongoing. Demolition plans have been suspended by the court until the case is settled.
Desa Kudalari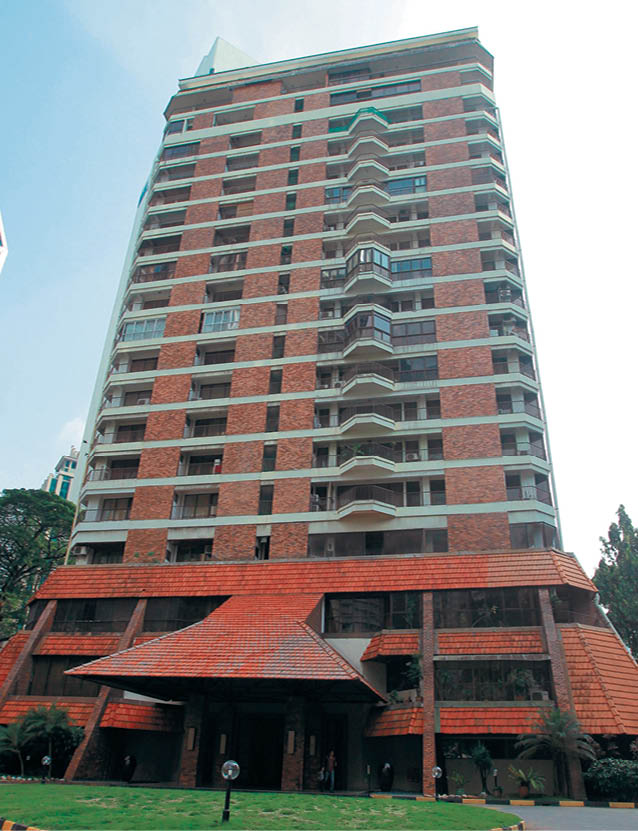 Desa Kudalari, the first condominium in Malaysia, was built in 1985 by Tan & Tan Developments. The name "Kudalari", which means "running horse" in English, was given because the development faced the then-Royal Selangor Turf Club. It was the only high-rise at the time to face the turf, says a property consultant. Now, the turf club has been replaced by KLCC Park and the Petronas Twin Towers.
Desa Kudalari sits on 7.35 acres in Lorong Kuda and is surrounded by greenery. It comprises a 19-storey tower hosting 197 condos and a 3-storey block that comprises cabana units.
Currently, the development is going through an en masse sale handled by property consultancy CBRE | WTW.
The Weld
The first supermarket in Malaysia, Weld Supermarket Complex was established in the 1960s and is still in operation. It is located at the intersection of Jalan
P Ramlee and Jalan Raja Chulan (known as Weld Street). The building was refurbished in the 1990s and a 26-storey office tower called Menara Weld was built on top of the existing supermarket complex.
The 135,000 sq ft supermarket complex offers six floors of retail and F&B outlets. The supermarket and Menara Weld are owned by Great Eastern Life Assurance (M) Bhd, which had bought it for RM150 million in 2003.
KL Sentral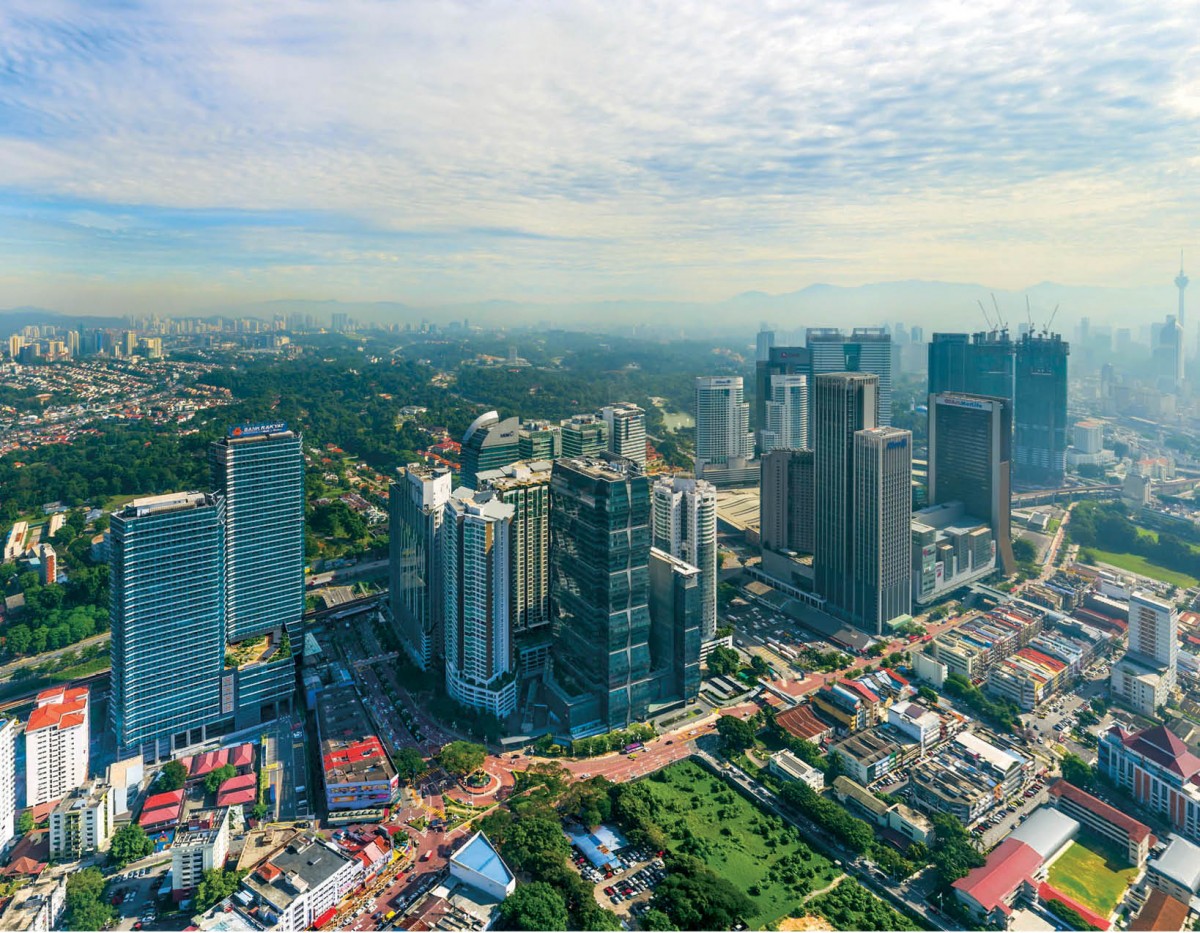 Covering 72 acres in Brickfields, Kuala Lumpur Sentral is the first transit-oriented development in the capital city. Developed by Malaysian Resources Corp Bhd, KL Sentral has an estimated gross development value of RM14 billion and will be completed in 2022.
Built on a former KTM railway yard, the development was designed by renowned architect, the late Dr Kisho Kurokawa of Kisho Kurokawa Architect & Associates. Today, it comprises the KL Sentral railway station, corporate office towers and business suites, 5-star international hotels, luxury condominiums and a shopping mall. Opened in 2001, the KL Sentral railway station is considered the largest in the country.
KL Sentral has spacious plazas, indoor courtyards, sidewalk cafés and shops and pedestrian walkways interspersed with landscaping. KL Sentral supports six railway networks — the KLIA Express Rail Link, KLIA Transit, RAPID KL (Putra), KTM Komuter, KTM Intercity and KL Monorail Services. Since its establishment, the self-contained development has attracted prominent international investors to set up homes and offices in the area.
Pudu Sentral
Formerly known as the Puduraya Terminal, Pudu Sentral is the first bus terminus in Kuala Lumpur. It was opened in 1976 by the late former prime minister Tun Hussein Onn. Strategically located between Chinatown and the Bukit Bintang area, Pudu Sentral has 23 platforms and is operated by Causeway Link, Johora and Maju, among others. Pudu Sentral is owned by UDA Holdings Bhd and has buses to Seremban, Tanjung Malim, Genting Highlands and Kuala Lumpur.
Puduraya Terminal underwent its first renovation in 2006 at a cost of about RM3 million. In 2011, Bandar Tasik Selatan Integrated Transport Terminal (ITT BTS) was introduced. Since then, ITT BTS has catered mostly for long-distance buses that previously operated out of Puduraya Terminal, thus reducing the latter's bus volume by half and easing its traffic congestion. Today, it offers limited bus services.
Puduraya Terminal underwent another renovation that cost about RM52.7 million and was reopened on April 16, 2011. It was renamed Pudu Sentral on Aug 27, 2011, in keeping with its new, modern look. Renovation works included the upgrading of the pedestrian walkways from Plaza Rakyat LRT station to Puduraya, the lifts and the toilets; the installation of fire prevention equipment and ticketing counters; and the installation of closed circuit television (CCTV) in various locations.
Pudu Sentral became the urban transformation centre for Kuala Lumpur on Sept 23, 2012, following the one in Melaka in June 2012. Since then, Pudu Sentral has housed government agencies, private businesses, a Kedai Rakyat 1Malaysia branch, a Kedai Kain 1Malaysia branch and the first Kedai Buku 1Malaysia branch. Funded by the Ministry of Finance, the urban transformation centre cost about RM24 million and took six weeks to complete.
Petaling Jaya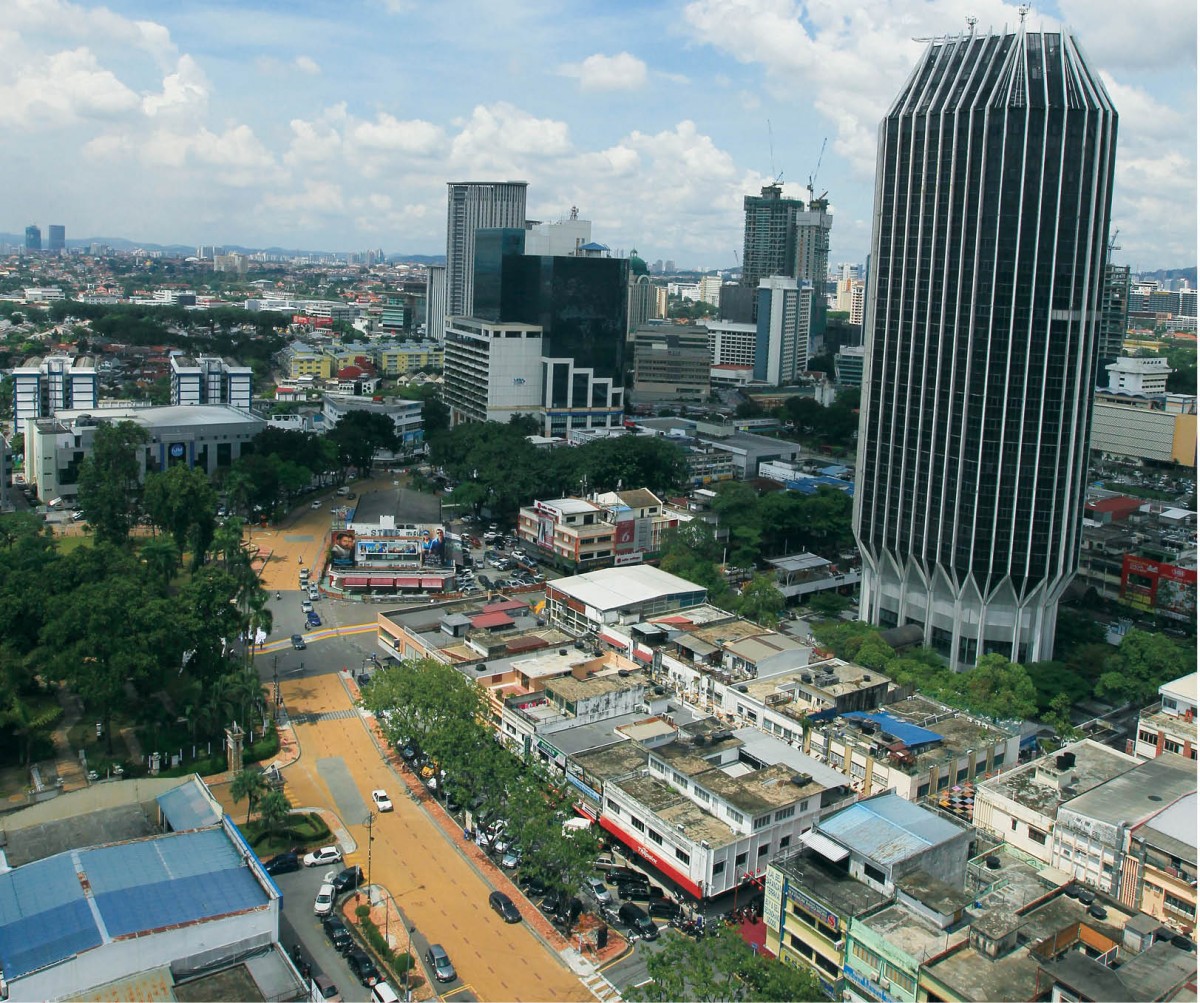 A place filled with history and post-war nuances, Petaling Jaya is the first satellite township developed to support Kuala Lumpur. The development of Petaling Jaya first began in the early 1950s, when Lieutenant-General Sir Gerard Templer (the then British High Commissioner of Malaya and Petaling District council chairman) planned for Petaling Jaya to be a satellite town to prevent locals from assisting the communists, with earlier housing settlements fenced off from the surrounding area.
Formerly known as part of Kuala Lumpur, Petaling Jaya was administered by the Kuala Lumpur district office until the end of 1953. In 1954, Petaling Jaya was administered by the Petaling Jaya Town Authority headed by N A J Kennedy, and was succeeded by Abdul Aziz Mohd Ali (the first Malayan to head the authority) in 1959. When Kuala Lumpur was announced as a Federal Territory on Feb 1, 1974, Petaling Jaya subsequently became a township in Selangor.
In 1953, PJ South comprising Section 8 and PJ Old Town were the first settlements in Petaling Jaya, followed by PJ North. The Petaling Jaya Town Authority was upgraded to become the Petaling Jaya Municipal Council or Majlis Perbandaran Petaling Jaya (MPPJ) on Jan 1, 1977.
Since then, Petaling Jaya has experienced meteoric growth due to rural-urban migration from areas such as Sungei Way and Subang. During a boundary realignment exercise in 1997, parts of Petaling Jaya, such as Subang Jaya, USJ, Putra Heights and Bandar Sunway, were brought under the jurisdiction of the Subang Jaya Municipal Council or Majlis Perbandaran Subang Jaya.
Today, Petaling Jaya has become a thriving hub in the Klang Valley, strategically located between Kuala Lumpur and other suburbs in the neighbourhood. The township covers about 97.2 sq km and as at 2014, it reportedly had 613,977 residents living in a 51.4 sq km area. Some of its landmarks are Jaya Supermarket (the first supermarket in Petaling Jaya), Menara MBPJ, the Petaling Jaya Museum and the Thai Wat Chetawan temple.
Wisma Central and Campbell Complex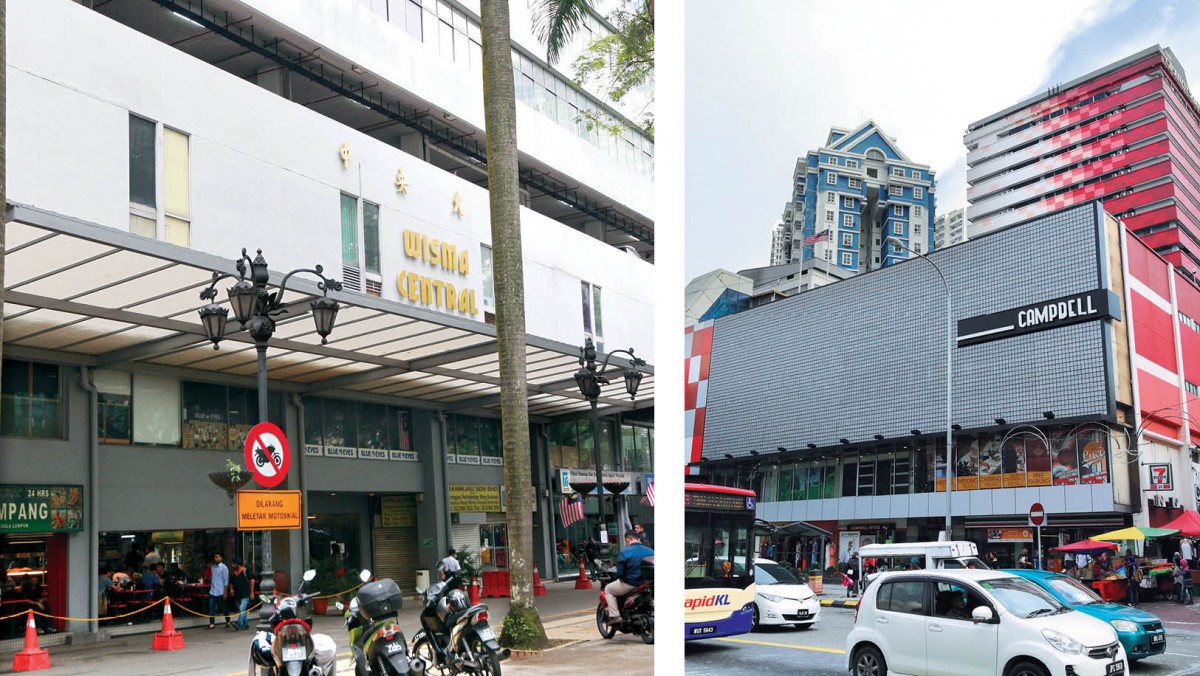 Wisma Central and Campbell Complex are believed to be among the oldest integrated commercial developments in Kuala Lumpur. Located beside the Petronas Twin Towers, Wisma Central is said to be the first commercial property to receive strata title in 1987.
Developed by Garden City Development Bhd in the 1980s, the 11-storey Wisma Central is an office and retail building in Jalan Ampang. It was once popular as a showroom venue and for performances. The nightclubs made an appearance in the 1980s. By the 1990s, the building with its faded and dated architecture had lost out to the trendier and larger developments nearby.
Currently, the building is being refurbished and upgraded by architectural firm, Citylab Studio, which is based in Wisma Central itself. In 2011, the firm commenced upgrading works with the building's management to turn the almost 40-year-old building into an art space. It was reported that an approval by Kuala Lumpur City Hall is pending to have a zebra crossing from Wisma Central's front entrance to Avenue K in order to drive traffic into the building.
Wisma Central currently has 350 mostly small businesses, such as stationery shops, eateries, costume shops, the Projek Rabak art gallery and local clothing company Sejahtera Co.
Campbell Complex is a 20-storey office tower and retail building completed in 1973 and developed by Lim Thiam Leong Realty Sdn Bhd. Located in Jalan Dang Wangi , the building, which consisted of a 4-storey shopping podium and a 15-storey office block, was reportedly the first high-rise to catch fire, on April 8, 1976.
The incident prompted calls for greater safety features for high-rise buildings. In fact, those built after 1984 had to conform to the bylaws enacted after the Campbell Complex fire.
The occupants of Campbell Complex include vintage bundle shops selling clothing, jewellery, leather products, shoes and electrical appliances.
Setia Eco Park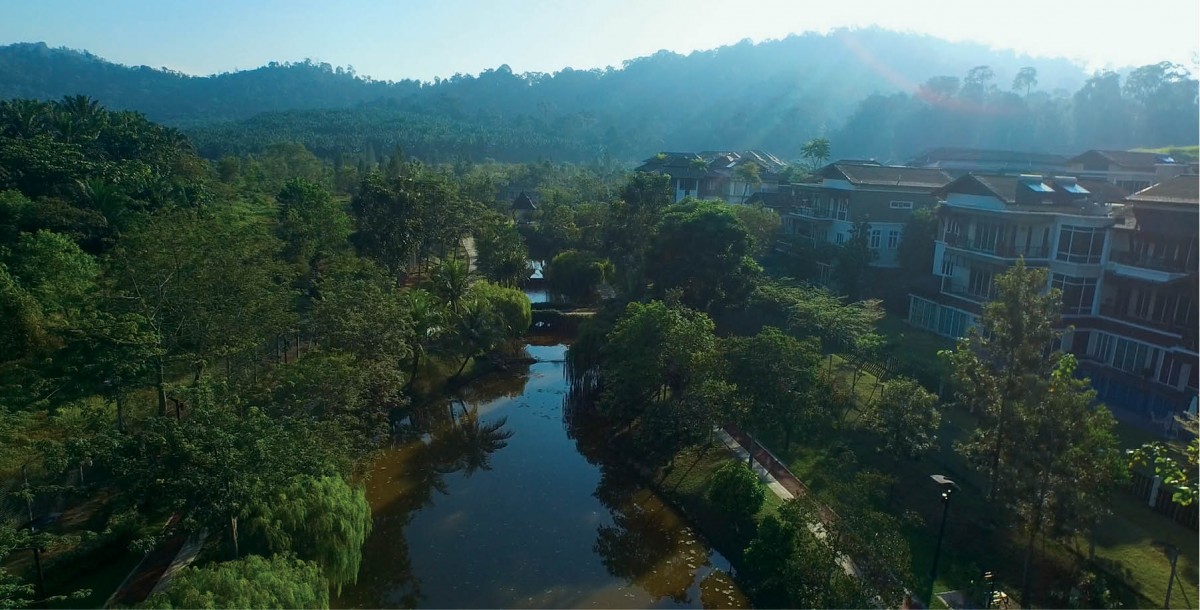 Developed by S P Setia Bhd, the gated Setia Eco Park is located on 791 acres of freehold land in Shah Alam, Selangor, with some 60% of the land developed.
As the name suggests, it is a green township with the environment in mind. It was launched in 2004 with an initial gross development value (GDV) of RM2.2 billion. Currently, the GDV stands at RM5.5 billion.
Renowned for its scenic landscape, Setia Eco Park has a 56-acre forest park where one can enjoy jungle trekking, eco-discovery walks and panoramic views from an observation tower. About 94 acres of the township are dedicated to waterways, lakes and creeks.
S P Setia focuses on the conservation of existing flora and fauna, community building and long-term commitment to the maintenance of green areas in Setia Eco Park. It has planted trees to cool the environment; these trees are easy to maintain and are friendly to birds and butterflies.
Setia Eco Park, with 3,000 homes, is scheduled for completion in more than 10 years.
Aman Perdana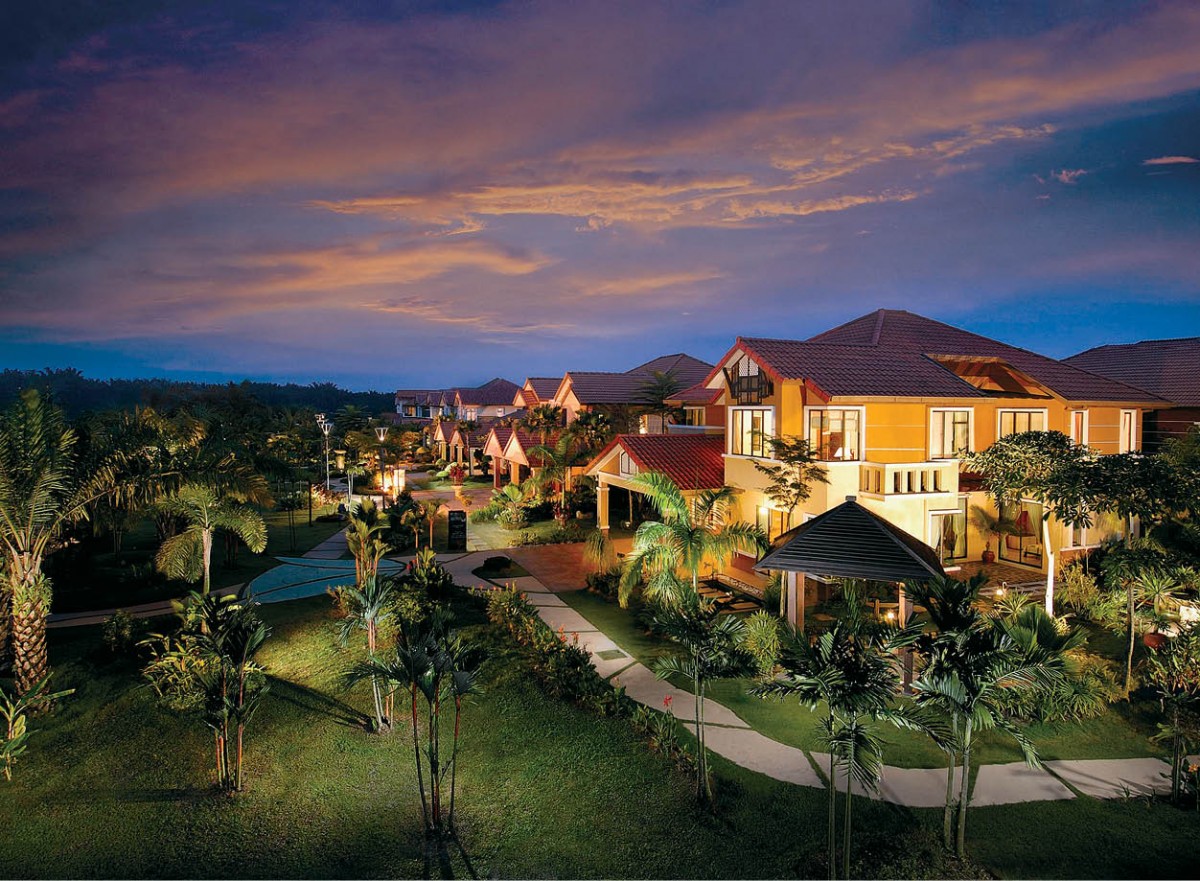 There are plenty of townships in the Klang Valley but what sets the 315-acre Aman Perdana apart is that it comprises semi-detached houses and bungalows. The development in Klang, developed by Mah Sing Group Bhd, was launched in June 2005 and completed in 2009, making it the first such township in the Klang Valley.
According to the developer, it is currently also the only sizeable township in the locality offering more than 2,000 semidees and bungalows. It also has community shops to serve the needs of the residents.
This green lung project has an average of eight units per acre and consideration was made to ensure that the impact of vehicular traffic and demands on infrastructure were low. Communal spaces, such as parks and playgrounds, are available in all eight phases.
The Federal Kuala Lumpur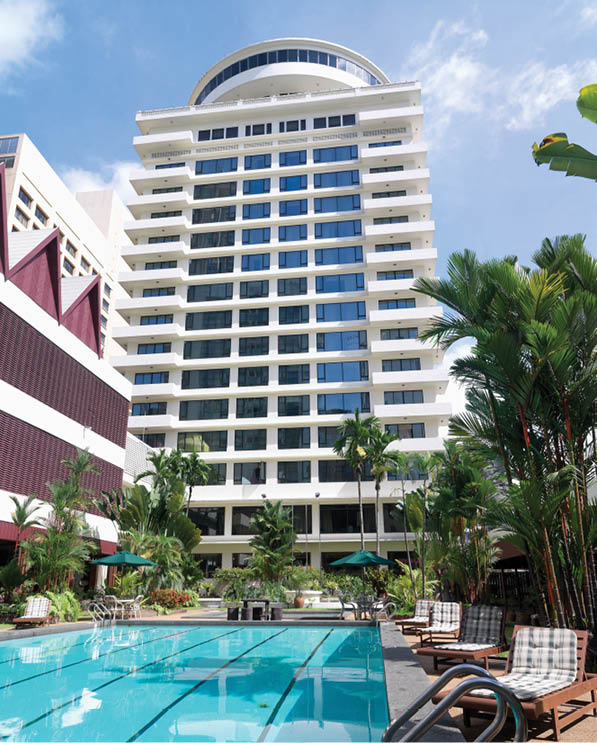 Built along with the creation of a new nation, The Federal Kuala Lumpur opened three days before the Federation of Malaya's independence was declared on Aug 31, 1957. The hotel, then nine storeys high and with 90 rooms, was built by Low Yat Group as the first international class hotel to accommodate foreign dignitaries and guests attending the Merdeka ceremony.
Designed by Datuk Lee Yoon Thim of Y T Lee & Co, The Federal houses the country's first revolving restaurant in its taller wing, which was unveiled in 1968, and gives a 360⁰ view of the city skyline.
With 450 refurbished rooms and suites, The Federal is an established hotel in the bustling heart of the city. Its recently refurbished Merdeka Wing has a contemporary look while incorporating the country's culture and heritage. The upgrading, which was planned in 2012, comes with new ballrooms, restaurant and lobby lounge. The new components made their debut in March this year.
The Majestic Hotel Kuala Lumpur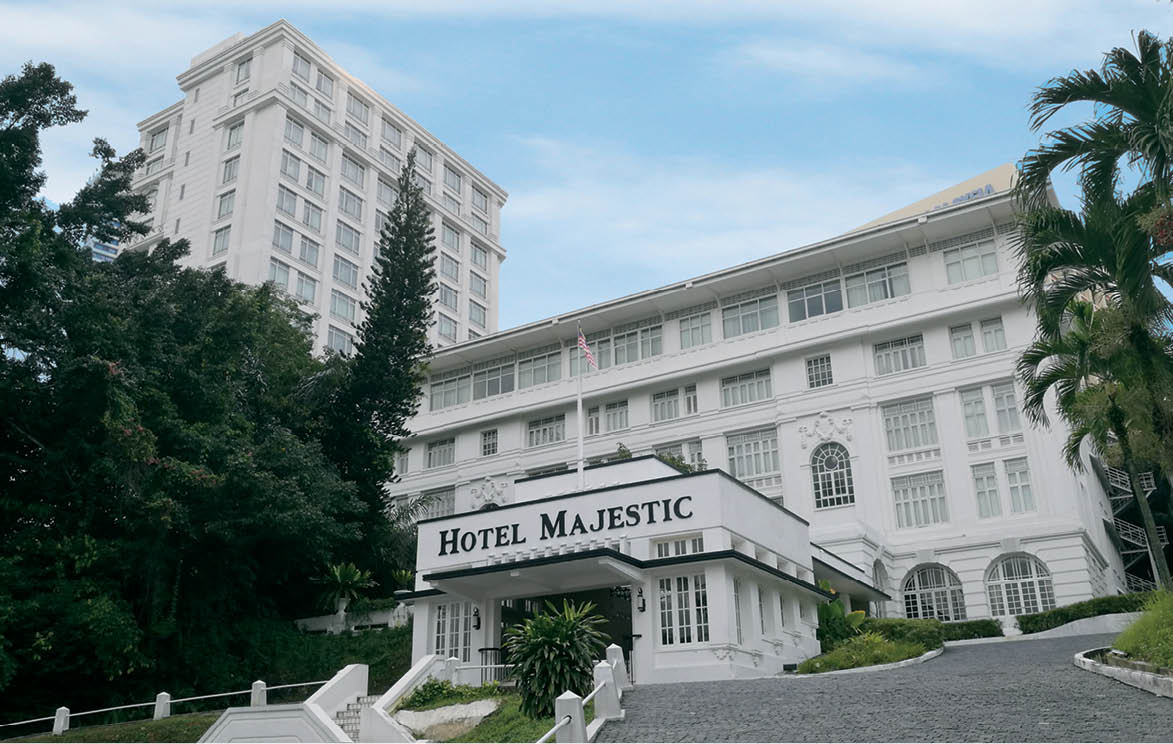 Considered the epitome of luxury in its day, The Majestic Hotel still stands as an iconic pre-war structure and continues to be regarded as one of the leading luxury hotels in the world.
Commissioned to be built in the 1930s by the trustees of the Loke Wan Tho Estate, the youngest son of businessman and philanthropist Loke Yew, the hotel claims to be the first in Malayan history to come with modern sanitation in all rooms, hot and cold water, showers and long baths.
Then a 51-room hotel designed by Dutch architecture firm Keyes and Dowdeswell, the structure is styled as a neoclassical and Art Deco hybrid with its main building characterised by tall white columns and detailed cornices. Its curved driveway and covered porte cochere add to its grand allure.
In its heyday, the hotel was a popular venue for the colonial elite to hold extravagant parties, tiffin lunches and tea dances as it had a roof garden that came with a dance floor.
In the 1980s, The Majestic struggled to compete with the newer hotels that started emerging. It subsequently closed its doors and was listed as a heritage building in 1984 to escape demolition. From 1984 until 1998, the building was used to house the National Art Gallery before the art gallery was relocated to its current premises in Jalan Tun Razak.
The Majestic Hotel was reopened in December 2012 under YTL Hotels, the hospitality arm of infrastructure conglomerate YTL Corp. It now offers 300 rooms after architect Zaidan Tahir restored the original building and included a new 15-storey wing.
Rumah Persekutuan (or Federal House), Lee Yan Lian building and Wisma Straits Trading
These three buildings are regarded by industry experts as some of the earliest office buildings in the Klang Valley.
Also known as Federal House, Rumah Persekutuan is an 8-storey government building, which at present houses the Federal Territories Director of Lands and Mines Office.
The 17-storey Bangunan Lee Yan Lian located at the intersection of Jalan Tun Perak and Jalan Raja Chulan was completed in the 1960s. Apart from businesses such as legal firms and dentists, the building is also occupied by SEGi College KL.
Built in 1961, Straits Trading was the first building to be constructed by the Straits Trading Company in Kuala Lumpur after its property division was formed. The company, whose history dates back to the 19th century, was formed to undertake tin smelting in the region. The Straits Trading building, located in Lebuh Pasar Besar, is currently occupied by legal firms, the legal profession qualifying board, the India Visa Centre, a tailor, cafés and others.
This article first appeared in City & Country, a pullout of The Edge Malaysia Weekly, on Dec 19, 2016. Subscribe here for your personal copy.