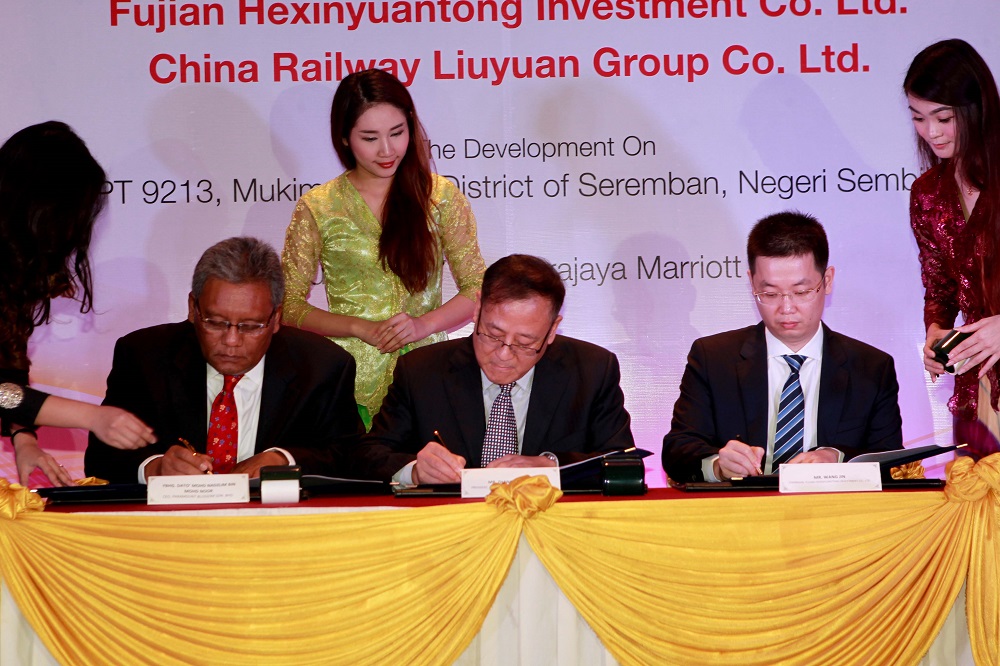 PUTRAJAYA (Jan 5): Paramount Blossom Sdn Bhd is collaborating with Fujian Hexinyuantong Investment Co Ltd and China Railway Liuyuan Group Co Ltd to develop a RM650 million property project on 77 acres of land in Seremban, Negeri Sembilan.
Officiated by deputy minister of Finance Datuk Lee Chee Leong, the parties inked a strategic and partnership development agreement at a signing ceremony today.
Under the deal, Paramount Blossom, the landowner and developer of the project, will receive financing provided by Fujian Hexinyuantong Investment, while China Railway Liuyuan Group will undertake the construction of the project.
Paramount Blossom is a subsidiary of construction company Landasan Kapital (M) Sdn Bhd, while China Railway Liuyuan Group is a subsidiary of China Railway Group Ltd (CREC).
Fujian Hexinyuantong Investment is established by Fujian Crown Investment Group, Msources (Asia-Pacific) Invest & Develop Co Ltd and Straits Golden Shore Group.
During his speech, Lee said that through the initiative taken today, Malaysia will be able to achieve more and continue to develop even stronger relationships and friendships between China and Malaysia.
"We hope that the synergy between these companies will lead to a cost and time effective construction which will bear great returns to all parties," he added.
China Railway Liuyuan Group president Zhang Xiann Feng said that the signing of the agreement will definitely see the grand opening of a new business era where China's private financial institutions and Chinese central state-owned enterprises will work closely with Malaysia-based private enterprises.
"I hope all the related parties of the project could make joint efforts to speed up the preliminary works, carry out the project's investment in time to ensure the project is completed successfully and create economic benefits for all partners as soon as possible," he said.
The development will feature 835 residential units comprising duplex, double-storey terraced house and semi-dees, said Paramount Blossom special project director Datuk Jaafar Abu Hassan, adding that it is the company's first property development project.
The construction of the project will be divided into three phases with phase being targeted to launch by end-May or early-June this year, subject to authorities' approval, he continued.
"Each phase will have a construction period of 24 months, so we are looking to deliver the first phase by 2019; we are targeting first-time homebuyers with certain loan eligibility," he said, adding that the company hoped to sell all the units in phase one within one year of the launch.