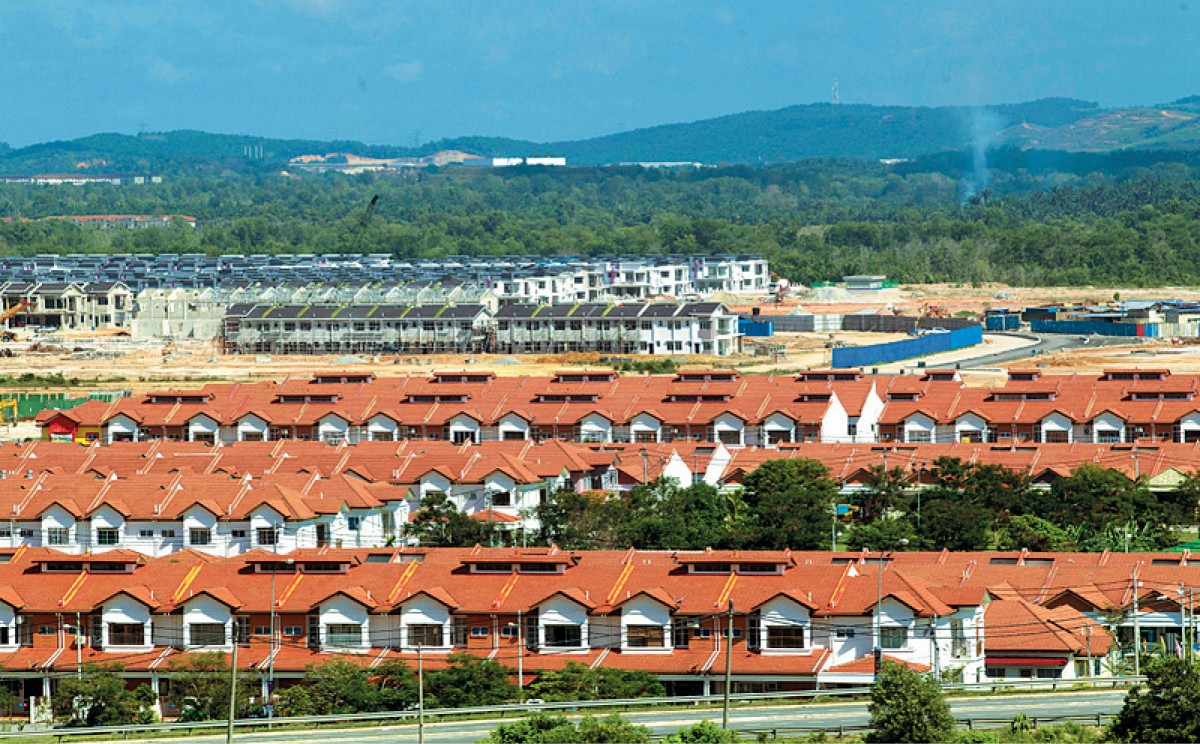 AS one travels from Kuala Lumpur to Puncak Alam, Ijok, the high-rise buildings of the city slowly give way to small, village-like houses and rows of oil palm trees.
Puncak Alam is a 14,000-acre township within Ijok, a subdivision of Kuala Selangor. The master developer is Puncak Alam Housing Sdn Bhd, which has so far developed 3,114 acres. The main town is Bandar Puncak Alam, which was launched in early 1997.
Over time, Puncak Alam Housing has entered into joint-venture agreements or sold land to other developers.
The Ijok district measures 35,709.03 acres (14,450.93ha), with many tracts comprising plantation land owned by locals and private companies. However, the district is abuzz, thanks to numerous upcoming and ongoing projects by Eco World Development Group Bhd, LBS Bina Group, IJM Land Bhd and others.
With new developments mushrooming over the years, Puncak Alam has changed drastically.
"Plans to improve road systems, living environment, infrastructure and amenities will transform Puncak Alam into a more desirable place to stay," says Tang Chee Meng, Henry Butcher (M) Sdn Bhd chief operating officer.
"All these developments are changing the area from an agriculture-based environment to that of modern townships," says Anthony Chua, director of KGV-Lambert Smith Hampton (M) Sdn Bhd.
Chua says the developments in Puncak Alam are mainly medium to low-cost housing schemes, adding that buyers are looking for affordable homes, with landed properties selling at RM500,000.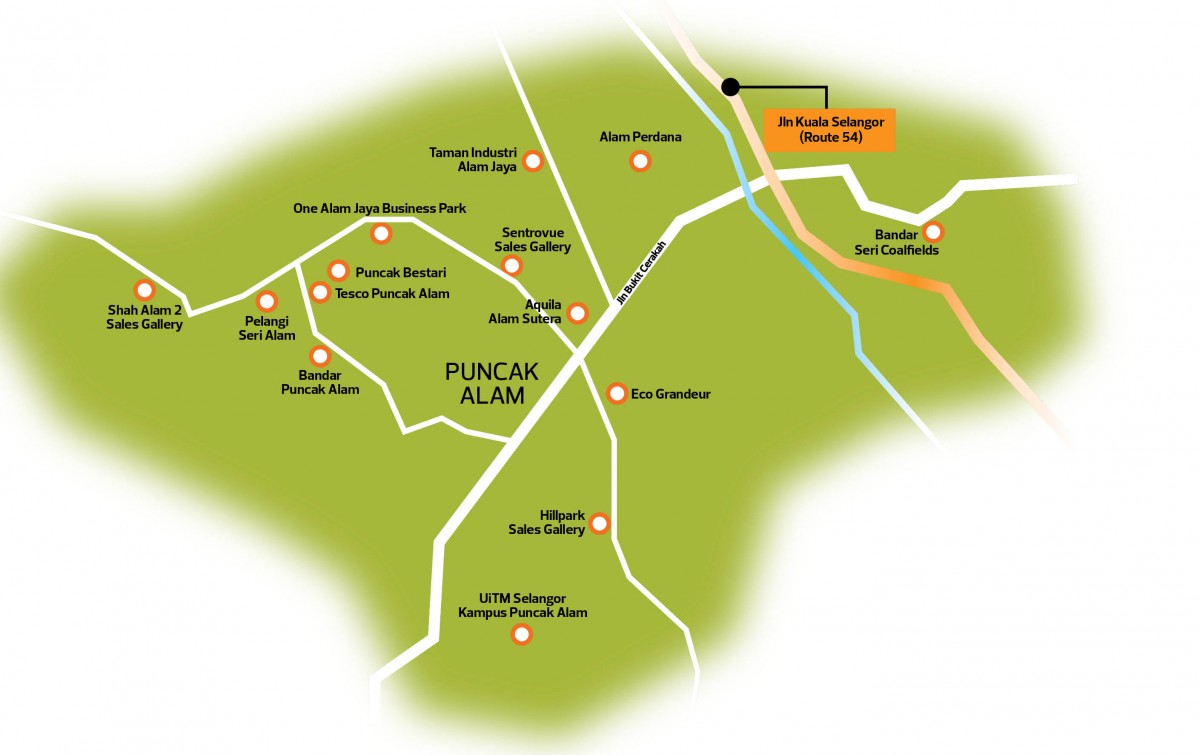 The commercial buildings in the new townships will hopefully attract small and medium enterprises (SMEs) to Puncak Alam and create more local economic activities, Tang says.
"The new townships developed by Eco World and LBS Bina have industrial components to attract light and medium industries, which can complement the residential townships.
"This will create more jobs. Besides, the area will see an increase in population and improvement in living standards and the environment," says Tang.
Metro Homes Sdn Bhd director See Kok Loong says these developments will transform Puncak Alam into a self-sustaining township like Subang Jaya.
Tang says there are clinics, schools, supermarkets, a Tesco outlet, petrol stations and franchised chain restaurants in the area.
A hospital — Hospital Universiti Teknologi Mara (UiTM) — is being planned in the vicinity. The nearest one now is Hospital Sungai Buloh, 27km away.
The schools in Puncak Alam are SK Puncak Alam 1, 2 and 3, SMK Puncak Alam 1 and 2 and Sekolah Rendah Agama Puncak Alam. There is also a UiTM campus.
For now, only public buses serve Puncak Alam, which is linked to a few highways. The Kuala Lumpur-Kuala Selangor Expressway is connected to Jalan Bukit Cerakah in the township, while Jalan Batu Arang is linked to the Guthrie Corridor Expressway.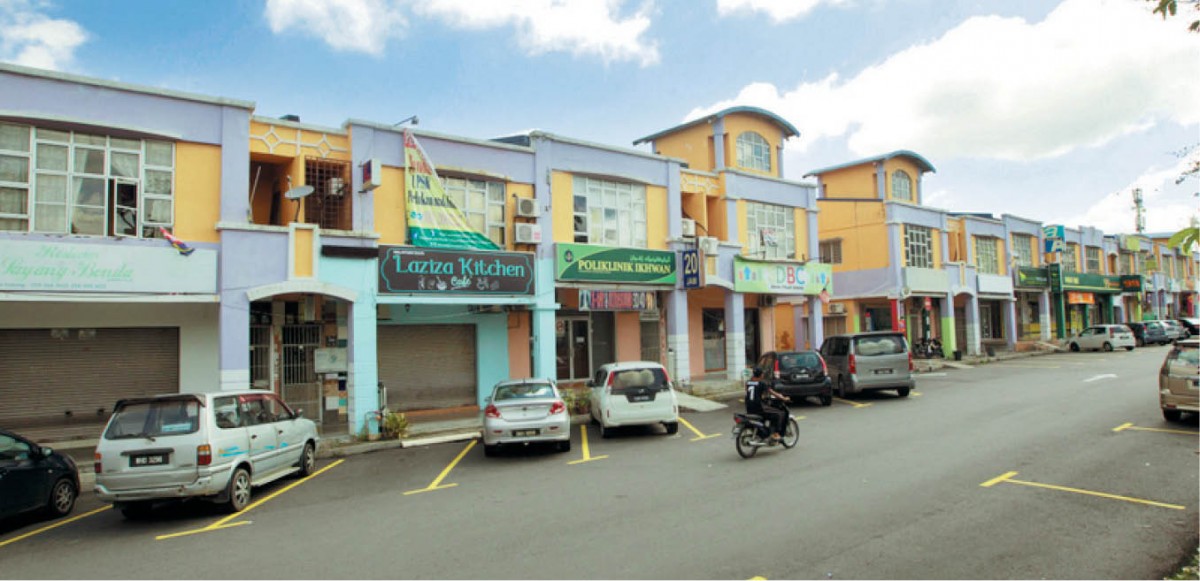 Jalan Bukit Cerakah, which is also connected to Jalan Kuala Selangor, is to be expanded to ease traffic flow to the West Coast Expressway.
"It is quite easy to access Puncak Alam," says Chua.
On property transactions, Tang says apartments with built-ups of 680 to 863 sq ft are now selling for RM235,000 compared with RM90,000 in 2014.
Currently, Residensi Warnasari units with built-ups of 680 to 863 sq ft are going for RM93,000 to RM245,000. For Astana Alam apartments, units with built-ups of 680 to 760 sq ft are selling for RM130,000 to RM190,000.
Chua says terraced houses in Puncak Alam with built-ups of 1,300 to 1,540 sq ft are transacting for RM420,000 now compared with RM225,000 in 2013.
"Puncak Alam has been quiet for some time. Now, with new developments, things are beginning to look up," he adds.
"Prices are going up but not as much as in the other areas in the Klang Valley," says See. He forecasts good long-term investment in the next five to eight years.
Henry Butcher's Tang says EcoWorld will have a few developments in Puncak Alam, such as Eco Business Park V, Laman Indah and Eco Grandeur.
The first phase of Eco Grandeur — Graham Garden and Avenham Garden — comprising terraced houses was launched last September. The take-up rate is 81%, according to Eco World.
Hillpark Shah Alam, developed by MKH Bhd in 2013, has seen its terraced houses achieved a 95% take-up rate, according to MKH. The recent launch of Maple 2 is 55% sold, while shoplots, launched in 2015, are 65% sold.
Guppyunip Sdn Bhd's development, One Alam Jaya Residences, launched bungalows in 2013. The take-up rate is only 40%, mainly because buyers failed to get bank loans, says the developer.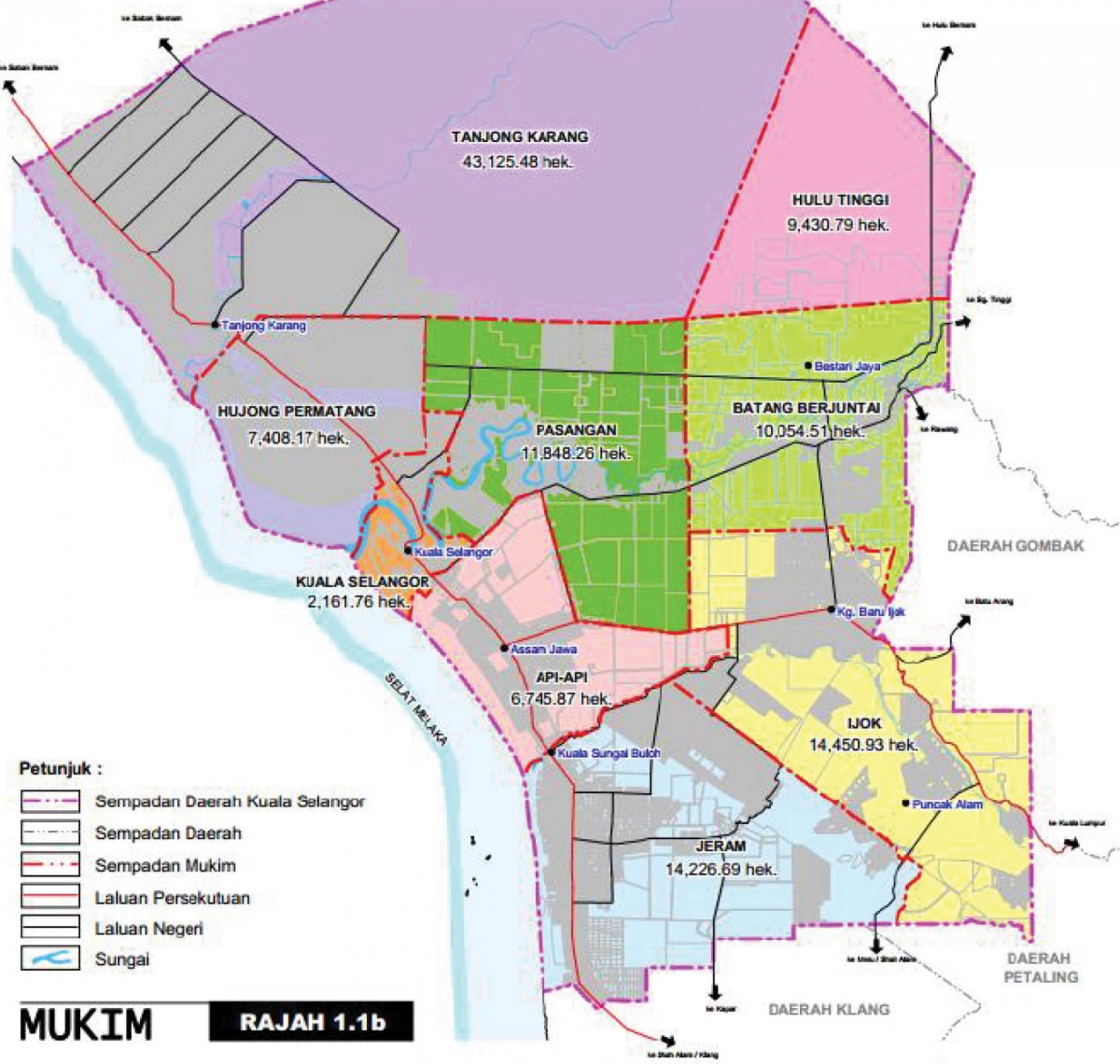 The first serviced apartment in Puncak Alam, Sentrovue, by Villa Avenue Housing Development Sdn Bhd, has only 10 units left, according to the developer.
Other developments in the area include Shah Alam 2 by IJM Land, Puncak Bestari by Worldwide Holdings Bhd, Bandar Saujana Utama by Glomac, and Pelangi Seri Alam by Metro KL City Sdn Bhd.
Meanwhile, LBS Bina Group, which has acquired 909.01 acres in Ijok, will unveil its development plans in the middle of this year. Chua says the land is located in the Puncak Alam vicinity.
Property consultants agree that the establishment of UiTM some years ago has impacted rental rates around Puncak Alam.
According to Tang, the current rent for terraced houses is RM850 to RM1,500 per month for built-ups of 1,400 to 1,950 sq ft.
For apartments, the rent is from RM600 to RM900 for units of 720 to 900 sq ft.
According to See, the rental market stagnate when new developments come onstream.
Tang says Bandar Seri Coalfields, a township established by KLK Land in 2011 and located 1km to 2km away from Puncak Alam, has drawn buyers to Puncak Alam.
According to See, terraced houses in Bandar Seri Coalfields are selling for RM550,000 to RM580,000 now compared with RM350,000 to RM380,000 in 2011. The land area measures 1,399 to 1,797 sq ft, with built-ups of 1,251 to 2,447 sq ft.
Semidees are transacting for RM740,000 to RM850,000 currently compared with RM680,000 to RM720,000 in 2011. The land area measures 3,190 to 3,750 sq ft with built-ups of 2,240 to 2,450 sq ft.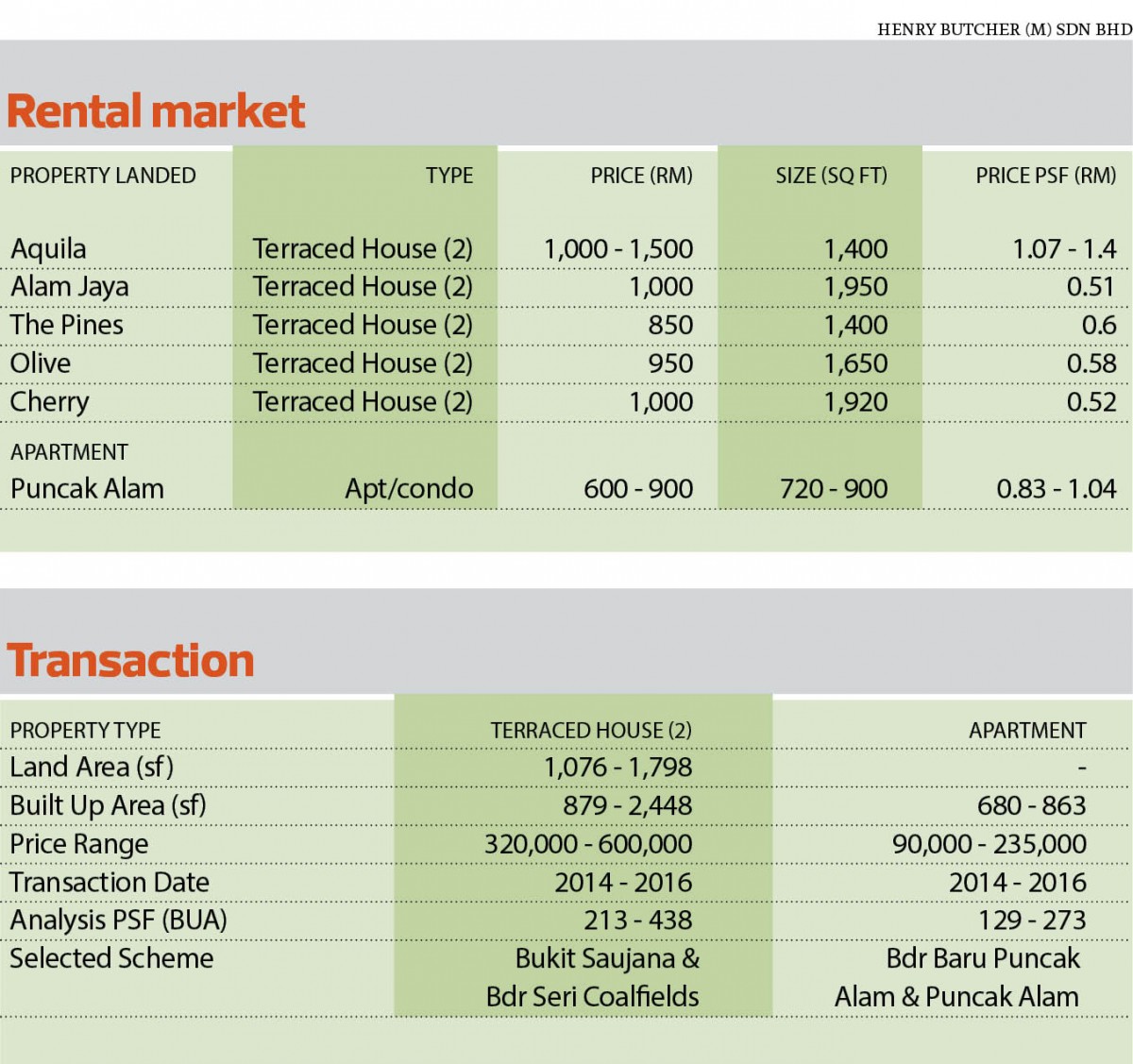 KLK Land has signed a memorandum of understanding with Wesley Methodist School to build and operate a private school in Bandar Seri Coalfields.
A kindergarten and primary school will be built in Phase 1, while a secondary school will come up in Phase 2.
See believes the future is looking bright for Puncak Alam, with major developers coming in.
Big players such as LBS Bina Group, S P Setia, and Eco World have acquired large tracts which are ready to be developed. Henry Butcher's Tang foresees more intense competition for small players.
Chua notes that although the area is still predominantly agriculture-based, industries are relocating or coming up in Puncak Alam.
As a result, demand for industrial land has picked up lately. Some of the industries being relocated to Puncak Alam are in the steel-related, trading and manufacturing sectors.
"Industrial land used to fetch RM30 psf three years ago but has now doubled to RM60 psf," he says.
Despite the bright outlook, Puncak Alam still has a long way to go.
"Due to stiff competition and low population in Ijok, each project in Puncak Alam has to come up with unique features to attract buyers," says Tang.
"Hopefully, the developers will come out with different schemes to encourage people to buy and stay instead of purchasing for investment only," says See.
Nevertheless, Puncak Alam with its many new developments looks set to be a township with a promising future.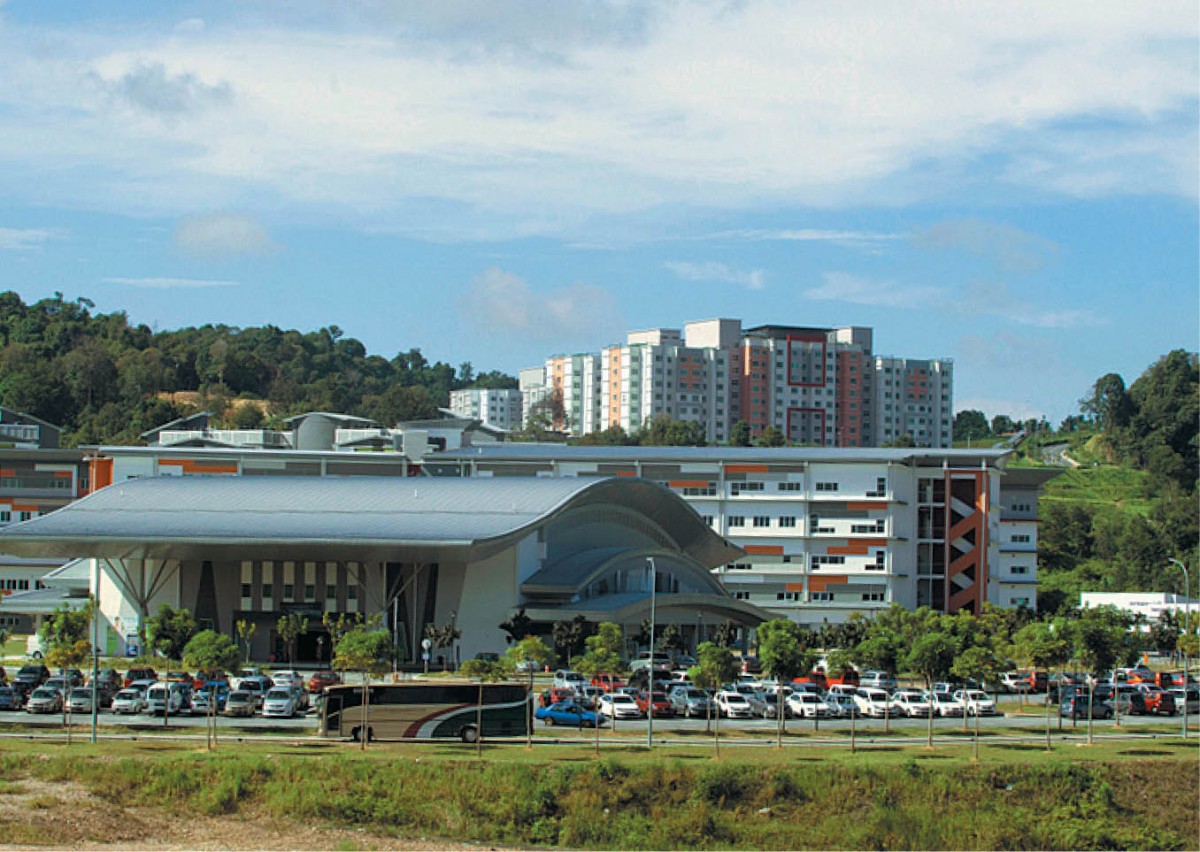 This article first appeared in City & Country, a pullout of The Edge Malaysia Weekly, on Jan 9, 2017. Subscribe here for your personal copy.