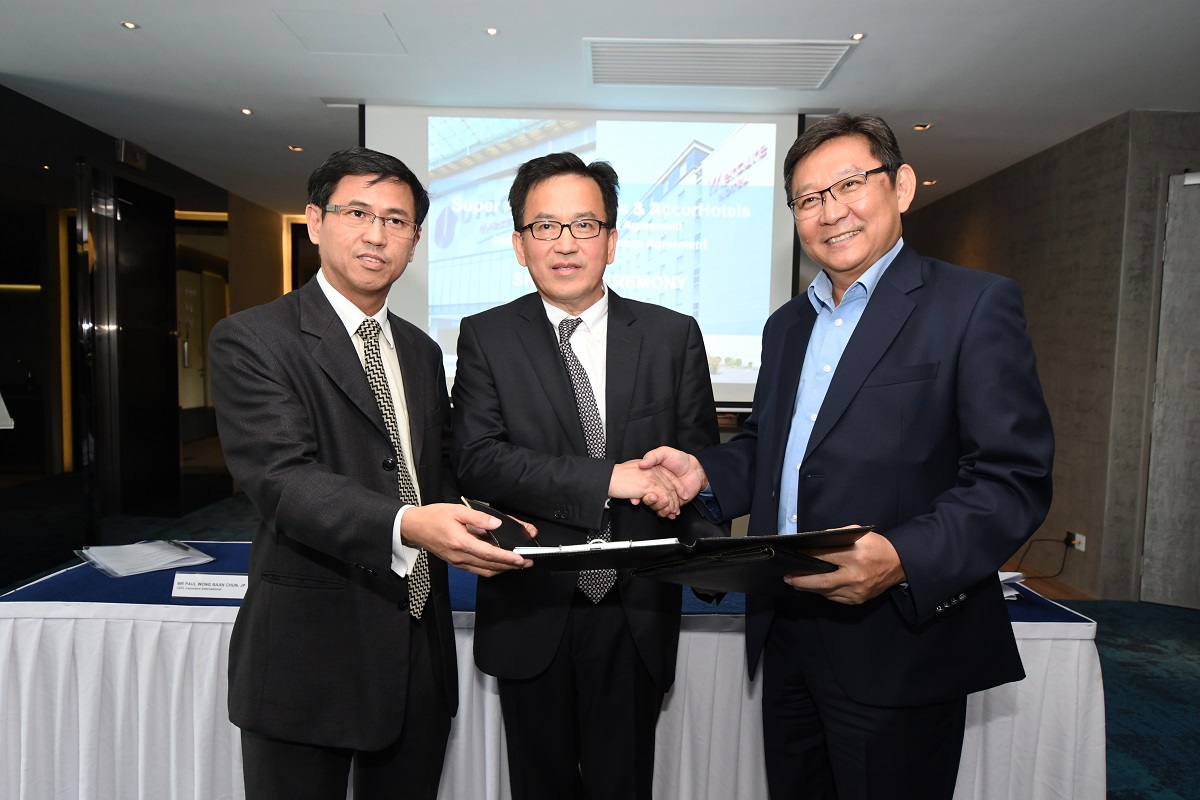 PETALING JAYA (April 4): Paramount Corporation Bhd today announced the development of the hotel component in its integrated development in Shah Alam, Utropolis Glenmarie.
Super Ace Resources Sdn Bhd, a joint-venture company owned by Paramount and Lasseters International Holdings Ltd, today signed an agreement with French hotel group, AccorHotels, to operate a 230-key hotel in Utropolis Glenmarie.
"The hotel will carry the 'Mercure' brand name under AccorHotels. The investment cost of the hotel development is RM75 million. We are targeting to open its doors by end-2019," said Paramount group CEO Jeffrey Chew after the signing ceremony held in the Paramount property sales gallery in Section 13, Petaling Jaya today.
He explained that Paramount will be building the 13-floor, single block hotel and sell it to Super Ace Resources. Meanwhile, AccorHotels will be operating the hotel and provide consultancy services on the design and technical fit-out of the hotel.
"We will sit down and discuss the room price and strategy with Super Ace Resources after the signing ceremony today. Generally, hotel will take about eight years to break even," said Rio Kondo, AccorHotels vice-president of development and executive director in Indonesia and Malaysia.
Commenting on the hotel business, Chew said it is not the focus of Paramount.
"Mercure Hotel @ Utropolis Glenmarie is our first hotel venture. However, if you ask me whether we will buy a piece of land to build a hotel in the future, I don't think Paramount will do that," Chew noted.
He further explained that the initiative to build a hotel in Utropolis Glenmarie is to complete the integrated development.
"When we looked into Utropolis Glenmarie, we found it lacked an office or hotel component. We think it makes more sense to build a hotel there because it will have synergy with the college, such as to provide internship and job opportunities for our culinary art and hospitality students," Chew said.
He added that the hotel would be ideally suited to meet the growing need for world-class 4-star accommodation in Glenmarie and Shah Alam, and will also act as a catalyst for growth in the area.
"We partner Lasseters International, the investment holdings public listed company in Singapore, to make sure our baby step in the hotel venture starts smoothly. We have been working very hard to find the right partners and I believe we have found them in both Lasseters International as a joint-venture partner and AccorHotels as hotel operator," Chew said.
Paul Wong, the CEO of Lasseters International is optimistic about the joint-venture project.
"The partnership with Paramount presents us with an excellent opportunity to expand our hospitality expertise by adding 230 hotel keys to our existing room portfolio whilst enabling the group to diversity into a more defined geographical market, broaden our revenue streams and delivery long-term value to our shareholders," Wong noted.
Utropolis Glenmari is Paramount's first integrated development. Achored by KDU University College, it consists of serviced apartments, lifestyle suites suitable for home and small offices, and the 120,000 sq ft Utropolis Marketplace retial centre.