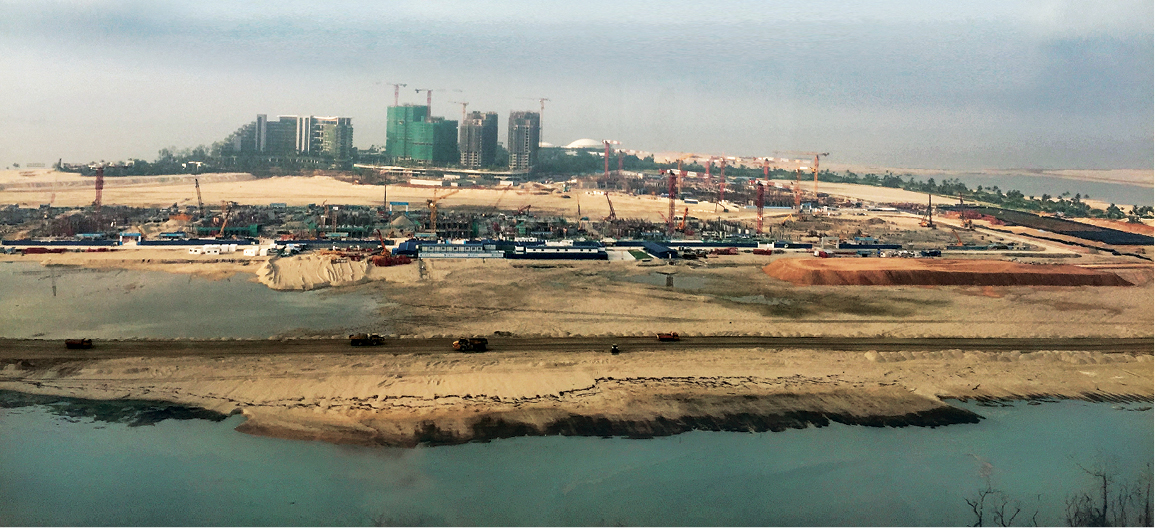 "Invest in the next Shenzhen" and "Right next to Singapore" are some of the taglines used by China-based developers to promote their property projects in Johor Bahru and Iskandar Malaysia.
Banking on the scarcity of land in Singapore and the prospect of improved connectivity with Johor, Chinese developers with deep pockets started pouring billions of ringgit into the southern state in 2013, building homes at a rapid pace. Their entry into the Johor property market in a big way was hailed as a move that would give the decade-old Iskandar Malaysia — which aspired to be, for Singapore, what Shenzhen's manufacturing and industrial base is to Hong Kong — a new lease of life.
Some of the mega property projects undertaken by Chinese developers there include Country Garden Holdings Co's Forest City, which has an estimated gross development value (GDV) of RM450 billion; R&F Properties Co's Princess Cove (GDV: RM24.5 billion); and Greenland Group's property projects in Tebrau and Danga Bay (GDV: RM20 billion).
Unfortunately, it has not always been plain sailing. Singapore's reluctance to open its borders to allow greater ease of travel and a housing glut are some of the speed bumps faced by the Chinese companies. Now, China's move to curb capital outflows since 2H2016 has cast a pall over some of these projects.
"I maintain my view that the Chinese government will continue its stringent policy in the next few years. Capital outflows have fallen recently, but that was mainly due to the government stepping up capital controls. Besides, the renminbi is still under pressure," says Prof Zhang Zun, dean of the economics faculty of Fudan University.
He tells The Edge Malaysia in a phone interview that the recent meeting between US President Donald Trump and Chinese President Xi Jinping has not changed China's cautious stance on capital controls.
China allows its citizens an annual foreign exchange quota of US$50,000 (RM213,000). An official with a Chinese bank in Malaysia had said earlier that the Chinese government has stepped up scrutiny of foreign exchange purchases, and might bar remittances intended for buying properties abroad.
Property agents The Edge Malaysia spoke to say Chinese investors generally had ample funds, with some even paying cash when they bought properties in Johor.
"Foreign buyers who do not have a steady income in Malaysia face difficulty getting a mortgage from local banks, so they will normally look for offshore sources to finance their purchases," says a representative of a Chinese developer.
But the closure of Forest City sales galleries in China by Country Garden has sounded the alarm and raised the question as to whether capital controls have forced the developer's hand.
In Tanjung Puteri, construction work on the Princess Cove mixed-use development by Guangzhou-based R&F is said to have slowed, while that on Shanghai-based Greenland's RM2.2 billion residential project in Danga Bay seems to have stalled altogether.
The termination of the Bandar Malaysia share sale agreement, signed between TRX City (a former unit of 1 Malaysia Development Bhd, which is now under the Ministry of Finance) and Iskandar Waterfront Holdings and China Railway Engineering Corp, has further cast doubt on Chinese investments here.
However, most of the Chinese developers in Johor have sought to quell the rumours, saying that they are adjusting their strategy to shift the focus from mainland Chinese buyers to those from the region.
"We are not building a Chinatown; we don't rely on a single country. We are a company incorporated here, with a local partner owning a 40% stake," Country Garden Pacificview chief strategy officer Dr Yu Runze tells The Edge Malaysia. CGPV, developer of Forest City, is a joint venture between Country Garden and Malaysia's Esplanade Danga 88 Sdn Bhd, which is linked to the Sultan of Johor. CGPV is 66%-owned by the China-based giant.
Yu says the group has not delayed its project in Iskandar Malaysia. The second phase of Forest City, to add another hotel and golf courses, is due to begin soon, at a cost of RM1.2 billion. It will take two to three years to complete and no residential units will be built under this phase, he adds.
"Sales and construction are ongoing. It is challenging [because of China's capital controls], so we are aggressively expanding to other regional markets," CGPV executive director Md Othman Yusof says in an interview at his office suite overlooking the newly opened Phoenix Hotel in Forest City.
The group sold 16,000 condominiums last year on the first island (Forest City comprises four man-made islands of reclaimed land). Chinese buyers accounted for 70% of the sales, with Malaysians and Singaporeans accounting for the remainder.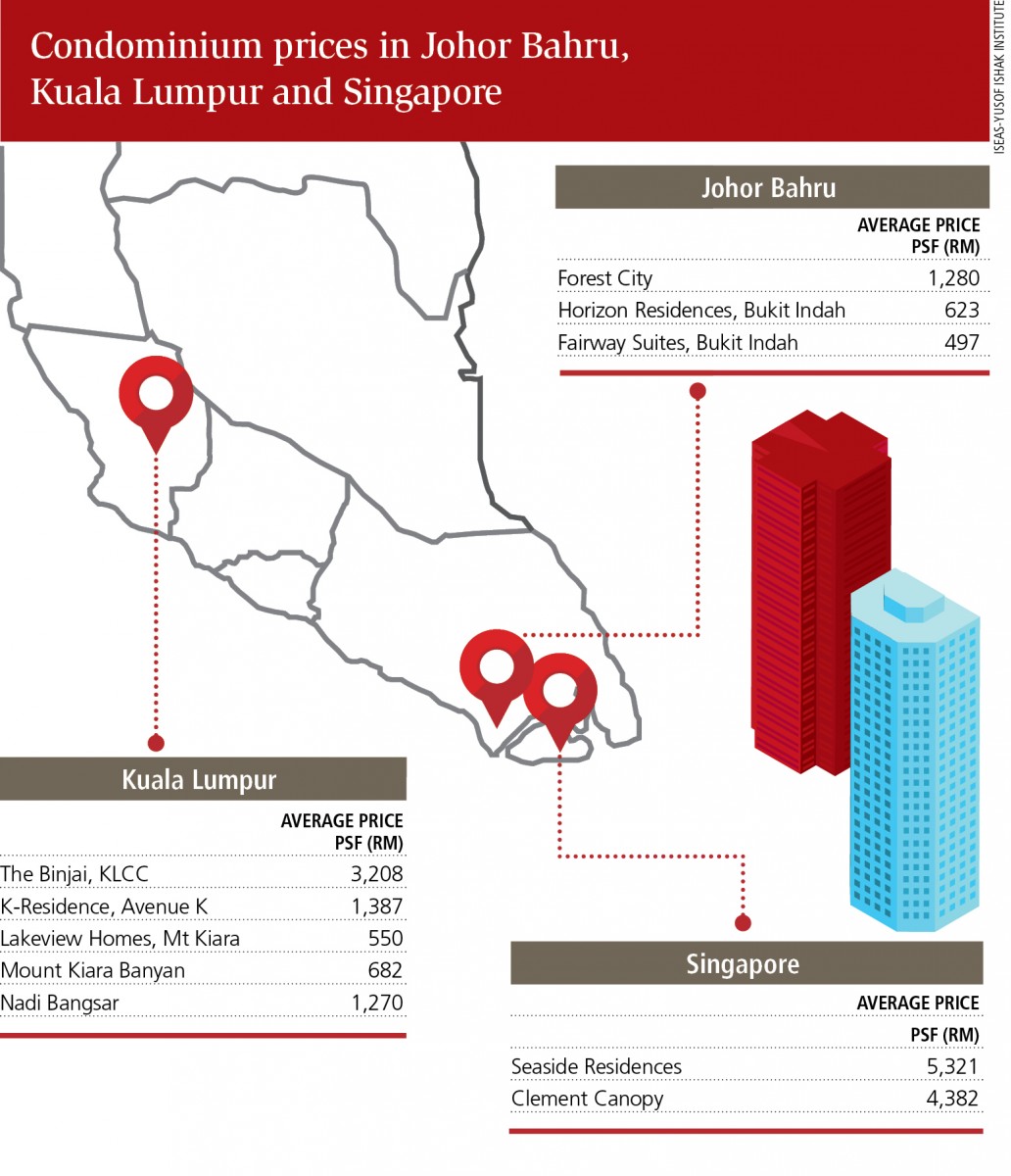 Othman says Forest City buyers are not just from China, but also ethnic Chinese from other countries too. "Some of them do have overseas accounts [that are not affected by China's capital controls]."
Chinese state-owned Greenland says it faces more restrictions and compliance issues compared with privately owned Country Garden. However, it has not stopped work in Danga Bay. To adapt to the challenging market condition, Greenland is building more affordable smaller units.
"Our development pace has slowed as we are making adjustments from [building] larger units to smaller ones — from 1,500 to 1,600 sq ft to 700 to 800 sq ft — to better cater for the market," a Greenland spokesman tells The Edge Malaysia at the Greenland Jade Palace sales gallery in Danga Bay. The Danga Bay project comprises 13 towers with 2,200 units.
Greenland, a Fortune Global 500 company, bought the reclaimed land in Danga Bay in 2013 and started selling its properties two years later. The residential project is expected to be completed in 2019.
"We managed to sell about 600 units, or 30%, of the project. We have started foundation work and [in June], we will complete the car park," the spokesman says. "Of course, China's capital controls will have an impact on our sales, but now, we can be more focused on the local market or foreign buyers such as the Singaporeans."
Greenland's buyers are predominantly mainland Chinese (60%) and Malaysians (20%), with the remainder consisting of Indonesians and Singaporeans.
R&F, developer of Princess Cove, did not respond to questions from The Edge Malaysia.
Macrolink International Land (M) — the Malaysian unit of Beijing-based Macrolink Group — says it is keen to attract more Indonesians to buy its Iskandar Malaysia properties.
"We are here for the long term. Our target is still Chinese investors looking to diversify their property investments in Malaysia or those who see Malaysia as their second home. It is true that it is challenging to achieve more sales because of the capital controls, but we believe the government will relax them next year," Macrolink International Land president Hu Song tells The Edge Malaysia.
The privately owned Chinese conglomerate achieved sales of RMB1.6 billion (RM1 billion) last year for its residential and commercial development known as The Macrolink Medini. About 80% of its buyers were mainland Chinese and 20%, locals.
According to the Iskandar Regional Development Authority (IRDA), Iskandar Malaysia recorded total foreign investments of RM89.07 billion from 2006 to March 2017. China is the biggest investor in the region, with a total investment of RM24.61 billion, followed by Singapore (RM20.23 billion) and the US (RM6.79 billion).
"The capital controls affect not only Johor but also the rest of the world. Chinese developers in Johor are still doing well, but we should monitor the situation carefully," IRDA CEO Datuk Ismail Ibrahim tells The Edge Malaysia via email. "Nonetheless, the trend shows that China updates its policy every one or two years and the situation may change very soon."
According to him, the region targets cumulative committed investments of RM25 billion to RM30 billion a year. For 1Q2017, it recorded committed investments of RM5.27 billion.

While industry observers say Iskandar Malaysia should reconsider its business model to be more business-driven rather than property-driven, Ismail says the corridor does not focus on any specific country for investment, and the property sector is not the one being promoted in Iskandar Malaysia.
"Nonetheless, properties come in tandem with the development and economic growth by the nine promoted sectors in Iskandar Malaysia," he says, noting that the corridor is now in its third phase, in which the focus is on sustaining and innovating until Iskandar Malaysia reaches maturity in 2025.
Thus, the focus is on maintaining green and social agendas, including talent development, while ensuring small and medium-sized enterprises continue to contribute to the growth of the region.
Indeed, some industry observers, such as KGV International Property Consultants (Johor) executive director Samuel Tan, see the Chinese government's liquidity squeeze as a respite for Johor's overheated property market, which will enable developers that are too dependent on mainland Chinese buyers to re-strategise and diversify their target segment.
"It is often reported that Chinese buyers are coming in droves, giving the impression of an overheated market. The public may not be aware that their interest is mainly in certain projects," Tan says.
He adds that there are no official statistics on the number of Chinese buyers of Johor properties, although it is common for them to buy from developers from their home country. Thus, the capital controls will force developers to diversify their target markets to non-mainland Chinese purchasers, and suitable products will be created towards this end.
However, given the staggering number of units being built, it may take a while for the market to comfortably absorb them all.
This article first appeared in The Edge Malaysia, on May 15, 2017.
For more stories, download TheEdgeProperty.com pullout here for free.