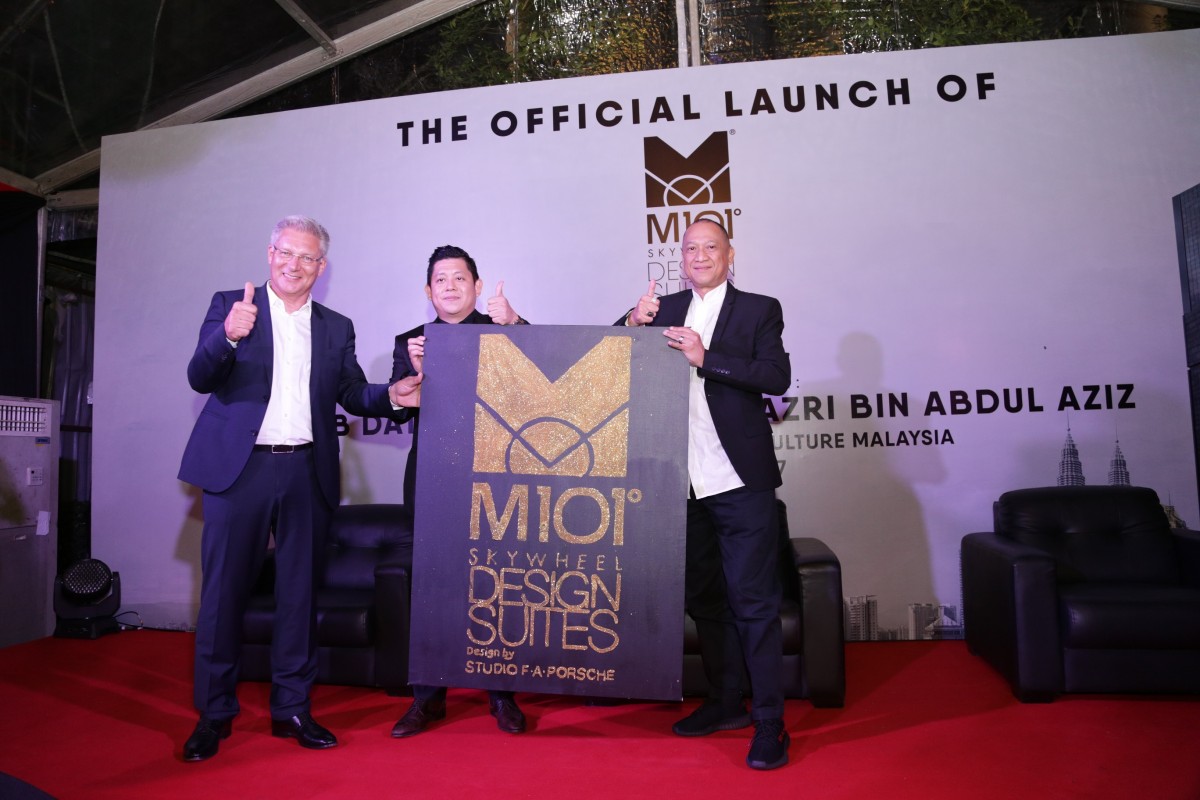 KUALA LUMPUR (Aug 5): M101 Holdings Sdn Bhd, the developer of the iconic RM1.8 billion M101 SkyWheel development at Jalan Raja Muda Abdul Aziz, Kuala Lumpur, had unveiled 94 Design Suites designed by Studio F.A. Porsche.
Housed at the top of Tower A of M101 SkyWheel, the fully-furnished Design Suites will come in three layouts with built-up sizes of 1,018 sq ft, 909 sq ft and 879 sq ft.
With an average selling price of RM3,700 psf, the developer is targeting foreign buyers from China, Hong Kong, Taiwan, Japan, Indonesia, Singapore, Korea, the Philippines, Brunei, Sri Lanka, India and Bangladesh.
M101 SkyWheel consists of two 78-storey towers that will house about 1,200 Small-office Flexible-office (SoFo) units, the 94 Design Suites, the world's highest shopping mall that extends from the 50th to 52nd level with over 200,000 sq ft of retail space, the first Planet Hollywood Hotel in Asia and a mass rapid transit (MRT) station at the basement.
The development will also see the world's highest ferris wheel — Sky Ferries Wheel — built on the 52nd level, which has a vantage point of 220m above the ground.
Not only will owners of the Design Suites have an amazing view of the KL skyline, they will also be able to enjoy facilities such as an infinity pool, gym and sauna on the 78th floor.
The developer had partnered Studio F.A. Porsche to design the Design Suites.
When completed in 2021, the units will feature various smart integrations in a minimalist contemporary interior, such as the "magic" TV concept, which is integrated in the glass surface and only comes to life when it is switched on.
M101 Holdings CEO Datuk Seth Yap said the company is very pleased to be working together with Studio F.A. Porsche to bring to Malaysia this very exclusive product, which is only available by invitation.
"With this exquisite limited-edition Design Suites, we have elevated the property scene around the world altogether," he said at the official launch of the Design Suites today.
The launch, which was officiated by Minister of Tourism and Culture Malaysia Datuk Seri Mohd Nazri Abdul Aziz, also saw over 60 Porsche-owner enthusiasts convoyed to the M101 sales gallery.
In his speech, Nazri said that with the magnitude and unique design of M101 SkyWheel, the development is set to be an iconic landmark that has brought back excitement to the local real estate scene.
"While other developers are looking at bread-and-butter products, M101 has taken a very bold innovative step to champion property tourism," he said.
Also present at the launch was Roland Heiler, managing director of Studio F.A. Porsche. He said: "M101 SkyWheel is our first project in Asia. The idea of reinventing the way people live in a luxurious and sophisticated environment is perfectly in line with our design philosophy of constantly questioning the status quo and looking for better solution."