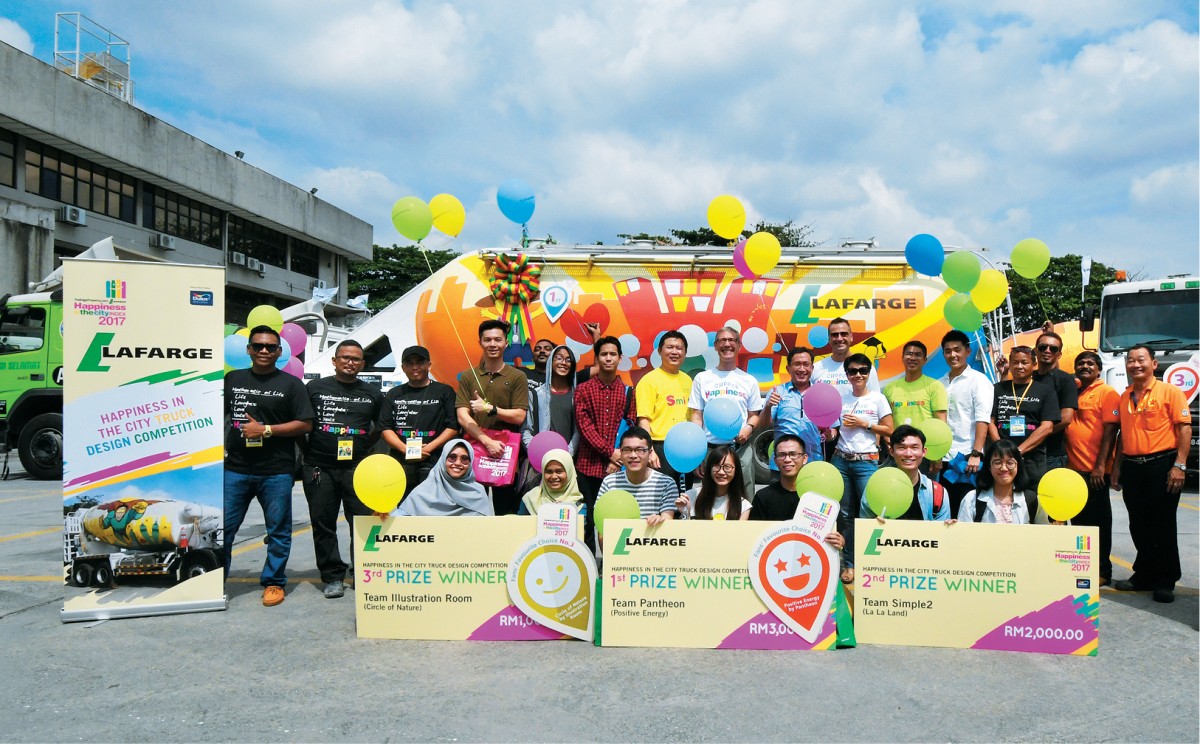 PETALING JAYA (Aug 28): Winners of Lafarge Malaysia's Happiness in the City truck design competition were announced and received their prizes on Aug 20.
The champion was Team Pantheon from Universiti Kebangsaan Malaysia (UKM) who walked away with a total of RM3,000 cash. Their design "Positive Energy" featured bright and cheerful colours signifying the advancement of cities into the future.
Runner-up Team Simple2 with their design themed "La La Land" received RM2,000 while third place winner Team Illustration Room with their design "Circle of Nature" received RM1,000.
The competition was held in conjunction with Lafarge's Happiness in the City campaign, which had kick-started with
TheEdgeProperty.com-Lafarge Happiness in the City Index 2017 survey to garner views from urban residents of their ideal city and to gain better insights into the key areas for better city living. The survey received close to 1,800 respondents from the Klang Valley, Penang and Johor Bahru.
The truck design and painting competition was rolled out among students from local universities and colleges. The entries were then shortlisted to be painted on Lafarge cement tankers and concrete trucks.
The 14 shortlisted designs were from 10 teams, namely the Chin Family from Universiti Teknikal Malaysia Melaka, Ji Xiang Ru Yi from Universiti Teknikal Malaysia Melaka, Uuhoo the Unicorn from University Utara Malaysia, T Art from Universiti Tunku Abdul Rahman, Bowtuckle from Multimedia University (four designs shortlisted), Illustration Room from Limkokwing University, Zenu from Universiti Teknologi MARA (two designs shortlisted), Simple2 from Universiti Sains Malaysia, Team Pantheon from UKM and Caterbillar from Taylor's University.
The painted trucks were open to the public for online voting from Aug 1 to 15. The winners were picked based on 60% online voting, 30% judges' marks and 10% on timeliness and safety compliance during the truck-painting sessions.
A "Fans' Favourite Choice" special recognition was also presented to the top three teams with the highest number of online votes. They were Team Pantheon, Team Ji Xiang Ru Yi and Team Illustration Room.
Lafarge Malaysia president and CEO Thierry Legrand said at the prize-giving ceremony that this inaugural competition for cement tankers and concrete trucks in Malaysia as well as the effort to spread happiness in the city would not have been possible without the talent and passion of the young and creative participants.
"Congratulations to the winners and well done to all finalists.
"The trucks will continue making their rounds on the roads going about their daily tasks until the end of this year, so keep a lookout for your dose of #happinessinthecity for the day and tag us on social media.
"We hope that by bringing the trucks around the city, they will spread happiness to those who see them," said Legrand.
This story first appeared in TheEdgeProperty.com pullout on Aug 25, 2017. Download TheEdgeProperty.com pullout here for free.