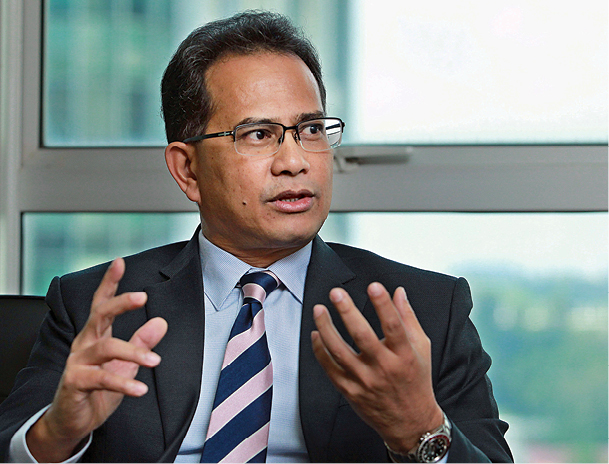 KUALA LUMPUR (Sept 11): Turnover rent structure has helped Hektar Real Estate Investment Trust (Hektar REIT) to manage rental pressures amid a weak retail environment coupled with the overbuilding of malls in the Klang Valley.
Hektar Asset Management Sdn Bhd, the manager of Hektar REIT, said that while the average rental reversion measured on base rent was reduced by 7.1% in the first half of 2017, the lower base rent was covered by turnover rent.
The base rent is a fixed initial rent that has been agreed upon while turnover rent depends on the annual turnover of the retail's business.
"When the tenants do well and their sales go up, then they can afford to pay more rent as a percentage of that (increased revenue)," said Hektar Asset Management chief executive officer Datuk Hisham Othman,
"This structure also allowed us to monitor the performance of our tenants and by having their sales figures in hand, we can foresee the direction of where the business is heading," Hisham told The Edge Financial Daily.
"So, as a landlord, we can take action in advance to find replacements or help them with marketing," he added, noting that tenants are generally keen with the new rental structure especially in the current macroeconomic climate.
Unlike most REITs, Hektar REIT is a retail-focused investment trust with a diversified portfolio in secondary cities apart from one in the Klang Valley. This has given the management an advantage as they would be able to introduce existing brands in the Klang Valley that have yet to have a presence in these cities.
Subang Parade, which is the only mall under its portfolio situated in the Klang Valley and the main contributor to its earnings, has seen a negative rental reversion measured on base rent but a 2% growth in its monthly moving average turnover rent.
Another notable decline in its base rent is the Mahkota Parade in Melaka, which has fallen by 10.8%. However, when measured on its moving average turnover rent, it had grown by 198% as at June 30.
Hisham said Hektar REIT is also at the design stage to revamp Subang Parade to cater to current consumer needs. The renovation is expected to be implemented in stages, with the first stage involving the expansion of its food and beverages (F&B) area, taking advantage of the sector's resilience amid the current weak economic sentiment.
"We realise that the F&B offerings in Subang Parade need to be stepped up, and we have plans for that. The design is almost complete and we will tender this out soon," he said.
The investment for asset enhancement initiatives (AEI) for Subang Parade will be higher than the RM23 million spent on AEI in Landmark Central, another mall under Hektar REIT's portfolio, located in Kulim, Kedah.
The AEI on Landmark Central involved massive renovations and reconstruction on every floor, car park, toilets, food court, corridors and walkways. Hashim said that the upgrade has created new net lettable areas covering 20,000 sq ft with 24 new lots, of which 21 has secured tenants.
"The new tenants are doing their fit-out right now, and we're looking to officially launch the renovated area by the end of December," Hisham added.
Going forward, Hektar REIT is also looking to introduce edutainment components in its malls to appeal to children in an educational sense while having fun.
On threats from the emerging e-commerce business, Hisham said there was a trend of convergence between traditional bricks and mortar shops with online retail stores. Thus, as online businesses grow rapidly, one way to expand the business is to set up a physical store. Similarly, a business that already has its own physical store may want to increase its presence online in order to expand its reach of customers.
"For example, we have a cake shop [tenant] in Subang Parade. Before they set up a shop in Subang Parade, they were doing good business online. In fact, that was how they became known. When they put up a physical store where customers can eat at ... their sales is currently one of the best," he said.
Hektar REIT's portfolio also comprises Wetex Parade in Muar, Johor and Central Square in Sungai Petani, Kedah. These malls together with Subang Parade, Mahkota Parade and Landmark Central have a combined value of RM1.09 billion.
The soon-to-be completed acquisition of 1Segamat Shopping Centre in Segamat, Johor will contribute to Hektar REIT's revenue from 2018 onwards. The acquisition was initiated in June last year and the rights issue to fund the acquisition has been reported to be oversubscribed by 13%.
Hektar REIT's portfolio had boasted an average of 93% occupancy rate for the past 10 years. Most notably, its Wetex Parade in Muar has enjoyed a 100% occupancy rate. This is partly due to the group's strategy of focusing on malls that are situated in secondary cities which do not entail much competition.
Asked whether there were any other target acquisitions, Hisham said that while buying opportunities were abundant, Hektar REIT only focused on those with high-yielding potentials.
A fund manager with a local asset management firm told The Edge Financial Daily that while retail malls are still in a challenging environment, Hektar REIT's dividend yield appears attractive.
"In the assumption [that] wage growth kicked in and the consumer sentiment index continued to inch up, it makes sense to take some position now as it has a limited downside," he said.
Historically, the average distribution yield for Hektar REIT is about 8% since its listing, and has seen its portfolio expand from two malls to six malls, including the 1Segamat Shopping Centre.
Hektar REIT, which last traded at RM1.28, has a trailing 12-month dividend yield of about 8.9%.
This article first appeared in The Edge Financial Daily, on Sept 11, 2017.
For more stories, download TheEdgeProperty.com pullout here for free.