The auction market has seen more commercial properties go under the hammer in the first half of this year compared with the same period last year, according to Auctionguru.com's latest 1H17 report.
This reflects the current weak market sentiment in the property market and overall economy. It could also be due to the rise in e-commerce which is impacting normal brick-and-mortar business operations, says Auctionguru.com executive director Gary Chia.
Based on data from the online auction listing platform, commercial property auctions have increased 39% to 1,367 cases worth RM1.65 billion (up 84%) in 1H17 compared with 986 cases worth RM899 million during the same period last year.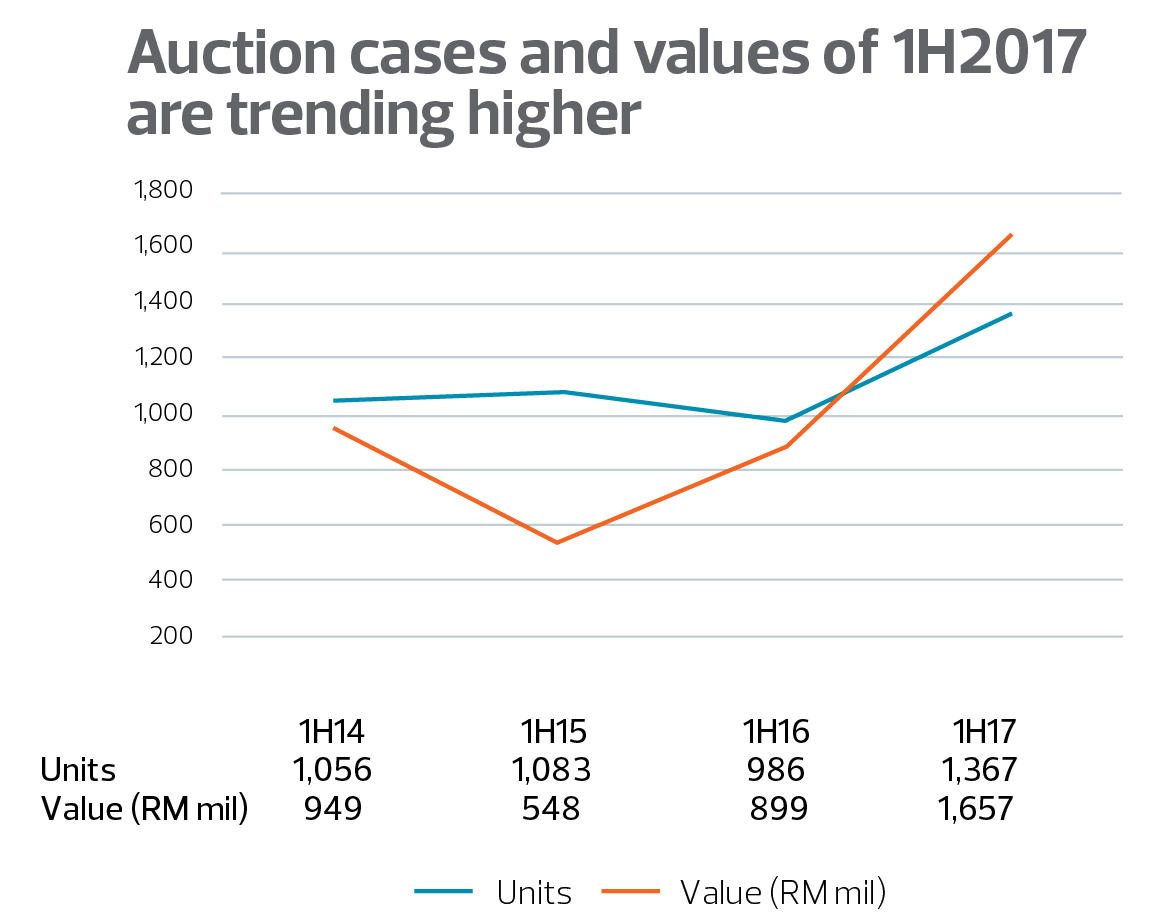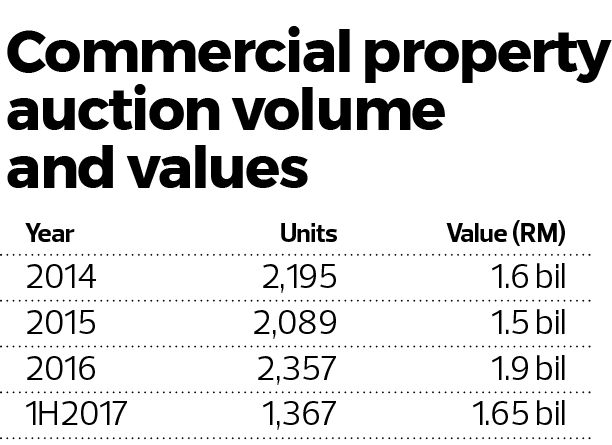 Chia tells EdgeProp.my that property owners' holding power has been challenged due to dampened market sentiment and a lack of rental demand for commercial properties.
"The proliferation of e-businesses has affected conventional retail businesses. We envisage this trend to continue with the growth of mobile internet penetration. The rise in cost of doing business caused by the devalued ringgit has also served as a double whammy to business owners," he opines.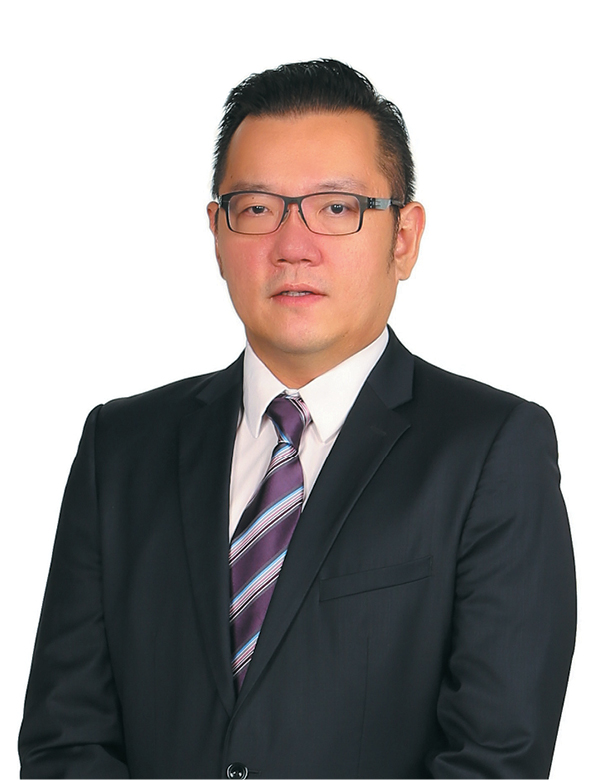 In the macro-economic perspective, Chia expects income growth to moderate in the short to medium term as businesses will strive to remain lean in the challenging business environment and this will impact consumer spending and market demand for commercial properties.
Of the 1,367 commercial property auction cases in 1H17, 833 of them (valued at RM865 million) were repeat cases, while the remaining 534 were new cases valued at RM792 million.
Chia says cautious behaviour due to difficulties in securing mortgage loans and the "wait-and-see" approach taken by investors and buyers have contributed to the high repeat auctions.
Retail units top the list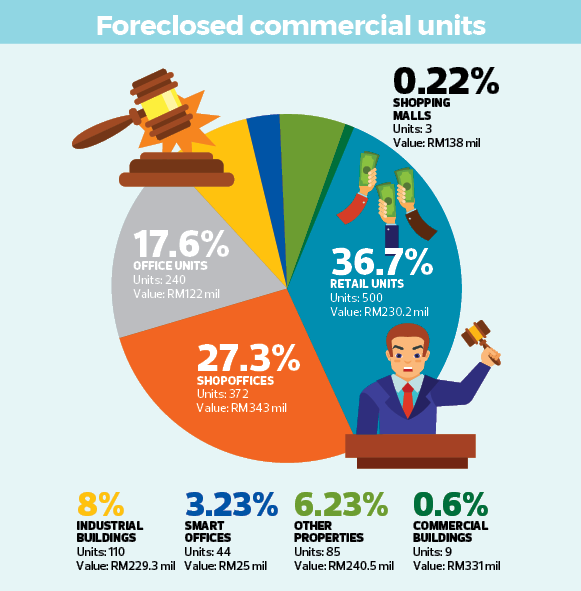 Among the foreclosure commercial properties, as high as 36.7% of them comprised retail units (valued at RM230.2 million) while 27.3% were shopoffices (RM343 million) and 17.6% office units (RM122 million).
There were also 110 units of industrial buildings (including factories and warehouses) valued at RM229.3 million in total, making up 8% of the total auction cases. Another 6.23% were properties such as hotel and hostels that totalled 85 properties valued at RM240.5 million.
There were 44 office units that fell under the category of smart offices — Small-office Home-office, Small-office Versatile-Office and Small-office Flexible-office — valued at RM25 million, around 3.23% of the total cases. The remaining cases comprise commercial buildings (nine properties valued at RM331 million) and shopping malls (three properties valued at RM138 million).
Most properties from central region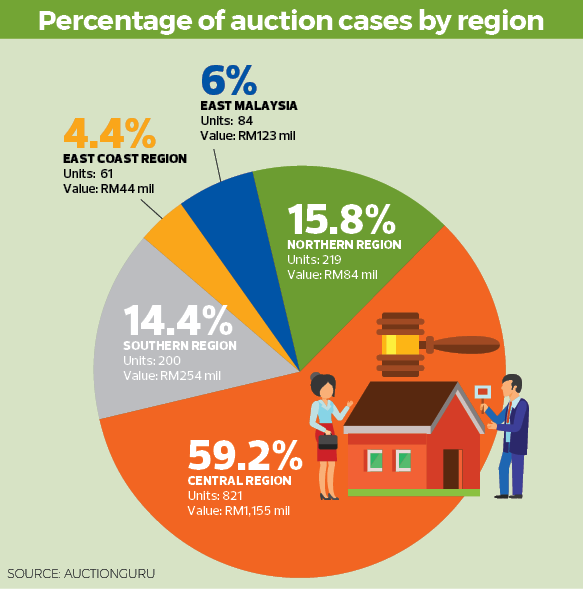 Not surprisingly, the bulk of the auction cases in 1H17 (59.2%) came from the central region which includes Selangor, Kuala Lumpur and Putrajaya where commercial property supply is the largest, followed by the northern region (15.8%) and southern region (14.4%).
In 1H17, 821 commercial properties worth RM1.15 billion in the central region went under the hammer. The northern region (Perlis, Kedah, Penang and Perak) recorded 219 commercial auction cases valued at RM84 million while the southern region (Johor and Melaka) saw 200 commercial properties valued at RM254 million put up for auction.
Chia opines that the rise in commercial property foreclosures in the southern region is mainly attributed to the sizeable ongoing commercial development projects in the Iskandar Development Region, which has pushed up the supply of commercial properties in Johor Bahru.
Notable properties
Among the notable auction properties that, in Chia's opinion, are worth investing in but have yet to find their new owners is Wisma MPL, a 23-storey office complex in Jalan Raja Chulan, Kuala Lumpur, owned by Malaysia Pacific Corp Bhd, which went under the hammer on July 10, 2017. It has remained unsold at a reserve price of RM255 million.
Another notable auction property is Today's Mall located in Ulu Tiram, Johor. With a reserve price of RM133 million, it has remained unsold after its first auction on June 5 this year. The 3-storey shopping mall is built on a 4ha freehold tract.
"Retail mall is considered rare in the foreclosure market, but due to economy uncertainties, rising cost and weak domestic consumption, we foresee more neighbourhood malls will face operational difficulties," says Chia.
The other two retail malls that went under the hammer were small-scale supermarkets located in Kedah and Kelantan.
In 1H17, three hotels were put up for auction, with two of them having been on the auction market for some time — The Empress Hotel in Sepang, Selangor and Dynasty Hotel along Jalan Ipoh, KL.
The 28-storey leasehold Dynasty Hotel has been on the auction market since 2014. In the most recent auction on March 27, its reserve price was lowered to RM189 million from RM210 million in 2016.
Meanwhile, the 12-storey leasehold Empress Hotel, which has a land area of 29,644 sq ft, has been up for auction since 2016 with a reserve price of RM61.56 million. The recent auction on July 24, 2017 saw its reserve price lowered to RM40.5 million.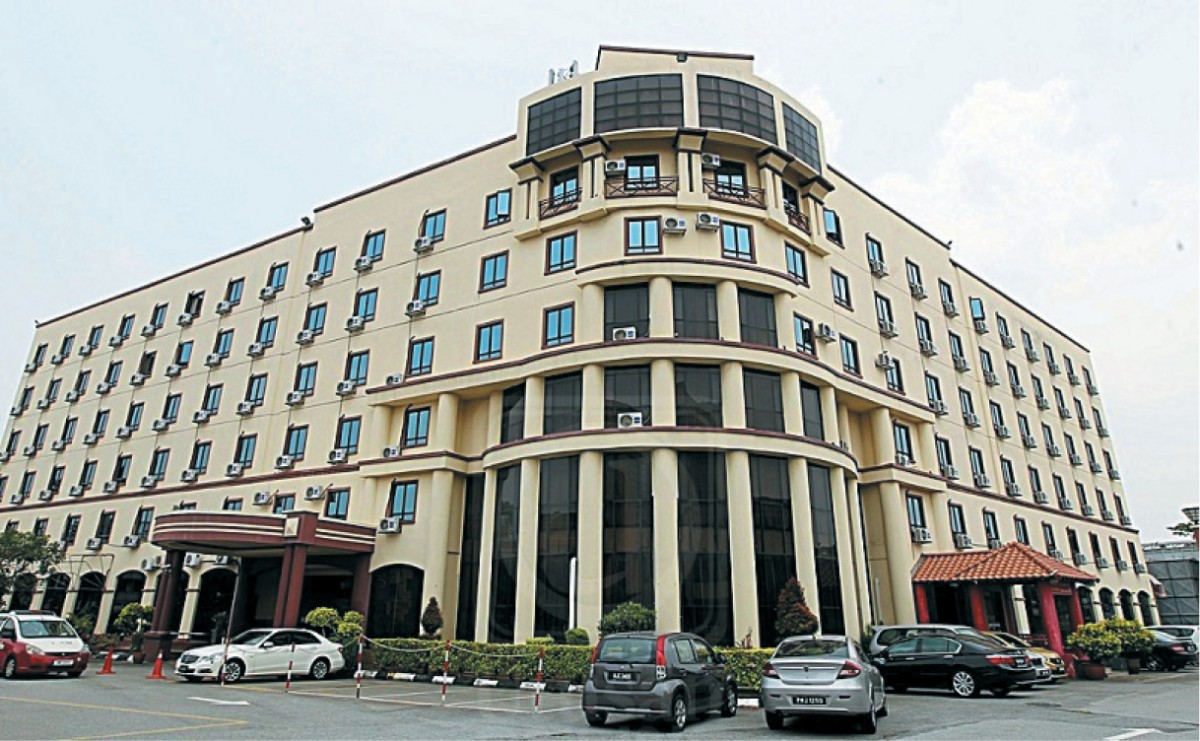 Up for auction for the first time was The Aston Hotel in Bandar Nilai Utama, Negeri Sembilan. The 5-storey freehold property with a land area of 79,782 sq ft has a reserve price of RM270 million. It was put up for auction on July 24 but no new owner has been found.
This story first appeared in EdgeProp.my pullout on Oct 27, 2017. Download EdgeProp.my pullout here for free.